Best Outdoor Dining Venues in Tampa
Tampa's beautiful year-round weather allows many restaurants to offer outdoor dining options. Whether you're trying to social distance during your meal or you just like the ambiance of outdoor dining, you can easily find a Tampa eatery that will meet your group's needs. And if you need transportation for your corporate group or wedding party, Falcon Charter Bus can help. Just give us a call at 813-944-3146 to book an air-conditioned bus for your next brunch or dinner at one of these outdoor dining spots.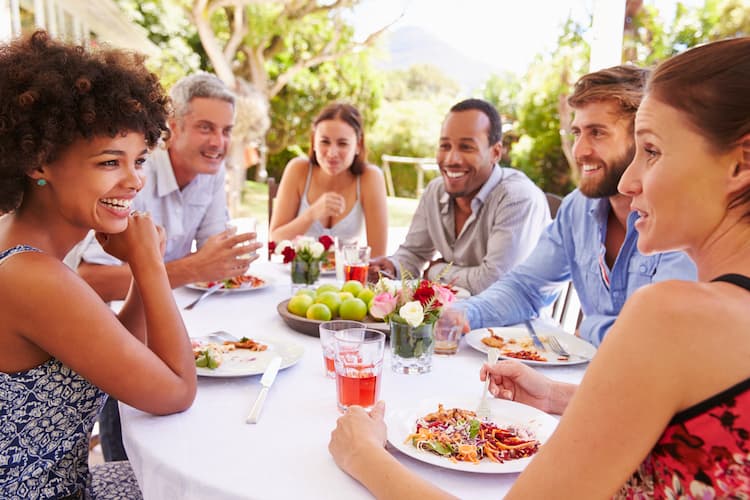 Columbia Cafe-Riverwalk Tampa
Columbia Restaurant's original location in Ybor City opened in 1905 and is the oldest still-standing restaurant in Tampa. The Columbia Cafe along the Riverwalk isn't nearly as old, but unlike its older sibling, it has outdoor dining. Part of the Tampa Bay History Center, Columbia Cafe-Riverwalk Tampa features an expansive patio that overlooks the Hillsborough River and Tampa Bay. 
If you make a reservation here, you'll experience Spanish cuisine crafted from Floridian ingredients. One of Columbia's most popular dishes is the "1905 Salad," made with iceberg lettuce, baked ham, Swiss cheese, and garlic dressing. Locals also rave about the chicken Ybor with yellow rice, and vegetarians can indulge in black bean cakes and plátanos maduros. 
Address: 801 Water St #1905, Tampa, FL 33602
Charter bus parking: Your charter bus can park for a fee at several paid surface lots near the Tampa Bay History Center. 
Ulele
Ulele (pronounced "you-lay-lee") takes inspiration from the cuisine of Florida's indigenous peoples. The owner, Richard Gonzmart, comes from the same family that founded Columbia Cafe and identifies as having Native American and Spanish ancestry, which is reflected in his food. Try the alligator hush puppies, jalapeno corn beer muffins, or fire-roasted chicken, all made from locally sourced ingredients. 
Ulele lies next to Water Works Park and offers views of the Hillsborough River from two outdoor dining spaces: a beer garden and a rooftop terrace. The beer garden also serves craft beers from the Ulele Spring Brewery, located on site. Give Ulele a call at 813-310-3701 or email groups@ulele.com to make an outdoor reservation for your group. 
Address: 1810 N Highland Ave, Tampa, FL 33602
Charter bus parking: Ulele has its own parking lot near Water Works Park.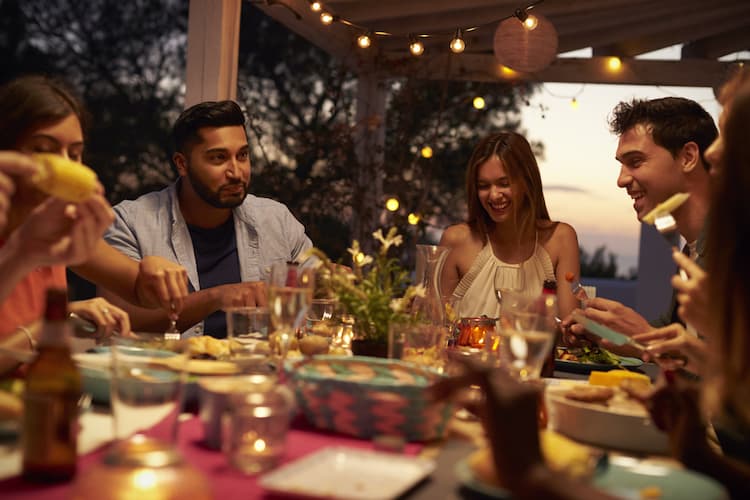 Ella's Americana Folk Art Cafe
Ella's Americana Folk Art Cafe isn't just a restaurant—when social distancing isn't in place, it also serves as a live music venue and an art gallery. Owner Melissa Deming established this Seminole Heights restaurant to bring the neighborhood together and filled the building with eclectic found object art. Outside, you'll discover a spacious deck that can accommodate groups of up to 30 people. 
If your group is lucky enough to visit on a Sunday, you can partake in "Soul Food Sunday Brunch." The menu includes chicken and waffles, fried catfish, "Bloody Ellas" (Bloody Marys with a BBQ rib accent), and giant mimosas. The rest of the week, you'll find bacon-wrapped meatloaf, chicken and biscuit pot pie, and an array of veggie burgers with toppings like vegan coleslaw and vegan cheese. 
Address: 5119 N Nebraska Ave, Tampa, FL 33603
Charter bus parking: Ella's has multiple parking lots, including one behind the building and an overflow lot at 5108 N Nebraska (near a blue building with an Elvis mural). If both those lots fill up, your bus can park in the neighboring AA Casey lot after 5 p.m. or in the Pawn Shop lot after 7 p.m. and all day on Sunday. 
Heights Public Market at Armature Works
The Heights Public Market is a large food hall inside the multi-purpose Armature Works building. You can find all types of cuisine here, from empanadas to sushi, pizza, and vegetarian sandwiches. If you're with a large group of people who can't decide what they want to eat or your group has a mixture of adventurous and picky eaters, Heights Public Market is a great choice.
You can sit inside or in the expansive outdoor dining space. Seating is first-come, first-served, so you won't have to worry about reservations for a casual lunch with your sports team or after-school group. After you finish eating, treat yourself to an enormous cookie or brownie from local bakery Bake'n Babes. 
Address: 1910 N Ola Ave, Tampa, FL 33602
Charter bus parking: Armature Works has its own parking garage and surface lots. Since charter buses probably won't fit in the garage, you can use the surface lots or street park on W 7th Ave, W Palm Ave, Oak Ave, Market Street, or N Highland Ave.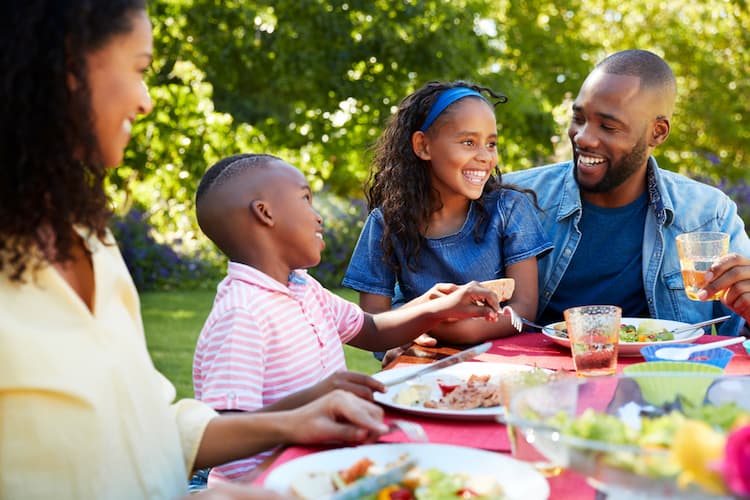 Rick's on the River
Rick's has three main attractions: their personal marina that lets guests arrive by boat (don't worry, you can take a car or bus too), their outdoor deck that overlooks the river, and their oyster bar. Request an outside table for your group and indulge in steamed or raw oysters served with horseradish, lemons, and cocktail sauce. 
Not an oyster fan? Rick's also serves fried shrimp, Little Neck clams, and fried catfish, as well as non-seafood options like buffalo wings and chicken tenders. The outdoor bars make it easy to grab a cold beer while you eat, and live music will return once social distancing protocols end. 
Address: 2305 N Willow Ave, Tampa, FL 33607
Charter bus parking: Rick's has a large parking lot for guests arriving by bus instead of by boat. 
Gaspar's Grotto
Gaspar's Grotto takes its name from local pirate Jose Gaspar, so it's not surprising that this bar and restaurant in Ybor City features a pirate theme throughout. Established in 1985 by a retired sea captain and currently operated by his wife, Gaspar's has been a Tampa landmark for more than 30 years. 
Say hi to Tanker Ray, the bar cat, and then order dishes like Cuban sandwiches, roasted pork with black beans and rice, and devil crabs. If you take your group out for Sunday brunch, you can treat yourself to three-egg omelets, biscuits and gravy, and lemon-blueberry French toast. Gaspar's is also an easy place to dine outdoors, since it features two patios with plenty of tables for groups. 
Address: 1805 E 7th Ave, Tampa, FL 33605
Charter bus parking: Parking a bus at Gaspar's can be tricky, but your driver can drop you off in front of the bar and park in a nearby paid lot.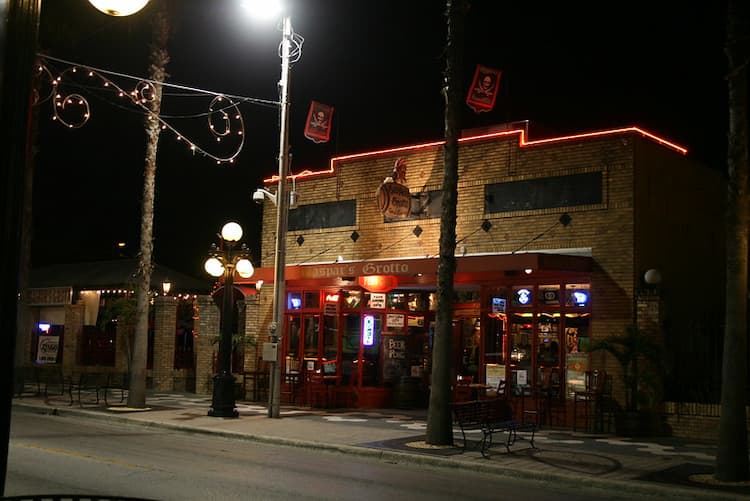 Image credit: Lindsey Turner on Flickr
Rose Bar Tampa
This upscale restaurant in SoHo uses local ingredients but takes inspiration from cuisines around the globe. You can try eccentric dishes like the crab martini (crab and seasonings served in a martini glass), a Philly bao (a bao filled with Philly cheesesteak ingredients), and skirt steak smothered in chimichurri sauce (an Argentinian sauce made with red wine vinegar and pepper flakes.) 
As the name indicates, Rose Bar also specializes in craft beer and custom cocktails. Make reservations for a table just outside the restaurant and sip a handcrafted martini or Manhattan with your friends. Rose Bar is also owned and operated by an African American chef, making it a great place to celebrate Black culinary excellence in Tampa. 
Address: 122 S Howard Ave, Tampa, FL 33606
Charter bus parking: Rose Bar Tampa has its own parking lot next to the restaurant. 
Miguel's Mexican Seafood & Grill
A Tampa staple since 1992, Miguel's serves authentic Mexican dishes and fresh seafood. Your group can request seats in the outdoor courtyard before dining on popular dishes like shrimp brochettes, ceviche Cancun, and lobster tacos. Not a seafood person? Opt for a chicken quesadilla or build your own fajitas. Pick your favorites of 5 toppings and 8 proteins, all accompanied by rice, frijoles charros, pico de gallo, guacamole, sour cream, and handmade tortillas. 
Miguel's is also known for its signature Patron margaritas and other creative cocktails, like Mexi-tinis and fruity Las Frescas. Whether you're with friends who want to try the margaritas or kids that just want tacos, chips, and salsa, this eatery is a relaxed, casual spot for group dining. 
Address: 3035 W Kennedy Blvd, Tampa, FL 33609
Charter bus parking: Miguel's offers an expansive parking lot that should have plenty of room for a bus.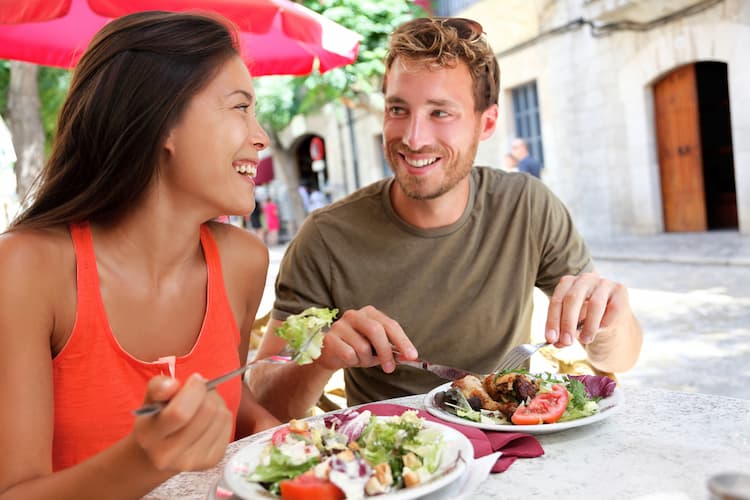 Dine Outdoors in Tampa With Your Group
Whether you choose one of the restaurants on our list or another local dining spot, there are plenty of picturesque places to eat outdoors in Tampa. And when you book a bus from Falcon Charter Bus, you won't have to worry about finding parking for a dozen cars or volunteering as DD. Your professional driver will drop you off at dinner and pick you up afterward, and all you'll have to do is lean back in a plush seat and enjoy the AC. Just give us a call at 813-944-3146 to book a charter bus for your next group outing.