The Most Beautiful Places in the Southeast
From man-made marvels to untouched nature preserves, the Southeast is home to many beautiful sights. If you're planning a hiking excursion, sightseeing outing, or day trip to connect with the region's beauty, we at Falcon Charter Bus put together this guide to help you narrow down your itinerary. And if you're considering the benefits of taking a hassle-free bus rental, we can ease your travels to the beautiful gardens, beaches, and architectural wonders the Southeast has to offer.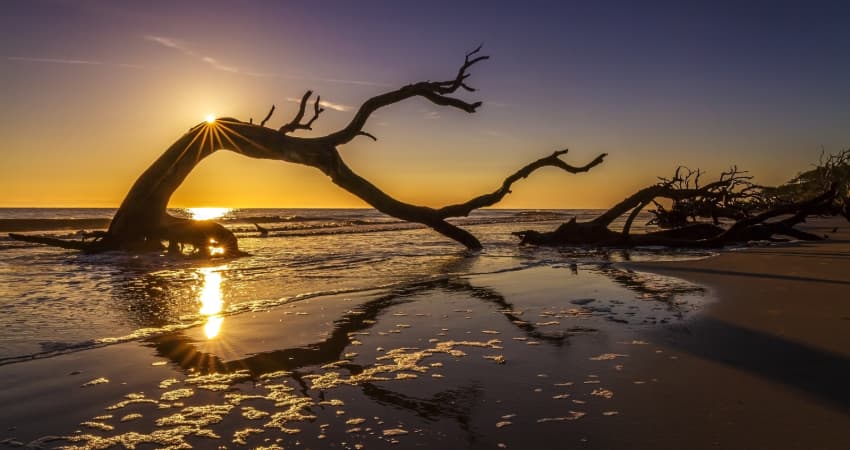 Driftwood Beach, Jekyll Island, Georgia
Address: N Loop Trail, Jekyll Island, GA 31527
A little over an hour away from Jacksonville, you can escape the continental U.S.'s largest city and find yourself someplace beautiful—if not a little eerie. Jekyll Island is one of only four Georgia barrier islands that are road-accessible from the mainland. And while beachgoers from throughout the Southeast come here to see old Rockefeller mansions, colonial tabby structures, and sea turtle rescue centers, Driftwood Beach in particular draws beauty-seekers from far and wide.
Here, visitors can walk along a beach strewn with gnarled and weathered oaks and pines—some fully exposed and some emerging from the depths of the sands—all left behind from years of erosion. Especially around sunrise, these ancient dead trees resemble twisting sculptures and make for beautiful photo ops and stunning backdrops for weddings.
Charter bus parking: Most people who visit Driftwood Beach park their cars along Beach View Drive, the paved access road that runs along the island's east end. If you visit on a busy day and the streetside parking is limited, consider asking your bus driver to wait for you at the nearby Jekyll Island Campground.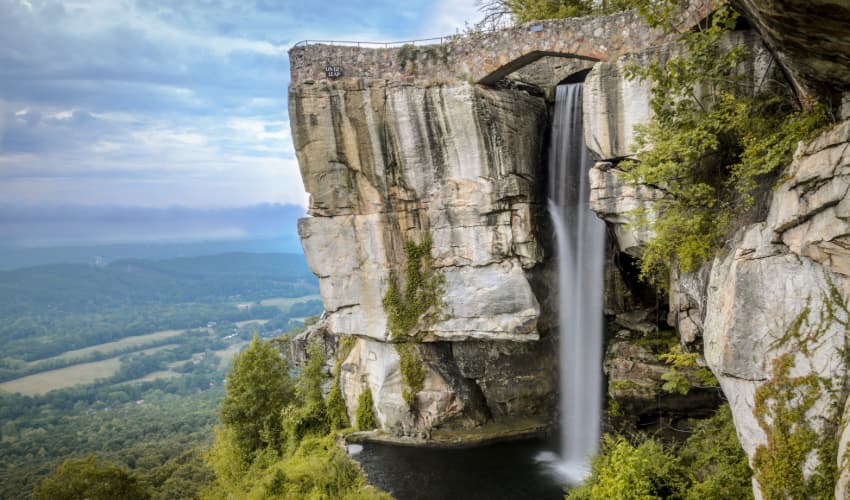 Rock City Gardens, Georgia
Address: 1400 Patten Rd, Lookout Mountain, GA 30750
Interested in history as well as beauty? Your group can take in both atop Lookout Mountain, 6 miles from Chattanooga and 2 hours from Atlanta.
While natives and settlers alike have used the rocky outcrop as a scouting point throughout the centuries, Rocky City first became a tourist attraction in the 1920s. Entrepreneur Garnet Carter constructed the country's first miniature golf course on the site, while his wife Freida curated and maintained a romantic, European-inspired garden around it. During the Depression, the couple commissioned a painter to travel the nation's highways and offer to paint farmers' barns in exchange for letting him paint three words on the roof: See Rock City. The letterings appeared as far north as Michigan and as far west as Texas, drawing in travelers from all over the U.S. to the gardens.
Today nearly half a million tourists come every year to see Rock City's acres of massive sandstone boulders and the meandering Enchanted Trail. Wander through gardens showcasing 400 species of native plants, caverns with interesting rock formations, and a fairytale garden that's sure to delight your kids and young-at-heart. The real showstopper, however, is the breathtaking views from Lover's Leap, an outcropping that overlooks the lush valley 1,700 feet below. The falls and gardens are completely manmade, but the view atop Lookout Mountain is all-natural and unparalleled—you can see 7 states on a clear day.
Charter bus parking: The Rock City Gardens parking lot offers designated, free bus parking north of the ticket desk.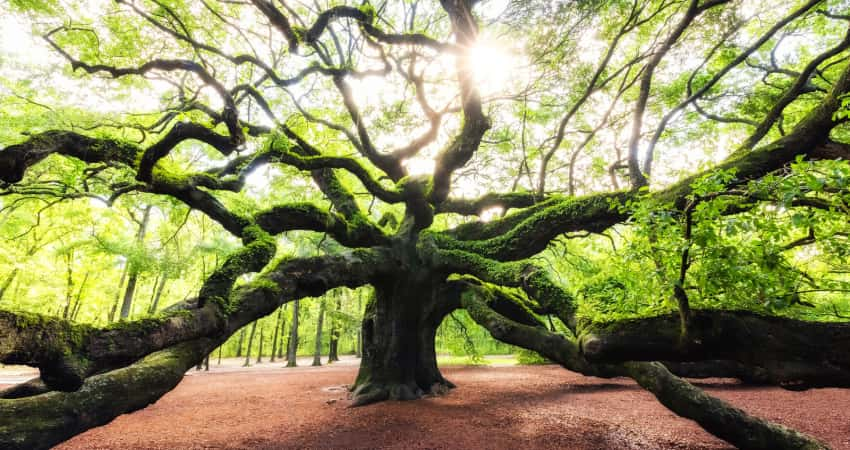 Angel Oak, South Carolina
Address: 3688 Angel Oak Rd, Johns Island, SC 29455
If you're near Charleston and need some time away from the city, consider venturing 13 miles out to this ancient tree. At approximately 500 years old, this Southern live oak may not be the oldest tree in the East—North Carolina's bald cypresses are over 1,600 years old—but its sprawl of heavy limbs and massive, moss-covered trunk make for a beautiful sight.
Visitors can take pictures with the tree, poke around the gift shop, and enjoy the peace and quiet most days from 9 a.m. to 5 p.m. (1 to 5 p.m. on Sundays). Signs ask visitors not to climb or sit on the branches or deface the tree—many locals over the years have seen this place as sacred, so approach respectfully.
Charter bus parking: Oversized vehicles like RVs and charter buses are not allowed in the park where the Angel Oak resides. Instead, bus rentals are asked to park along the dirt road that connects the park to Maybank Highway and Bohicket Road.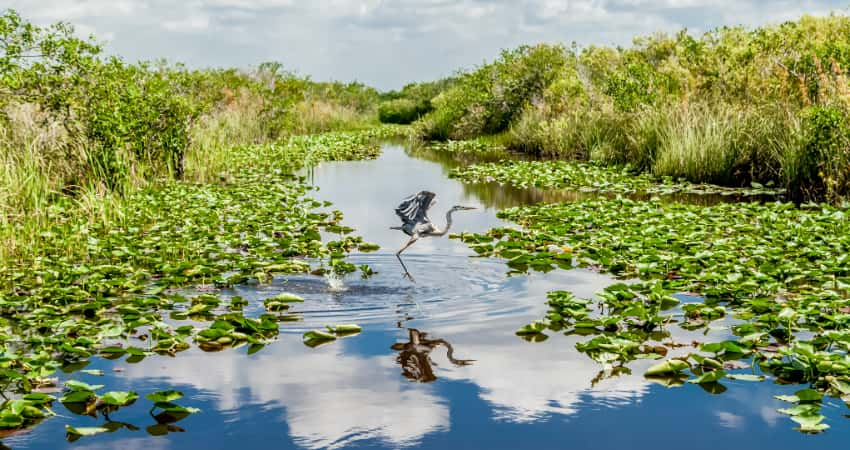 Atchafalaya Basin, Louisiana
Welcome Center Address: 1908 Atchafalaya River Hwy, Breaux Bridge, LA 70517
When most folks think of picturesque swampland, the Everglades may come to mind. And while the famous national park may have a broader diversity of animals, when it comes down to beautiful sights, the Atchafalaya Basin takes the cake.
These 140 miles of river delta contain the largest contiguous tract of coastal cypress in the United States. All these acres of protected bottomland forest make the Atchafalaya a haven for rare birds—and a popular spot for bird-watching! Throughout your travels in the basin, you may spot egrets, herons, warblers, and even the largest nesting concentration of bald eagles in the southern United States.
Charter bus parking: Before venturing into the swamp, we recommend first stopping by the Atchafalaya Welcome Center, about 2 hours away from New Orleans. Here, your youth group, class, or friends and family can schedule airboat tours, brush up on the basin's storied history, and park your charter bus rental in the lot outside.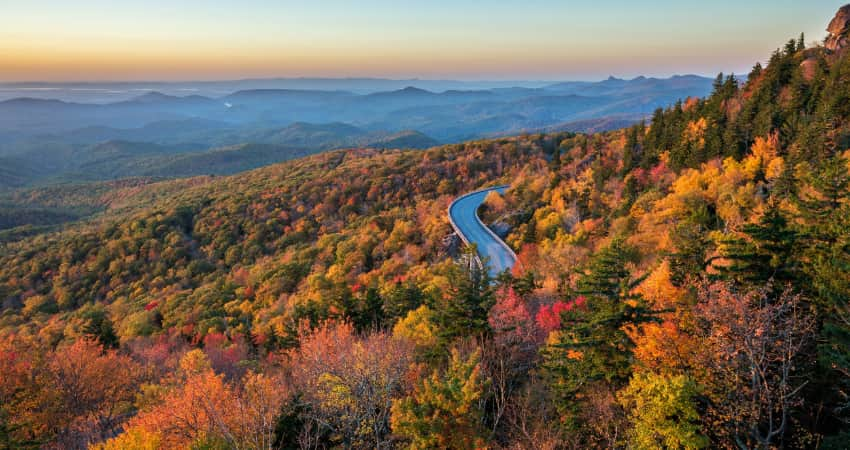 Blue Ridge Parkway
Main Visitor Center Address: 195 Hemphill Knob Rd, Asheville, NC 28803
Itching for a road trip? Covering nearly 470 miles between Shenandoah National Park and the Great Smoky Mountains National Park, the Blue Ridge Parkway is often considered the country's most beautiful scenic drive. That means your group can enjoy the foliage, waterfalls, and picturesque valley overlooks without ever leaving your bus rental!
The roadway winds through the heart of the Appalachians, which makes for great leaf-peeping come fall and wildflower-viewing throughout spring and summer. Besides taking in the natural beauty, many visitors enjoy making pit stops in the small towns along the way to buy local-made wares and snacks and to learn more about Appalachian culture.
Charter bus parking: There 15 designated visitor centers along the Blue Ridge Parkway, located 20-50 miles from each other (give or take). Each one is wheelchair accessible and should offer plenty of parking space for your charter bus.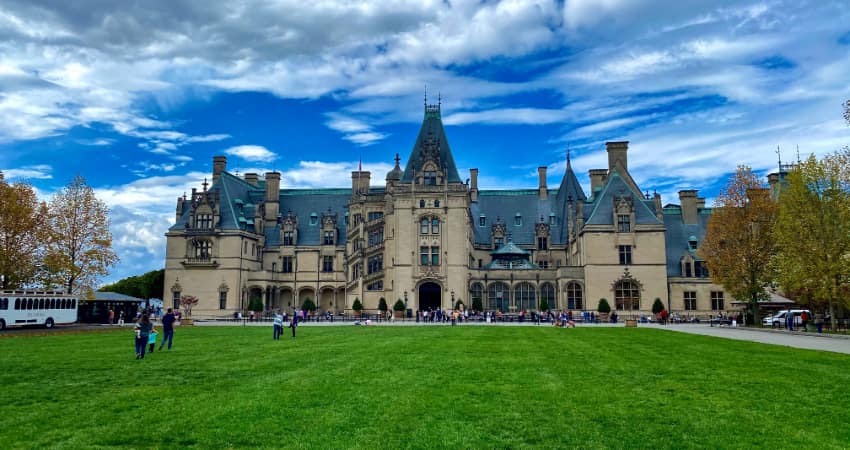 Biltmore Estate, North Carolina
Address: 1 Lodge St, Asheville, NC 28803
Constructed in 1895 as a sprawling mansion for the larger-than-life industrialist George Vanderbilt, this French Renaissance-style chateau is sure to delight your architecture lovers and fans of turn-of-the-century aesthetics. The house itself contains 250 furnished rooms (including 35 bedrooms, 43 bathrooms, and 65 fireplaces), as well as North Carolina's first passenger elevator and electric refrigerators. Outside, guests are free to roam the 75 acres of park-like gardens and relax on the edge of Bass Pond, just as generations of Vanderbilts have done before.
The Biltmore Estate has been a popular attraction since Vanderbilt's daughter, Cornelia, opened the home to public tours in 1930. Whether you're here to tour the estate's wineries, mansion, and gardens or host an event in the breath-taking garden and balcony venues, the beautiful sights are well worth the two-hour drive from Charlotte.
Charter bus parking: The Biltmore House offers a spacious parking lot with ADA-compliant shuttles running between the lot and the house's entrance. When you call 866-851-4661 to coordinate your group's tour or event, a Biltmore representative will be able to tell you where in the lot your bus can park.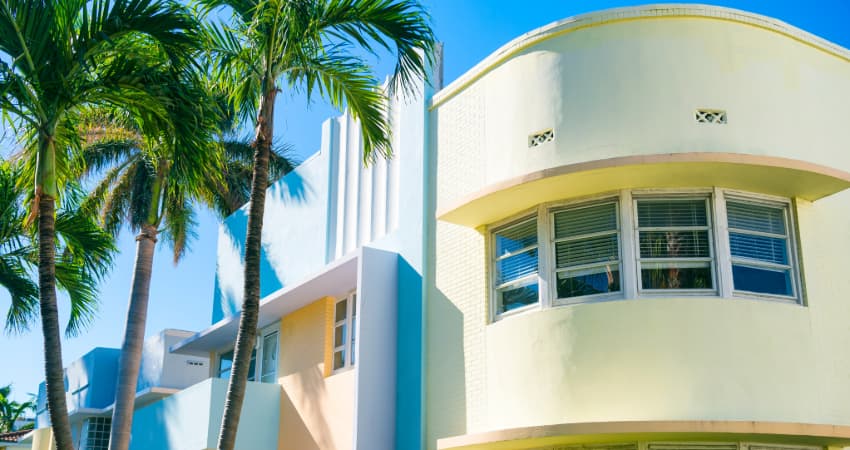 Miami Art Deco Historic District
Welcome Center Address: 1001 Ocean Dr, Miami Beach, FL 33139
The Miami Art Deco Historic District is a square-mile section of Miami Beach dedicated to preserving the architecture and aesthetic that helped make the city such a popular resort town. Nowhere else can you see so many pastel-hued hotels, boutiques, and even post offices washed in neon and gilded geometry designs—all without straying from Miami's city limits.
The beauty of this neighborhood is not found in one building or monument, but rather in the cohesive style and colors of the whole district. The Art Deco Historic District officially spans 5th Street to 23rd Street, but one of the best uninterrupted stretches of vibrant art deco buildings can be found along Ocean Drive. Here, your group can take in the towering neon of the Breakwater Hotel, grab a bite in the Edison Hotel lobby, and pose for selfies on the nearby beach.
Charter bus parking: Unfortunately, parking a bus in busy Miami Beach is easier said than done. Have your driver drop everyone off near the Art Deco District Welcome Center and find parking closer to downtown while you explore the neighborhood.
Experience the Southeast's Most Beautiful Sights
Whether you're a group of art history buffs or scout troop planning your next excursion, the Southeast has plenty of beautiful places to visit. And if you ever need a ride to your top scenic destinations, Falcon Charter Bus will be happy to take you there. Let us provide a modern motorcoach and an experienced driver to handle the logistics, so your passengers can sit back, recline in a plush seat, soak in the AC, and enjoy the sights.
Call 1-866-217-2168 today for a free, no-obligation quote tailored to your bus rental needs throughout the beautiful Southeast!