Tampa Group Holiday Destinations for 2022
It's never too early to start planning your parties and outings for the holiday season in Tampa! Whether you're looking for a themed event to bring a church youth group to, or are in charge of planning this year's holiday office party, there are plenty of fun and festive destinations in Tampa that everyone in your group will enjoy a trip to.
Still deciding on where to go? Falcon Charter Bus Tampa is no stranger to servicing groups traveling to holiday parties and festive outings in the Tampa area, and have a few favorite places we can suggest. And if you're wondering how you're going to get everyone where they need to be, all together, and on time during the busy holiday season, you can rely on a charter bus rental with us. Once you've decided on the best group holiday destination for your Tampa group, make sure to give us a call at 813-944-3146 and book your event transportation!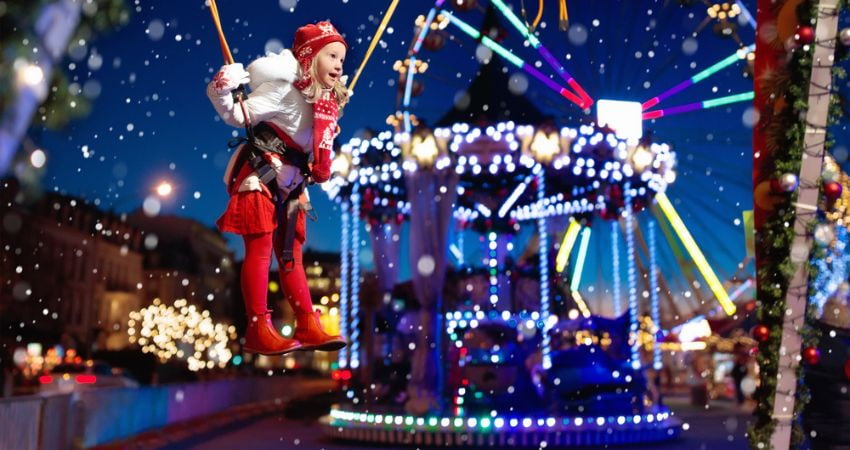 Busch Gardens Christmas Town
When: Nov 14, 2022–Jan 9, 2023
Where: Busch Gardens Tampa Bay (10165 McKinley Dr, Tampa, FL 33612)
What: A seasonal, park-wide celebration with lots of fun activities for young kids.
If you're looking to plan a fun, festive, family-friendly holiday event like a field trip or youth group trip, then consider visiting Busch Gardens Tampa Bay during the annual Christmas Town celebration. You and your group can enjoy holiday dining and shopping at the Christmas Town Village, watch fireworks and ice skating shows, visit Santa at his workshop in the North Pole, and so much more. For the foodies in your group, consider purchasing the Christmas Town Sampler Lanyard to indulge in a variety of holiday delights like wine and truffles, Christmas cookies, and festive cocktails.
Bus Rental Tip: The cost of parking at Busch Gardens for an oversized vehicle will likely be around $30 per vehicle, so make sure to factor this cost into your budget!
Enchant Christmas
When: November 25, 2022–January 1, 2023
Where: Tropicana Field (1 Tropicana Dr., St. Petersburg, FL 33705)
What: A holiday celebration with dozens of festive activities that's great for private parties and group gatherings.
While the Tampa Bay Rays enjoy their off-season, the Tropicana Field in nearby St. Petersburg decorates itself to spread cheer, fun, and merriment in the Tampa Bay area. For groups, this is an ideal holiday destination where you can customize a private party for any amount of guests. Plus, you can get a 10% ticket discount for groups of 15 or more! You and your group can enjoy a cheerful, story-themed Christmas Light Maze, ice skating, and a Christmas village filled with food vendors, specialty crafts, and boutiques.
Bus Rental Tip: Typically, buses can drop off passengers at Tropicana Field along 4th Avenue S. near Gate 3. Bus parking is free on 2nd Avenue S. between 9th and 10th Streets (subject to availability).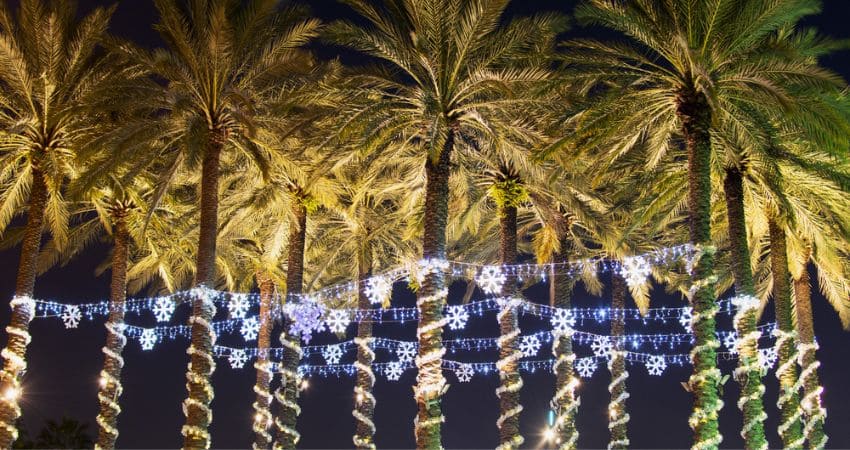 Winter Village at Curtis Hixon Waterfront Park
When: Nov 18, 2022–Jan 4, 2023
Where: Tampa Riverwalk, Curtis Hixon Waterfront Park (600 N Ashley Dr, Tampa, FL 33602)
What: A free emporium for Christmas shopping, several holiday shows and special events, and winter sports like ice skating and curling.
The Winter Village at the Tampa Riverwalk is as "winter wonderland" as it gets in sunny Florida. Go to enjoy holiday boutiques and the Winter Village Express experience, but stay for one of the many special events they have lined up, like a visit from Santa or a film screening. While entrance to the Winter Village is free, you will need to purchase tickets if you and your group would like to participate in ice skating. You could also pay a $200 registration fee to enter a team into the Winter Village's first inaugural Curling League!
Bus Rental Tip: For parking, call ahead to Tampa parking garages near the Riverwalk to see where you may be able to reserve a parking spot. Otherwise, for the most convenient way to visit, arrange for your driver to drop off and pick up you and your group at the event grounds.
Christmas in the Wild at ZooTampa
When: Nov 25–Dec 30, 2022
Where: ZooTampa at Lowry Park (1101 W Sligh Ave, Tampa, FL 33604)
What: A park-wide, holiday-themed event with animal-related experiences and activities.
There are few things more festive than celebrating the holiday season with your favorite furry (or scaly or feathered) friends at ZooTampa. Bring a group to the annual Christmas in the Wild event to enjoy bright lighting displays, interactive shows, and holiday-themed animal experiences across the zoo. Kids of all ages will enjoy strolling through the Forest of Fantasy and the Holiday Kaleidoscope walkthrough experience while adults can enjoy their fill of Christmas shopping at the European marketplace. Purchase tickets early because they go fast!
Bus Rental Tip: Tickets to Christmas in the Wild include a reserved time when you're permitted to enter, and you won't be able to gain entrance before, so make sure you plan your travel itinerary around when you're allowed into the event. Ask your charter bus driver to drop you and your group off within 30 minutes after your ticketed time.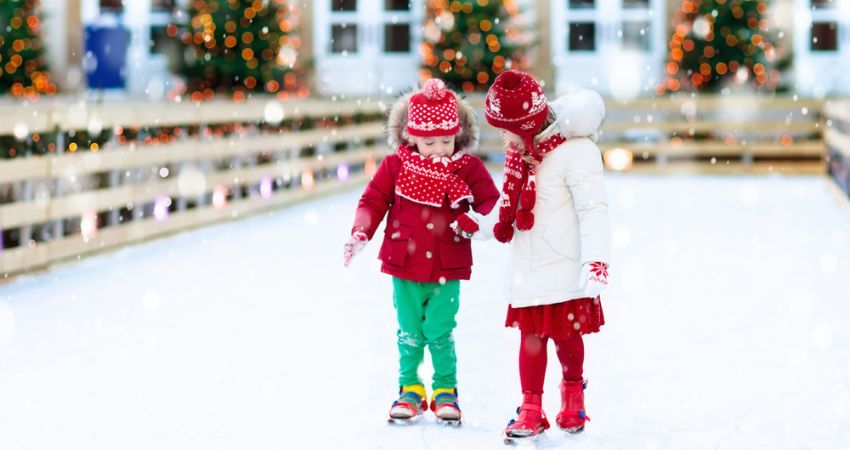 Victorian Christmas Stroll
When: Dec 1–Dec 23, 2022
Where: University of Tampa Henry B. Plant Museum (401 W. Kennedy Boulevard Tampa, FL 33606)
What: A holiday exhibition at the Henry B. Plant Museum exploring the history of Christmas.
Take a stroll through Christmas past at this annual holiday museum tour. Each room in the Henry B. Plant Museum is decorated in different themes for the season featuring trees covered in antique ornaments, display cases with vintage Snowbabies, and so much more. You can also enjoy complimentary cider and cookies, and live music. This event is a great opportunity for you and members of your group to snag unique holiday gifts, such as handmade jewelry and festive artwork.
Bus Rental Tip: The museum is located on the University of Tampa campus. The nearest parking is at the Rick Thomas Parking Garage, which you can contact ahead of time to see if charter bus parking is available. For the event, ask your driver to drop you off at the entrance to the museum.
Book a Tampa Charter Bus this Holiday Season
Call Falcon Charter Bus today at 813-944-3146 to get a no-obligation bus rental price quote and lock in your charter bus rental for this holiday season! No matter the size of your party and the specific group travel services you need, Falcon Charter Bus is here to transport you safely and comfortably around Tampa for the holiday season.