Miami's Best Patio Restaurants and Outdoor Dining Venues
There are countless trendy Miami restaurants with delicious food, refreshing drinks, and picturesque patios to soak up the south Florida sun. With so many options, choosing where to dine can be a difficult task! Especially if you're planning an event or group dining occasion.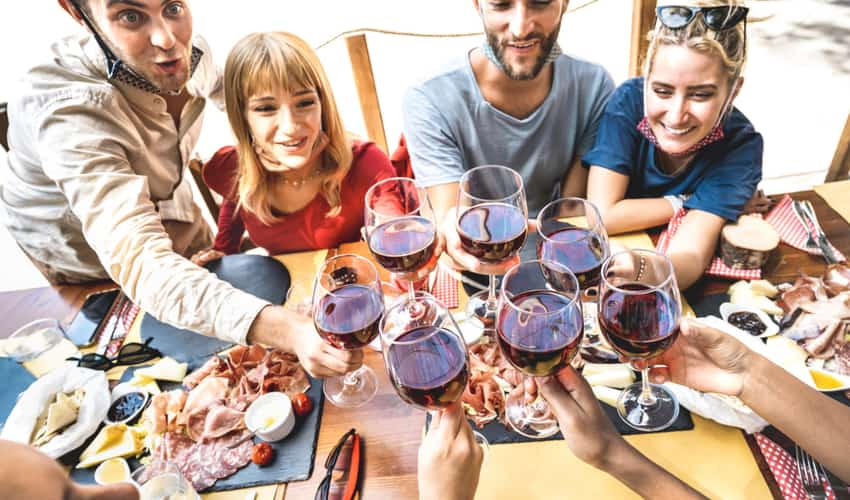 If you need help narrowing down the perfect patio restaurant for your group event, you're in the right place. We've compiled a list of some group-friendly dining locations in Miami. Pick a restaurant for events like your company happy hour, birthday bash with friends, or wedding rehearsal dinner, and leave the transportation up to Falcon Charter Bus.
Renting a charter bus or minibus can help keep your special event on schedule and save your guests from the hassle of parking at your restaurant of choice. You won't have to worry about waiting to be seated if guests get lost or needing to call a rideshare for someone who may have had one too many mimosas. With a bus rental, you'll have a comfortable ride with a pro driver for your dining event! Call 305-359-3962 to book a private bus rental in Miami with Falcon Charter Bus.
Rusty Pelican
Key Biscayne
Great for: company holiday parties, large birthday celebrations, wedding receptions
Address: 3201 Rickenbacker Causeway, Key Biscayne, FL 33149
Phone: (305) 361-3818
There's no better way to dine in Miami than on the water with a seafood dinner and cocktail in hand. Rusty Pelican offers some of the best views of Biscayne Bay and the Miami skyline from its large patio. It's a popular spot for romantic dates and anniversary dinners but is also an amazing location for special group dining events. Some of the Rusty Pelican's most-ordered dishes include Chilean sea bass, grilled octopus, and lobster risotto.
Rusty Pelican offers multiple venue spaces for special events, including outdoor patio areas on the water. The East Patio can accommodate up to 70 guests and Vista Terrace is great for large events with up to 210 guests.
Charter bus rental parking: Rusty Pelican has a private parking lot that often gets packed on busy nights and is filled with valet parking. An additional parking area can be found between the restaurant and the Rickenbacker Marina. If you have a large group and multiple charter buses, you'll want to inquire about parking when you book your reservation.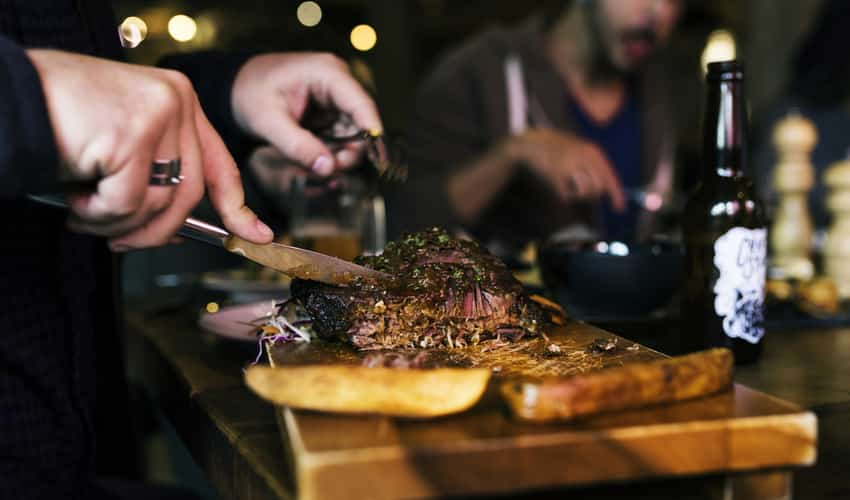 The Butcher Shop Beer Garden
Wynwood
Great for: laidback meetups with friends
Address: 165 Northwest 23rd Street, Miami, FL 33127
Phone: (305) 846-9120
The Butcher Shop's name may give away their specialty—meat! The restaurant's relaxed atmosphere and backyard-style patio make it perfect for a meetup with friends. Whether you're celebrating a birthday or having a meal and drinks just because, you won't be disappointed. You'll find bites like duck wings and butcher cut steaks alongside a decent selection of craft beer on tap. Even if you're vegetarian, Butcher Shop has you covered too with Impossible burgers, potato pierogies, fresh salads, and Bavarian pretzels.
Outdoor private event spaces include the patio, which can accommodate up to 110 guests, and the garden for up to 100 guests. Private dining events can be booked for lunch, dinner, a happy hour, or a weekend brunch.
Charter bus rental parking: Parking in Wynwood can be notoriously difficult and most businesses don't have private parking lots. Your charter bus driver will have to utilize street parking around the neighborhood.
Jaguar Restaurant
Coconut Grove
Great for: happy hours and birthday dinners
Address: 3067 Grand Ave, Miami, FL 33133
Phone: (305) 444-0216
Jaguar serves up pan-Latin fare like savory ceviches, grilled seafood, and Argentinian steak in the quaint-but-upscale Coconut Grove neighborhood. The restaurant's outdoor seating area is semi-covered and is the perfect place to enjoy a meal and people-watch in the Grove without the fear of burning up on a hot Florida day. Depending on the night, you may even catch a live music set.
The restaurant doesn't have private event spaces at this time, but large groups can make reservations online or by phone in advance.
Charter bus rental parking: Coconut Grove visitors will have to utilize public parking lots or street parking. You'll likely have to organize drop-off and parking off-site with your driver.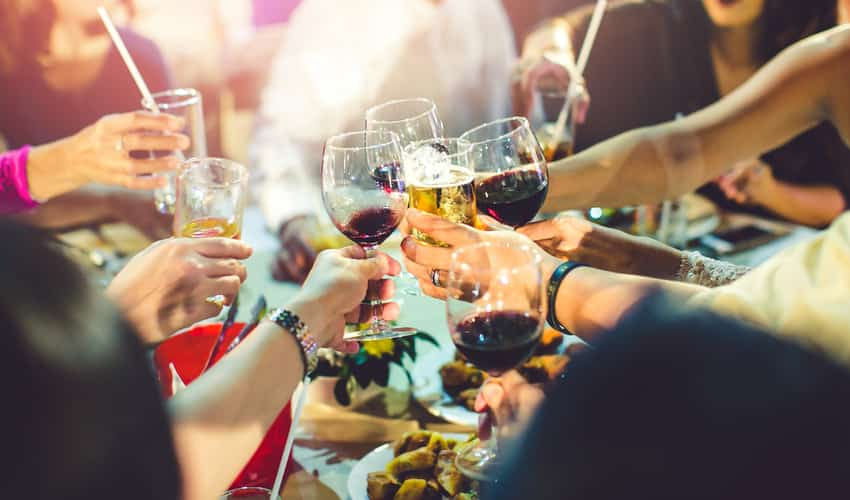 Lagniappe
Midtown
Great for: adult birthday celebrations or outings with friends
Address: 3425 NE 2nd Ave, Miami, FL 33137
Phone: (305) 576-0108
Is sitting in a friend's backyard with a bottle (or two) of wine your type of night? Lagniappe offers the ambiance and comfort of sitting in a cozy backyard, just with a large selection of wine, charcuterie, grilled food, and live music. This popular wine house is less of a location for chowing down and more one for enjoying drinks and time with your favorite people. Grab a couple of tables on the patio, order some wine, and enjoy the sounds of local music pouring from inside the main house.
Unlike other spots on this list, Lagniappe doesn't take reservations. It's a casual, first come first served spot. You'll want to get there early if you have a big group or call ahead to see if there's space available.
Charter bus rental parking: Street parking on NE 35th Street and a public lot are available a short walk from the wine house. Minibuses may be able to fit in the parking lot, but full-size charter buses will need to park on the street.
LoKal
Coconut Grove
Great for: casual meals with friends or
Address: 3190 Commodore Plaza, Miami, FL 33133
Phone: (305) 442-3377
Kush Hospitality Group's restaurants have become synonymous with creative dining in Miami. LoKal is the place to be for craft beer, delectable new American food, and artsy ambiance. Try the crispy alligator strips, guava jelly-topped Frita burger, or the My Childhood Dream burger on a doughnut bun. LoKal also has plant-based items like homemade black bean burgers and vegan chorizo jambalaya.
LoKal doesn't take reservations but there's a covered patio and sidewalk picnic tables out front with plenty of space for groups. Consider calling ahead to see if there's space outside for your group.
Charter bus rental parking: LoKal doesn't have a parking lot. You'll need to organize street parking or off-site parking for your bus.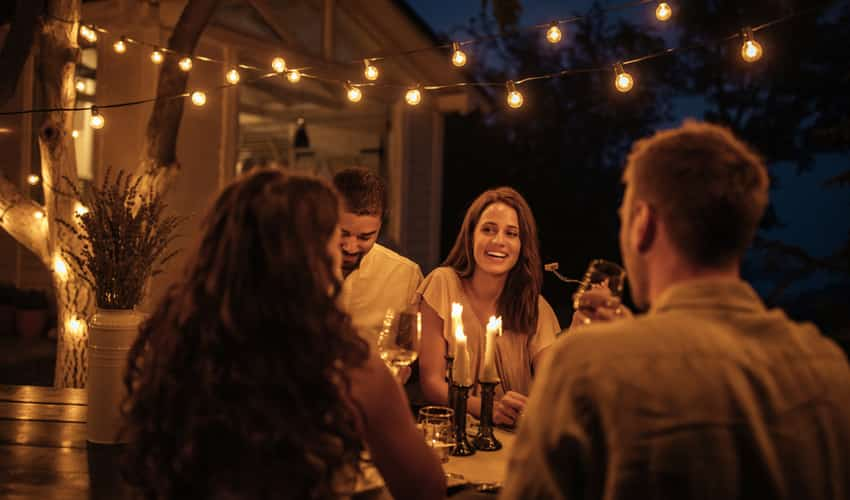 Mandolin Aegean Bistro
Miami Design District
Great for: birthday celebrations and special event dinners like bridal showers
Address: 4312 NE 2nd Ave, Miami, FL 33137
Phone: (305) 749-9140
The posh Miami Design District is home to many amazing restaurants, but Mandolin is easily one of the best. Mandolin is located in a historic cottage home that looks unsuspecting from the street. You'd never know there's a gorgeous, garden-style patio out back with plenty of seating for large groups. It's a wonderful location for intimate dinners with close friends or family. Order a spread of Greek and Turkish food like chicken kebabs, grilled octopus, and Manti dumplings.
Reservations can be made online, but large groups should call or email ahead of time to organize seating with the restaurant.
Charter bus rental parking: Most parking in the design district will be located in public parking garages. Though if you're traveling by charter bus, your driver will need to park on the street. Street parking is available just a couple of blocks from the restaurant on NE 2nd Ave.
Enjoy Outdoor Dining in Miami
Whether you're planning a boozy brunch with friends or a company happy hour to treat your employees, Falcon Charter Bus will ensure everyone travels safely. Your dining group can hop on a private bus rental without the worry of taking on hectic Miami traffic before a relaxing meal. Reserve a stress-free shuttle to Miami's best outdoor dining spots with Falcon Charter Bus. Call 305-359-3962 for a free bus rental quote!