St. Patrick's Day Guide to Miami for 2022
Celebrating any holiday in Miami can be a fun time, especially if you're doing so with a group! St. Patrick's Day in Miami is no different and you'll find a variety of activities being held on the actual holiday through the following weekend. Even if you're traveling around Miami with kids and need a family-friendly way to enjoy St. Patrick's Day, there's something for everyone to do.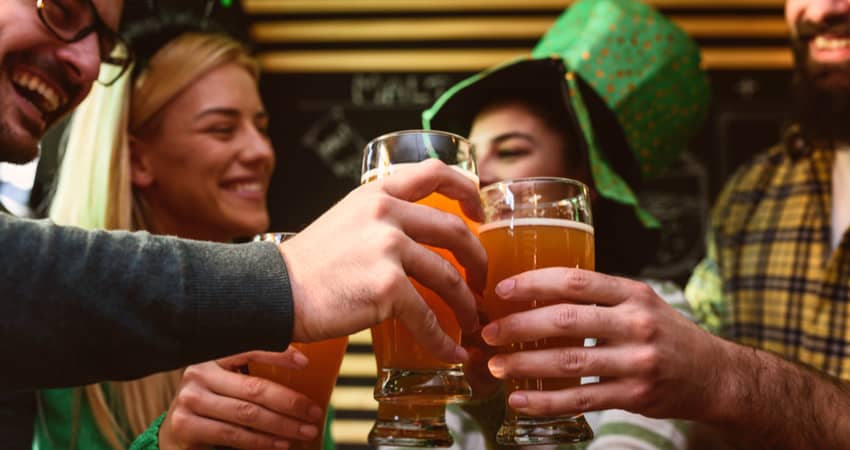 If your group of merrymakers is planning to drink during St. Patrick's Day, Falcon Charter Bus can help you travel safely around Miami. Rent a minibus operated by a professional driver to serve as your DD to and from bar crawls after plenty of green beer. With a charter bus rental and pro driver, you can keep the St. Paddy's party going on the road after the pregame and on the way to a bar crawl, parade, or happy hour. Large groups planning a day of kid-friendly fun can also benefit from a charter bus rental. Keep kids entertained on the way to festival field trips or special community events with movies onboard your bus's TVs with DVD players and WiFi to stream music, play games, or watch shows.
Does renting a Miami charter bus sound like a good fit for your St. Paddy's celebration? Give the Falcon Charter Bus team a call at 305-359-3962 to get a free rental price quote.
Take a St. Patrick's Day booze cruise.
Miami is no stranger to a good booze cruise and there are quite a few festive options for St. Patrick's Day. Local yacht clubs, hotels, and ferry companies offer themed cruises for groups who want to celebrate on the water. Book a booze cruise along the Miami River, Biscayne Bay, and past the city's famously glamourous residential islands. Most cruises are limiting capacity at this time, so groups should inquire about booking tickets as early as possible.
Charter bus rental tip: Although you'll be on the water for most of the time, having a safe port shuttle to and from your cruise is important to consider. A Mimai minibus rental is the perfect way to travel to and from the cruise port without having to worry about a DD or needing to park multiple vehicles. When you book your cruise tickets, be sure to inquire about oversized parking options near the cruise starting point.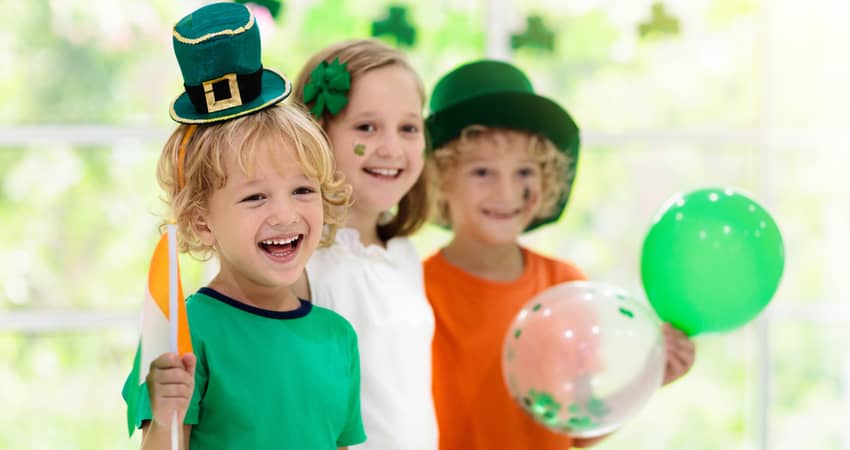 Sign up for a family-friendly St. Paddy's Day race.
Got a group of active kids that need to burn off some energy? Hop on a private charter bus rental up to the Fort Lauderdale Shamrock Run. This annual race also doubles as a party and is perfect for mixed groups with adults and children. Adults can sign up for the 4-mile race (with a green beer included with your ticket) and kids under 11 can participate in the Lucky Leprechaun Kids Dash. Don't worry, you don't have to run the route, you can stroll at your own pace. After the race, stick around for the Fort Lauderdale St. Patrick's Day Parade and Irish Festival. Play games, grab food and drinks from local vendors, and enjoy live music.
Charter bus rental tip: Having a shuttle for your race group will allow everyone to relax before or after a long day celebrating and running in the South Florida sun. Be sure to request a charter bus with entertainment amenities like TVs with DVD players to keep kids entertained on the way up to Fort Lauderdale from Miami.
Bar crawl through Miami's best neighborhoods.
Miami has a vibrant nightlife scene and signing up for a bar crawl is one of the best ways to experience a variety of bars or clubs. St. Patrick's Day bar crawls are common in most of the city's neighborhoods that are popular for nightlife. Wynwood and Brickell usually have bar crawls or even block parties for the holiday. Get tickets to the St. Pat's Wynwood festival/block party and do a bar crawl around the neighborhood's Irish pubs like Fado and John Martin's.
Charter bus rental tip: Parking an oversize vehicle in neighborhoods like Wynwood and Brickell can be difficult at times, but having a safe ride and built-in DD can alleviate travel-related stress while also keeping your group safe.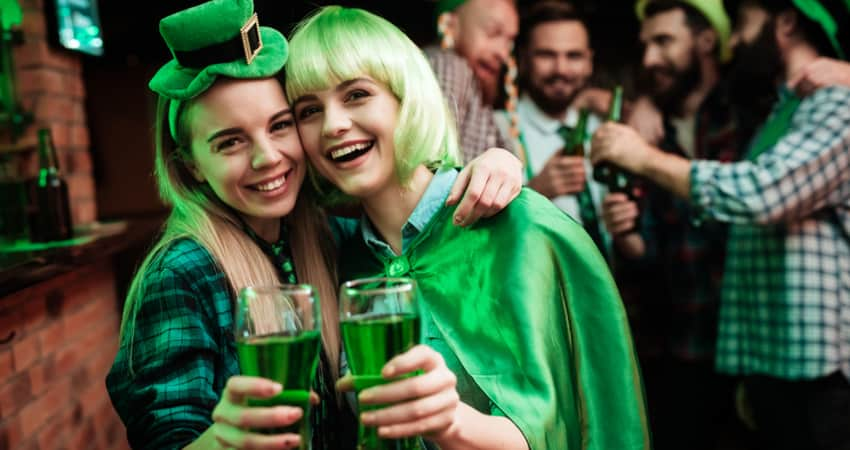 Host your own St. Paddy's happy hour.
If you're not interested in a full-blown bar crawl, your group can take advantage of local happy hour specials at Miami restaurants or bars. Many locations will offer specials that are great options for groups of coworkers looking to have a St. Paddy's happy hour after work. Drink and food specials will vary depending on the restaurant you choose. Popular spots include discounted cocktails and Irish whiskeys at The Taurus in Coconut Grove, green beer specials at Tobacco Road by Kush in Brickell, and a selection of refreshments accompanied by live music along the Miami River at The Wharf.
Charter bus rental tip: Depending on where you're hitting up happy hour, parking for a minibus or charter bus may be limited. Your group may need to be dropped off at your restaurant or bar of choice before your bus driver finds parking off-site.
Travel for St. Patrick's Day Events with a Miami Charter Bus
A private charter bus rental can make celebrating any holiday in Miami that much better. You'll have a spacious and comfortable ride with a professional driver handling the Miami traffic for you. Enjoy family-friendly activities or have an adults-only night out sampling Irish whiskeys, green beer, and craft cocktails for the holiday. Call 305-359-3962 to get a personalized, no-obligation quote for your Miami charter bus rental. The Falcon Charter Bus team is available 24/7!