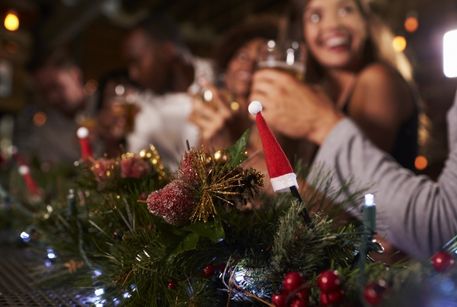 It's never too early to start planning your parties and outings for the holiday season in Tampa! Whether you're looking for a themed event to bring a church youth group to, or are in charge of planning this year's holiday office party, there are plenty of fun and festive destinations in Tampa that everyone in your group will enjoy a trip to.
Still deciding on where to go? Falcon Charter Bus Tampa is no stranger to servicing groups traveling to holiday parties and festive outings in the Tampa area, and have a few favorite places we can suggest. And if you're wondering how you're going to get everyone where they need to be, all together, and on time during the busy holiday season, you can rely on a charter bus rental with us. Once you've decided on the best group holiday destination for your Tampa group, make sure to give us a call at 813-944-3146 and book your event transportation!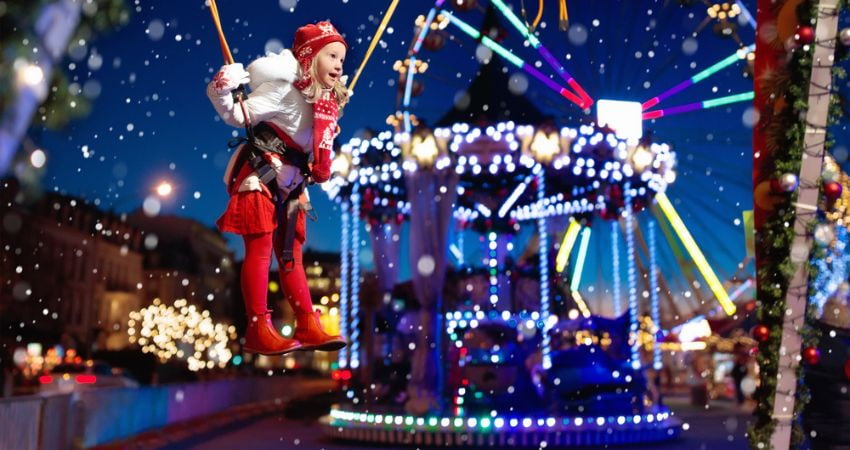 Busch Gardens Christmas Town
When: Nov 14, 2022–Jan 9, 2023
Where: Busch Gardens Tampa Bay (10165 McKinley Dr, Tampa, FL 33612)
What: A seasonal, park-wide celebration with lots of fun activities for young kids.
If you're looking to plan a fun, festive, family-friendly holiday event like a field trip or youth group trip, then consider visiting Busch Gardens Tampa Bay during the annual Christmas Town celebration. You and your group can enjoy holiday dining and shopping at the Christmas Town Village, watch fireworks and ice skating shows, visit Santa at his workshop in the North Pole, and so much more. For the foodies in your group, consider purchasing the Christmas Town Sampler Lanyard to indulge in a variety of holiday delights like wine and truffles, Christmas cookies, and festive cocktails.
Bus Rental Tip: The cost of parking at Busch Gardens for an oversized vehicle will likely be around $30 per vehicle, so make sure to factor this cost into your budget!
Enchant Christmas
When: November 25, 2022–January 1, 2023
Where: Tropicana Field (1 Tropicana Dr., St. Petersburg, FL 33705)
What: A holiday celebration with dozens of festive activities that's great for private parties and group gatherings.
While the Tampa Bay Rays enjoy their off-season, the Tropicana Field in nearby St. Petersburg decorates itself to spread cheer, fun, and merriment in the Tampa Bay area. For groups, this is an ideal holiday destination where you can customize a private party for any amount of guests. Plus, you can get a 10% ticket discount for groups of 15 or more! You and your group can enjoy a cheerful, story-themed Christmas Light Maze, ice skating, and a Christmas village filled with food vendors, specialty crafts, and boutiques.
Bus Rental Tip: Typically, buses can drop off passengers at Tropicana Field along 4th Avenue S. near Gate 3. Bus parking is free on 2nd Avenue S. between 9th and 10th Streets (subject to availability).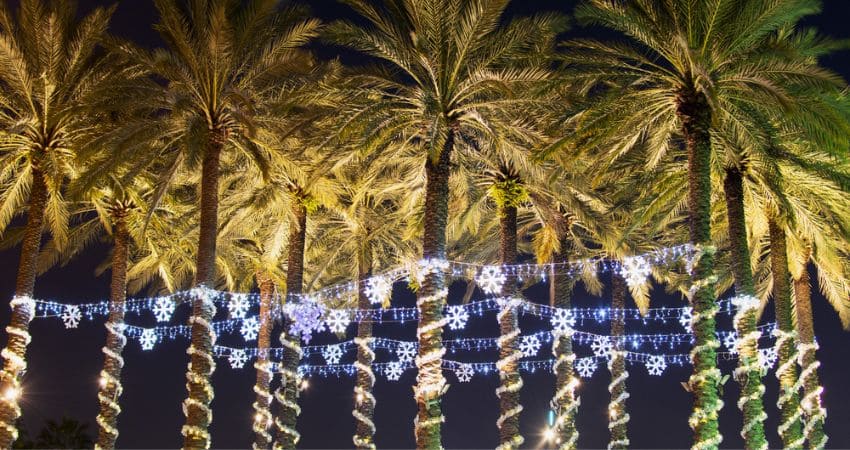 Winter Village at Curtis Hixon Waterfront Park
When: Nov 18, 2022–Jan 4, 2023
Where: Tampa Riverwalk, Curtis Hixon Waterfront Park (600 N Ashley Dr, Tampa, FL 33602)
What: A free emporium for Christmas shopping, several holiday shows and special events, and winter sports like ice skating and curling.
The Winter Village at the Tampa Riverwalk is as "winter wonderland" as it gets in sunny Florida. Go to enjoy holiday boutiques and the Winter Village Express experience, but stay for one of the many special events they have lined up, like a visit from Santa or a film screening. While entrance to the Winter Village is free, you will need to purchase tickets if you and your group would like to participate in ice skating. You could also pay a $200 registration fee to enter a team into the Winter Village's first inaugural Curling League!
Bus Rental Tip: For parking, call ahead to Tampa parking garages near the Riverwalk to see where you may be able to reserve a parking spot. Otherwise, for the most convenient way to visit, arrange for your driver to drop off and pick up you and your group at the event grounds.
Christmas in the Wild at ZooTampa
When: Nov 25–Dec 30, 2022
Where: ZooTampa at Lowry Park (1101 W Sligh Ave, Tampa, FL 33604)
What: A park-wide, holiday-themed event with animal-related experiences and activities.
There are few things more festive than celebrating the holiday season with your favorite furry (or scaly or feathered) friends at ZooTampa. Bring a group to the annual Christmas in the Wild event to enjoy bright lighting displays, interactive shows, and holiday-themed animal experiences across the zoo. Kids of all ages will enjoy strolling through the Forest of Fantasy and the Holiday Kaleidoscope walkthrough experience while adults can enjoy their fill of Christmas shopping at the European marketplace. Purchase tickets early because they go fast!
Bus Rental Tip: Tickets to Christmas in the Wild include a reserved time when you're permitted to enter, and you won't be able to gain entrance before, so make sure you plan your travel itinerary around when you're allowed into the event. Ask your charter bus driver to drop you and your group off within 30 minutes after your ticketed time.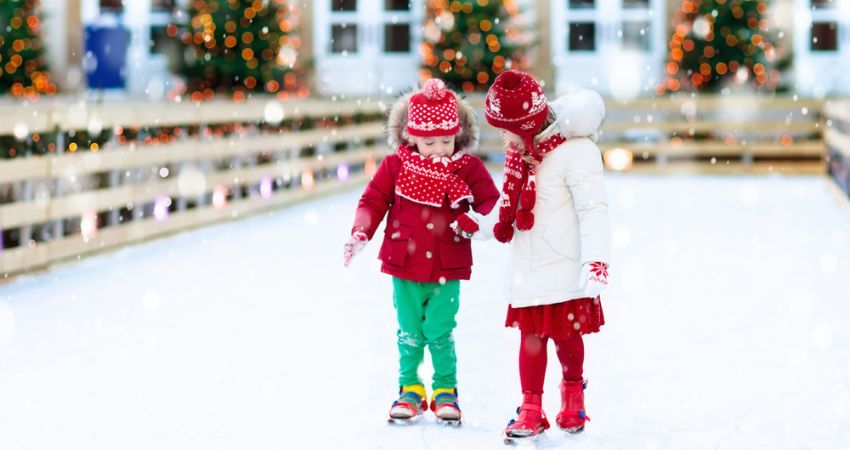 Victorian Christmas Stroll
When: Dec 1–Dec 23, 2022
Where: University of Tampa Henry B. Plant Museum (401 W. Kennedy Boulevard Tampa, FL 33606)
What: A holiday exhibition at the Henry B. Plant Museum exploring the history of Christmas.
Take a stroll through Christmas past at this annual holiday museum tour. Each room in the Henry B. Plant Museum is decorated in different themes for the season featuring trees covered in antique ornaments, display cases with vintage Snowbabies, and so much more. You can also enjoy complimentary cider and cookies, and live music. This event is a great opportunity for you and members of your group to snag unique holiday gifts, such as handmade jewelry and festive artwork.
Bus Rental Tip: The museum is located on the University of Tampa campus. The nearest parking is at the Rick Thomas Parking Garage, which you can contact ahead of time to see if charter bus parking is available. For the event, ask your driver to drop you off at the entrance to the museum.
Book a Tampa Charter Bus this Holiday Season
Call Falcon Charter Bus today at 813-944-3146 to get a no-obligation bus rental price quote and lock in your charter bus rental for this holiday season! No matter the size of your party and the specific group travel services you need, Falcon Charter Bus is here to transport you safely and comfortably around Tampa for the holiday season.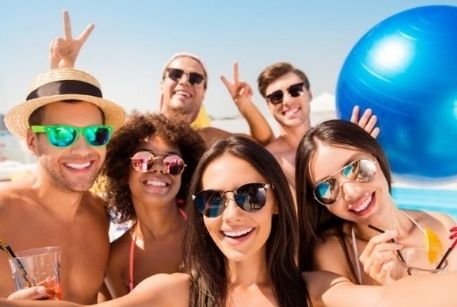 Looking for a safe and socially-distanced group vacation destination that isn't your typical go-to in Orlando? Look no further. Whether you're looking to plan a group holiday in an open-air or outdoors location, or thinking more along the lines of an all-inclusive and private gathering at a resort or conference center, Falcon Charter Bus Orlando can point you in the right direction—and get you there too. We'll pair you with a private charter bus rental perfect for your group, and hit the road to your choice of one of the best Orlando holiday spots that are just as much fun under the sun as any day at Disney or Universal.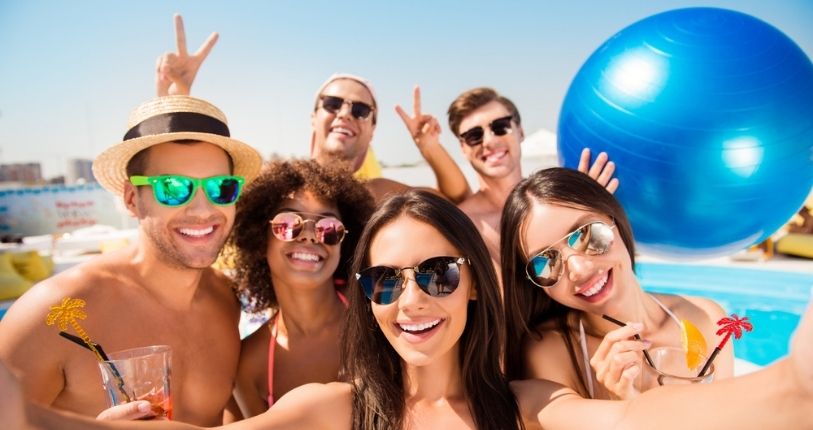 Outdoor Orlando Parks & Destinations
If you're looking for an open-air holiday spot where it's easy to stay socially distanced, Orlando is stocked full of outdoor destinations and open acres of adventure. Plan a safe group gathering like a family reunion picnic or destination wedding around any of these Orlando hotspots off the beaten path:
Central Florida Zoo & Botanical Garden
Head to the Central Florida Zoo & Botanical Garden for a fun-filled, family-friendly group holiday. Not only will you enjoy meeting dozens of exotic animals (like cheetahs, giraffes, and rhinos), you can also go zip-lining, feed the giraffes, or stroll the butterfly garden. For a group gathering, reserve an event space at the Wayne M. Densch Discovery Center. The banquet-hall-sized Safari Room is perfect for a corporate conference, while the Gazebo Courtyard is best for tying the knot, and the fully covered Rainforest Pavilion is a beautiful spot for a company picnic or family reunion.
For your safety during the ongoing COVID-19 pandemic, the zoo has closed or modified some attractions and activities, and indoor dining remains closed. It's also highly recommended for guests to wear a mask (especially while indoors), but it is not mandatory for those who are fully vaccinated. The zoo and garden are approximately 30 minutes North of Orlando, so to make your visit a full Orlando holiday experience, book a block of rooms at a hotel or resort in the city and enjoy a comfortable private charter bus ride to and from the zoo.
Address: 3755 W. Seminole Blvd. Sanford, FL 32771
Phone: 407-323-4450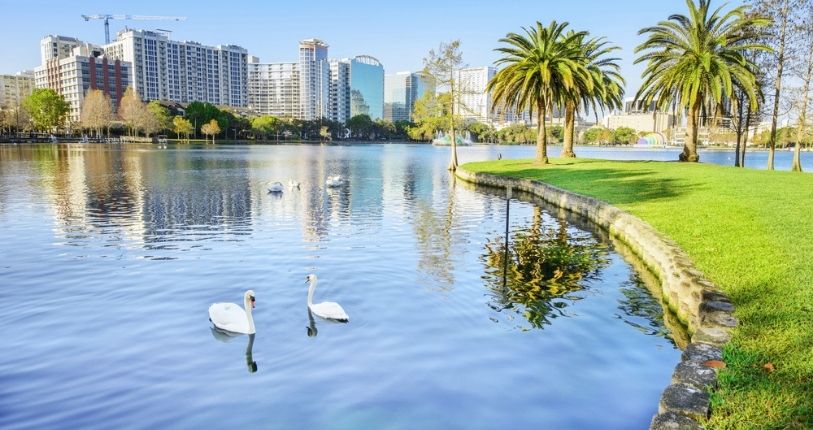 Lake Eola Park
Located in the heart of Downtown Orlando, Lake Eola Park is a great inner-city oasis for socially-distanced activities in sunny Florida. Plan your visit around a city event like the annual Fiesta in the Park, or make your own fun by reserving a private venue for a family picnic, wedding, conference, or other group event. To make a full holiday of your visit, reserve a block of rooms for your group at any nearby, downtown hotel (like Embassy Suites or the Grand Bohemian) and use your charter bus rental for easy group transportation back and forth.
Address: 512 East Washington Street, Orlando, FL 32801
Phone: 407-246-4484
Old Town
In the mood for an upbeat amusement park with some old-school charm? You're in luck. Just south of Orlando in nearby Kissimmee lies Old Town, an 18-acre outdoor entertainment district known for one-of-a-kind shopping and dining, classic fun rides and arcade games, and weekly vintage car shows. Reserve a private event space for a birthday party, family reunion, corporate team-building event, or whatever brings your group together for a day (or four).
You'll stay COVID-19-safe with Old Town's precautions in place, like continuous cleaning, hand-sanitizing stations around the property, and merchants adhering to CDC recommendations. Make your visit a proper holiday with a group stay at a nearby hotel or resort and easy group transportation with your Falcon charter bus rental.
Address: 5770 W Irlo Bronson Memorial Hwy, Kissimmee, FL 34746
Phone: (407) 396 4888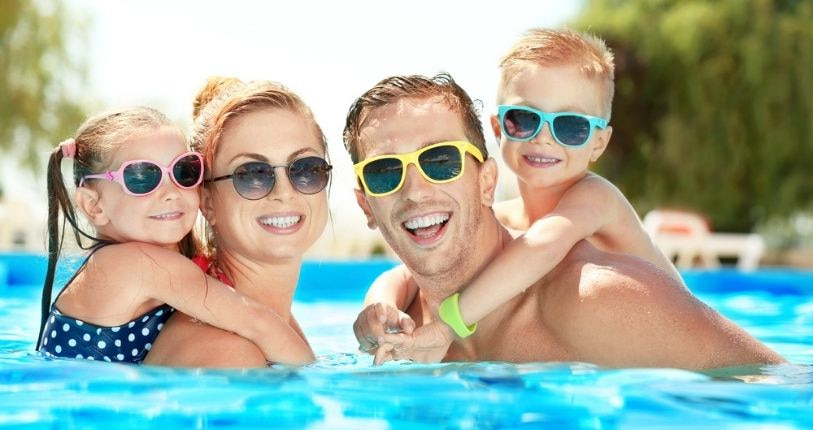 Orlando Holiday Resorts
Part of the appeal of a stay at Disney World or Universal Studios is living the luxe resort-life where everything from food to fun is just a stone's throw away. If you're looking for an alternative Florida vacation destination that's still deserving of the same hype, plan a stay in Orlando at a spacious holiday resort fit for your group's getaway.
Reunion Resort & Golf Club
If you really want to holiday in Orlando in style with your group, look no further than Reunion Resort. You can choose from more than 200 villas or vacation houses to stay in, and plan family-friendly group activities on the golf course or at the water park, at one of six on-site restaurants, or around one of the ten community pools.
Plan in advance and book a holiday event space for your group trip. Whether you're on the market for a small corporate retreat or a company-wide annual conference, you can reserve event spaces (from meeting rooms to ballrooms) on-site for any group size. For your awareness: to make your stay more comfortable and safe during the COVID-19 pandemic, some operation hours have been adjusted, and some amenities (like the rooftop pool, spa, and fitness classes) are reduced or closed.
Address: 7593 Gathering Drive, Kissimmee, FL 34747
Phone: 833-258-0472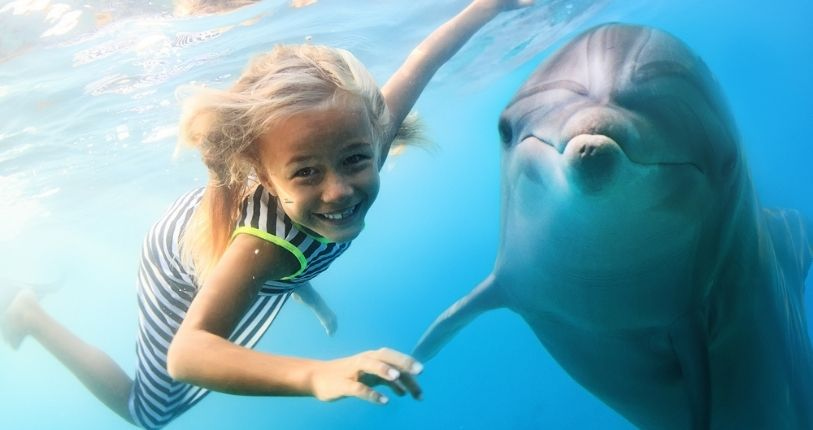 Discovery Cove
Paradise comes to you at Discovery Cove, where your group can have an all-inclusive tropical island vacation just 20 minutes from downtown Orlando. Swim with dolphins, snorkel with tropical fish, sunbathe on a white-sand beach, and enjoy unlimited food and drink. Plan a group event for a gathering of anywhere from 15 to 1,300, including a complete park buyout for the ultimate corporate retreat or private gathering.
While Discovery Cove doesn't have overnight accommodations onsite, they do offer vacation packages with partner hotels at SeaWorld—and yes, it includes length-of-stay admission to SeaWorld Orlando. If you'd like to take advantage, plan a day to load up your charter bus rental and bring the group to a day at SeaWorld.
Address: 6000 Discovery Cove Way, Orlando, FL 32821
Phone: 407-513-4600
The Grove Resort & Water Park
Looking for fun for the whole family? Adults and kids will be happy, safe, and comfortable during their stay at The Grove Resort & Water Park. There's no shortage of things to do on-site, from swimming in and lounging around three full-sized pools to fishing and playing watersports on Lake Austin. Reserve two- and three-bedroom suites (with complimentary admission to Surfari Water Park) for your group that are fit with fully-equipped kitchens and a full-size washer and dryer for a comfortable stay.
You can also book private event spaces like premium meeting rooms for a corporate conference or a lush Garden Terrace for an open-air wedding. And if the resort still doesn't have enough for you? Take your charter bus rental to any unique, Orlando-area attraction like the President's Hall of Fame or Orange County National Golf Center. For your reference: during the COVID-19 pandemic at The Grove Resort, facial coverings are highly recommended for all guests, hand-sanitizing stations are available around the property, and contactless experiences are encouraged using the resort's phone app.
Address: 14501 Grove Resort Ave, Winter Garden, FL 34787
Phone: (407) 545-7500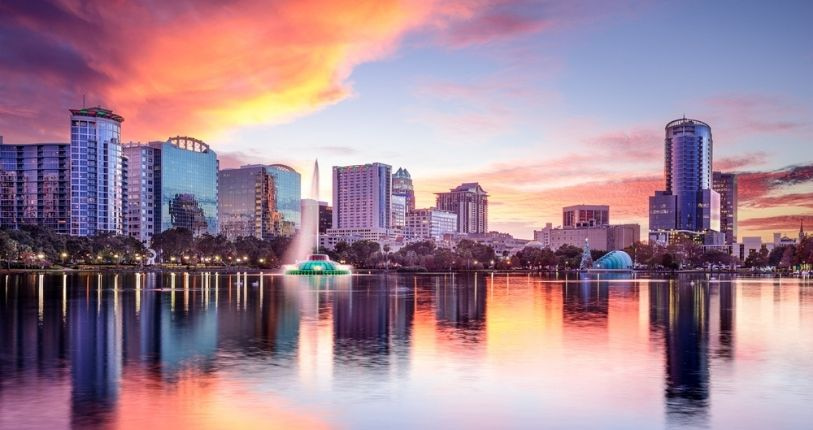 Book Your Orlando Holiday Charter Bus Today
Ready to finish planning your Orlando adventure beyond the walls of Disney World or Universal Studios? Whether you're coming from Orlando itself, or need to make the trek from Tampa, Miami, or Tallahassee, we have comfortable, sanitized, and safe group transportation to accommodate any group for any reason. Give Falcon Charter Bus a call today at 866-217-2168 to book the perfect bus for your next holiday in Orlando.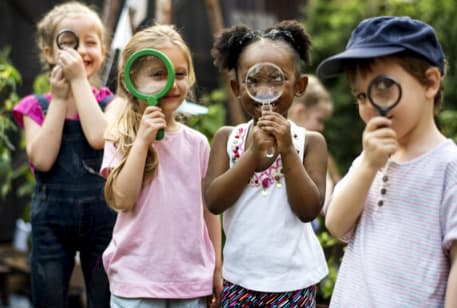 Where to Take a Field Trip in Miami
While Miami is best known for its blue beaches and exciting nightlife, that doesn't mean there isn't  an abundance of family-friendly and educational destinations to visit. With a private charter bus rental, you can load up the whole classroom and take them for an inspirational day out on the town. Check out our round-up of the best field trip destinations in the Miami area:
Frost Museum of Science
The Phillip and Patricia Frost Museum of Science is one of the top educational destinations in Miami. Field trips at the Frost Museum are immersive and engaging, inviting students of all ages to delve into the science behind marine ecosystems, the biology of the human body, the physics of flight, and more. You can also add on special programs like a planetarium show or a private, 45-minute learning experience about sea life or meteorology.
Getting to the museum is easy—it's located downtown in Miami's Museum Park. Your best bet for parking will be nearMaurice A. Ferré Park, so you may want to arrange a pick-up/drop-off time and place with your driver. When you call to schedule your field trip, you can also ask the museum about the best place to park your charter bus rental.
Address: 1101 Biscayne Blvd, Miami FL 33132
Phone: 303-434-9600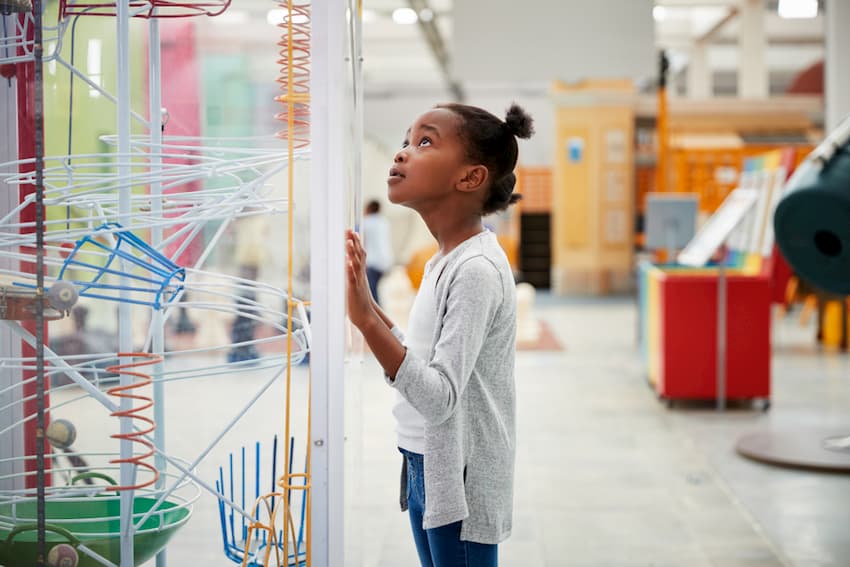 The PAMM
The PAMM, or the Pérez Art Museum Miami, has ample learning opportunities for K-12 students and teachers. High school fine arts, ceramics, or photography classes can enjoy browsing the modern art galleries and sculpture garden. You can also arrange a free educator workshop that discusses contemporary art and involves students in hands-on art-making.
Since the PAMM is located in the Downtown Miami Museum Park, you may find parking at Maurice A. Ferré Park. Arrange a pick-up and drop-off time and place with your driver if you plan to park off-site, or ask the PAMM where the best place to park your charter bus rental is.
Address: 1103 Biscayne Blvd, Miami, FL 33132
Phone: 305-375-3000
Zoo Miami
A field trip at Zoo Miami is an exciting day for students of all ages. You can visit the exhibits of dozens of animals including elephants, chimpanzees, and meerkats, to name some fan favorites. When it comes to planning your field trip, you can customize your visit with educational activities like wildlife training presentations and feeding giraffes, rhinos, or camels.
Please note, Zoo Miami requires a minimum of one week's notice to get a discounted rate for a field trip. Admission is between $8-$8.75 per student, and they allow one free chaperone per every eight paying students. When you call to make a reservation, ask about the best place to park your charter bus.
Address: 12400 SW 152 St, Miami FL, 33177
Phone (Group Sales): 305-251-0400 ext. 5084993, 5084951, or 5084941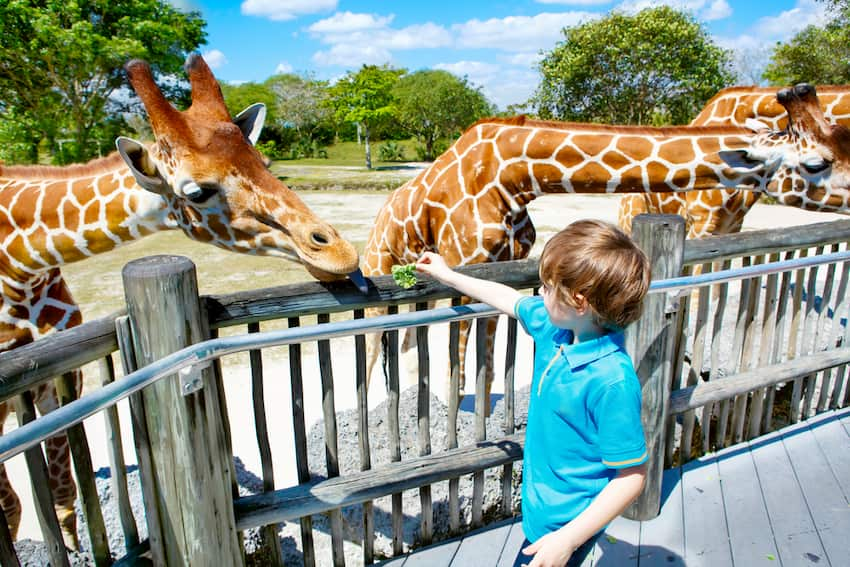 Vizcaya Museum and Gardens
The Vizcaya Museum and Gardens has many educational tour options for students of all ages. Younger students will enjoy The Living Garden and the A Day in the Life of Vizcaya tours, which guide students through the history of the Vizcaya. Older students can delve into the design and architecture of Italian country houses or discover the local nature of the estate through the Environmental Exploration Tour.
Submit a request to visit at least 14 days in advance of when you'd like to go. You'll be able to visit on a Monday, Thursday, or Friday, and the museum asks you to arrive at least 15 minutes prior to check-in. If you need to drop off and pick up visitors with limited mobility, make sure to alert the security officer in the main parking lot and they will guide you to the service area.
Address: 3251 South Miami Ave, Miami, FL 33129
Phone (School Programs Manager): 305-860-8436
HistoryMiami
Field trips at HistoryMiami will bring your students through 10,000 years of South Florida history. Their educational programs include a guided tour of the collection and galleries catered to your students' age group. Little ones will enjoy a 1-hour, story-filled journey through the museum while older students will enjoy a tour delving into local history and civics—and it doesn't stop there. Opt for an archeology-themed workshop or prehistoric-themed tour for deeper learning.
Ready to plan your day? Make sure to file a request to visit at least three weeks before your ideal date. Parking is located at the Miami-Dade Cultural Center Garage, but make sure to confirm availability for your charter bus rental when you can plan your field trip.
Address: 101 West Flagler Street, Miami, FL 33130
Phone: 305-375-1492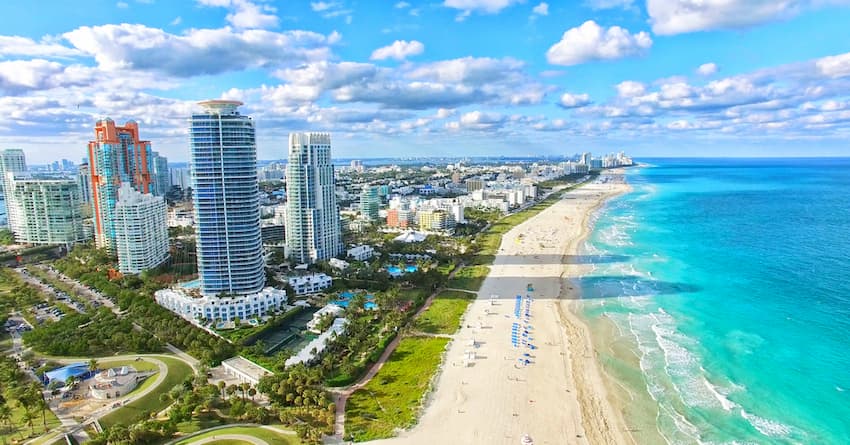 Traveling with Students in Miami
Now that you know where to go, let us help you get there! As a teacher or educational professional, you know traveling with students is no picnic in the park.
Multiple Charter Bus Options
Falcon Charter Bus can pair you with a variety of bus options. Choose a full-sized motorcoach or two for a whole grade-school class or a minibus for smaller high school classrooms. You can easily plan a field trip for your high school science or history class with a custom charter bus rental or take the whole school on a well-deserved end-of-the-year trip with a fleet of motorcoaches. We can also find you a bus with ADA-compliant features so that everyone can take part in your field trip. Just mention your need when you call us at 305-359-3962.
Onboard Amenities
With a private charter bus, you can ensure your students are entertained and chaperones are relaxed while en route. Large motorcoaches typically come equipped with TV screens and a DVD player, so you can ask your class to bring in some of their favorite movies and TV shows to play on the journey. Or ask about free WiFi onboard to keep everyone connected, whether it's for students to make and share TikToks or to keep your class engaged with a digital trivia game. Buses also have power outlets in every seat so devices like smartphones and laptops can stay charged throughout the day.
Comfortable, Reliable Rides
When it comes to comfort, reclining seats and plenty of legroom will help you relax en route—not to mention air-conditioning to combat the Florida heat. You'll also be able to relax and rely on a professional, experienced driver who's committed to keeping your students safe. Falcon Charter Bus only works with trained, credentialed drivers, including many who are local to Miami and comfortable with the city streets. You'll be able to sit back and relax knowing you're in good hands.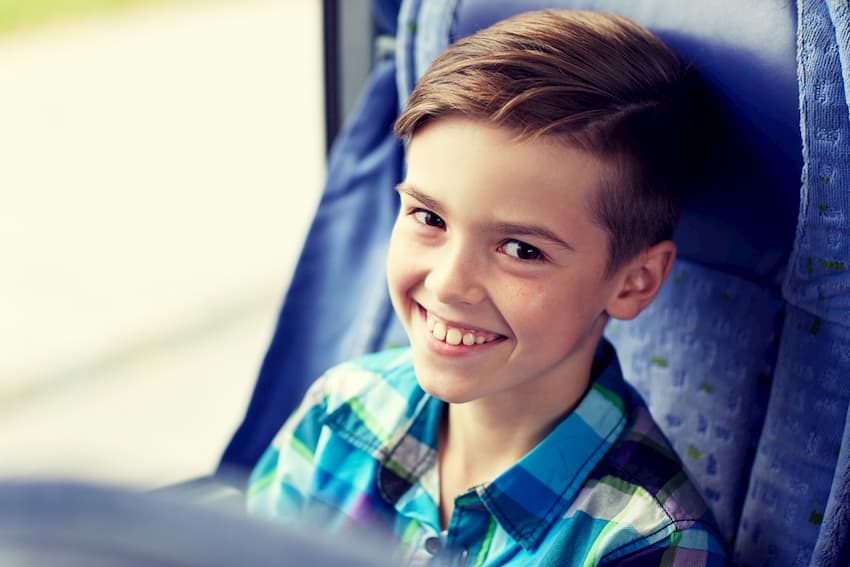 Rent a Charter Bus For Your Miami Field Trip
Ready to hit the road for your next field trip in Miami? Let Falcon Charter Bus take care of the transportation logistics for you. Give us a call at 305-359-3962 and tell us about your field trip plans. We can suggest the right charter bus for your needs and give you a free, no-obligation quote today!