Affordable Group Activities To Do With Kids in Miami
So you're taking a big family trip to Miami? Awesome! But you're on a tight budget? No worries! If you need a few ideas on where to take kids when you don't have much to spend, you're in the right place.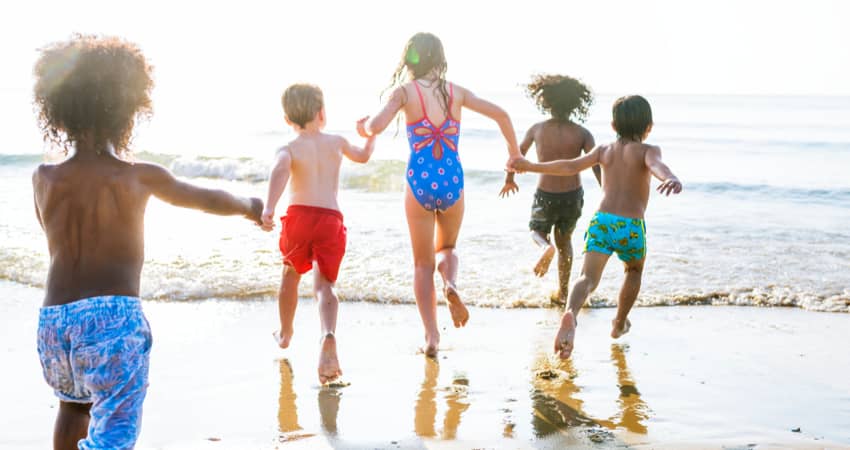 As someone who grew up in Miami, I know all too well how expensive the city is—especially when you're traveling with kids. Thankfully, there are still a few cool kid-friendly spots you can check out for a low cost (some are free!) Fill the itinerary of your next family vacation or reunion with beautiful parks, beaches, museums, and other attractions across Miami. Even if you're traveling with a school group, community organization, or scout troop on a limited budget, there are several affordable, kid-approved Miami attractions to visit.
If you have a big group and need a comfy ride around town, give Falcon Charter Bus a call at 305-359-3962. You can simplify your Miami trip by booking a charter bus or minibus to fit your passenger count and budget. Keep kids entertained with movies on your bus's TVs and keep them comfortable in Miami's heat with a climate-controlled motorcoach. Sit back, relax, and leave the horrible U.S. 1 traffic up to a pro driver.
Visit Florida state and national parks.
Take your outdoorsy bunch to one of the area's many parks to learn about the state's scaly, feathery, and furry natives.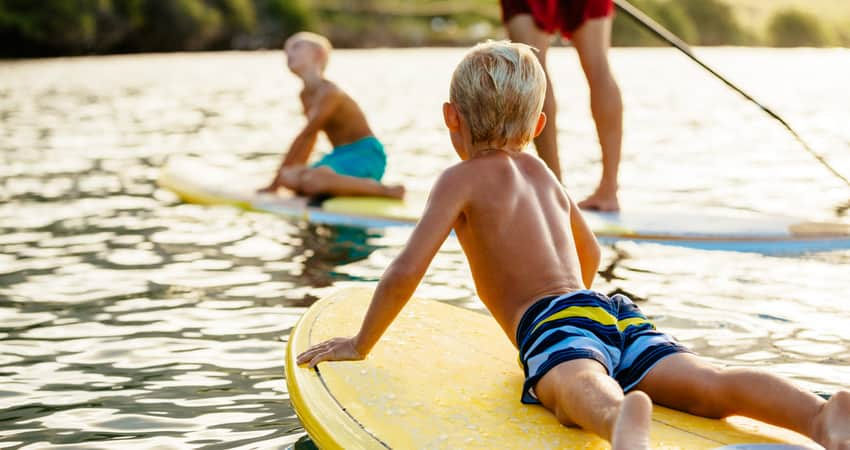 Oleta River State Park
Address: 3400 NE 163rd St, Golden Beach, FL 33160
Phone: (305) 919-1846
Cost: $6 per vehicle (up to 8 passengers) or $2 per person (in buses)
Kids who love outdoor activities will have more than enough to keep them busy at Oleta. This picturesque park has options for hiking, biking, fishing, paddleboarding, kayaking, and canoeing, and swimming in designated areas. If you're lucky you may catch a glimpse of dolphins and manatees. Entrance to the park is relatively affordable, just keep in mind that you'll have to pay additional fees for equipment rentals.
Charter bus travel tip: A charter bus will give your group plenty of space to bring your own outdoor gear. Pack up inflatable water gear, chairs, tents, and coolers in your bus's luggage bays.
John Pennekamp Coral Reef State Park
Address: 102601 Overseas Hwy, Key Largo, FL 33037
Phone: (305) 451-6300
Cost: $8 per vehicle (up to 8 passengers) or $2 per person (in buses)
Even though Key Largo is one of the northernmost islands in the Florida Keys, it's actually a little bit of a haul from Miami. It's about a 1.5-hour drive from Downtown Miami, but you can just leave the navigation up to your bus driver. Everyone can enjoy the waterfront views through your bus's panoramic windows as you hop on over to John Pennekamp. Keep in mind: this mangrove-lined waterfront park is known for snorkeling, not sandcastles. So it may be better suited for travelers with older children. Be sure to pack soled water shoes to get past the rocky shore to the snorkeling area. Glassbottom boat tours, guided scuba diving, and snorkeling equipment rentals are available for an additional fee.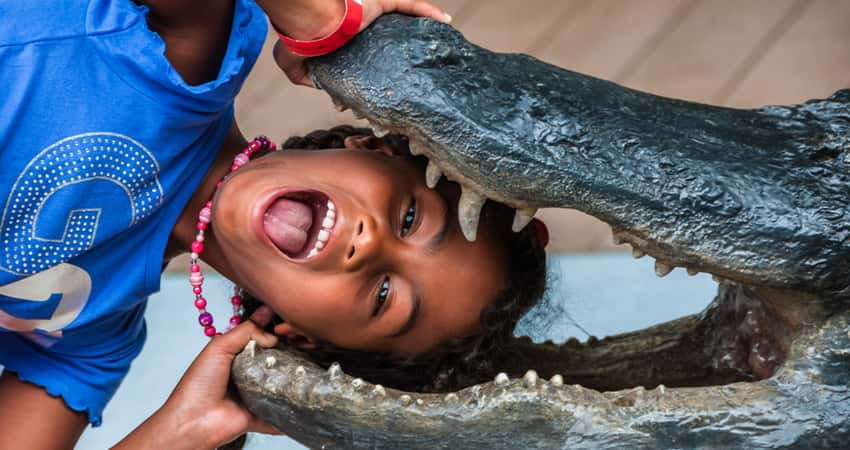 Everglades National Park
Ernest F. Coe Visitor Center (South Entrance): 40001 State Hwy 9336, Homestead, FL 33034
Phone: 305-242-7700
Shark Valley Visitor Center (North Entrance): 36000 SW 8th St, Miami, FL 33194
Phone: 305-221-8776
Cost: $30 per vehicle or $15 per person (vehicles with 16+ passenger capacity)
Visiting the Everglades is more of a "good value" than a cheap upfront visit. Entrance fees vary depending on your vehicle capacity but it's money well spent. The Everglades is one of the few attractions in Miami that can take well over a full day to visit, but thankfully, your admission is valid for 7 days. So you can come back if your kids get tired after a couple of hours.
The park has several visitor centers and choosing which one to go to will depend on what you like. Ernest F. Coe and Shark Valley both have interesting exhibits and wildlife viewing areas for visitors of all ages. If you want to walk trails and gator spots through the park, Ernest F. Coe is your go-to. If you want to take a tram tour (additional fees) or check out views from observation decks, hop on over to Shark Valley. Don't forget to ask for a Junior Ranger Guidebook at your visitor center of choice!
Group travel tip: If you're traveling with a school group or community organization, ask about ranger-led education programs before your trip. These programs may be discounted or free for certain groups.
Learn about art and culture.
Teach young minds about art from around the world at these popular Miami museums and art spaces: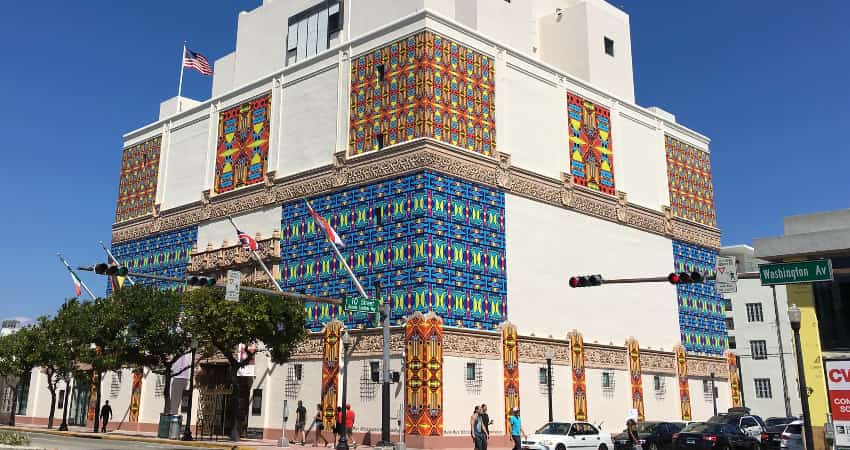 The Wolfsonian
Address: 1001 Washington Ave, Miami Beach, FL 33139
Phone: 305-531-1001
Cost: Free
Are your kids into Art Deco art? Well, that may be a tough sell for some, but if you have an artsy bunch, they'll love the bright and busy collection at The Wolfsonian. This museum is located in Miami Beach's historic Art Deco District and is a great place to visit if you're hitting SoBe. Although admission is always free for every guest, families with kids should probably visit on a Free Family Day. These days include free hands-on programs like art-making, storytime, kid-centric gallery tours, and games. Check out The Wolfsonian's online calendar to see what's in store for Free Family Day!
Pérez Art Museum Miami (PAMM)
Address: 1103 Biscayne Blvd, Miami, FL 33132
Phone: 305-375-3000
Cost: $12-16; Free for children under 6; Free admission every first Thursday of the month
Known for an extensive contemporary collection of Cuban art, the PAMM may not be to the tastes of younger kids, but it does have a wide range of activities that may peak their interests. Pick up an activity booklet at the circulation desk so they can go on a scavenger hunt throughout the museum to bring out their inner artist. Depending on the time of year and day, the museum also offers a variety of workshops and kid-friendly tours. Many of these activities are included in standard admission, you'll just need to RSVP. Kids can get hands-on and make their own work with guest artists or even join a storytime in the gallery.
Charter bus travel tip: Bus dropoff and pickup is available on Museum Drive but you won't be able to park there. You'll have to look into public lots with oversized options and give your driver money to cover parking fees. Several parking lots are located a couple of blocks east of the museum, just beyond NE 2nd Ave.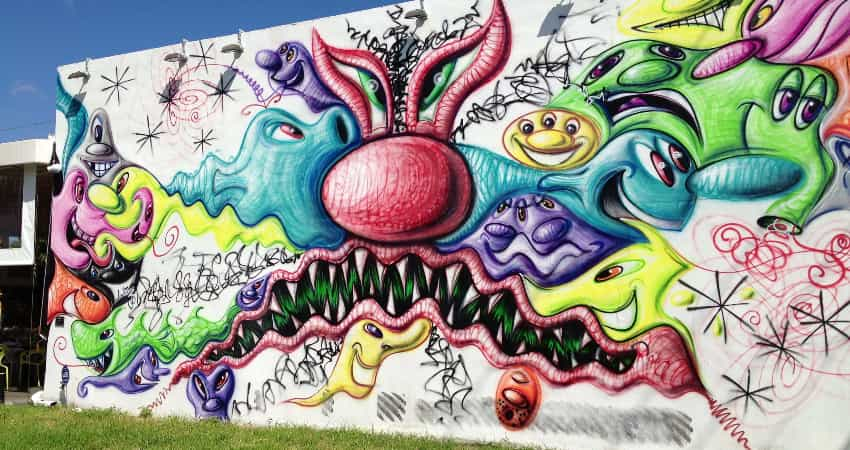 Wynwood Walls
Address: 2520 NW 2nd Ave, Miami, FL 33127
Phone: 305-531-4411
Cost: Free-Varies
Wynwood is arguably one of Miami's coolest neighborhoods. The area is filled with street art, shops, galleries, small museums, and local markets that are fun to explore for guests of all ages. Start your visit at the Wynwood Walls, where kids can get up close and personal with massive street art murals and interactive sculptures that double as play areas. Visiting most art spaces in the neighborhood is completely free, but if you're visiting another private museum or amusement center, you may have to pay admission fees.
Charter bus travel tip: First Friday brings hundreds of people to Wynwood and the roads get ridiculously crowded. This time of the month may bring additional activities for kids to enjoy, but it may be hard to park a charter bus.
Soak up some sun at kid-friendly beaches.
South Beach is Miami's most popular beach but it isn't the only option out there. Check out these kid-friendly beaches in the Miami metro area: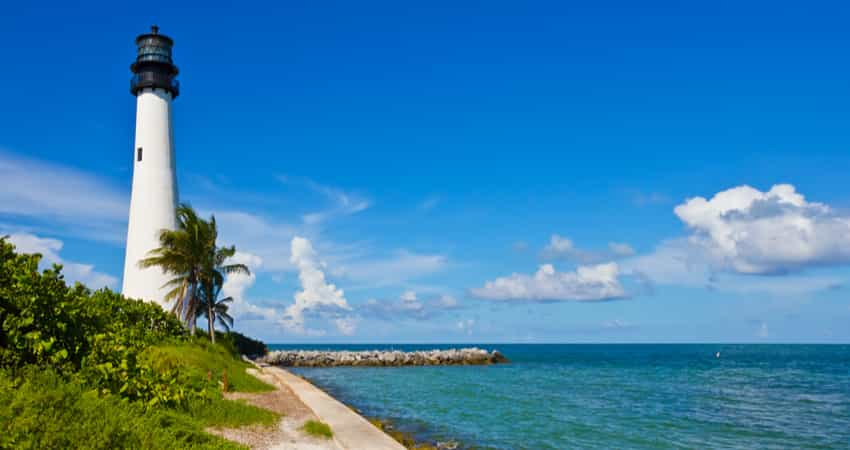 Bill Baggs Cape Florida State Park
Address: 1200 Crandon Blvd, Key Biscayne, FL 33149
Phone: 786-582-2673
Cost: $8 per vehicle (up to 8 passengers) or $2 per person (in buses)
Key Biscayne has several quiet and family-friendly beaches away from the hustle and bustle of Miami Beach. Large groups will have miles of beach for children to explore, play, and splash in the calm waters. Bill Baggs Park not only has a beautiful, calm, and relatively empty beach, it also has a historic lighthouse that kids are sure to love. I'm not sure about you, but when I was a kid, I thought lighthouses were pretty cool (and they're honestly still cool as an adult). The Cape Florida Light is recognized as the oldest standing structure in South Florida. Self-guided tours of the lighthouse are free and open Thursday through Monday.
South Pointe Park Beach
Address: 1 Washington Ave, Miami Beach, FL 33139
Phone: 305-673-7779
Cost: Free
South Pointe Park Beach is just a few blocks away from South Beach. Unlike South Beach though, South Pointe Park Beach has grassy play areas, a pier with an observation deck, and calm shallow water. This makes it a great spot to take the kids! Pack up your bus with all your beach gear and enjoy a day in the South Florida sun. Once you've wrapped up your day at the beach, hop back on your bus and cool off on the way to your next destination.
Charter bus travel tip: South Pointe Park Beach doesn't have its own designated lot, so you'll have to organize parking at a public lot or along the street on Washington Avenue. Expect to pay hourly for each space your charter bus takes up in your parking area.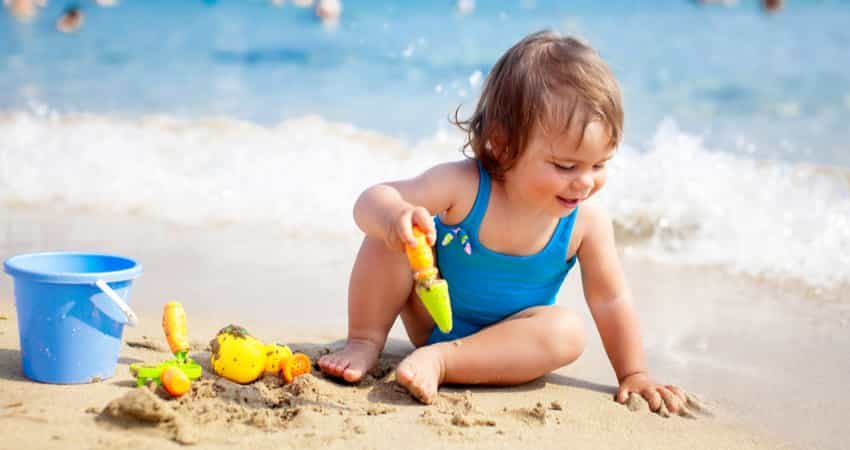 Matheson Hammock Park
Address: 9610 Old Cutler Road, Coral Gables, FL 33156
Phone: 305-665-5475
Cost: $5-7 per car, $15 per bus
Are you traveling with toddlers or even younger children? Matheson Hammock is a scenic yet often forgotten beach in suburban Miami. The beach has a shallow and enclosed wading pool for small children to safely play in the water. There are also fishing areas for groups who want to spend a relaxed afternoon by the water and beautiful mangroves. If you have some extra time, consider hopping over next door to Fairchild Tropical Garden. Admission to the garden during normal hours can get pricey but sometimes special events and programs can be accessed at a lower cost.
Travel Around Miami with Falcon Charter Bus
Without some thorough planning, traveling with kids around Miami can easily rack up a big bill. While organizing your trip, let Falcon Charter Bus take the transportation off your plate. Call 305-359-3962 at any time to chat with a rental representative about your trip!