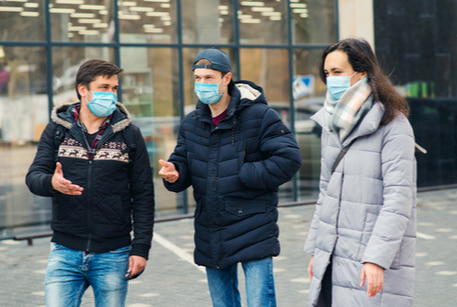 The way we travel has completely changed during the COVID-19 pandemic. If you're planning to travel with a group in the near future, you'll need to be thorough in planning where you're going and how you'll get there. Falcon Charter Bus is dedicated to safe and reliable transportation for passengers throughout the Southeast.
Before you embark on your group trip, review a few of our most asked questions about current bus rentals and group travel: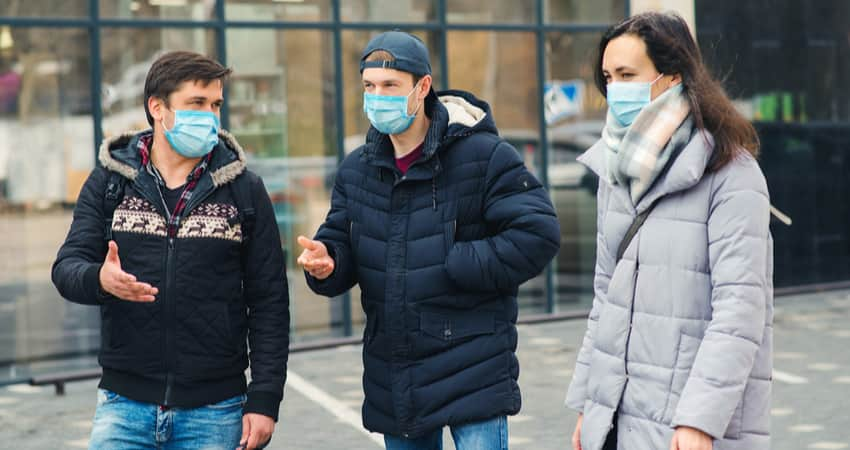 Is it safe to travel with a group right now?
Traveling comes with varying levels of risk, especially when you're in a group. As a general rule: any type of travel should be limited where possible. You can travel with proper precautions, but your first step in group trip planning should be to think about your reason for traveling.
If you need a minibus to go on vacation with a big group of friends, maybe reconsider your travel plans. On the other hand, if you need an employee shuttle service for essential workers, a charter bus is a good and safe travel option.
Are charter bus rentals a safe way to travel?
Yes, charter buses are safe ways to hit the road when you take necessary precautions. Depending on your group size, renting a charter bus can be an even safer mode of transportation than organizing a multi-vehicle carpool. Established pods of travelers will stay together in one controlled location rather than splitting up. Every motorcoach rented from Falcon Charter Bus will be thoroughly sanitized according to CDC guidelines, and each driver will have proper PPE throughout each trip. Your driver will also be instructed to have minimal contact with your group wherever possible to keep everyone safe.
Passengers can also suggest additional safety protocols and sanitization schedules to fit their needs. This can include social distancing onboard the bus, checking temperatures before boarding, and creating additional sanitization schedules as you load back on at stops. Just let your reservation expert know of any additional requests when you call 1-866-217-2168 for a quote.
Do we have to wear masks on our charter bus?
At Falcon Charter Bus, we pride ourselves on allowing groups to build customized transportation services for their unique trip. That being said, we'd highly recommend wearing masks onboard your bus. Cloth face coverings are recommended by the CDC to keep you and your fellow passengers safe, as well as to protect the people you come into contact with during day-to-day interactions.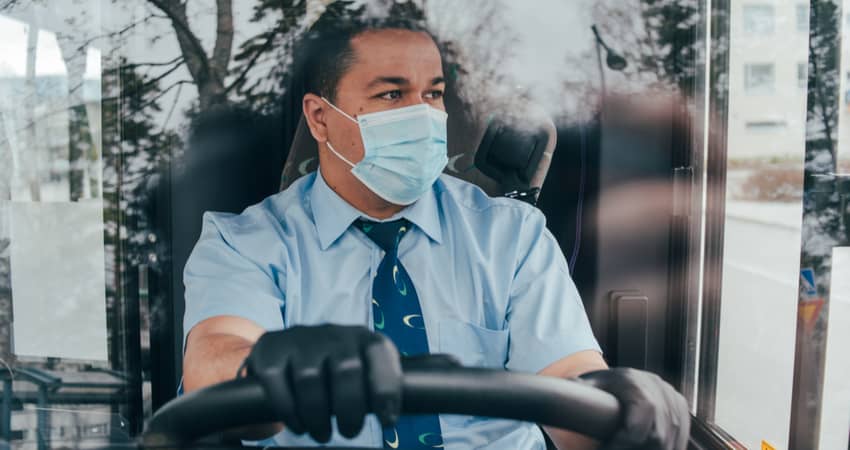 Will our charter bus have hand sanitizer and extra masks?
Each full-sized charter bus will include a bathroom with running water and soap for passengers to wash their hands as frequently as needed. Additional hand sanitizer and cloth face coverings can be requested when you book your bus. To be safe, ensure each passenger has their own face covering and hand sanitizer, if possible. You can also designate someone to bring sanitizer and additional face coverings for anyone that needs one.
Tips for Safely Traveling with A Group
While organizing your travel gameplan, it's important to consider CDC recommended guidelines. Here are a few travel tips to use when booking your charter bus:
1. Social distance on your bus.
In the case of employee shuttles where you're not traveling in an established pod, social distancing on your bus may be a good idea. Renting a bigger bus than you need can allow for staggered seating arrangements. Passengers will have plenty of space between one another to safely travel to and from work or any other destination. If you're not sure what type of bus would be best to social distance your group, your Falcon Charter Bus reservation expert will be happy to assist you.
2. Load and unload strategically.
Along with social distancing onboard, you'll want to think about how passengers will board and leave the bus. The last thing you'd want is for people to crowd the entrance waiting to board or to stand too close in line. If you'll be traveling with a relatively large group of passengers, placing floor decals or colored tape can keep everyone aware of the distance between one another.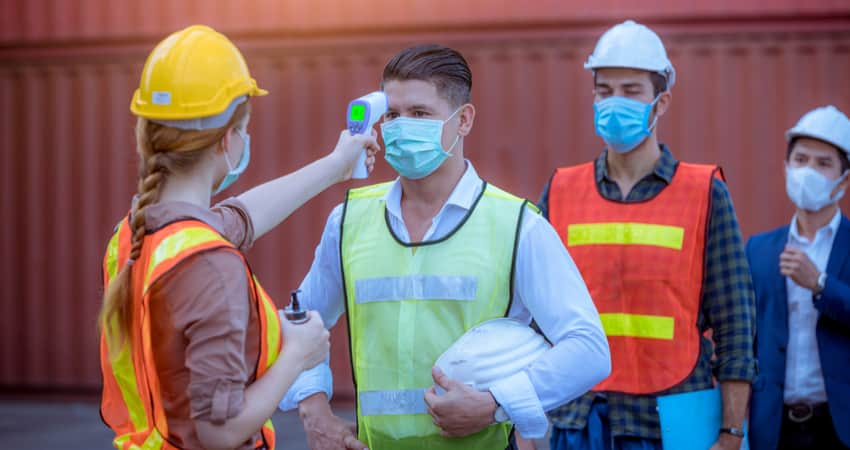 3. Screen passenger health.
There are several ways to screen everyone's health before boarding your charter bus. One of the most thorough methods is to have everyone tested for COVID-19 and self-quarantined before the beginning of your trip. This isn't always possible for short-notice or recurring trips. Alternatively, temperature check each passenger before boarding. Temperature screening doesn't 100% guarantee good health, but it is a quick and easy precautionary measure.
4. Think about additional ventilation options.
Proper ventilation can help limit the possible spread of germs on your bus. Falcon Charter Bus is actively working with transportation providers and their HVAC companies to follow CDC recommendations to optimize clean air on your bus. Depending on when and where you're traveling, you may want to opt to open the windows on your bus for even better ventilation. Keep in mind, groups traveling in extremely hot or cold weather may not have this option.
5. Communicate with your fellow passengers in advance.
Once you establish safety protocols with your charter bus rental rep, let passengers know with plenty of notice. Keeping everyone in the loop on your rules will help your trip go smoothly and safely. Communicating these rules ahead of time will ensure everyone in your group shows up prepared with masks, sanitizer, and social distancing in mind.
Falcon Charter Bus Has Your Back
Traveling can already be stressful for many people, and COVID-19 has made it even more complicated. Falcon Charter Bus can take a little bit of the stress off your shoulders with a sanitized private motorcoach. We're here to help groups of all sizes traveling for a variety of essential reasons. Whether your team of healthcare professionals needs a ride to off-site treatment facilities or your students need a shuttle to campus for limited in-person learning, we've got you covered. Don't hesitate to call us at 1-866-217-2168 anytime with questions about our group transportation services.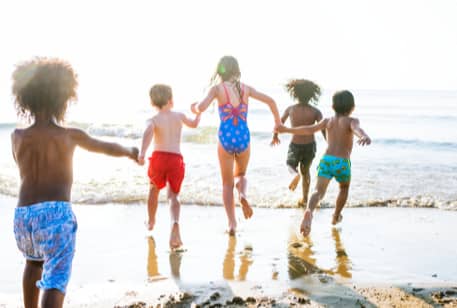 So you're taking a big family trip to Miami? Awesome! But you're on a tight budget? No worries! If you need a few ideas on where to take kids when you don't have much to spend, you're in the right place.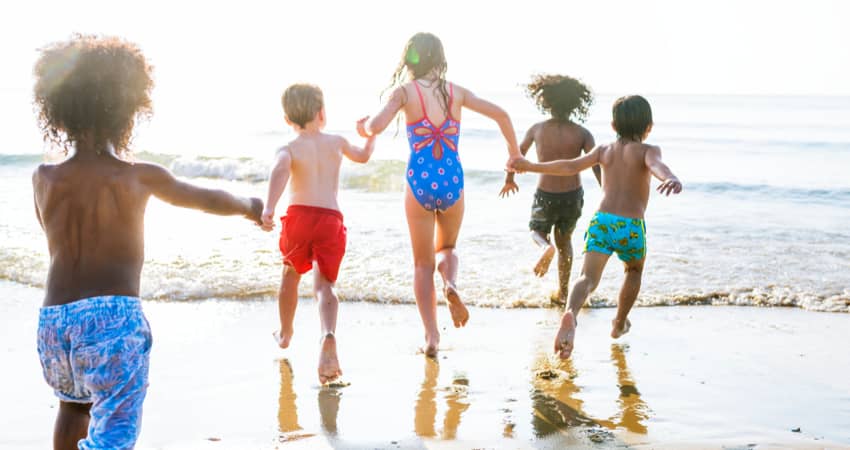 As someone who grew up in Miami, I know all too well how expensive the city is—especially when you're traveling with kids. Thankfully, there are still a few cool kid-friendly spots you can check out for a low cost (some are free!) Fill the itinerary of your next family vacation or reunion with beautiful parks, beaches, museums, and other attractions across Miami. Even if you're traveling with a school group, community organization, or scout troop on a limited budget, there are several affordable, kid-approved Miami attractions to visit.
If you have a big group and need a comfy ride around town, give Falcon Charter Bus a call at 305-359-3962. You can simplify your Miami trip by booking a charter bus or minibus to fit your passenger count and budget. Keep kids entertained with movies on your bus's TVs and keep them comfortable in Miami's heat with a climate-controlled motorcoach. Sit back, relax, and leave the horrible U.S. 1 traffic up to a pro driver.
Visit Florida state and national parks.
Take your outdoorsy bunch to one of the area's many parks to learn about the state's scaly, feathery, and furry natives.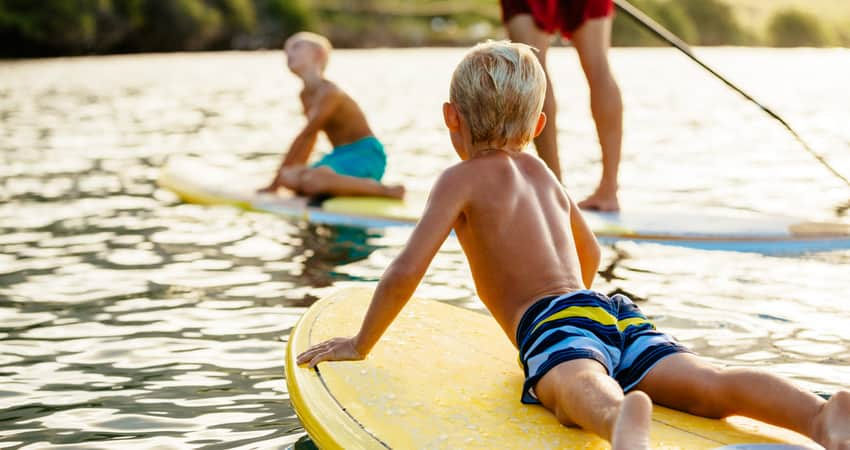 Oleta River State Park
Address: 3400 NE 163rd St, Golden Beach, FL 33160
Phone: (305) 919-1846
Cost: $6 per vehicle (up to 8 passengers) or $2 per person (in buses)
Kids who love outdoor activities will have more than enough to keep them busy at Oleta. This picturesque park has options for hiking, biking, fishing, paddleboarding, kayaking, and canoeing, and swimming in designated areas. If you're lucky you may catch a glimpse of dolphins and manatees. Entrance to the park is relatively affordable, just keep in mind that you'll have to pay additional fees for equipment rentals.
Charter bus travel tip: A charter bus will give your group plenty of space to bring your own outdoor gear. Pack up inflatable water gear, chairs, tents, and coolers in your bus's luggage bays.
John Pennekamp Coral Reef State Park
Address: 102601 Overseas Hwy, Key Largo, FL 33037
Phone: (305) 451-6300
Cost: $8 per vehicle (up to 8 passengers) or $2 per person (in buses)
Even though Key Largo is one of the northernmost islands in the Florida Keys, it's actually a little bit of a haul from Miami. It's about a 1.5-hour drive from Downtown Miami, but you can just leave the navigation up to your bus driver. Everyone can enjoy the waterfront views through your bus's panoramic windows as you hop on over to John Pennekamp. Keep in mind: this mangrove-lined waterfront park is known for snorkeling, not sandcastles. So it may be better suited for travelers with older children. Be sure to pack soled water shoes to get past the rocky shore to the snorkeling area. Glassbottom boat tours, guided scuba diving, and snorkeling equipment rentals are available for an additional fee.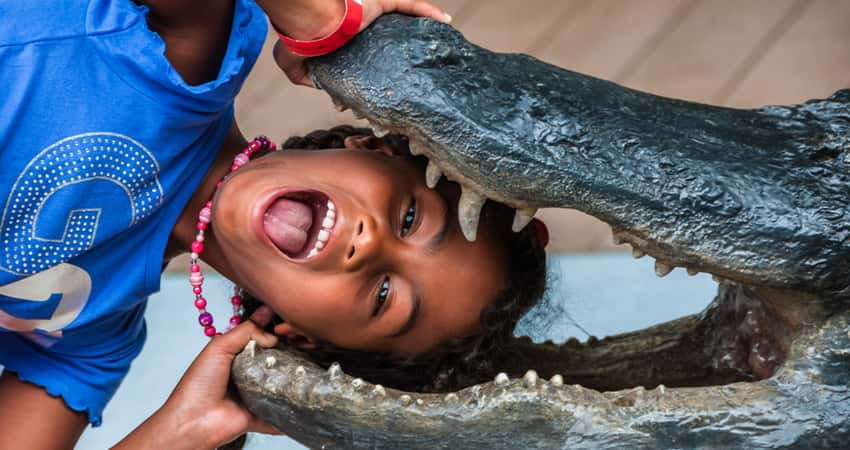 Everglades National Park
Ernest F. Coe Visitor Center (South Entrance): 40001 State Hwy 9336, Homestead, FL 33034
Phone: 305-242-7700
Shark Valley Visitor Center (North Entrance): 36000 SW 8th St, Miami, FL 33194
Phone: 305-221-8776
Cost: $30 per vehicle or $15 per person (vehicles with 16+ passenger capacity)
Visiting the Everglades is more of a "good value" than a cheap upfront visit. Entrance fees vary depending on your vehicle capacity but it's money well spent. The Everglades is one of the few attractions in Miami that can take well over a full day to visit, but thankfully, your admission is valid for 7 days. So you can come back if your kids get tired after a couple of hours.
The park has several visitor centers and choosing which one to go to will depend on what you like. Ernest F. Coe and Shark Valley both have interesting exhibits and wildlife viewing areas for visitors of all ages. If you want to walk trails and gator spots through the park, Ernest F. Coe is your go-to. If you want to take a tram tour (additional fees) or check out views from observation decks, hop on over to Shark Valley. Don't forget to ask for a Junior Ranger Guidebook at your visitor center of choice!
Group travel tip: If you're traveling with a school group or community organization, ask about ranger-led education programs before your trip. These programs may be discounted or free for certain groups.
Learn about art and culture.
Teach young minds about art from around the world at these popular Miami museums and art spaces: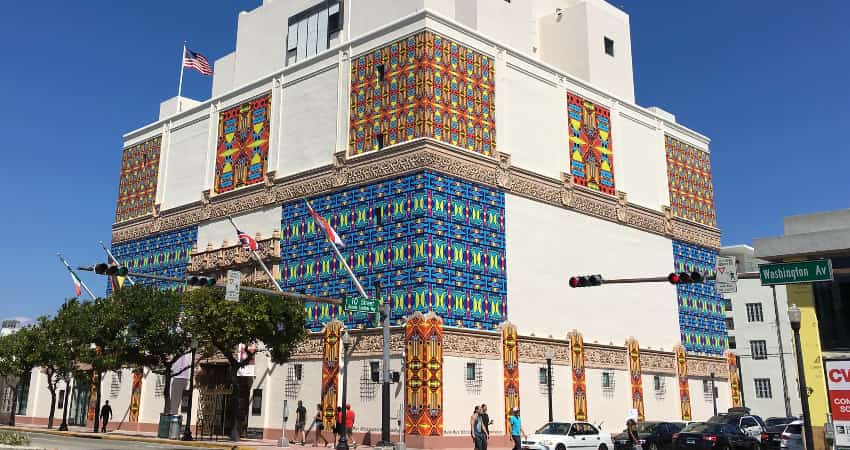 The Wolfsonian
Address: 1001 Washington Ave, Miami Beach, FL 33139
Phone: 305-531-1001
Cost: Free
Are your kids into Art Deco art? Well, that may be a tough sell for some, but if you have an artsy bunch, they'll love the bright and busy collection at The Wolfsonian. This museum is located in Miami Beach's historic Art Deco District and is a great place to visit if you're hitting SoBe. Although admission is always free for every guest, families with kids should probably visit on a Free Family Day. These days include free hands-on programs like art-making, storytime, kid-centric gallery tours, and games. Check out The Wolfsonian's online calendar to see what's in store for Free Family Day!
Pérez Art Museum Miami (PAMM)
Address: 1103 Biscayne Blvd, Miami, FL 33132
Phone: 305-375-3000
Cost: $12-16; Free for children under 6; Free admission every first Thursday of the month
Known for an extensive contemporary collection of Cuban art, the PAMM may not be to the tastes of younger kids, but it does have a wide range of activities that may peak their interests. Pick up an activity booklet at the circulation desk so they can go on a scavenger hunt throughout the museum to bring out their inner artist. Depending on the time of year and day, the museum also offers a variety of workshops and kid-friendly tours. Many of these activities are included in standard admission, you'll just need to RSVP. Kids can get hands-on and make their own work with guest artists or even join a storytime in the gallery.
Charter bus travel tip: Bus dropoff and pickup is available on Museum Drive but you won't be able to park there. You'll have to look into public lots with oversized options and give your driver money to cover parking fees. Several parking lots are located a couple of blocks east of the museum, just beyond NE 2nd Ave.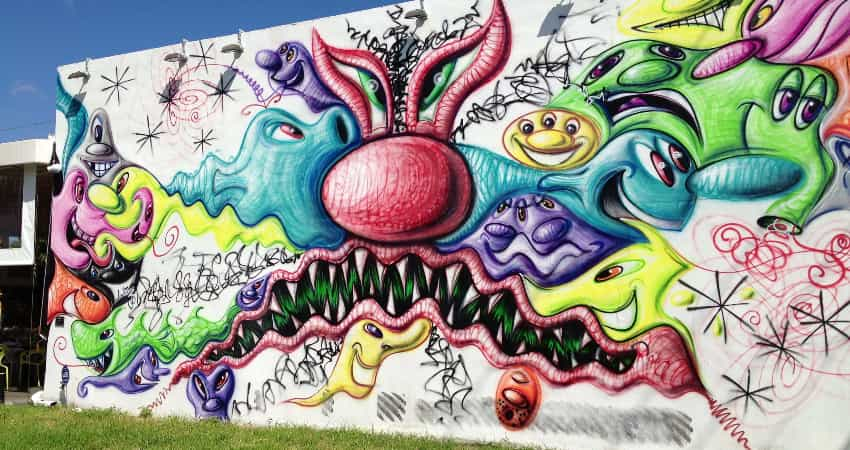 Wynwood Walls
Address: 2520 NW 2nd Ave, Miami, FL 33127
Phone: 305-531-4411
Cost: Free-Varies
Wynwood is arguably one of Miami's coolest neighborhoods. The area is filled with street art, shops, galleries, small museums, and local markets that are fun to explore for guests of all ages. Start your visit at the Wynwood Walls, where kids can get up close and personal with massive street art murals and interactive sculptures that double as play areas. Visiting most art spaces in the neighborhood is completely free, but if you're visiting another private museum or amusement center, you may have to pay admission fees.
Charter bus travel tip: First Friday brings hundreds of people to Wynwood and the roads get ridiculously crowded. This time of the month may bring additional activities for kids to enjoy, but it may be hard to park a charter bus.
Soak up some sun at kid-friendly beaches.
South Beach is Miami's most popular beach but it isn't the only option out there. Check out these kid-friendly beaches in the Miami metro area: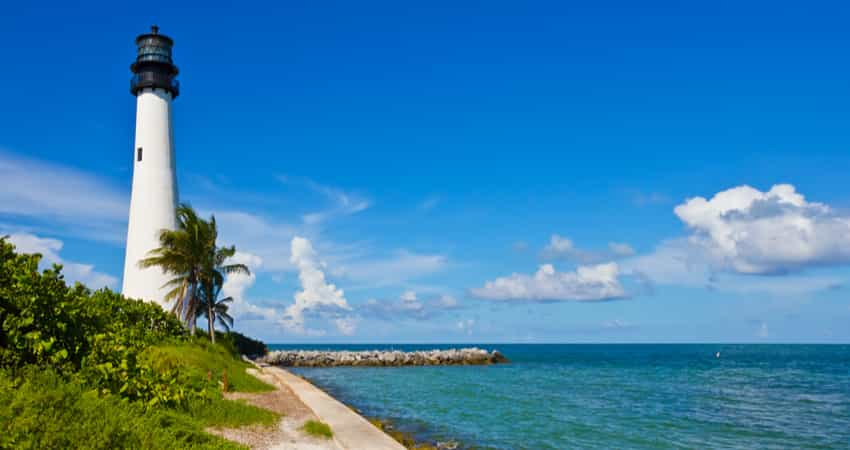 Bill Baggs Cape Florida State Park
Address: 1200 Crandon Blvd, Key Biscayne, FL 33149
Phone: 786-582-2673
Cost: $8 per vehicle (up to 8 passengers) or $2 per person (in buses)
Key Biscayne has several quiet and family-friendly beaches away from the hustle and bustle of Miami Beach. Large groups will have miles of beach for children to explore, play, and splash in the calm waters. Bill Baggs Park not only has a beautiful, calm, and relatively empty beach, it also has a historic lighthouse that kids are sure to love. I'm not sure about you, but when I was a kid, I thought lighthouses were pretty cool (and they're honestly still cool as an adult). The Cape Florida Light is recognized as the oldest standing structure in South Florida. Self-guided tours of the lighthouse are free and open Thursday through Monday.
South Pointe Park Beach
Address: 1 Washington Ave, Miami Beach, FL 33139
Phone: 305-673-7779
Cost: Free
South Pointe Park Beach is just a few blocks away from South Beach. Unlike South Beach though, South Pointe Park Beach has grassy play areas, a pier with an observation deck, and calm shallow water. This makes it a great spot to take the kids! Pack up your bus with all your beach gear and enjoy a day in the South Florida sun. Once you've wrapped up your day at the beach, hop back on your bus and cool off on the way to your next destination.
Charter bus travel tip: South Pointe Park Beach doesn't have its own designated lot, so you'll have to organize parking at a public lot or along the street on Washington Avenue. Expect to pay hourly for each space your charter bus takes up in your parking area.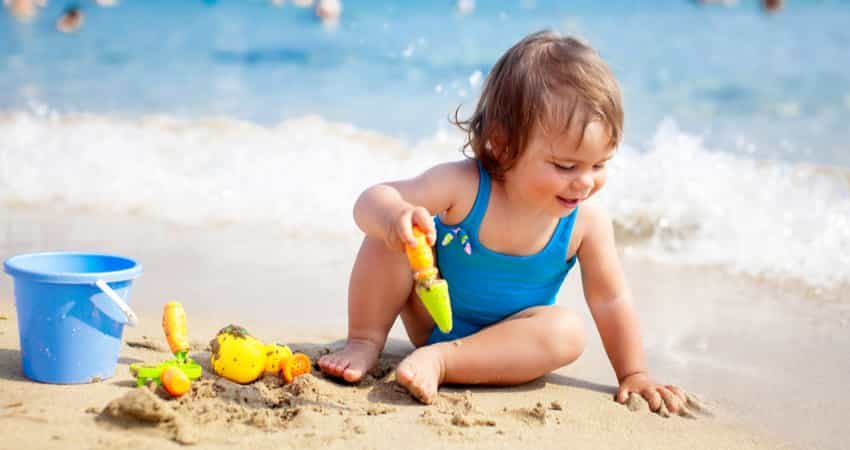 Matheson Hammock Park
Address: 9610 Old Cutler Road, Coral Gables, FL 33156
Phone: 305-665-5475
Cost: $5-7 per car, $15 per bus
Are you traveling with toddlers or even younger children? Matheson Hammock is a scenic yet often forgotten beach in suburban Miami. The beach has a shallow and enclosed wading pool for small children to safely play in the water. There are also fishing areas for groups who want to spend a relaxed afternoon by the water and beautiful mangroves. If you have some extra time, consider hopping over next door to Fairchild Tropical Garden. Admission to the garden during normal hours can get pricey but sometimes special events and programs can be accessed at a lower cost.
Travel Around Miami with Falcon Charter Bus
Without some thorough planning, traveling with kids around Miami can easily rack up a big bill. While organizing your trip, let Falcon Charter Bus take the transportation off your plate. Call 305-359-3962 at any time to chat with a rental representative about your trip!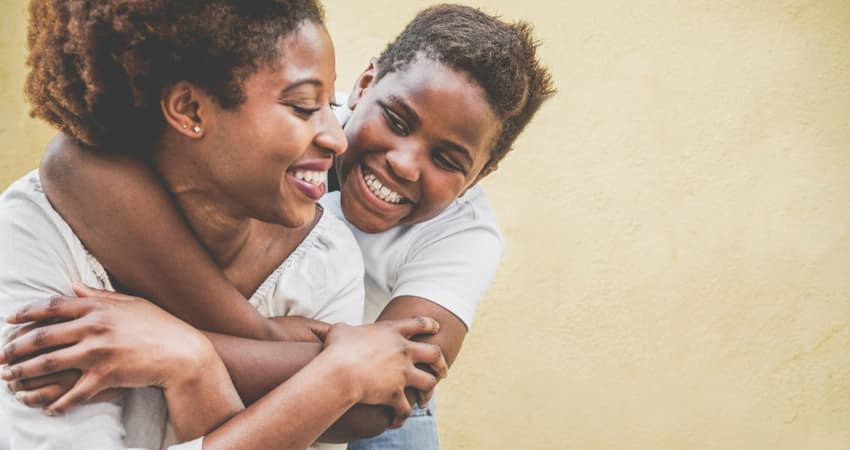 Celebrating Mother's Day is a wonderful occasion to plan a group trip. Whether you're traveling with your big family, community organization, or local church, it's important to spend a day appreciating all the mothers in your life. Plan a trip around treating your mom, grandma, spouse, aunts, or even a group of close friends to a day out in Atlanta, and let Falcon Charter Bus handle the group transportation for your Mother's Day out on the town.
Give us a ring 24/7 at 404-400-3545 to find a minibus or charter bus to comfortably transport everyone in your group.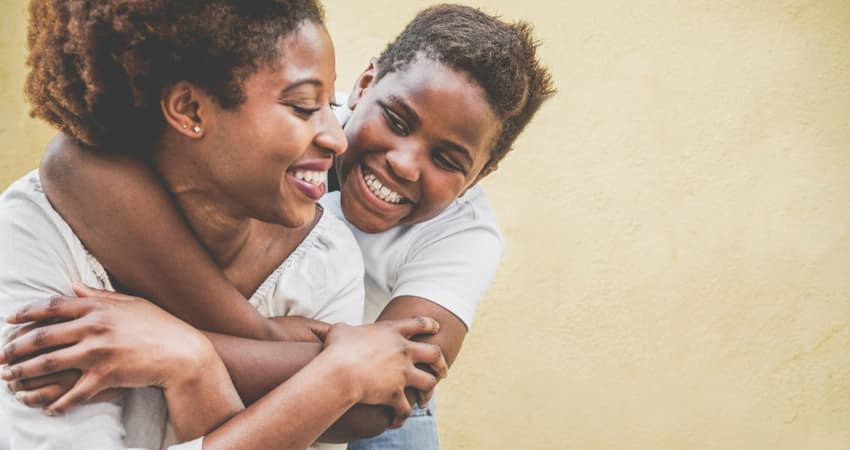 How to Travel around Atlanta on Mother's Day
So you're organizing a group outing to treat Mom? That sounds lovely! Several restaurants, museums, and performance venues across Atlanta run Mother's Day specials. However, not every deal works for those planning a large group event for the holiday. If your outing includes extended family, multiple families, or lots of friends, then you'll need to build a group-friendly Mother's Day itinerary.
You'll also need to make sure you book your transportation around Atlanta for your group. The last thing any mom should need to worry about is Atlanta traffic. That's where Falcon Charter Bus swoops in. We've handled transportation services for all types of group events across the Southeast, so you won't have to handle the hectic roads on your own. When you book a motorcoach, there's no need to split into separate vehicles and pay several parking fees at busy Atlanta attractions.
Spend time bonding with family and friends while your professional driver takes care of the transportation, keeping everyone stress-free. You focus on planning an unforgettable Mother's Day. Let us handle the boring stuff (the transportation).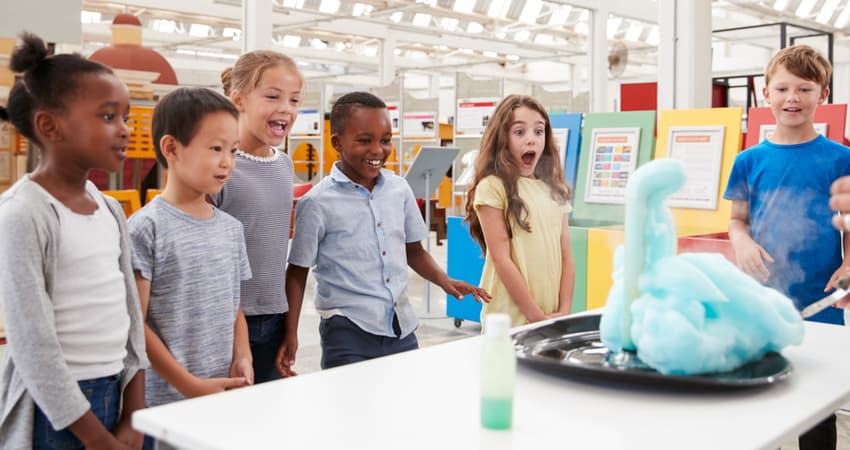 1. Visit the Children's Museum of Atlanta.
Address: 275 Centennial Olympic Park Dr NW, Atlanta, GA 30313
Phone: (404) 659-5437
If you're traveling with small children who are in preschool or early elementary school, the Children's Museum of Atlanta is a great place to organize a special Mother's Day outing. To make the holiday even more special, the museum offers free admission and programming for mothers and grandmothers throughout the day. Enjoy music and dance shows, storytime, art classes, fun science experiments, and seasonal cooking classes with the little ones.
Groups of 20 or more people traveling with family members other than Mom and Grandma should inquire about group discounts. You'll receive $2 off general admission, but you will need to book your tickets in advance. School groups, summer camps, or daycares planning a Mother's Day trip should inquire about the museum's additional educational programs.
Bus tip: Visitors traveling by charter bus won't be able to park on-site at the museum. Ask your charter bus driver to drop everyone off at the museum entrance before parking at the Georgia World Congress Center Marshalling lot for $25.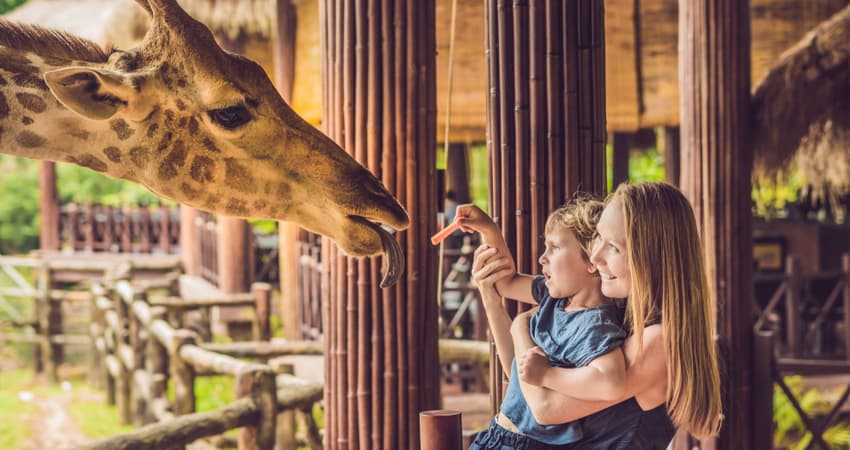 2. Say hi to the animals at the Atlanta Zoo.
Address: 800 Cherokee Avenue, S.E., Atlanta, GA 30315
Phone: (404) 624-5600
With more than 1,500 animals to visit at the Atlanta Zoo, you'll have plenty to see during your Mother's Day trip. The zoo is another ATL location that provides moms with free admission on Mother's Day (with purchase of any regularly-priced child's or adult's general admission ticket). Learn about giant pandas, red pandas, giraffes, and tigers, and wrap up your day by discovering various species of reptiles and amphibians in the zoo's popular reptile house. Groups traveling with tiny tots can also enjoy a themed train ride, carousel, and water play zone in the hot summer months.
The zoo has a variety of options for group events, including encounters with lions, giant pandas, elephants, and tortoises. Grab your tickets, reserve your charter bus, and book a special animal experience that Mom will never forget.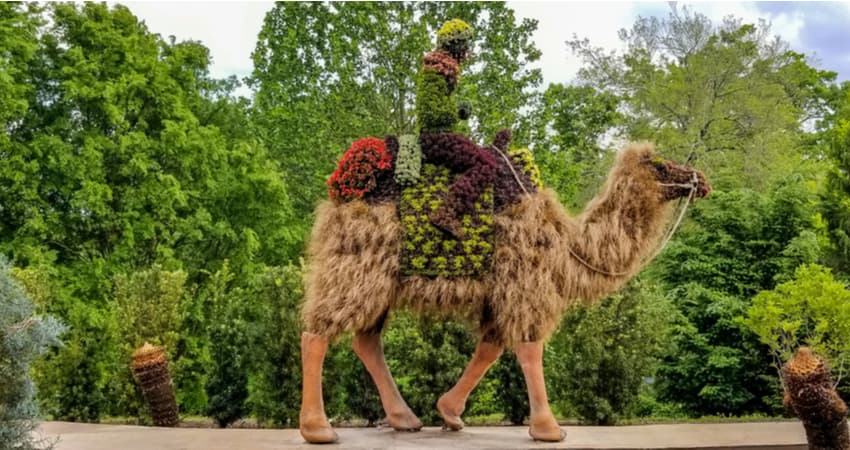 3. Tour the Atlanta Botanical Garden.
Atlanta Garden Address: 1345 Piedmont Ave NE, Atlanta, GA 30309
Gainesville Garden Address: 1911 Sweetbay Drive, Gainesville, GA 30501
Main Phone: (404) 876-5859
The famous Atlanta Botanical Garden is beautiful any time of year, but it's even better during the blooming spring months. Mother's Day weekend brings special tours, activities, and dining options. Have a lovely brunch at the Gainesville Garden or marvel at the Atlanta location's breathtaking Chihuly glass sculptures and topiary arrangements, tour the Fuqua Orchid House, and watch your kids enjoy the outdoors at the Lou Glenn Children's Garden.
You can also book a guided group tour of either the Atlanta or Gainesville location if you have 10 to 60 visitors. Just be sure to book at least 4 weeks in advance and to inquire about off-site parking options for your charter bus or minibus. Educational programs and discounted guided tours are available for schools and organizations planning a Mother's Day outing for a large group.
Group travel tip: The Atlanta Botanical Garden is generally very crowded over the weekends, especially during months with temperate weather like the spring season. Plan to arrive right as the gardens open to avoid the crowds and rising afternoon temperatures.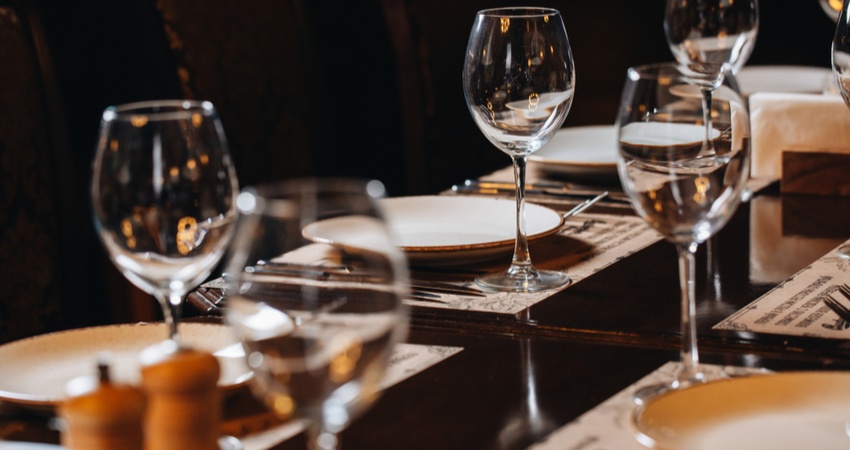 4. Chow down in upscale Atlanta eateries.
Mother's Day is the perfect occasion to splurge on a fancy meal. Good thing Atlanta has a wide selection of upscale restaurants to impress your group! Whether you want to organize a boozy brunch or decadent dinner, ATL has something for you.
Need a few ideas for group-friendly dining locations? Check out these local restaurants when planning your meal:
Bone's
Address: 3130 Piedmont Rd NE, Atlanta, GA 30305\
Phone: 404-237-2663
Hailed as the best steakhouse in the city (and among the best in the country), Bone's is the place to take Mom for one of the best ribeyes she'll ever have. Along with a strong list of different cuts of meat, the steakhouse also has a tasty selection of seafood, salads, and rich desserts. Private group dining is available for 8 to 65 guests. Reservations for 8 or more guests can be made online or over the phone at 404-237-2663.
The Sun Dial
Address: 210 Peachtree St NW, Atlanta, GA 30303
Phone: (404) 589-7506
Located at the top of The Westin Peachtree Plaza, Atlanta, The Sun Dial has some of the best dining views in the city. The restaurant serves new American fare like pork chops and crab cakes and has a full bar with refreshing signature cocktails. Semi-private dining spaces are available for groups of 20 to 50 guests.
Canoe
Address: 4199 Paces Ferry Rd SE, Atlanta, GA 30339
Phone: (770) 432-2663
Looking for a dining space surrounded by greenery? Canoe is the place to plan your Mother's Day. This restaurant is surrounded by gardens and overlooks the Chattahoochee River in the Vinings neighborhood of Atlanta. Dine at this tucked-away spot to enjoy dishes like a smoked salmon Benedict and brioche French toast at brunch or duck breast and crab cakes at dinner. Private event reservations can be made for groups of 10 to 35 guests.
Bus tip: Providing a charter bus for your Mother's Day event is one of the best ways to make sure everyone can enjoy their favorite wine and cocktails to the fullest. Depending on where you plan to eat, a minibus is usually the most suitable vehicle for on-site parking. If you have a large group, Falcon Charter Bus can build you a custom fleet of buses. When you book your dining reservation, inquire about parking options as well.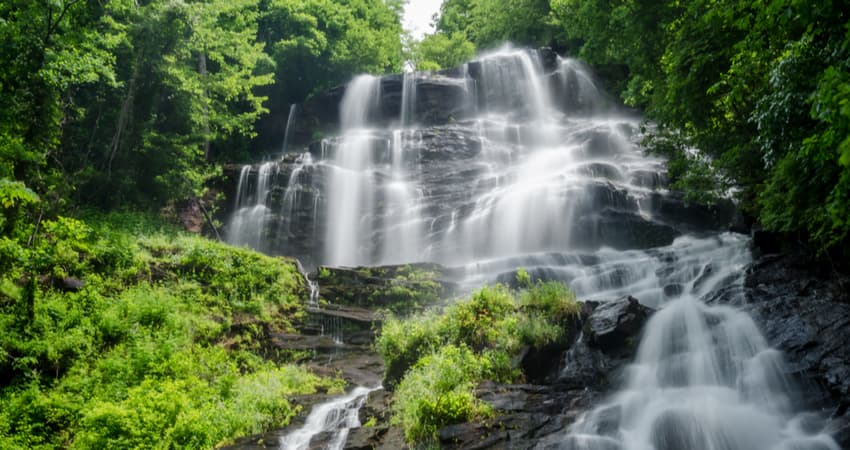 5. Enjoy the outdoors.
Atlanta is sometimes referred to as the "city in a forest" due to its high concentration of tree canopies and green spaces. Take your outdoorsy group of moms on an adventure to one of the Atlanta area's parks. REI Co-Op hosts classes and outdoor events across the region, including a Mother's Day kayak and lunch trip at Stone Mountain Park. Public programs can be limited in participant size, so large groups may want to ask about private programs instead.
If booking an outdoor program isn't your style, you can build your own day of hiking, biking, water activities, and enjoying time with your mom. When you rent a motorcoach with Falcon Charter Bus, you won't be limited to visiting parks in the metro Atlanta area. Travel up north to cool off among cascading waterfalls or get your hiking boots dirty in the red clay canyons of south Georgia. You'll have cushioned, reclining seats and a climate-controlled cabin to relax in as you ride to your outdoor adventure in comfort.
Amicalola Falls State Park
Address: 418 Amicalola Falls State Park Rd, Dawsonville, GA 30534
Phone: (706) 265-8888
Distance from Downtown Atlanta: ~70 miles or 1.5 hours
Tallulah Gorge State Park
Address: 338 Jane Hurt Yarn Rd, Tallulah Falls, GA 30573
Phone: (706) 754-7981
Distance from Downtown Atlanta: ~100 miles or 2 hours
Providence Canyon State Park
Address: 8930 Canyon Rd, Lumpkin, GA 31815
Phone: (229) 838-6202
Distance from Downtown Atlanta: ~150 miles or 2.5 hours
Bus tip: State and national parks usually charge entrance fees per car or per visitor. When you're traveling by charter bus, expect to pay an additional parking fee for your oversized vehicle. Depending on the capacity of your bus, your parking fee can range from $30 to $70.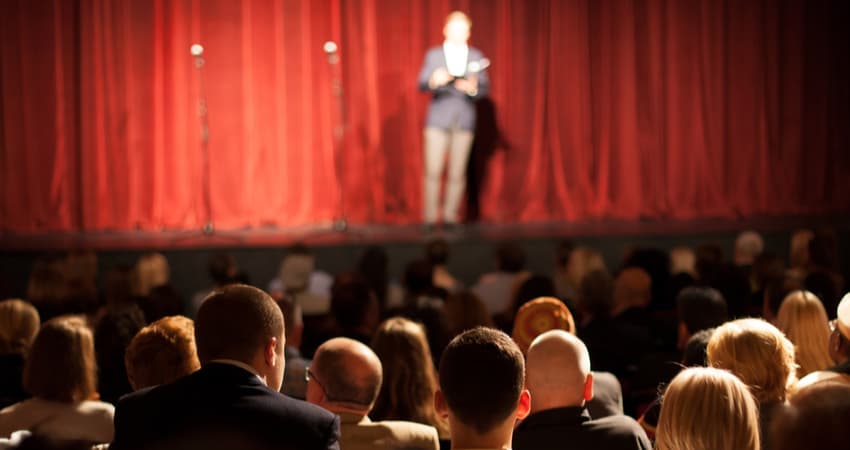 6. Laugh it up at a comedy show.
Does Mom need a good chuckle after a long week at work? Take her to a comedy show on Mother's Day weekend. Large venues like the historic Fox Theatre and smaller comedy clubs like Uptown Comedy Corner host Mother's Day-themed stand-up events for the holiday. If Mom isn't too fond of stand-up comedy, you can also opt for a concert or theatre performance.
Most locations have group rates for big shows, but it may be difficult to secure group tickets for more intimate performances. Group minimums and rates are dependent on the venue and event. Check with your location of choice in advance to secure your event tickets as soon as possible.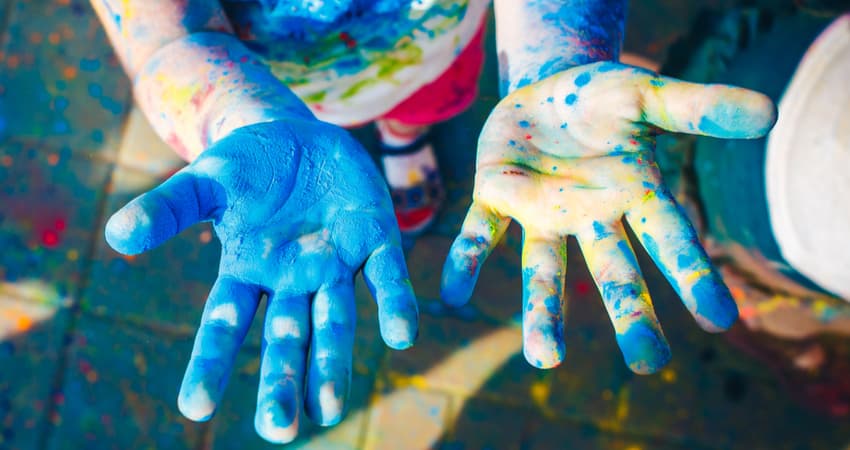 7. Attend a festival.
Spring brings quite a few arts and culture festivals to ATL. From the Chastain Park Spring Arts & Crafts Festival to the Sweet Auburn SpringFest, there are several events where you can stretch your legs, enjoy art, and support the community. These events don't always overlap with Mother's Day weekend, but it's always worth checking out what's on the local calendar.
The Chastain Park and Sweet Auburn festivals are both free to the public and great locations for groups. Your local church or community art club can plan a special Mother's Day outing to the festival and let Falcon Charter Bus take care of the transportation with a compact minibus.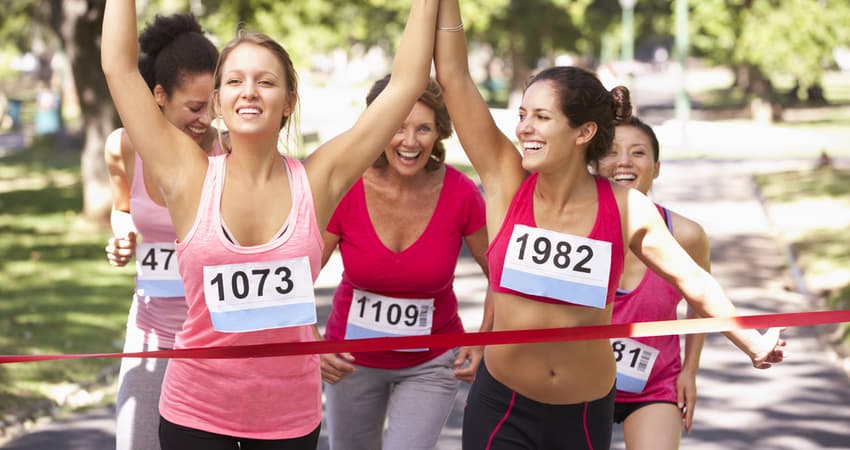 8. Give back to the community or a charitable organization.
You can give back in more ways than you know on Mother's Day! There's a long list of volunteer opportunities that are available throughout the year for you and your group of moms to choose from. Get together to deliver meals to the elderly with Meals on Wheels Atlanta, or help clean and restore historic locations like Grant Park with a conservancy.
If you're a very active bunch, consider participating in a race for charity. Sign up for the Annual Midtown Race to benefit the Midtown Assistance Center (MAC) or the Be Kind to Your Mind Run benefiting Mental Health America. You'll be able to spend quality time with loved ones while giving back to the community and also getting a little exercise along the way.
Group travel tip: Local runs usually require road closures, and traffic can become a nightmare, especially in busy Atlanta. Rather than organizing parking for multiple vehicles, big groups attending a race can simplify their arrival and departure with a private shuttle bus.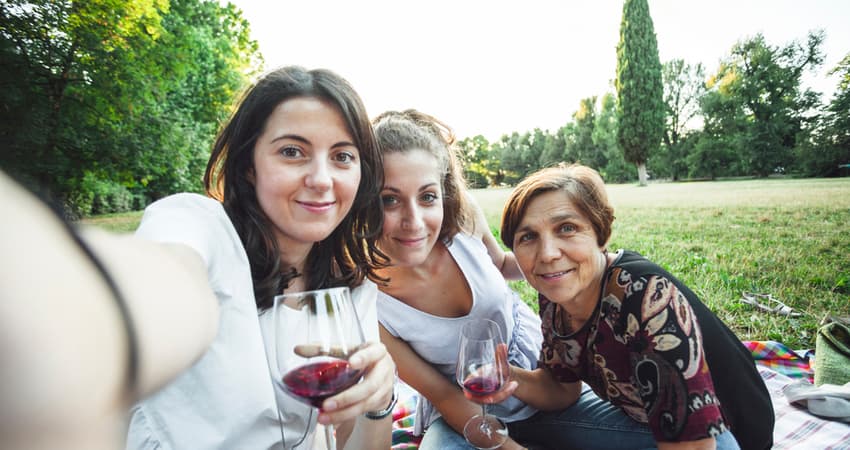 9. Wine and dine (okay, maybe just wine.)
Georgia isn't necessarily known for its wine. Peaches and pecans may seem more in the state's wheelhouse. Well, Georgia is full of surprises and the northern portion of the state is home to several top-notch wineries. Locations like Wolf Mountain Vineyards and Montaluce Winery are the places to spend Mother's Day with a group of wine lovers. Want to stick a bit closer to the city? Château Élan is another popular place to plan your day.
These wineries are beautiful venues for group occasions like wedding ceremonies and even company events. Private parties and large groups are welcome at most wineries with a prior reservation. If you're interested in private tours and tasting with sommeliers, contact the winery a few weeks in advance to ensure they accommodate you.
Wolf Mountain Vineyards and Winery
Address: 180 Wolf Mountain Trail, Dahlonega, GA 30533
Phone: (706) 867-9862
Distance from Downtown Atlanta: ~75 miles or 1.5 hours
This Dahlonega winery overlooks the mountains, providing a breathtaking backdrop for Mother's Day. Groups of 8 or more can make reservations for semi-private tastings and seasonal winery tours. Tours and tastings are usually only available on Saturday and Sunday.
Montaluce Vineyards
Address: 946 Via Montaluce, Dahlonega, GA 30533
Phone: (706) 867-4060
Distance from Downtown Atlanta: ~80 miles or 1.5-2 hours

Montaluce Vineyards not only has great wine but also has a full-service restaurant with tasty charcuterie boards, brunch bites, and more. Along with private group tastings, Montaluce offers a unique "wine hike" through the vineyards, along the Etowah River, and through North Georgia's beautiful hilly terrain. The 1.8-mile hike includes a wine tasting and is available by reservation for up to 25 guests.
Château Élan
Address: 100 Rue Charlemagne, Braselton, Georgia 30517
Phone: (678) 425-0900
Distance from Downtown Atlanta: ~ 50 miles or 1 hour
Château Élan is always quite busy, so groups of 12 or more should make a reservation to visit this winery and resort. Their Signature Group Tour & Tasting will take you through the winemaking experience from start to finish and includes a personalized tasting of 6 wines.
Bus tip: Need a DD for your wine tour? No problem. Every Falcon Charter Bus rental includes a professional driver to handle your trip. Your driver's pay will be included in your rental quote. All you'll need to take care of is organizing and paying for parking. Tipping your driver is also a much-appreciated gesture for a job well done!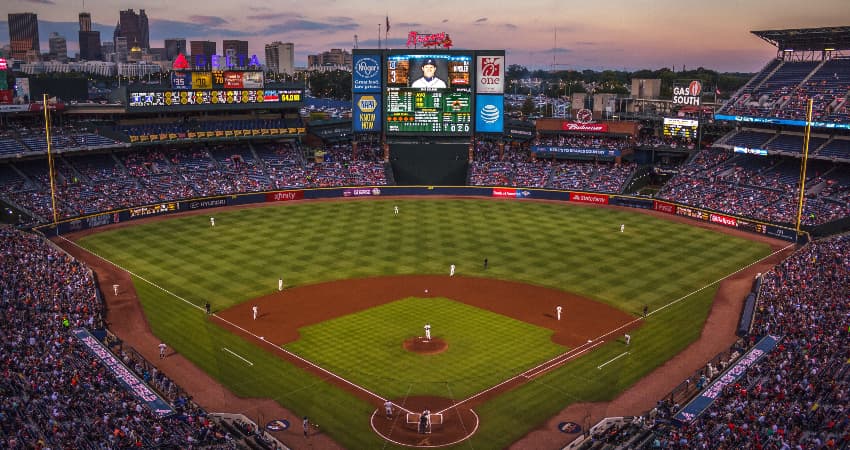 Image courtesy of Joshua Peacock on Unsplash.
10. Enjoy a sporting event.
Is your amateur sports team trying to plan a fun event to appreciate your mothers? Try organizing a group game day. May isn't the busiest month for professional and college sports leagues, but there are still a handful of Atlanta events you can treat your sporty mom to. Grab tickets to an Atlanta United game at Mercedes-Benz Stadium or cheer on the Atlanta Braves at Truist Park.
Discounts for Atlanta Braves games are available for groups of 20 or more. Group rates are available for 10 or more guests at Atlanta United games. You can also add on additional experiences like tours and dining options to group packages at either sports arena. Reserve your tickets, book your private charter bus, and ride to the game in complete comfort with your group.
Travel with Falcon Charter Bus for Mother's Day
If you still need help planning your trip, check out our Atlanta guide to family-friendly travel or our guide for ATL newcomers. You'll find even more information on amazing ways to spend your days around the city with a group. Once you have your Mother's Day trip organized, give us a call at 404-400-3545 to reserve a charter bus for your trip. Our rental team is here 24/7!