The Best Field Trips in Atlanta
If you're planning a field trip or school outing, Atlanta is a great place to have one. There are so many family-friendly and educational attractions here, many of which we've already covered—like the Fernbank Science Center, the MLK Jr. National Historical Park, and the Georgia State Capitol Building, just to name a few—in our budget-friendly Atlanta guide.
But if you're still looking for more options for your next outing with the youth group, daycare, summer camp, or after-school club, you've come to the right place. Keep reading to see even more destinations your youngsters will enjoy in Atlanta!
Do your little travelers need a ride on your big day out? Let Falcon Charter Bus take the wheel. Our network of buses and experienced drivers means we can provide safe and reliable transportation of nearly any size, scope, and scale—from minibus shuttles for small clubs to a fleet of charter buses for your entire 8th-grade class. Throw in amenities like WiFi so they can stream music or TVs and a DVD player for your Magic School Bus marathons, and you've got a comfortable ride that will keep them entertained between destinations on your itinerary. Call 404-400-3545 at any time to reserve your ride, or just to receive a free, personalized quote—there's no obligation to book if you receive one!
Now let's get field-tripping: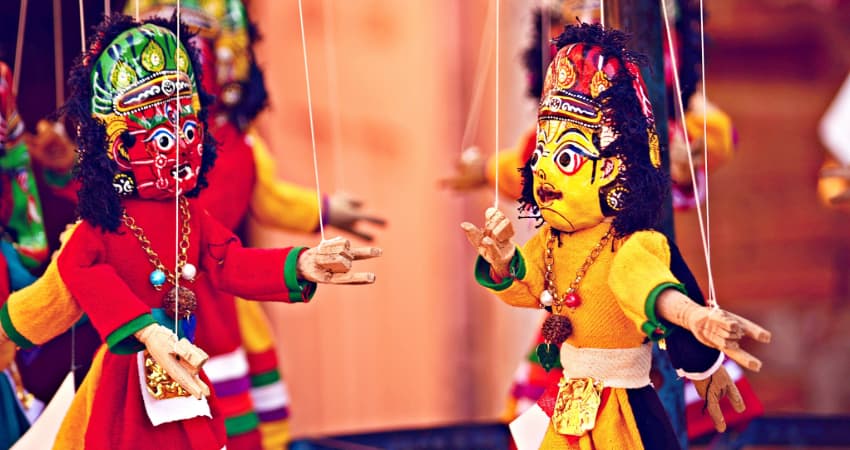 Center for Puppetry Arts
Address: 1404 Spring St NW, Atlanta, GA 30309
Phone: 404-873-3391
Oft-overlooked by travel guides, this destination is a great way to spend an afternoon with an elementary-aged crowd. As the name suggests, the Center for Puppetry Arts is the U.S.'s largest art center dedicated to, well, puppets. It first opened in 1978 with an opening ceremony hosted by the one and only Kermit the Frog.
Since the 70s, the Center has taken to not only entertaining the public with daily live puppet shows, but also educating the masses on various forms of puppetry arts. When you go to visit, be sure to set aside time to tour the Worlds of Puppetry Museum. There, your class can say hello to a variety of friends, from traditional Japanese Bunraku figures to Crow and Tom Servo from Mystery Science Theater 3000 and costume pieces from Broadway's The Lion King. The Center's museum rotates out what's on display roughly every six months—so even returning educators are bound to see something new every time they come!
Depending on the time of year, your group can also catch any puppet show from the rotation of annual favorites—from "Aesop's Fantastical Fables" to "Rudolph the Red-Nosed Reindeer" and much more! Field trip groups especially are encouraged to coordinate a create-a-puppet workshop that accompanies the program your kids just watched. That way, they can take home a piece of the show and make it their own.
Bus Parking: There's free parking behind the center, and while it is limited, the lot can accommodate motorcoaches and buses. When you see the Center (it's bright green, by the way—you can't miss it), continue along 18th Street until you see the parking entrance on the left.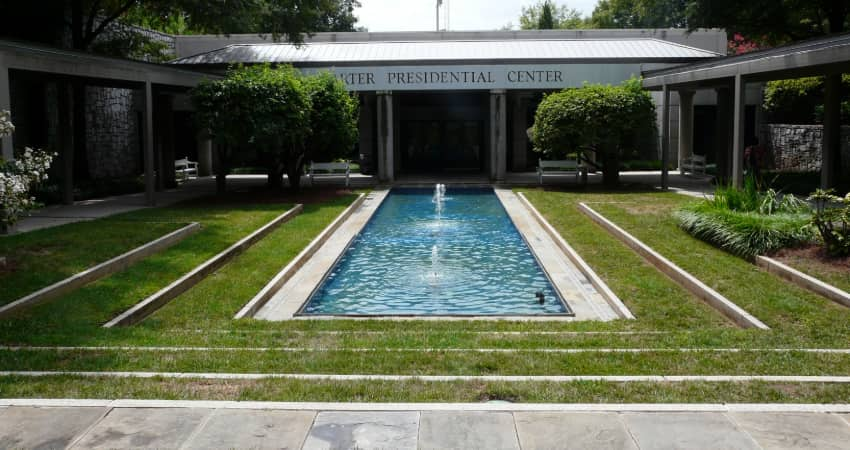 Jimmy Carter Presidential Library and Museum
Address: 441 John Lewis Freedom Pkwy NE, Atlanta, GA 30307
Phone: 404-865-7100
Planning an outing with your Georgia History class, local government enthusiasts, or group of aspiring leaders? There's no better place to learn about the state's only president than the Jimmy Carter Presidential Library on the northeast side of town.
Brush up on your knowledge of the Carter administration, catch a glimpse of the president's Nobel Peace Prize, and take a seat in the full-scale replica of the Oval Office (which includes a reproduction of the iconic Resolute Desk).
Field trip programs are offered during the school year—September through May. Tour Reservation Forms are processed on a first-come, first-served basis, so be sure to reserve well in advance if you plan to visit in the spring (reservations tend to fill up quickly then). Groups of 70 or more students are asked to reserve multiple tour times or visit across multiple days.
When you come to visit, your group has two options when it comes to exploring the museum: a docent-guided tour or a self-guided tour with your teachers and chaperones leading the way.
If you opt for a guided tour, be prepared to reserve your tour slot with a $25 deposit, which will be refunded upon your arrival.
Since no place inside allows food or drink, we recommend planning a picnic lunch somewhere in the surrounding Freedom Park.  And don't worry about running out of space for your coolers and bagged lunches—your charter bus rental will come with plenty of storage space under the cabin, and your driver can help you unload everything when it's time to eat.
Bus Parking: Free motorcoach-accommodating parking is available adjacent to the library. Enter from East John Lewis Freedom Parkway, and the Library entrance should be on your left.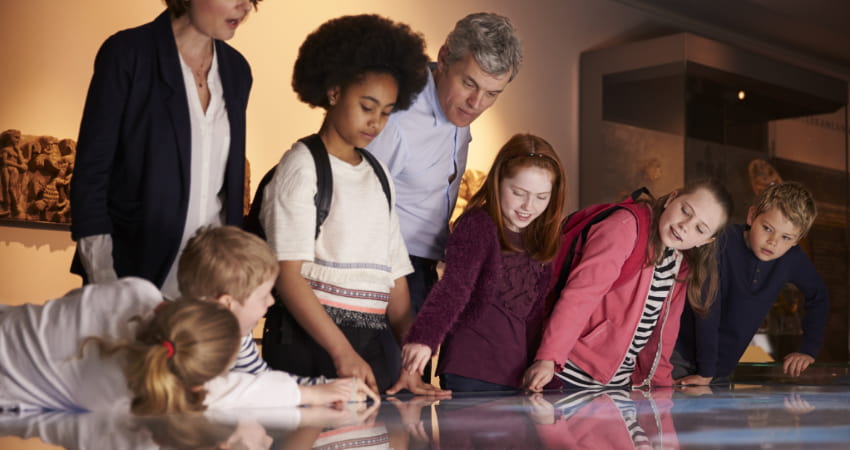 Atlanta History Center
Address: 130 West Paces Ferry Rd NW, Atlanta, GA 30305
Phone: 404-814-4110
First founded in 1926, this 33-acre history museum, research center, and garden is dedicated to exploring and preserving the history and culture of Atlanta. Explore the city's near-200-year history through six permanent exhibits and several rotating showcases—from the Trail of Tears to the emancipation of slaves, the rise of Coca Cola to the famous Battle of Atlanta cyclorama mural. Here are some of the highlights:
Centennial Olympic Games Museum—set to be renovated by the end of Summer 2020. Check out memorabilia and art from the 1996 Summer Olympics, and see how the games' legacy still influences city planning even 20+ years later.
Turning Point: The American Civil War—review the broad strokes of the Civil War and Atlanta's role in it through the Center's collection of 1,400 Civil War artifacts.
Gatheround: Stories of Atlanta—explore the past, present, and future of Atlanta culture by hearing from the people who have and still do create it.
Shaping Traditions: Folk Arts in a Changing South—trace how Southern folk art has developed through the decades through clothing, food, singing, and storytelling.
Down the Fairway with Bobby Jones—centers on the life of Bobby Jones, Georgia's most famous golfer, and how the sport has shaped the state.
Philip Trammell Shutze: Atlanta Classicist, Connoisseur, and Collector—features the life and work of one of Atlanta's most prolific architects. Afterward, swing by the Swan House (also on the Center's grounds) to see his handiwork in-person.
Field trip groups are encouraged to reserve a tour slot ahead of time by reaching out to schooltours@atlantahistorycenter.com. You have an option to tour the grounds yourself or enlist the help of a History Center volunteer to help guide your students through the exhibits.
Bus Parking: There's a dedicated bus parking area within the center's parking lot. If you're entering the lot from the Andrews Drive entrance, have your driver take the second left past McElreath Hall and The Kenan Research Center (there's plenty of signs to direct them to the right place). If your group is getting dropped off at the main Center building beforehand, have your driver enter the lot from West Paces Ferry Road, unload in front of the entrance, and loop back into the parking lot. The bus spaces are to the left of the small parking deck.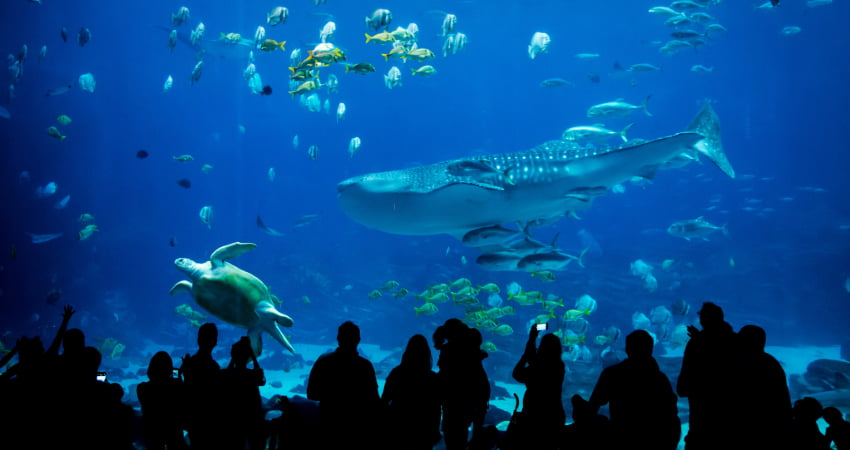 The Georgia Aquarium
Address: 225 Baker St NW, Atlanta, GA 30313
Phone: 404-581-4000
Have you ever wanted to meet the largest fish in the world? Now's your chance!
As one of the most-visited attractions within Atlanta city limits, there's a chance this field trip destination is already on your itinerary. And for good reason! It's the largest aquarium in the Western Hemisphere and the third-largest in the world, and it's home to thousands of aquatic animals from across the globe—from beluga whales to Amazonian piranhas, African penguins to seadragons, and much more. The aquarium's pride and joy, however, is the 126-foot-tall gallery wall of the Ocean Voyager wing, which houses multiple endangered whale sharks (the biggest living fish) and larger-than-life manta rays.
Depending on how big your group is, you can receive a discounted rate for general admission, meal vouchers, and even complimentary tickets. You'll have your choice of a self-guided tour of the galleries you can take at your own pace or an instructor-led tour tailored to your age groups' curriculum standards. Programs can include conservation sciences and the basics of marine biology, as well as the physics of the tides and how water affects light and sound waves—so even if you're visiting with a crowd that's not a biology class, you can still incorporate what they've learned into your lesson plans!
Bus Parking: The Aquarium is in the heart of downtown, which means parking (let alone bus parking) is very limited. Your driver's best bet is to reserve a spot at the Georgia World Congress Center Marshalling Yard. It's only a half-mile from the aquarium and can even offer overnight parking if your group is taking part in a sleepover program.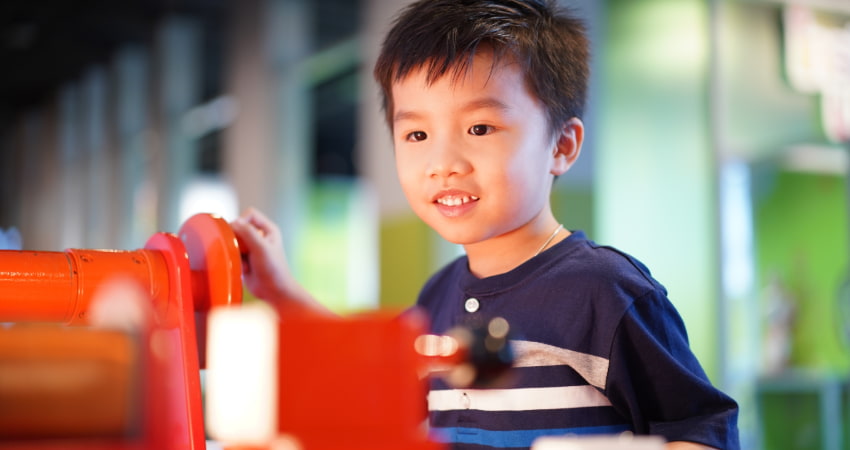 Children's Museum of Atlanta
Address: 275 Centennial Olympic Park Dr NW, Atlanta, GA 30313
Phone: 404-659-5437
If you've already hit up all the most popular field trip spots and are looking for a change of pace, consider paying a visit to an attraction that often doesn't get the love it deserves: the Children's Museum of Atlanta. Here, your little learners can launch rockets, stage their own treehouse puppet shows, and build out a model city's infrastructure—all in a hands-on playground environment, of course.
Admission for field trip groups is discounted during the school year and over the summer, and the museum offers both guided and self-guided tours of the exhibits and play areas. There are two things you should know before planning your visit.
You cannot purchase tickets at the door—all admission must be reserved online.
When you buy tickets, you're signing up for a specific time slot to explore the museum. After your two hours is up, your group will be asked to leave.
With those factors in mind, it would behoove your group to set up a game plan before you embark. Field trip groups are usually scheduled for Tuesdays, Wednesdays, and Thursday mornings, so you'll need to pack a lunch to eat afterward. Indoor eating space is scarce, so we recommend taking your PB&Js to Centennial Park across the street, where your kids can eat up and even cool off in the splash fountain.
Bus Parking: The museum is located a mere block away from the Georgia Aquarium, so the parking situation is much the same: your driver will need to get a pass at the nearby GWCC Marshalling Yard on Ivan Allen Jr. Boulevard. You can reserve the parking pass through the museum, but you'll need to call to get the exact pricing information for your visit.
Get Going on Your Atlanta Field Trip
No matter where your travels take you, you can count on Falcon Charter Bus to make your Atlanta field trip a breeze. Our 24-hour reservation team is always here to help you find the perfect ride to suit your group's size, schedule, and comfort requests. Whether you need an ADA-compliant vehicle at no additional cost or a shuttle service that operates on a route you create—we'll make it happen for you.
Don't believe us? Give us a call at 404-400-3545 and see for yourself! We'll be more than happy to offer you a free, no-obligation quote tailored to your travel plans in the ATL.