Budget-friendly Orlando Activities for Groups with Kids
Disney World, Universal Studios, and SeaWorld aren't cheap. But you can still take a large group of kids to Orlando without blowing your budget. Whether you need an alternative to theme parks for one day or for your entire trip, Orlando offers museums, shopping complexes, and state parks that can keep you busy for free or for a small fee.
You can also save money with a large group by taking a charter bus rather than multiple rideshares or rental cars. When you rent a bus from Falcon Charter Bus, we'll provide you with a single, upfront price that includes the services of your driver and bus for the entire trip. Once the trip begins, you'll only have to pay for any parking fees or tolls and a room for your driver⁠.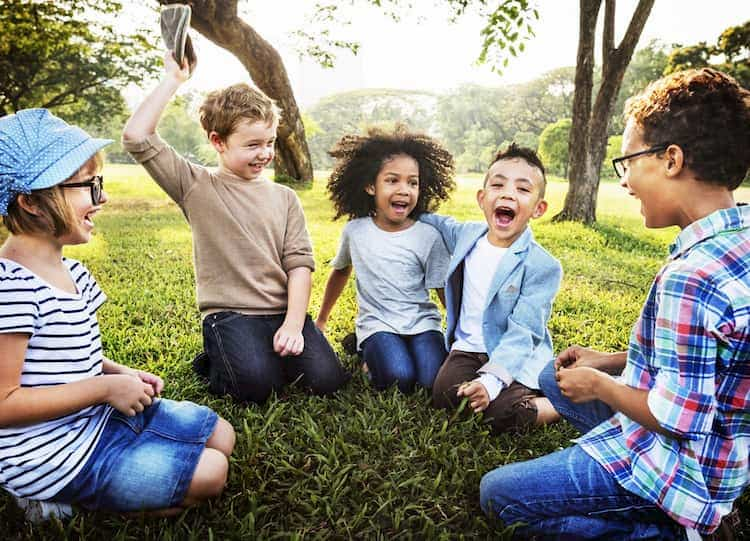 Give Falcon Charter Bus a call at 407-274-9808 when you're ready to start planning, and keep reading to discover all of the budget-friendly activities you can do with your group of kids.
Dining and Shopping
Orlando's many shopping/dining/entertainment complexes make it easy to have fun without spending a ton of money. You can stay in control of your budget by planning whether you want to have a quick meal at Moe's or a sit-down dinner at Planet Hollywood and whether your group will souvenir-shop or just window-shop.
Disney Springs
Although Walt Disney World's theme parks are far from free, WDW's shopping and dining district, Disney Springs, is free to enter. You and your kids can take in beautiful views of the water before browsing the endless Stitch and Baby Yoda merchandise at World of Disney. If you get hungry, spend a little money to have a cupcake from Sprinkles or a custom pizza from Blaze.
Have some members of your sports team or youth group who love to build? You won't want to miss the LEGO Store. You'll see thousands of LEGO kits as well as stunning displays made entirely from the tiny blocks, and kids can use open containers of blocks to craft their own creations.
Where to park your bus: Disney Springs has 3 free parking garages and 2 free parking lots. Since your bus probably won't be able to fit in the garages, you'll want to try the Strawberry or Watermelon parking lots.
Address: 1486 Buena Vista Dr, Lake Buena Vista, FL 32830
Disney's BoardWalk
Who would have guessed that Disney World has more than one place you can visit for free? Although the BoardWalk isn't as big as Disney Springs, it also has beautiful water views, live outdoor music, and plenty of places to eat and shop. Stop by The Pizza Window for a quick slice, or make group reservations at the ESPN Club for classic American food that won't intimidate picky eaters.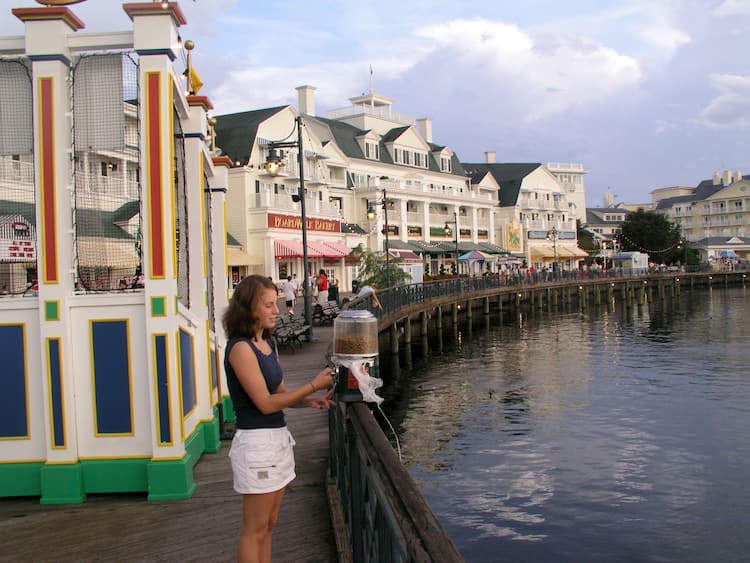 But the best reason to visit Disney's Boardwalk has to be Ample Hills Creamery. The BoardWalk is the only place outside of New York where you can find this boutique ice cream shop, which serves unique flavors of ice cream that almost any kid will love. There are also nut-free and dairy-free options for any kids who have allergies.
Where to park your bus: You can park at the Boardwalk Inn, or, if that lot is full, at another lot across the street. Note that the Boardwalk Inn charges for parking.
Address: 2101 Epcot Resorts Blvd, Kissimmee, FL 34747
Universal CityWalk
Universal's shopping and dining district, like Disney's, is free and can be super fun for kids. Grab a quick meal at Moe's or make a group reservation at Hard Rock Cafe before browsing the shops packed with Harry Potter, Minions, and The Fast and the Furious merchandise. Universal CityWalk also has free live music on many nights.
If the kids from your robotics team or cheerleading squad get a little overexcited about all the wands and stuffed yellow creatures, don't worry⁠—there will be plenty of storage space for souvenirs on your charter bus. You can also request reclining seats if your kids need to relax or nap on the way back to the hotel.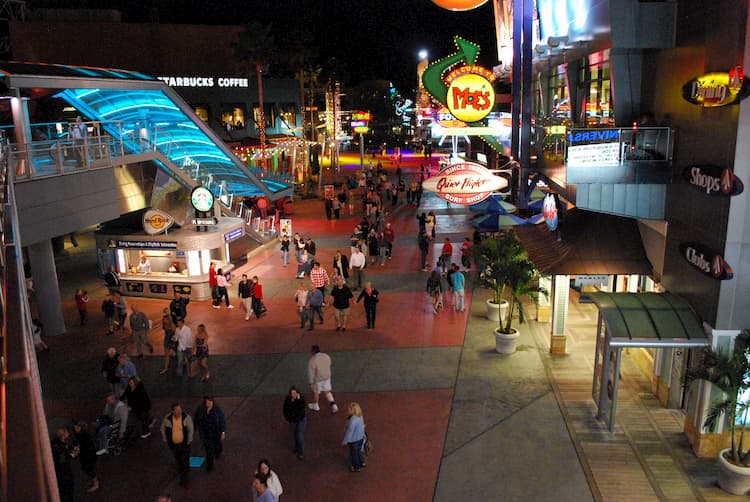 Where to park your bus: Universal CityWalk has a parking garage where minibuses may fit. But if you're in a full-size charter bus, you'll need to ask your driver to drop you off near the garage and then park back at your hotel or in a public lot.
Address: 6000 Universal Blvd, Orlando, FL 32819
Natural Springs
Central Florida is known for its natural springs⁠—in fact, Florida has more springs than any other state in the U.S. And unlike true hot springs, the springs in Florida hover around a comfortable 68-70 degrees, so you can swim in them for hours. Although it costs money to visit the various state parks where the springs are located, the fees are usually affordable, making the springs a great budget-friendly option for families and kids.
Wekiwa Springs
Wekiwa lies about 45 minutes outside of Orlando, so you may want to request WiFi or TV monitors on your bus so your kids won't get bored on the way there. There won't be any chance of boredom once you arrive, though. The crystal-clear spring offers a beautiful place for little ones to swim, float in tubes, or play mermaids for hours, and there are restrooms and concessions so you won't need to leave until you're ready.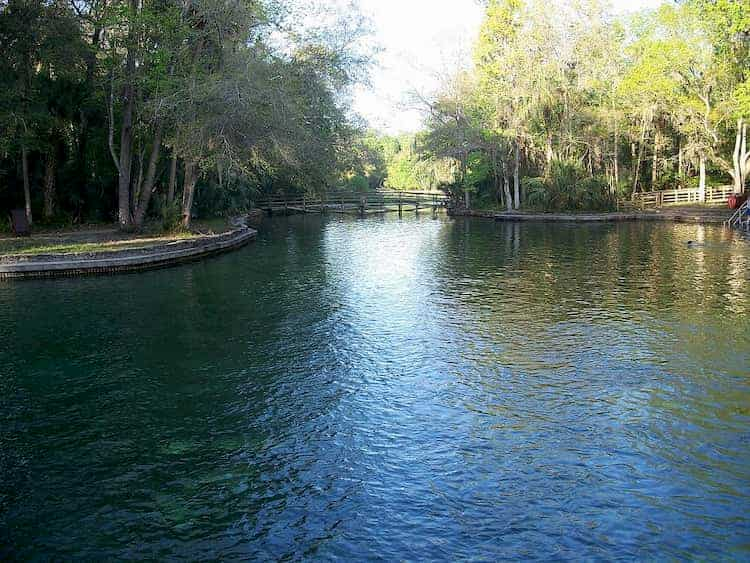 Keep in mind that Wekiwa Springs has limited capacity and fills up quickly during the summer. You'll need to leave your hotel early in the morning if you want to swim, and you'll have to pay $6 for your vehicle and then $2 for every extra passenger after the first 8.
Where to park your bus: Wekiwa Springs offers on-site parking.
Address: 1800 Wekiwa Cir, Apopka, FL 32712
Rock Springs
Rock Springs inside Kelly State Park is one of the most popular natural springs in Florida, probably because it features the Rock Springs Run, a small river where you can go tubing. Like Wekiwa Springs, this spring has beautiful, clear water, concessions, and a designated parking area.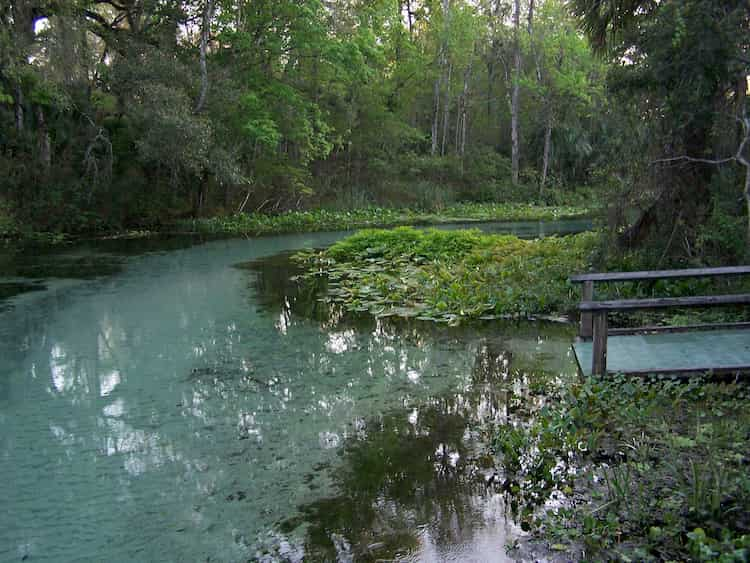 Parking costs $5 for the vehicle and an additional $1 for each passenger beyond the first 8. Like Wekiwa Springs, Rock Springs lies about 45 minutes from Orlando, and you'll need to leave your hotel early in the morning. Make sure you request power outlets on the bus so your kids' iPads or phones don't die on the way there.
Where to park your bus: Kelly State Park has a designated parking area.
Address: 400 E Kelly Park Rd, Apopka, FL 32712
Museums
People may not immediately associate Orlando with museums, but the city has a wide selection of art and history museums, and many of the smaller ones charge as little as $5 per person. If you'd like to sneak some education into your trip, check out these affordable options.
The Charles Hosmer Morse Museum of American Art
This museum has the largest collection of art by Louis Comfort Tiffany, who's probably best known for the lamps that bear his name. In addition to many lamps, this museum also contains his jewelry, stained-glass windows, pottery, and paintings.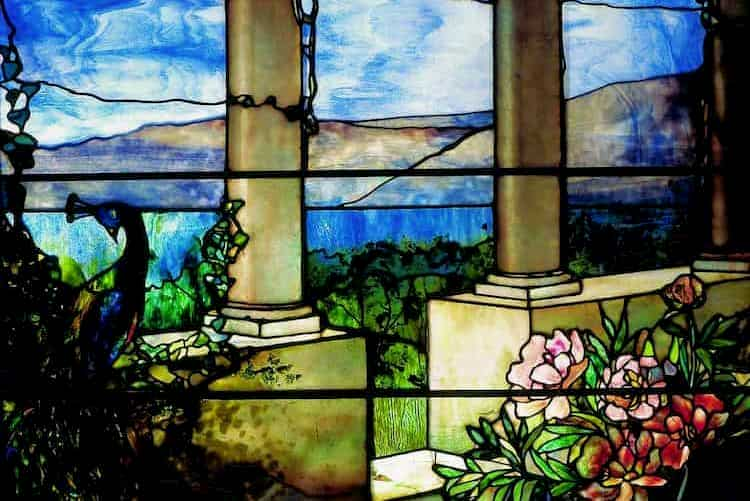 You'll need to go about 30 minutes outside of Orlando to find the museum, but you can put an episode of a TV show on the monitors or help the kids do research on their iPads during the drive. This museum is also super affordable—adults pay $6, while seniors pay $5, students pay $1 with a valid ID, and children under 12 get in free. That means all of the kids with you will almost certainly be free or $1 each.
Where to park your bus: The museum has a free parking lot.
Address: 445 N Park Ave, Winter Park, FL 32789
Mennello Museum of American Art
The Mennello Museum focuses on American folk art. Most of the collection consists of work by self-taught painter Earl Cunningham, but the museum also has pieces from other artists, like the sculptor Barbara Sorensen. The best part? The prices are reasonable. Adults pay $5, seniors pay $4, and students or children ages 6-17 pay $1. Children under 6 are free.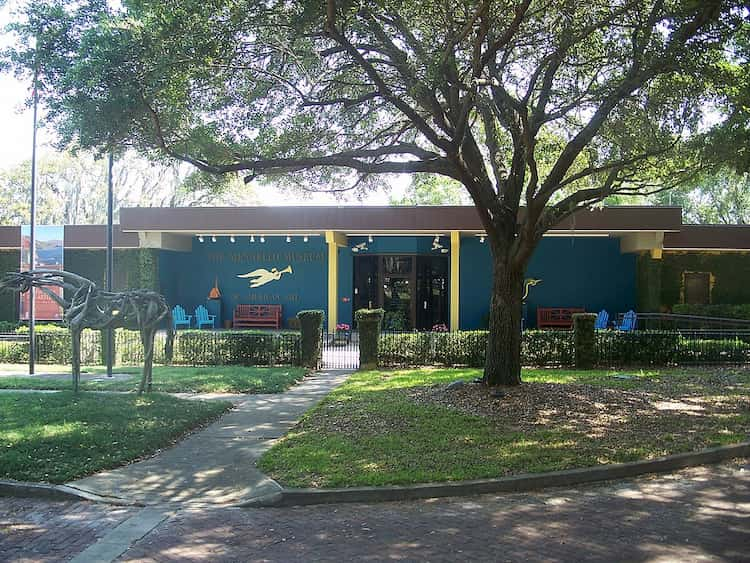 This museum is also accessible. Your ADA-compliant bus can drop passengers off at the front porch, which has a ramp as well as stairs. The Sculpture Garden outside the museum offers a flat concrete pathway for guests using mobility devices, and large-print copies of all the artwork descriptions are available by request.
Where to park your bus: The lot next to the museum offers free parking.
Address: 900 E. Princeton Street, Orlando, Florida 32803
Orange County Regional History Center
This highly interactive history museum lets kids explore central Florida's natural environment, learn about the indigenous peoples who lived in Florida first, and discover facts about African American history in the Orlando area. Once they're done playing with a butter churn in a 19th-century log cabin, they can walk past replicas of planes and models of theme parks while you talk about what they've learned.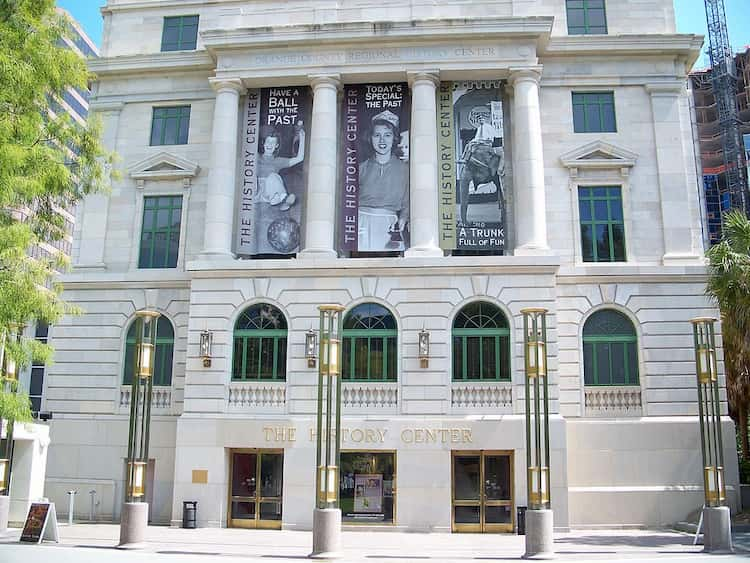 Themed guided tours for schools are available for $7 per student. Teachers can enter for free, and chaperones are free as long as there's only 1 for every 10 students. If you want to explore on your own, tickets are $8 for adults, $7 for seniors, students, or military members, $6 for children ages 5 to 12, and free for children under 5.
Where to park your bus: The History Center shares a parking garage with the Orlando Public Library, but charter buses probably won't fit. Your driver will need to drop you off and then return to your hotel to park.
Address: 65 E Central Blvd, Orlando, FL 32801
Plan a Trip to Orlando with Kids Without Blowing Your Budget
Whether you're headed to Orlando for a marching band competition, a student council conference, or a baseball tournament, you can find plenty of fun activities that kids will love and that are free or cost very little. Falcon Charter Bus is here to help you get to the museums, state parks, or shopping districts you choose. Just give us a call at 407-274-9808 to start planning your next budget-friendly trip to Orlando.