Haunted Spots to Visit with Your Group in Atlanta
If you love the supernatural, you can learn about Atlanta's history while searching for ghosts at some of the city's most haunted locations. Gather your small group for a trip to a cemetery, theater, or Gilded Age hotel. No matter where you want to go, Falcon Charter Bus can help you get there. Just give us a call at 404-400-3545 to get a free quote for your charter bus for your virtual-learning pod or sports team, and then visit a few of these haunted locations.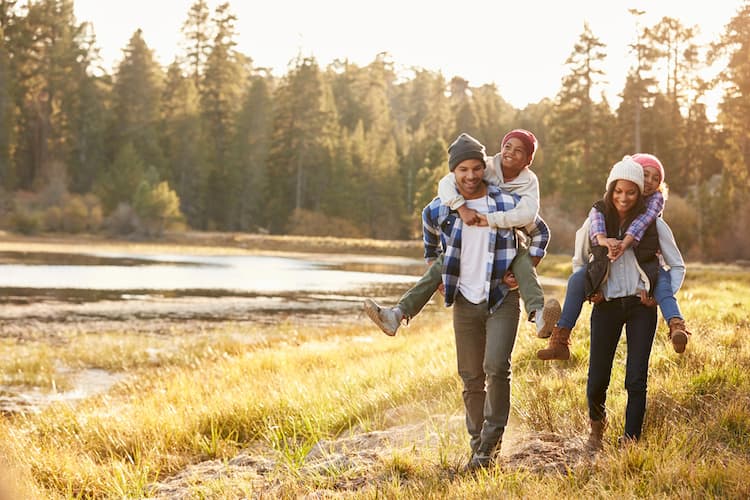 Oakland Cemetery
Established in 1850, Oakland Cemetery is Atlanta's oldest public park as well as a graveyard for more than 70,000 notable Atlanta residents, including governors, city leaders, and celebrities. It's also rumored to be haunted. If you visit the part of the park where Confederate soldiers are buried, you can supposedly hear a soldier doing roll call while his fellow soldiers respond.
Other visitors have reported seeing a grieving young woman searching for her beloved, a Union soldier hanging from a tree, and eccentric local businessman Jasper Newton Smith rising from his statue. But even if you don't spot any ghosts, Oakland Cemetery is a beautiful place to visit, with 48 acres of trees, gardens, and winding paths.
Address: 248 Oakland Ave SE, Atlanta, GA 30312
Charter bus parking: Parking is available in a lot outside the cemetery's front gates as well as along Martin Luther King, Jr. Drive and Oakland Avenue.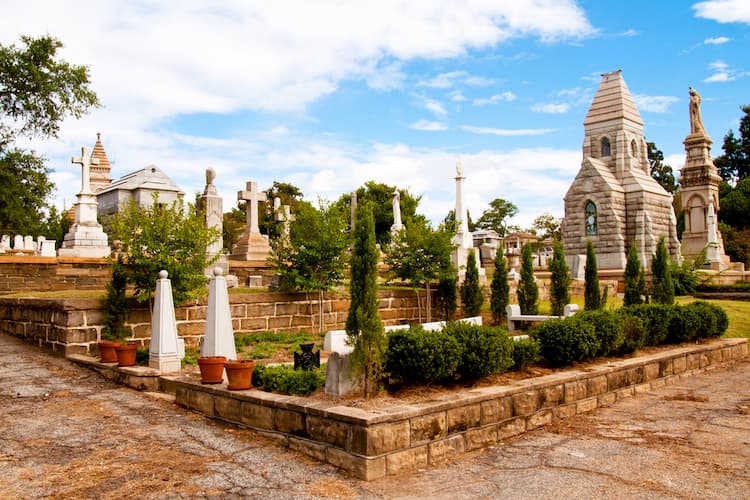 Kennesaw House (Marietta Museum of History)
The Kennesaw House was built in 1845 and served as a cotton mill and a hotel before being turned into a hospital and morgue during the Civil War. Given that many sick and dying soldiers were housed here, it's no wonder that the building is nicknamed "house of 1,000 ghosts."
The Kennesaw House now holds the Marietta Museum of History, but you can still spot spirits among the exhibits. Keep an eye out for a young boy standing in front of the elevator or a smiling woman in an old-fashioned light-blue dress with pink trim. The woman is supposedly Mrs. Fletcher, the wife of the house's second owner.
Some ghost hunters also claim they've taken photos of floating orbs and a female apparition (Mrs. Fletcher, or someone else?). The weirdest account of Kennesaw House, though, comes from a group of guests who were allegedly in the elevator when it went to the basement of its own accord. When the doors opened, the guests saw soldiers in hospital beds and a man that appeared to be a surgeon walking among them before the doors closed and the elevator started up again.
Address: 1 Depot St, Marietta, GA 30060
Charter bus parking: The museum recommends that visitors park in the public lot on the corner of 120 Loop and Mill Street, which offers parking for up to 2 hours.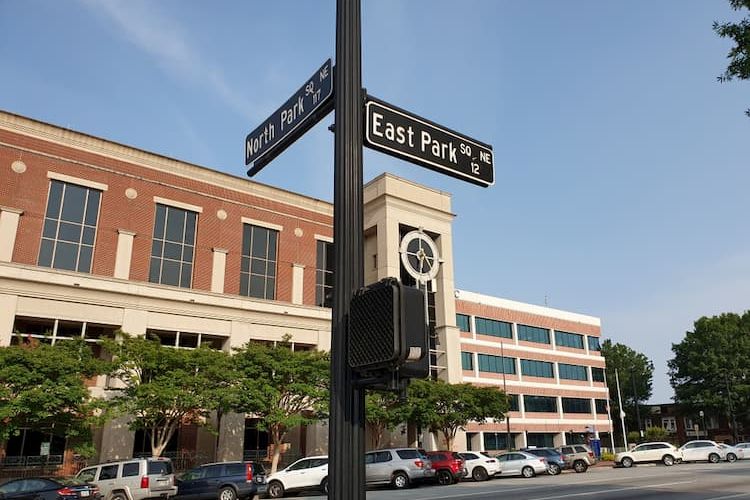 Fox Theatre
The Fox Theatre in downtown Atlanta dates back to 1929, so it's no surprise that it may be haunted. It first served as a movie theater before being transformed into the site for theatrical and musical performances that it is today. None of its transformations have gotten rid of the ghosts, though.
The original owners and some guests and staff members have reported seeing shadowy figures, closing doors, and mysterious orbs inside the theater. Some people have also experienced sudden blasts of cold air. If you want to say hi to the spirits, you can let your kids or friends know that one of them is nicknamed Roosevelt.
The Fox sometimes offers seasonal ghost tours that can take your group to haunted locations like the hospital room, power room, and stage freight elevator. But even if ghost tours aren't being offered when you visit, you can keep your eyes and ears open for paranormal phenomena while you watch a Broadway show or ballet performance.
Address: 660 Peachtree St NE, Atlanta, GA 30308
Charter bus parking: The theater has many public lots around it, and the cost to park is usually $5-$30 depending on the lot.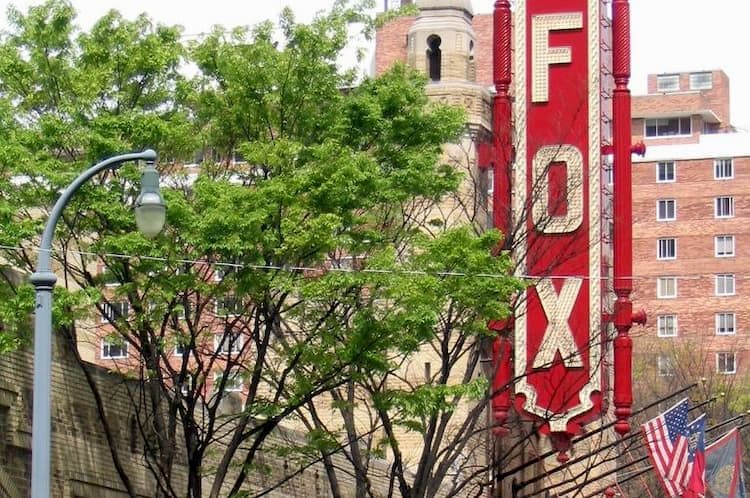 Winecoff Hotel (Ellis Hotel)
The Winecoff Hotel, constructed in 1923, welcomed visitors to downtown Atlanta until it was gutted by a devastating fire in 1946. Because the hotel had no fire doors, alarms, or sprinklers, 119 people lost their lives in the blaze.
The Ellis Hotel was later built on the same site, and guests at the new hotel have reported seeing ghosts in the windows, smelling smoke, and hearing children screaming. Perhaps creepiest of all, the fire alarm sometimes goes off at 2:48 a.m., the exact time the Winecoff fire started. Book rooms at the hotel for your group, or stop by when the restaurant is open to see if you can spot any ghosts.
Address: 176 Peachtree St NW, Atlanta, GA 30303
Charter bus parking: The Ellis Hotel relies on public parking garages, so your driver will need to take advantage of one of the paid bus lots in the area.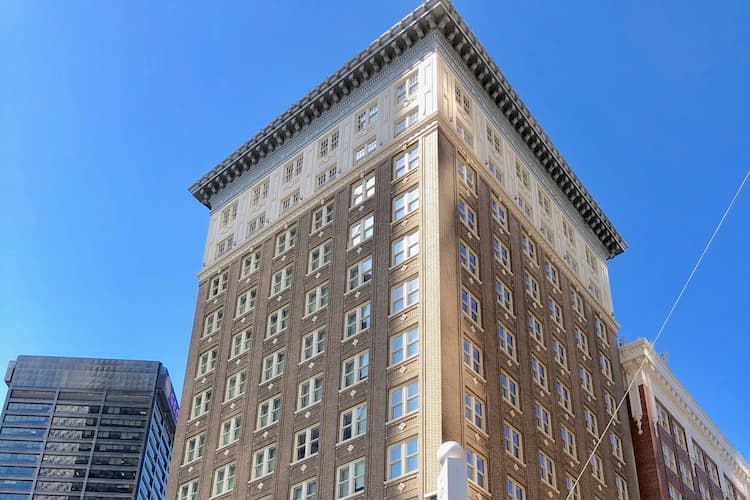 Bulloch Hall
This plantation in Roswell features one of the saddest stories behind why it's haunted. Many enslaved people lived here under the control of James Stephens Bulloch, and one young woman died in a well on the property. It's unknown if she fell, was pushed, or jumped, but she allegedly haunts the 1839 plantation. She's said to flicker the lights and cause other electrical disturbances. Visitors also claim to have seen ghosts dressed in Civil War-era clothing in the second-floor windows.
Many people visit Bulloch Hall because it was once the home of Martha Bulloch Roosevelt, the mother of President Theodore Roosevelt. But it's important not to forget the tragic history of all the people the Bulloch family enslaved. If you want to learn more about their stories, your charter bus can help your group travel out to Roswell and then back to the heart of Atlanta.
Address: 180 Bulloch Ave, Roswell, GA 30075
Charter bus parking: Parking is available a few minutes away from Bulloch Hall at Roswell City Hall. The nearby Mill Kitchen & Bar also has parking for groups who choose to eat there.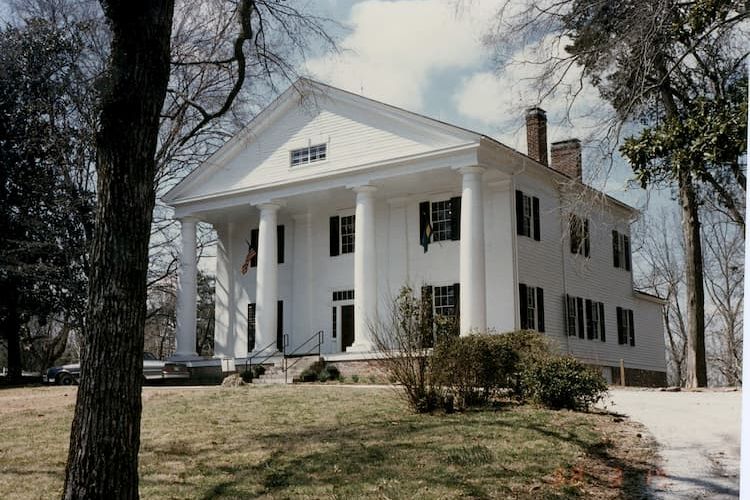 St. James Episcopal Church Cemetery
This Marietta cemetery dates back to 1842, so it's no wonder that it's rumored to have ghosts. The most famous ghost is Marion "Mary" Meinart, who has a statue above her grave of her holding her twin baby daughters. If you ask the statue, "Mary, Mary, what happened to your babies?" she's rumored to weep either tears or tears of blood. The other famous ghost is a barefoot young girl who can be seen crying at her parents' grave.
If you visit the cemetery during regular hours, you can see Mary Meinart's statue and the grave of JonBenet Ramsey. But if you want a chance at spotting the ghosts, you'll probably need to sign up for a seasonal nighttime ghost tour in Marietta when they become available. Your charter bus can drop you off for the ghost tour and pick you up after.
Address: 161 Church St, Marietta, GA 30060
Charter bus parking: The main church parking lot is located on Polk Street (to the west of the church, bordered by the railroad tracks and North Marietta Parkway).
Plan a Tour of Atlanta's Most Haunted Spots
Whether you're deeply into the supernatural or just interested in Atlanta's history, you can have a great time exploring the most haunted spots in the city with your group. Gather your small pod, rent a coach or minibus from Falcon Charter Bus, and set off on a spooky tour of Georgia's capital.