How Groups Can Travel Safely During COVID-19
The way we travel has completely changed during the COVID-19 pandemic. If you're planning to travel with a group in the near future, you'll need to be thorough in planning where you're going and how you'll get there. Falcon Charter Bus is dedicated to safe and reliable transportation for passengers throughout the Southeast.
Before you embark on your group trip, review a few of our most asked questions about current bus rentals and group travel: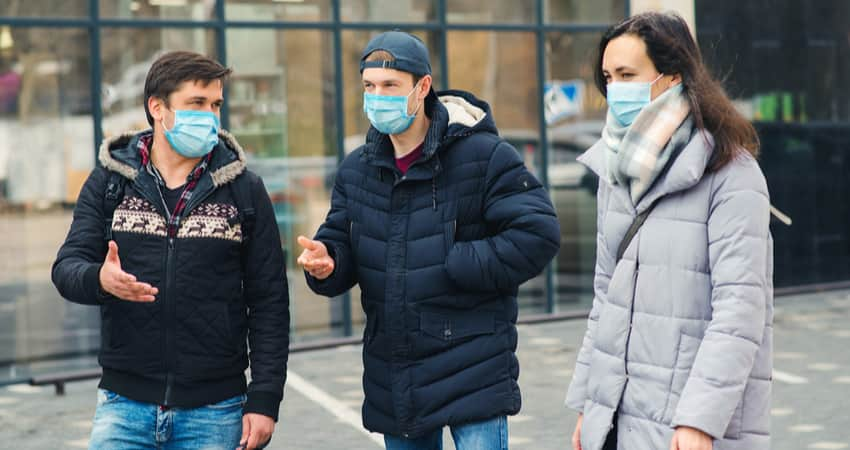 Is it safe to travel with a group right now?
Traveling comes with varying levels of risk, especially when you're in a group. As a general rule: any type of travel should be limited where possible. You can travel with proper precautions, but your first step in group trip planning should be to think about your reason for traveling.
If you need a minibus to go on vacation with a big group of friends, maybe reconsider your travel plans. On the other hand, if you need an employee shuttle service for essential workers, a charter bus is a good and safe travel option.
Are charter bus rentals a safe way to travel?
Yes, charter buses are safe ways to hit the road when you take necessary precautions. Depending on your group size, renting a charter bus can be an even safer mode of transportation than organizing a multi-vehicle carpool. Established pods of travelers will stay together in one controlled location rather than splitting up. Every motorcoach rented from Falcon Charter Bus will be thoroughly sanitized according to CDC guidelines, and each driver will have proper PPE throughout each trip. Your driver will also be instructed to have minimal contact with your group wherever possible to keep everyone safe.
Passengers can also suggest additional safety protocols and sanitization schedules to fit their needs. This can include social distancing onboard the bus, checking temperatures before boarding, and creating additional sanitization schedules as you load back on at stops. Just let your reservation expert know of any additional requests when you call 1-866-217-2168 for a quote.
Do we have to wear masks on our charter bus?
At Falcon Charter Bus, we pride ourselves on allowing groups to build customized transportation services for their unique trip. That being said, we'd highly recommend wearing masks onboard your bus. Cloth face coverings are recommended by the CDC to keep you and your fellow passengers safe, as well as to protect the people you come into contact with during day-to-day interactions.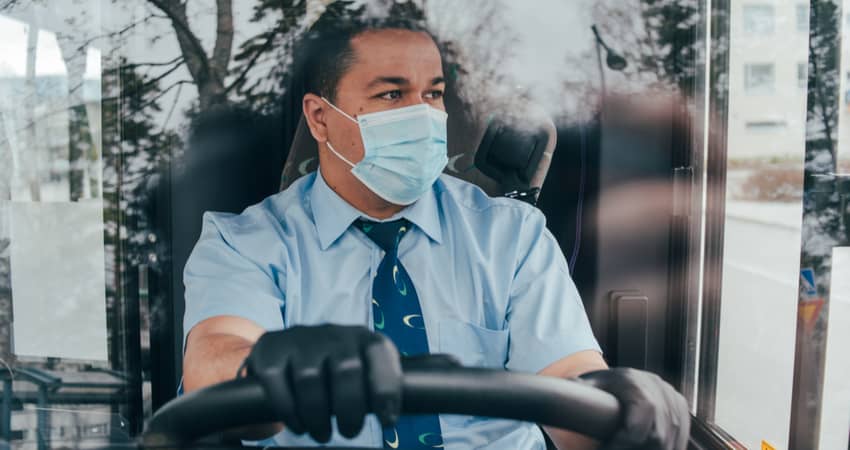 Will our charter bus have hand sanitizer and extra masks?
Each full-sized charter bus will include a bathroom with running water and soap for passengers to wash their hands as frequently as needed. Additional hand sanitizer and cloth face coverings can be requested when you book your bus. To be safe, ensure each passenger has their own face covering and hand sanitizer, if possible. You can also designate someone to bring sanitizer and additional face coverings for anyone that needs one.
Tips for Safely Traveling with A Group
While organizing your travel gameplan, it's important to consider CDC recommended guidelines. Here are a few travel tips to use when booking your charter bus:
1.   Social distance on your bus.
In the case of employee shuttles where you're not traveling in an established pod, social distancing on your bus may be a good idea. Renting a bigger bus than you need can allow for staggered seating arrangements. Passengers will have plenty of space between one another to safely travel to and from work or any other destination. If you're not sure what type of bus would be best to social distance your group, your Falcon Charter Bus reservation expert will be happy to assist you.
2.   Load and unload strategically.
Along with social distancing onboard, you'll want to think about how passengers will board and leave the bus. The last thing you'd want is for people to crowd the entrance waiting to board or to stand too close in line. If you'll be traveling with a relatively large group of passengers, placing floor decals or colored tape can keep everyone aware of the distance between one another.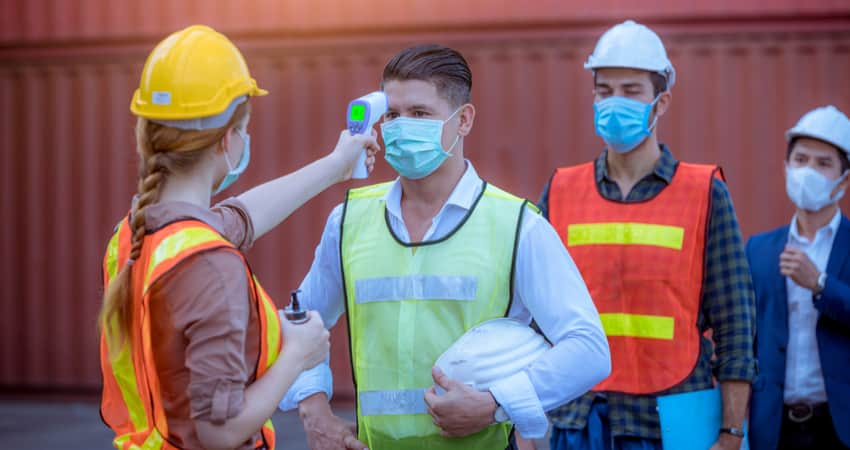 3.   Screen passenger health.
There are several ways to screen everyone's health before boarding your charter bus. One of the most thorough methods is to have everyone tested for COVID-19 and self-quarantined before the beginning of your trip. This isn't always possible for short-notice or recurring trips. Alternatively, temperature check each passenger before boarding. Temperature screening doesn't 100% guarantee good health, but it is a quick and easy precautionary measure. 
4.   Think about additional ventilation options.
Proper ventilation can help limit the possible spread of germs on your bus. Falcon Charter Bus  is actively working with transportation providers and their HVAC companies to follow CDC recommendations to optimize clean air on your bus. Depending on when and where you're traveling, you may want to opt to open the windows on your bus for even better ventilation. Keep in mind, groups traveling in extremely hot or cold weather may not have this option.
5.   Communicate with your fellow passengers in advance.
Once you establish safety protocols with your charter bus rental rep, let passengers know with plenty of notice. Keeping everyone in the loop on your rules will help your trip go smoothly and safely. Communicating these rules ahead of time will ensure everyone in your group shows up prepared with masks, sanitizer, and social distancing in mind.
Falcon Charter Bus Has Your Back
Traveling can already be stressful for many people, and COVID-19 has made it even more complicated. Falcon Charter Bus can take a little bit of the stress off your shoulders with a sanitized private motorcoach. We're here to help groups of all sizes traveling for a variety of essential reasons. Whether your team of healthcare professionals needs a ride to off-site treatment facilities or your students need a shuttle to campus for limited in-person learning, we've got you covered. Don't hesitate to call us at 1-866-217-2168 anytime with questions about our group transportation services.