A Group Guide to Visiting the Southeastern National Parks
Nowadays, I know two things to be true:
We all could use a little time outside.
Southeastern national parks don't get the love they deserve.
If you're in the southeast or heading this way, hitting up your closest national park is a great way to get some fresh air, stretch your legs, and learn about your region's ecosystems—all while avoiding large crowds and practicing social distancing.
And while the United States has 62 designated national parks—which doesn't count the hundreds of national monuments, forests, and wildlife areas also within the National Park System—depending on what you define as "The South," there are only 7 national parks in this neck of the woods.
So to make it easier for your scout troop, virtual schooling pod, or large family to make the most of your park outing, Falcon Charter Bus has put together this comprehensive guide to every national park in the southeastern U.S. and how to best enjoy them with a group. 
Quick Navigation:
P.S.: If your park-hoppers need a lift to any of the national parks on this list, leave it to Falcon Charter Bus. We're going the extra mile to ensure every bus rental is thoroughly sanitized between trips, and we'll work with you if you want to implement social distancing precautions on your charter bus or minibus. Call 1-866-217-2168 today to learn more about our services and to receive a free, no-obligation quote for your national park trip!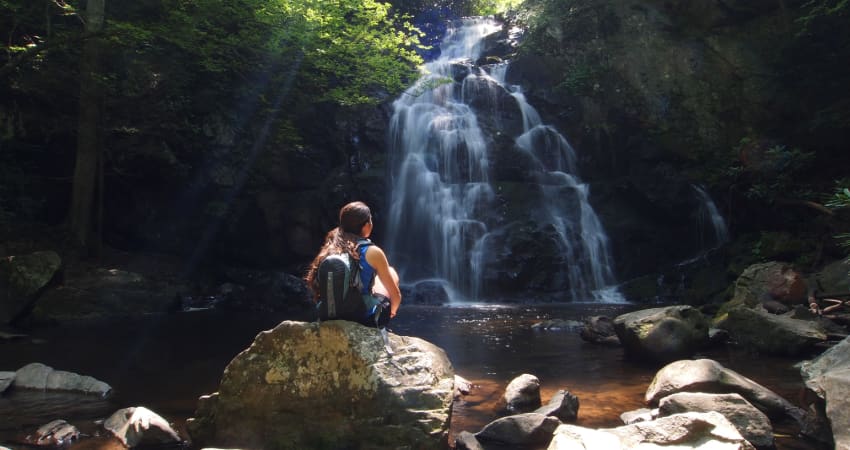 Great Smoky Mountains National Park
Location:
North Carolina and Tennessee
The Draw:
Even before the pandemic, this national park's primary draw was its scenic drive potential, especially when the trees turn red and orange in mid-October. While you're still keeping up with social distancing protocols, now's the perfect opportunity to enjoy some fall foliage from the relative safety of a well-filtered cabin—without having to leave your plush and comfy seat. As colder weather approaches, though, roadways may ice over or otherwise be closed to motorcoach traffic, so keep an eye out for closures.
Popular Activities and Amenities:
Like I said, one of the main attractions here is the bright autumn colors that sweep the valleys come October. Your group can take in many of the most popular views—the rolling hills of Cades Cove, the heights of Clingman's Dome, etc.—from the window of a car or motorcoach, meaning this is the perfect place for a scenic drive.
If your group is into hiking or biking, there are plenty of trails of varying lengths for day trips. And if you're feeling adventurous, try tackling a leg of the Appalachian Trail (about 72 miles of it runs through here).
Group Camping:
Campers be warned: this park is extremely popular in the fall, so if you want to stop by during leaf-viewing season you'll likely need to reserve your spot at least one year in advance.
Here are all the campgrounds within Great Smoky Mountain National Park that offer group camping (though as of this writing, some may still be closed due to COVID-19, so be sure to call ahead to ensure your site-of-choice is open):
Big Creek Campground—1 group campsite with a 25-person maximum
Cades Cove Campground—4 group sites with a 30-person maximum
Cataloochee Campground—3 group sites with a 25-person maximum
Cosby Meadows Campground—3 group sites with a 20-person maximum
Deep Creek Campground—3 group sites with a 20-person maximum
Elkmont Campground—4 group sites with a 30-person maximum
Smokemont Campground—3 group sites with a 20-person maximum
Charter Bus Parking:
The winding roads, steep drops, and hairpin turns can make this national park tricky to traverse with a motorcoach. Before you hit the road, be sure to check the park's guide to bus restrictions to ensure you can get there safely. That being said, all three of the national park's visitor centers (Sugarlands, Cades Cove, and Oconaluftee) offer plenty of bus-friendly parking spots for tour groups.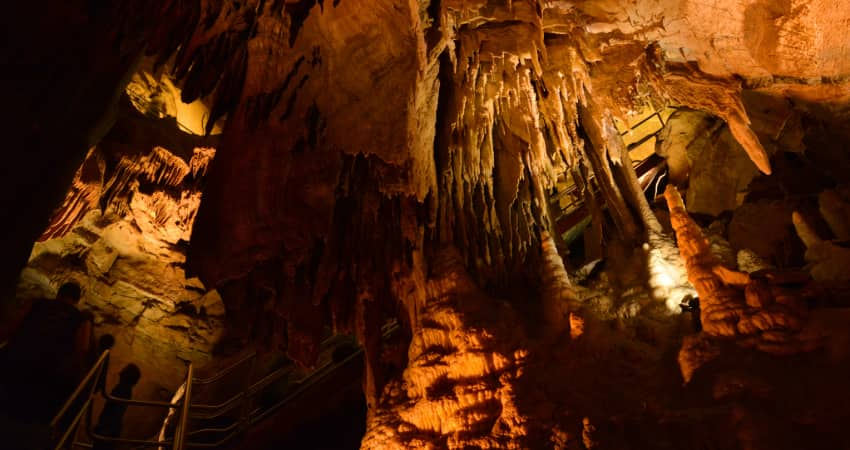 Mammoth Cave National Park
Location:
Kentucky
The Draw:
Besides being a great place to stretch your legs if you're venturing out from Nashville or booking a charter bus rental from Georgetown, this national park is well-known for a lot of reasons. For one thing, it's the world's longest cave system—covering 400 miles that we know of. It's also a UNESCO World Heritage site (a half-dozen pre-Columbian mummies were found here, as well as artifacts like grass-woven moccasins and a few petroglyphs) and an internationally designated Biome Reserve, thanks to the unique sandstone formations and 130 species that call the caves home.
Popular Activities and Amenities:
Mammoth Cave offers a range of cave tours—from accessible, well-lit, ranger-led tours of the more popular rock formations to "wild" tours where spelunkers bring their own light sources into undeveloped muddy tunnels and dusty caverns. That being said, if caves aren't your group's thing, topside there are over 80 miles of hiking trails, 80 miles of backcountry horseback trails, and two rivers explorable by kayak or canoe.
Group Camping:
There are three campgrounds in the park, two of which provide group campsite accommodations. The first, Mammoth Cave Campground, is a short walk from the visitor center and offers 4 group sites for up to 16 campers each. Maple Springs Group Campground is a little farther away from the visitor center (a 10-minute drive) but has more group-friendly sites available to larger groups—and their equine companions! Both charge $25 per night per group campsite and have a 14-day limit on how long you can stay.
Charter Bus Parking:
The visitors center at the exact center of the park has a spacious parking lot with plenty of room to keep your charter bus while you venture into the depths.
Congaree National Park
Location:
South Carolina
The Draw:
A more recent addition to the NPS, Congaree National Park was established in 2003 to preserve the country's largest tract of old-growth bottomland hardwood forest—in other words, 500-year-old cypress trees and very, very old floodplains. While the hardwood forests out West have been relatively untouched for centuries, finding still-intact, pre-colonial forests on the East Coast is very rare (especially this far south). That means Congaree is one of the only places in the Southeast where you can see landscapes as they would have looked before colonists arrived!
Popular Activities and Amenities:
Most first-time visitors start with a self-guided stroll or a ranger-led tour along the Boardwalk Trail: a 2.4-mile loop through the towering cypresses. If your group includes folks with mobility concerns, the boardwalk is a great place for them to birdwatch, catch fireflies in the summer, and enjoy the outdoors on a relatively smooth pathway. (If you need a ride here, Falcon Charter Bus can set your group up with ADA-compliant coaches at no additional cost!)
All the waterways and creeks also make this park a popular launch point for canoers and kayakers. The stretch of Cedar Creek between Bannister's Bridge and the Cedar Creek Landing is a popular option for beginners, but if you're looking for a weekend-long excursion, get a free backcountry permit and take the 50-mile Congaree River Blue Trail.
Pro tip: if you're coming in with a big group and don't want to bother juggling cars between put-ins and take-outs, reserve a private bus rental for your trip. Your driver can ensure your ride is right where you want it to be when you're ready to head home.
Group Camping:
Congaree has two designated campgrounds, and only one of them offers places for groups to camp—Longleaf Campground. There are four group campsites here, where you and up to 23 friends can pitch up to 10 tents for $20 per night. Keep in mind that due to invasive bug problems, Congaree is very strict about what firewood is brought into campgrounds. Your group is better off purchasing from the general store or collecting downed wood within the park when it's time to roast up s'mores.
Charter Bus Parking:
Congaree is considered a hidden gem of the NPS. In other words, there aren't many visitors passing through on a given day, so if you're coming in on a Columbia bus, there should be plenty of room for your bus to park at the Henry Hampton Visitor Center lot at the north end of the park.
Hot Springs National Park
Location:
Arkansas
The Draw:
Most people come here to see—well—the hot springs!
Established in 1832 (40 years before the concept of a national park existed), this park was the first in the U.S. to be set aside by the federal government for recreational use. Over the decades, the towns surrounding the springs boomed with bathhouses, salons, and health spas—especially during the turn of the century and throughout the flu epidemic.
Nowadays, you can experience the mineral-rich waters of these non-volcanic thermal springs in a number of ways, from soaking your cares away in a bathhouse to bottling up the spring water pouring from outdoor spigots and taking it home.
Popular Activities and Amenities:
The most popular spots in this national park are the two establishments left on the historic Bathhouse Row:
The Buckstaff Bathhouse—1912 health spa and the last of the two dozen bathhouses that dotted the park in its heyday. Call (501) 623-2308 for more information about rates, services, and reservations.
The Quapaw Bathhouse—A more contemporary facility with thermal pools, private baths, and a steam cave. Call (501) 609-9822 to inquire about rates and reservations.
But if your group would rather be outside, there's always the Hot Water Cascade on the Arlington Lawn (the park's largest visible spring). You can't soak there, but you can dip your hands into the warm pools and enjoy the scenery from the water's edge.
Group Camping:
While this park does offer a campground—Gulpha Gorge—there are no official group campsites offered, and the spots are limited to eight people and two tents per site. So if your group of campers is larger than that, you'll need to split up across multiple campsites.
Not feeling like roughing it? You're in luck. Hot Springs is considered an "urban" national park, so there are plenty of hotels and lodges within walking distance of the springs, many of which offer thermal baths in every room. Keep an eye out for hotel block discounts and reduced rates for your bus driver—who you'll have to provide room and board for if you're traveling overnight.
Charter Bus Parking:
The downside of visiting a national park within a city, however, is the limited parking for oversized vehicles and bus rentals from Little Rock. We recommend reserving a small motorcoach, such as an 18-passenger minibus, so ensure the best maneuverability in this historic town. Your bus rental can only park in one of two places: along the roads surrounding Whittington Park, or at Hill Wheatley Plaza, one block south of the visitor center.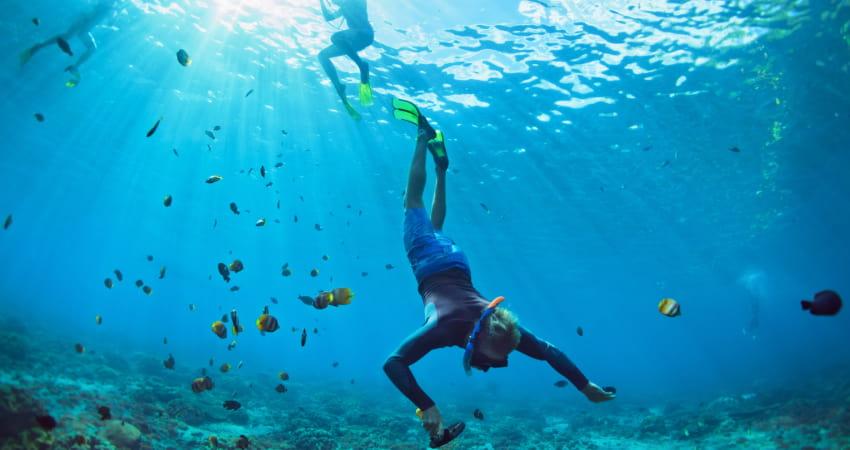 Biscayne National Park
Location:
Florida
The Draw:
Once a playground of the well-to-do yachters of Miami, Biscayne National Park was set aside for conservation and public use in the 1980s. 95% of the park is water, and all the best sites aside from the mainland visitor center are only accessible by boat. Major attractions include vibrant coral reefs and the Maritime Heritage Trail—six shipwrecks (ranging from an 1870s steamer vessel to a steel-hulled 60s schooner) connected by a system of buoys for easy navigation by boat, scuba diving, or snorkeling.
Popular Activities and Amenities:
Needless to say, this place is heaven for lovers of all things nautical. Kayakers, paddleboarders, and scuba divers are free to bring their own equipment and explore the bay as they please.
The Biscayne Institute offers a variety of nautical excursions and tours—from Sailing 101 classes, to guided scuba sessions through shipwrecks, to tours of the ornamental lighthouse and abandoned fishing village in the middle of the bay, "Stiltsville." If your group wants to chart your own course, keep in mind that this national park is very particular when it comes to third-party tours, fishing charters, and outdoor recreation with motorized boats. Read up on the NPS's list of authorized operators before you start planning your itinerary.
Group Camping:
There are also two campgrounds within the park—Elliott Key and Boca Chita Key—but neither of them offer group campsites, and you can only get there by boat, paddleboard, kayak, or canoe. If your boaters don't mind dividing and conquering, $25 per night will cover any docking fees and allow six people to set up camp on each site.
Charter Bus Parking:
Despite how small and overlooked this park is, the Dante Fascell Visitor Center does have a fair amount of parking—and designated oversized vehicle parking at that (ooh la la). If your group happens to visit on a holiday weekend and all the bus-friendly spots are full of RVs, try the Homestead Bayfront Park lot by the marina.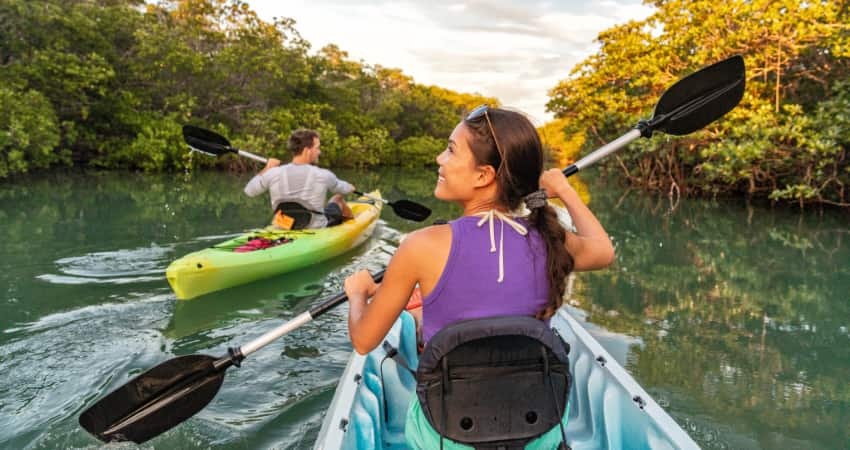 Everglades National Park
Location:
Florida
The Draw:
The swamp! Well, okay, it's the country's largest "subtropical wilderness," if you want to get technical. These 1.5 million acres encompass coastal mangroves, sawgrass marshes, and lowland pine forests. But most people come here to see the wildlife. The Everglades is one of the only places you can catch a glimpse of several endangered wetland species in their natural habitat, including West Indian manatees, leatherback turtles, and Florida panthers.
Popular Activities and Amenities:
Like I said, a major draw to the Everglades is all the cool animals you can see here. But the swamp is big and hard to traverse on foot. The solution? Airboat tours. The park allows three authorized tour providers to charter airboats here, and all of them can be accessed from U.S. Highway 41 between Miami and Shark Valley.
Of course, there's plenty else to do and see if your group would rather skip the airboats. Kayakers and canoers of all skill levels can paddle out from Flamingo Marina to explore the mangroves, marshes, and beaches. And bird-watchers will have a field day on any of the designated trails snaking out from the Homestead Entrance—over 300 bird species can be found in that area alone!
Group Camping:
This park may be big, but there are only two places to frontcountry camp: Long Pine Key Campground and Flamingo Campground. Both are accessible from the Homestead entrance of the park, and both offer group campsites (though availability is very limited). These larger sites need to be reserved in advance and go for $35 per night. Call 855-708-2207 to reserve yours.
Charter Bus Parking:
This national park has three entrances in three separate cities—and none of them are connected within the park grounds. That is to say, where you park your charter bus depends on where you enter:
Homestead Entrance—This is where the park's two campgrounds are located. Ask your bus driver to park at either the Ernest F. Coe Visitor Center or the Flamingo Visitor Center.
Miami Entrance—As you could probably guess, this one's the closest entrance to Miami. There's designated bus parking available at the Shark Valley Visitor Center, where your group can take in a bird's-eye view of the wetlands from the iconic Shark Valley Observation Tower.
Everglades City Entrance—If you're entering the park from the west (like from Naples), this is your gateway to the Everglades. Your bus driver can park near the Gulf Coast Visitor Center while you take airboat tours through the mangroves at Ten Thousand Islands.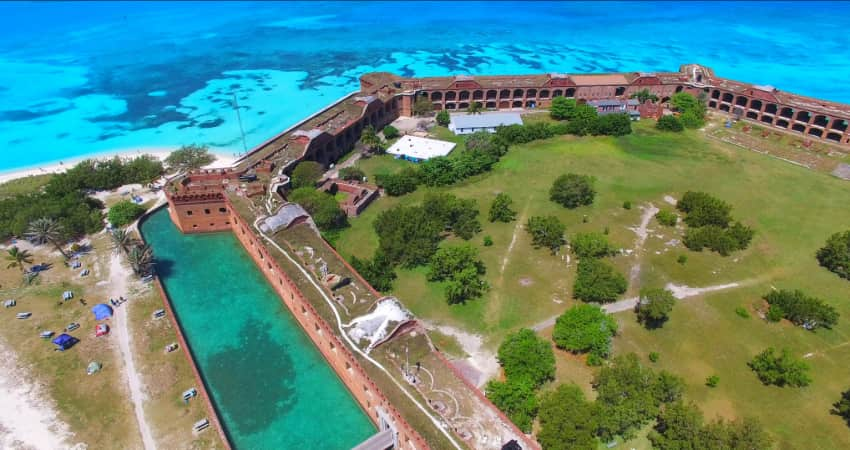 Dry Tortugas National Park
Location:
Florida
The Draw:
If you want to get away from it all, any of these national parks should do the trick. If you really want to get away, this national park is your stop. Dry Tortugas is a collection of seven islands in the middle of the Gulf of Mexico—about 70 miles from Key West—and is only accessible by ferry or seaplane.
Don't worry though, history buffs and marine-life-lovers will consider this place well worth the trek. It houses one of the U.S.'s largest and most well-preserved 19th-century forts, Fort Jefferson. It's also one of very few places in the U.S. where you can see the sun rise and set over the water, all from the same spot.
Popular Activities and Amenities:
Most visitors here for a day trip focus on exploring Fort Jefferson. Tours can cover a variety of disciplines—from the general timeline of the fort and its part in the Civil War, to deep-dives into the micro-ecosystems of the moats surrounding the structures.
Snorkeling is also popular here, given the clear blue waters, bright coral reefs, and countless shipwrecks within boating distance of the islands. This park also gives visitors the opportunity to geocache, paddleboard, kayak, canoe, and camp on the beach.
Group Camping:
If you want to camp with a group on Garden Key (the only place you're allowed to set up a tent), you'll need to make a reservation. There is only one group site available, and it can accommodate up to 20 people. Keep in mind that there is no fresh water on the key, and all campsites here are primitive—so make sure everyone brings enough water and carries out their garbage when it's time to head home.
Charter Bus Parking:
It should go without saying that charter bus parking around here is not really a concern—you can't exactly drive to the islands. Instead, focus on booking a ferry or seaplane from the mainland, and let a professional bus driver ensure your explorers arrive at the dock with plenty of time to load and board.
Explore the Great Outdoors with Falcon Charter Bus
No matter what southeastern national parks fill your itinerary, Falcon Charter Bus is here to take you there. Let our network of experienced drivers and top-of-the-line motorcoaches transport you to your outdoor excursions, and we'll provide your group with all the small comforts to make the trip more fun.
Charge up your phone before the big hike with individual power outlets, post your favorite landscape photos over the onboard WiFi, settle in with a movie on a flatscreen TV, or simply watch through panoramic windows. Whatever your group wants or needs for your national park trip—from extra storage space for your picnic coolers to ADA-compliant coaches at no additional cost—our 24/7 team can make it happen. Give us a call at 1-866-217-2168 whenever you're ready to start planning!