Complete Guide to Southeast Charter Bus Rentals
If you've never rented a charter bus before, you probably have a lot of questions about the process. What are charter buses like on the inside? How many people can fit on one? Will your bus have WiFi? And how much will a bus rental cost?
Falcon Charter Bus has compiled a list of answers to the questions we receive most often about renting a charter bus. Check out our guide to charter buses, and when you're ready to book a motorcoach, give us a call at 1-866-217-2168. We can provide full-size charter buses and minibuses for groups traveling throughout the Southeast, whether you're headed to Nashville, New Orleans, or Miami.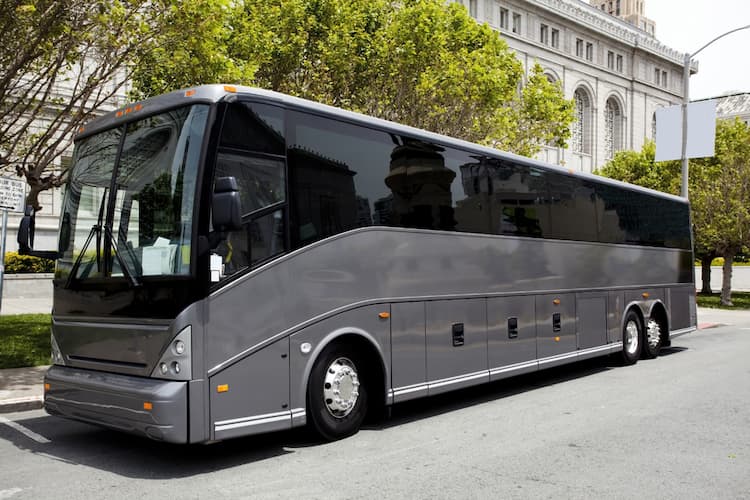 The Basic Facts
What are charter buses?
A charter bus, also called a motorcoach, is a bus reserved for use by a business, wedding party, school, sports team, or other organization. Unlike public buses, charter buses follow your itinerary and take you exactly where you want to go.
How many seats do charter buses have?
Charter buses come in a variety of sizes, but most buses have 56, 25, 20, or 18 seats. Buses with 56 seats are considered full-size charter buses, while buses with 25, 20, or 18 seats are considered minibuses.
What do charter buses look like?
On the outside, full-size charter buses will have large panoramic windows with luggage storage bays beneath them. Some buses are all-white or all-black, while others have the company's logo on the side. Minibuses don't have storage bays, and the windows will be smaller.
When you climb the stairs or use the wheelchair lift to go inside, you'll see the driver's cockpit and rows of cushioned, reclining seats for passengers. Both charter buses and minibuses have overhead bins for storing bags above the seats. Most full-sized buses also have a small bathroom with a toilet and handwashing station at the back.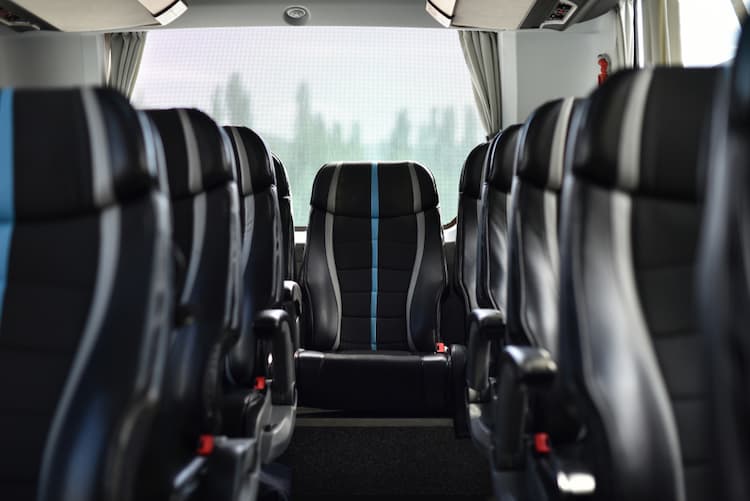 What amenities do charter buses come with?
All charter buses come with comfortable seats, large windows, and climate control, and coaches built after 2016 also feature seatbelts. When you call to book, you can request optional features like power outlets, WiFi, and TVs with DVD players.
Can I bring food and drinks?
Most charter buses allow food and drinks onboard, but you'll need to notify your reservation specialist if your group plans to eat or drink during the drive. You'll also need to clean up your trash so you aren't charged an additional cleaning fee at the end of your trip.
Some charter bus companies allow passengers to drink alcoholic beverages on the bus too, but alcohol policies depend on the bus company and the city. Make sure you tell your reservation specialist if you want to drink on the bus, and note that you may have to pay an additional deposit to do so.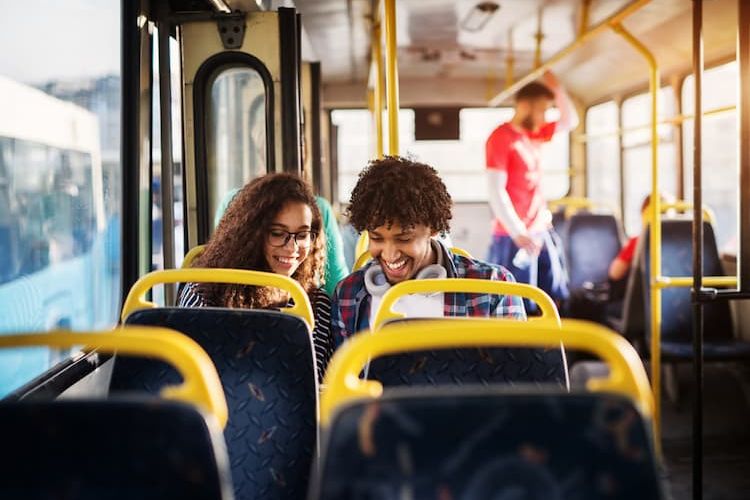 Are pets allowed on charter buses?
Certified service animals are always allowed on charter buses, but bus companies get to decide whether they'll accept any other pets. Even if you request and receive a pet-friendly bus, you'll probably need to keep your furry friend in a carrier or crate during the journey.
Do charter buses have accessibility features?
ADA-accessible charter buses are available by request, and it's a good idea to book at least two weeks in advance if you need one. Your accessible bus will come with wider aisles, railings along stairways and in the bathroom, a wheelchair lift, and a wheelchair seating area.
Can I drive the bus, or will I have a driver?
All charter buses come with a fully licensed, certified driver, and they'll handle taking you to every stop on your itinerary. You'll need to ensure your driver gets an 8-hour break after every 10 hours of driving and that you book a hotel room for them if you're going on an overnight trip.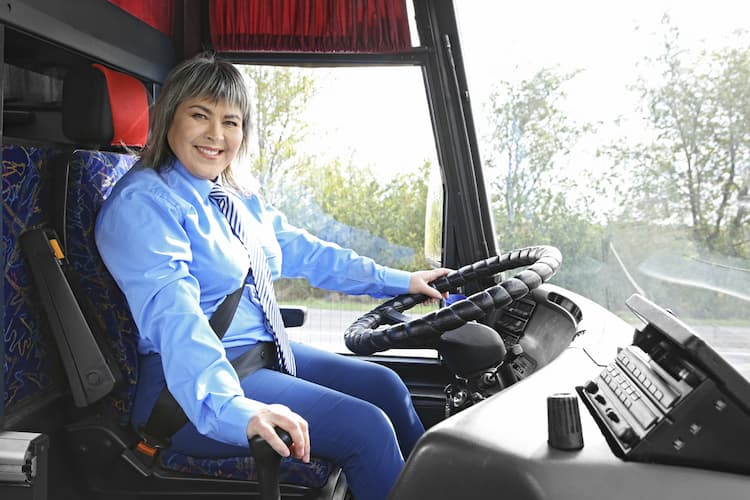 Pricing Guide
How much does a bus rental cost?
For more details on how we determine charter bus rental prices, check out our dedicated bus rental pricing guide! 
How much a bus costs depends on several factors, like:
How far you're traveling
How long your trip is
What time of year you're traveling
What city you're being dropped off and picked up in
The size of bus you need
What amenities you request
Because so many factors go into a bus's price, the best way to determine how much your bus will cost is to call us at 1-866-217-2168 for a free, personalized quote. That said, we understand that you may want a rough idea of prices before you get a quote. These costs are subject to change, but here's an example of our average hourly, daily, and per-mile prices:
| | | | |
| --- | --- | --- | --- |
| | Per hour | Per day | Per mile |
| Charter bus | $135-159 | $1,295-1,400 | $4.20-4.80 |
Does my quote include everything, or will there be additional costs?
Your quote includes your charter bus, the services of your driver, gas, and standard bus amenities like climate control, reclining seats, and storage space. Once you receive a quote, you won't be surprised by any hidden fees. You may still have to pay for costs we don't control, like tolls, parking fees, a hotel room for your driver (required for overnight trips), or a tip for your driver. Most charter bus drivers receive a tip of around 10% of the total cost of the trip.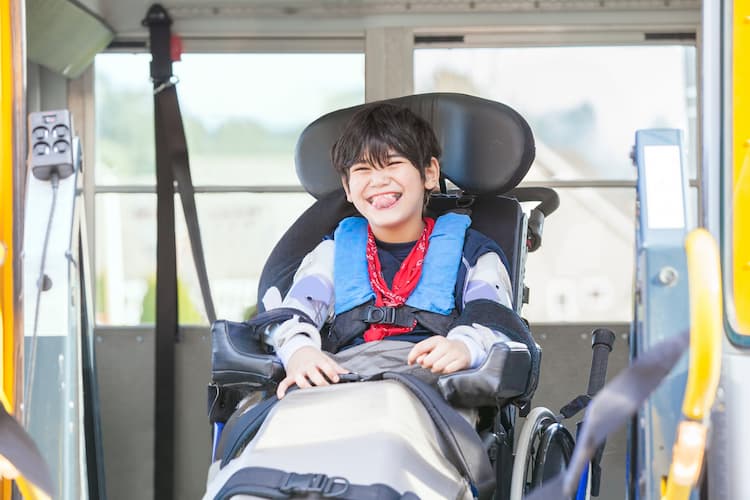 Can you give an example of how much a trip may cost?
Sure! Let's say you're going on a field trip to the Georgia Aquarium from your school in Marietta, Georgia. Your trip will take about 6 hours, and since it's a one day trip, you'll be charged by the hour.
Charter bus for 6 hours:         $870 ($145 per hour x 6 hours)
Then you'll need to add in additional costs, like parking fees and a tip.
Parking:                                   $25
Tip:                                           $90
When you add all your costs together, this one-day trip will cost $985. If you're taking a charter bus for several days or over a longer distance, your costs will go up accordingly.
How to Rent a Bus in the Southeast
What information do I need when I book my bus?
When you call us to book, you should have an itinerary with all of your stops, dates, and times on hand. You'll also need to know how many people you're bringing, what amenities you want, and whether you need any accessibility features.
How far in advance should I book?
To ensure you get exactly the bus you want, we recommend booking your charter bus rental at least 1 to 3 months in advance. If you're traveling in a busy month like April, May, or June or during a major event, you should try to book at least 6 to 9 months in advance.
Don't worry if you missed your window, though. Although Falcon Charter Bus can't guarantee we'll always have exactly the bus you want, we do our best to accommodate last-minute requests whenever possible.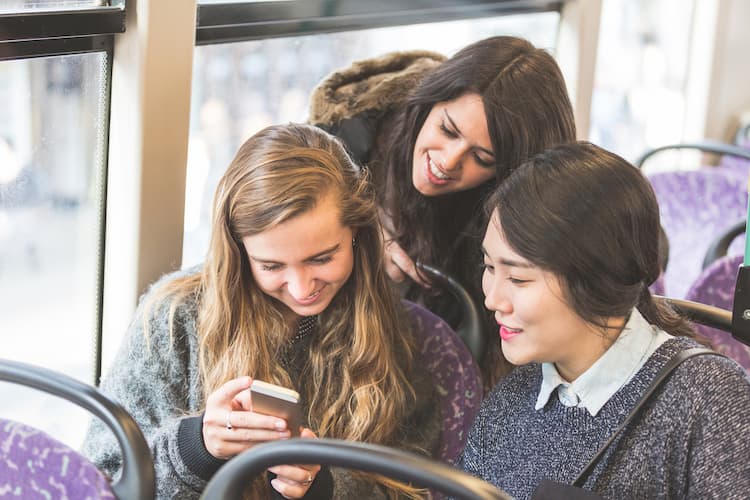 Still Got Questions?
Our 24/7 team at Falcon Charter Bus will be happy to answer them. Just contact us at 1-866-217-2168 and we'll provide specific information about the buses we have available and exactly how much they'll cost for your specific trip. Once you make your reservation, you'll be free to explore Atlanta, Charlotte, or Orlando while a professional takes care of the driving. Give us a call today!