The Best Field Trip Spots in Tampa
If you're a Tampa educator, youth group coordinator, or any other authority figure for a group of kids, you already know that coordinating an outing with your students can be stressful. But you also know there's so much to experience and learn from in this city.
That's why Falcon Charter Bus is here to ease two parts of the planning process: where to go and how you'll get there. We've put together a list of the best field trip destinations for little learners in all subjects—from art to zoology.
And whenever you're ready to chart your course, call Falcon Charter Bus at (813) 944-3146 for safe and comfortable school trip transportation you can trust. We only work with certified professional drivers and well-maintained vehicles, so you know your students will arrive safe and sound to every destination on your itinerary.
For future scientists…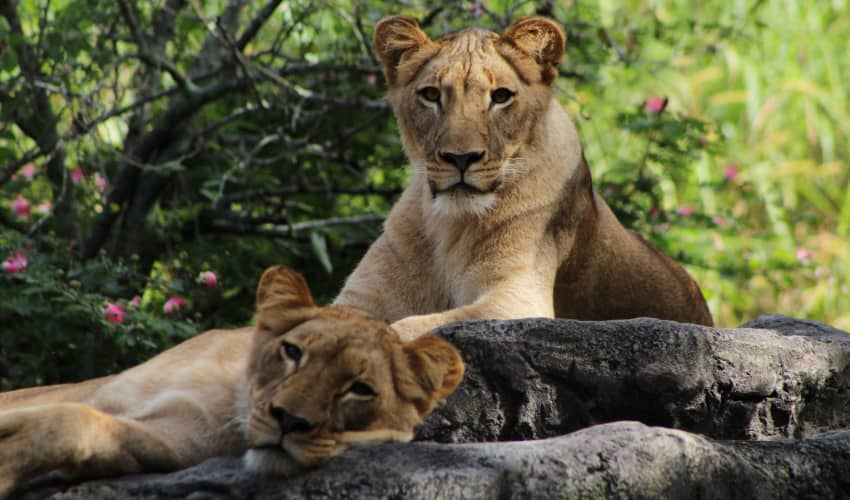 Busch Gardens
Address: 10165 McKinley Dr, Tampa, FL 33612
Phone: (813) 884-4386
Okay, sure, this popular Tampa destination may not be your first thought when it comes to educational trips, but there's more to Busch Gardens than roller coasters and thrill rides!
The on-site zoo park offers various field trip programs for different age groups and specific subjects—from the impact of physical science on ecosystems to exploring careers in the animal science fields. Depending on the program you choose, Busch Gardens can even provide pre- or post-field trip assignments that fit Next Generation Sunshine State Standards. Just call (813) 884-4386 to start setting up your students' walk on the wild side.
And if your group of youngsters is tempted by Tigris (Florida's tallest launch coaster) or Sheikra's 90° 200-foot drop—well—you know what they say about all work and no play. Besides, time your daredevils' visit right and they can learn a thing or two while they ride the coasters! In early December, Busch Gardens treats physics students to a day of thrills and practical education appropriately named 'Physics Day'. The gates open an hour early for participating students, accelerometers are mounted on select rides throughout the park, and interactive stations and live shows are displayed for even more hands-on learning experiences.
Bus parking comes complimentary when you purchase a group admission package, and your bus driver gets in free! Just ensure your driver knows to drop off everyone near the Nairobi Gate along East Busch Boulevard and enter the parking lot from the designated bus entrance on Route 60.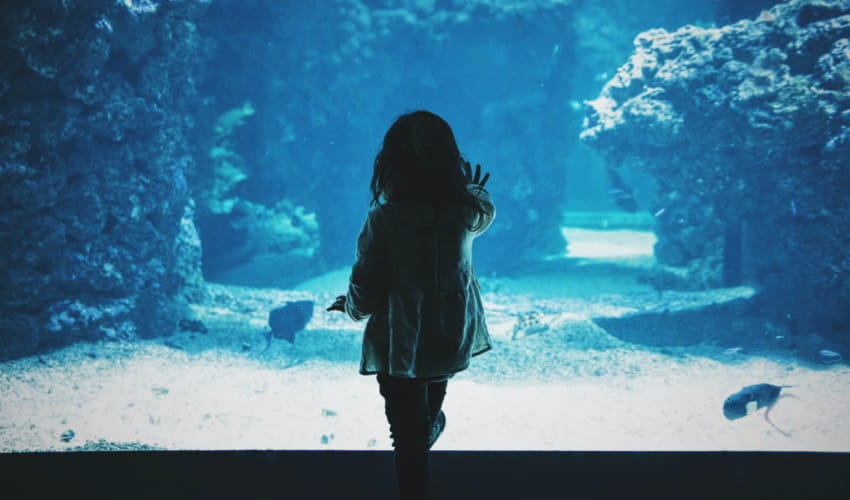 The Florida Aquarium
Address: 701 Channelside Dr, Tampa, FL 33602
Phone: (813) 273-4000
Out and about with aspiring marine biologists? There's no better place to visit in Tampa than The Florida Aquarium—voted one of the top three aquariums in North America in 2018 by USA Today and one of the state's most frequented attractions.
So what makes this aquarium a great destination for your next field trip? To start, the exhibits here cover a lot of topics and environments—from local wildlife of the Florida wetlands to coral reefs of Australia, and so much in-between. Beyond what you can see on the regular tour, the Florida Aquarium also offers educational programs tailored specifically to school groups! Sign up for onsite activities and labs—like tracking rehabilitated sea turtles and meeting plankton eye-to-eye—or treat your honors students for their good grades with an overnight tank-side sleepover amongst their favorite aquatic friends.
School groups wishing to tour the Florida Aquarium can receive a reduced admission of $10 per student ($6 per student if you qualify as a Title 1 school in either Hillsborough, Manatee, Pasco, or Pinellas county). The aquarium asks groups to bring one chaperone per every 10 students, and chaperones get in free.
Despite the aquarium's close location to bustling downtown and various cruise ship ports, finding adequate parking for your charter bus or minibus should not be a problem for your driver. Have them drop you off in the traffic circle at the front entrance, where you can then pose for a selfie in front of the big stingray sculpture. Your driver can park the bus in the adjacent lot. Just be sure to be back at the front entrance with plenty of time to board the bus when you're ready to leave.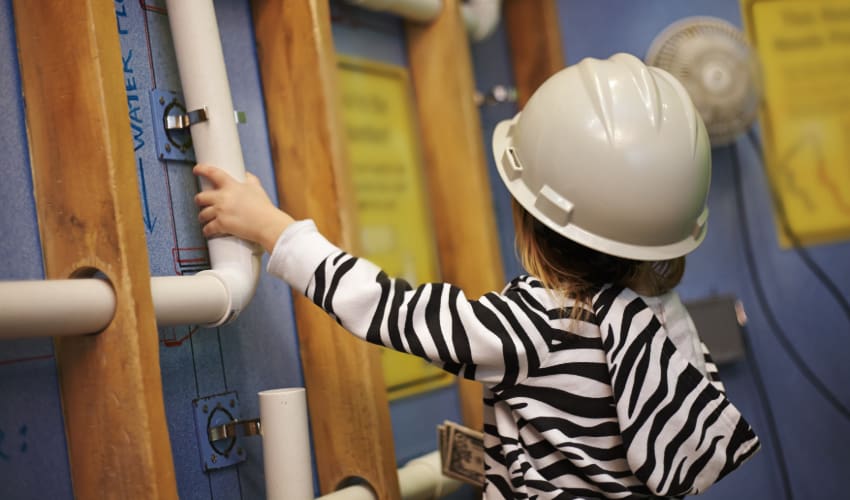 Museum of Science and Industry
Address: 4801 E Fowler Ave, Tampa, FL 33617
Phone: (813) 987-6000
If you're looking for a destination to entertain and educate your STEM students, this is your stop. Tampa's Museum of Science and Industry (MoSI for short) features over 100 hands-on activities spanning a spectrum of scientific fields. One minute your little learners can study nutrition science first hand with a life-size game of Operation, and the next minute invent their own ingenious contraptions in the engineering-focused Idea Zone®. From paleontology to astrophysics, MoSI has a little something to pique all your aspiring scientists' interests.
Most veteran visitors would agree the museum's exhibits mostly cater to younger visitors (let's say kids under 11 years old), but MoSI offers field trip programs for grade levels K-12—robot designing, DNA splicing, and crime scene investigating workshops, just to name a few!
If your school group of 15 or more field trippers reserves at least 14 days in advance, you qualify for the discounted admission rate of $4 per student, with one free adult ticket for every 10 students. Additional programs—including access to the planetarium and the ropes course—cost an additional $4-$5 per person. For more information about group reservations, contact MoSI at (813) 987-6000 or reservations@mosi.org.
The parking situation at MoSI is less-than-ideal—the closest lot to the museum is small and holds very few vehicles at a time, and the larger overflow lot is quite the trek away from the front entrance. Luckily, your bus driver can easily drop you off at the designated unloading zones near the ticket gate and handle the parking plan while your group heads inside, so you'll spend more time exploring the exhibits and less time finding the perfect spot!
For history buffs…
American Victory Ship and Mariner's Memorial Museum
Address: 705 Channelside Drive, Tampa, Florida, 33602
Phone: (813) 228-8766
Ready for an up-close-and-personal with one of only four fully-operational ships that served in World War II? Because that's what you can expect from this warship-turned-museum recognized by the National Register of Historic Places.
This ship, dubbed the SS American Victory, once patrolled the waters of the Pacific Theater and continued to carry ammunition and military cargo between the U.S. and South Asia throughout the Korean and Vietnam Wars. Nowadays, the ship is permanently docked in Tampa, serves as a window into the United States' recent decades of naval history, and invites visitors to take in the hull and machinery as it would have looked during the war.
The American Victory Ship offers discounts for groups of 10 or more, and special field trip rates for school groups—$4 per child under 12 years old and $6 per teen between ages 13 and 18. Field trip programs include an hour-long guided tour of the SS American Victory's decks and living quarters, and can include an age-appropriate hands-on activity if you request one with your reservation.
Henry B. Plant Museum
Address: 401 W Kennedy Blvd, Tampa, FL 33606
Phone: (813) 254-1891
If you ever find yourself on or near the University of Tampa's campus (whether for a tour with prospective students, an academic competition, or another field trip stop in nearby downtown), you'd be remiss to pass up this attraction.
The Henry B. Plant Museum once operated as the Tampa Bay Hotel: a 511-room resort hotel during the United States' Gilded Age (aka: the late Victorian Era) that offered channel-side rest and relaxation to the wealthy guests who stayed here. Now, this 6-acre-long building boasts gorgeous Moorish Revival architecture, one of the oldest still-working elevators in the country, and many exhibits about Victorian tourism. Come visit these well-preserved halls and learn about the leisure activities of the elite guests who frequented the hotel and the building's role in the Spanish-American War!
From January to November, this museum offers docent-led tours for schools, youth programs, and scout programs with 10 or more kids. These groups are encouraged to reserve at least two weeks prior to visiting by calling (813) 258-7301 or filling out a field trip reservation form.
The Henry B. Plant Museum is especially welcoming and accommodating to visitors with disabilities. If you're visiting with folks who have sensory sensitivities, the museum offers an illustrated pre-trip overview with a breakdown of what to expect and how to interact with exhibits safely. And despite the fact that the building was constructed in 1891, most of the museum is friendly to users of wheelchairs and mobility devices and offers plenty of places to sit during your tour.
Just pull up to one of the ramped entrances—either on the north side of the building or near the back—and someone from the front desk can help you in. (By the way, if you need an ADA-compliant motorcoach, Falcon Charter Bus can find you one at no additional charge! Just let your reservation rep know when you call and book your ride, and we can provide a bus with wheelchair ramps, wider aisleways, and plenty of space to store mobility devices en route.)
For aspiring artists…
Tampa Theatre
Address: 711 N Franklin St, Tampa, FL 33602
Phone: (813) 274-8981
This downtown attraction served as the city's primary movie theatre from 1926 well into the 1960s. Back then, admission was 25 cents per person, and the theatre was the only commercial building in Tampa with air-conditioning—making it extremely popular in the sweltering summer. Since then, the near-century-old theatre has been restored and can now screen digital films, though volunteers still play the theatre's original pipe organ before screenings (as would have been done before shows in the 1920s).
But this destination isn't just for movie buffs. The Tampa Theatre also serves as a stage for community play productions, local and touring musical acts, and dance troupes from far and wide. Inspire your young actors, drama club, tech crew, or dance class by taking them to a show at Tampa's historic theatre!
If you're an educator in a Hillsborough County public school, you'll need to call the theatre's Field Trip Program office at (813) 272-4763 in order to reserve a theatre tour or tickets to a show.
If you're an educator in a private school or another county, or another youth coordinator for an afterschool group, you'll need to contact the specific company presenting the show you wish to see. Contact information for upcoming performance companies is usually available on the Theatre's website.
The Tampa Theatre is in the heart of downtown—which is to say parking can be tricky. Rather than searching for a spot on the street and feeding the meter throughout your visit, or finding a garage and walking multiple blocks to the theatre, your group may want to opt for a charter bus rental. That way, your driver can drop everyone off within walking distance of the box office and find parking elsewhere while you enjoy your tour.
Pro tip: free bus parking in Historic Ybor is available along 12th Avenue between 15th Street and 17th Street.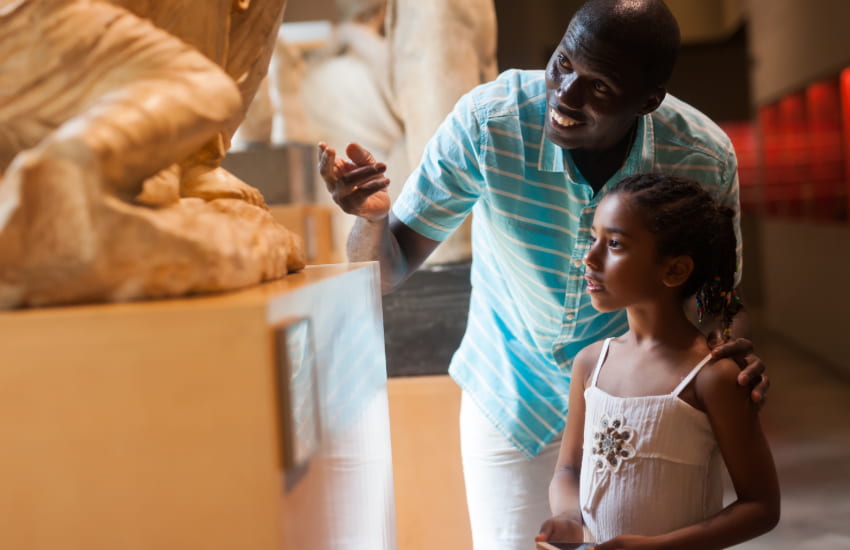 Tampa Museum of Art
Address: 120 W Gasparilla Plaza, Tampa, FL 33602
Phone: (813) 274-8130
If fine art is more of your school group's focus, venture out to the Tampa Museum of Art for a mix of contemporary art and pieces from Ancient Rome and Egypt. Whether your class would rather see exhibitions showcasing glass work throughout the ages (from ancient pottery to modern abstract art) or get inspired by the museum's photography gallery filled only with pieces by women artists, this riverside cultural hub has a little something for everyone.
Depending on the museum's current exhibits and events, opting for a self-guided tour of the museum may mean paying the $5 admission fee per student. However, docent-led group tours are available for classes and clubs of 10 or more and are free to all students. Your docent can either focus on a specific exhibition or topic of your choice, or provide a tour of all the galleries. All tours are available during the academic school year, Monday-Friday starting at 10 a.m. 
If the weather allows, why not plan a picnic lunch to accompany your students' gallery tour? The Museum of Art features a park along the scenic waterfront, as well as a playground where your younger patrons can burn off some energy before returning to the galleries. And when you reserve a charter bus for your museum travels, you'll have plenty of storage space under the bus for your coolers and bagged lunches and compartments in the cabin where you students can stash their backpacks.
Start Planning Your Next Tampa School Trip
Tour reservations: check.
Chaperones: check.
Bagged lunches: check.
Transportation plan: …
Don't leave the ride plan up to chance. Let Falcon Charter Bus provide your students with a reliable and efficient bus rental.
Sure, traditional yellow school buses are a staple of most kids' field trip experiences, but that doesn't mean they're the most comfortable mode of transportation. When you book with us, your students and chaperones have access to our wide network of coaches and certified professional drivers, as well as amenities to make their ride more enjoyable. They can catch up on assignments over onboard WiFi, watch a nature documentary or Bill Nye over TV screens, or lean back in a plush reclining seat and snooze the ride away—all these amenities (and more!) are available upon request, so don't hesitate to ask your rep to include the features you think they'll need.
Call (813) 944-3146 today for assistance with your rental and a free, no-obligation quote personalized to your Tampa field trip itinerary!