The Best Budget-Friendly Group Activities in Atlanta
As the cultural hub of the Southeast and one of the most affordable major U.S. cities, Atlanta is a great destination for travelers and sightseers on a budget. Even so, making the most of the ATL without breaking the bank can be a challenge, especially if you're traveling with a large group of friends, family members, kids, or coworkers.
That's why Falcon Charter Bus has put together this list of some of the best places to spend your time in Atlanta on the cheap. And whenever you need to hash out a group transportation plan for your visit, be sure to call 404-400-3545—we'll make every step of your travels stress-free, and we can even offer a free, no-obligation quote for your rental!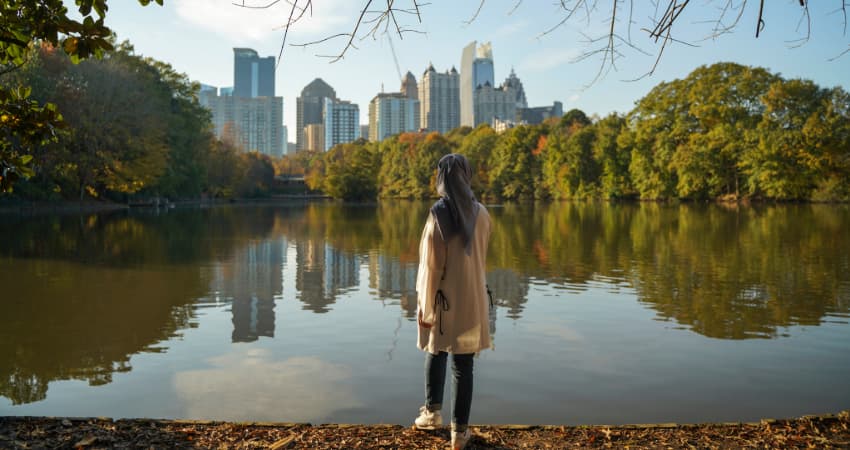 Piedmont Park
Address: 400 Park Dr NE, Atlanta, GA 30306
One activity that's almost always free? Enjoying the great outdoors!
This public park is sometimes considered the "Central Park" of Atlanta—it was designed by the same landscape architect, after all. Here, you can scope out local fresh produce and crafts at the Green Market (Saturday mornings between March and November, just inside the 12th Street and Piedmont Avenue Gate), learn more about growing your own food in the community garden, dog-spot in either of the two off-leash areas, or simply stroll along the miles of walking and running trails.
As for parking, Piedmont Park is in the heart of bustling Midtown, so finding a motorcoach-friendly spot might be tricky. But depending on your itinerary and plans, your group may have some options:
If your lodging is nearby—it will probably be easiest if your driver drops you off at the park and returns to the hotel parking lot to wait for your next pick-up time. When you rent a bus for multi-day journeys, you'll need to reserve lodging for your driver with easy access to bus parking anyway, so if you're staying in Midtown, you'll want to take advantage of the hotel's parking arrangements when you can. Also, many hotels offer special rates for bus drivers and bus parking, so be sure to inquire about a discount when you book your hotel block!
If your group wants to grab a quick meal—swing by The Varsity before heading to the park. This fast-food stop not only offers cheap eats (burgers, hot dogs, fries, and shakes), it's an iconic Atlanta landmark every out-of-towner should experience before you leave. Just be sure you know your order before the person behind the counter asks "What'll you have?"—this place is fast-paced and you won't want to hold up the line. After you've grabbed your chili dogs and Frosted Oranges, your driver can park the bus in the huge parking lot behind the restaurant, and your group can walk the few blocks to the park for a picnic lunch.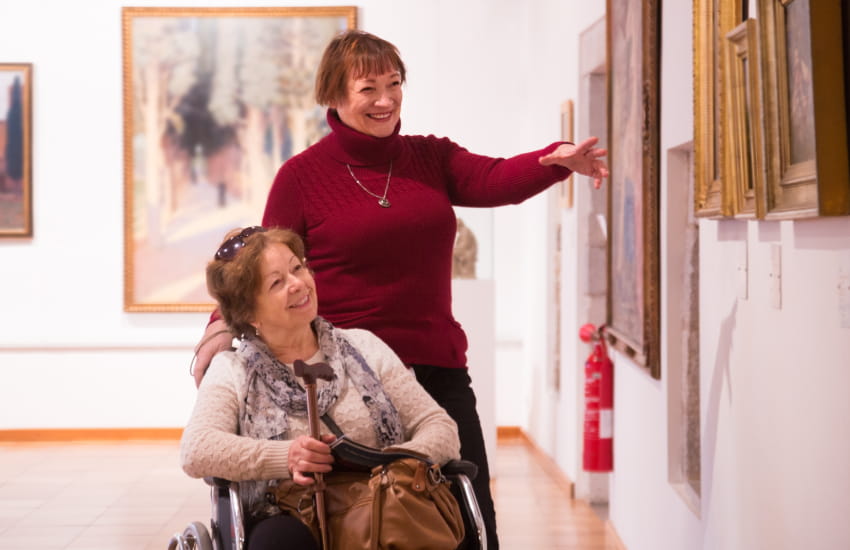 High Museum of Art
Address: 1280 Peachtree St NE, Atlanta, GA 30309
This modern art museum is one of the oldest and most highly acclaimed museums in the city, with roots in the Atlanta art scene tracing back over 100 years and more than 15,000 pieces in its permanent collection. Whether you want to see sketches by renowned African American artists or Southern Gothic photography, the High delivers.
Normally, group admission to this local-favorite modern art museum runs anywhere from  $8 to $15 per patron (not exactly ideal if you're a large group that's strapped for cash). But if you visit between 12 and 4 p.m. on the second Sunday of the month, your group can visit free of charge!
Besides receiving access to the High's permanent collection and rotating exhibitions, Second Sunday visitors can make and interpret art hands-on with interactive family workshops, story-times, and even a sensory room with noise-canceling headphones, crash pads, and objects of varying textures.
The High Museum is an especially group-friendly destination, with free designated bus parking and loading/unloading zones available to motorcoaches.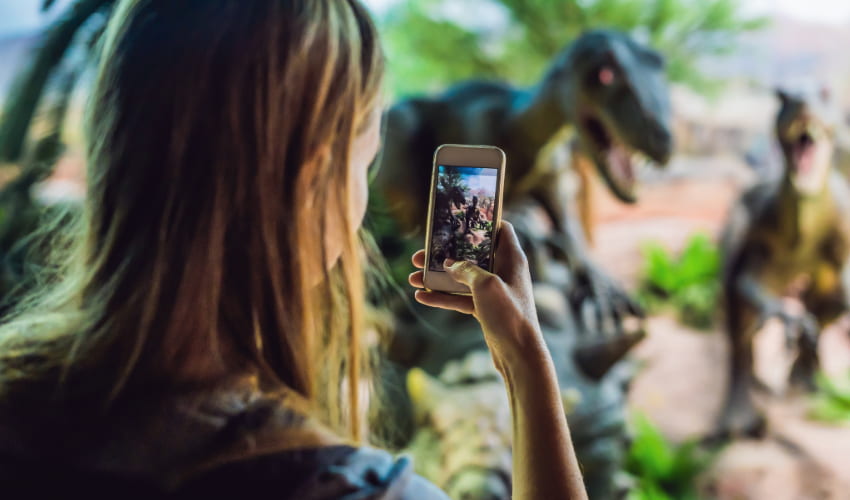 Fernbank Science Center
Address: 156 Heaton Park Dr, Atlanta, GA 30307
Science enthusiasts on a budget will not want to pass up this stop. Here, your group can cover a lot of different scientific subjects in one afternoon—from small animals of the slimy and scaly variety to large-scale space capsules like the ones used in the Apollo 6 missions.
This is also where you'll find the Dr. Ralph L. Buice, Jr. Observatory. This 30-foot dome houses a 36-inch Cassegrain reflector—the largest telescope in the Southeast and one of the country's largest instruments dedicated to education and public viewing. Your group can join a free, astronomer-led observation session any Thursday or Friday evening from sundown until 10:30 p.m. (weather permitting). Call 678-874-7102 ahead of time to confirm your preferred session's hours before you plan your visit.
Not to be confused with the Fernbank Museum (which does charge admission), the Fernbank Science Center is free to the public and offers free parking. If you want to pop into the planetarium for a show, you'll need to pay $7 per adult and $5 per senior or student. Depending on how busy it is during your visit, your charter bus may park along the pull-through lot out front or on the street near the center entrance.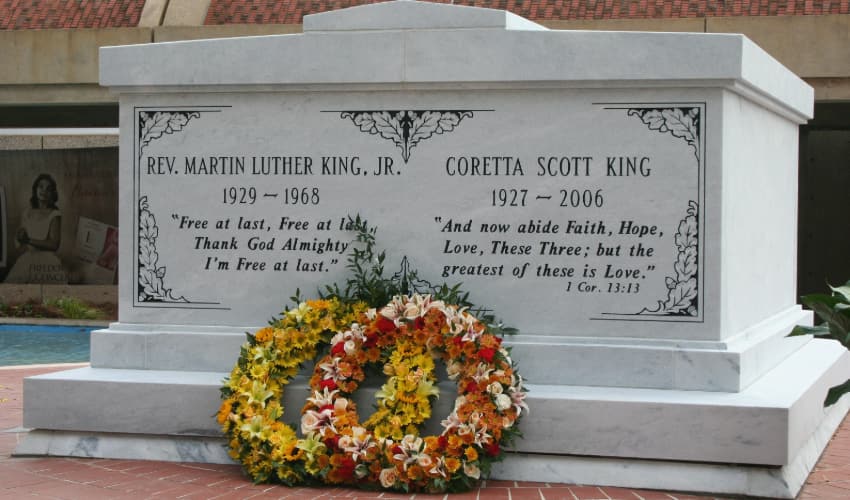 Martin Luther King, Jr. National Historical Park
Address: 450 Auburn Ave NE, Atlanta, GA 30312
If you're in Atlanta to brush up on your Civil Rights history, this national park is probably on your itinerary already. But did you know that touring Martin Luther King, Jr. National Historical Park—the site of MLK's childhood home and final resting place—is free to the public?
This site is less of a singular park and more of a collection of smaller sites all in one location. So the best course of action when touring it is to have your charter bus driver drop you off on Irwin Street. Your bus driver can wait for your group in the coach-friendly lot on John Wesley Dobbs Avenue so everyone can take their time exploring these historic sites on foot.
Here are just a few of the highlights your group can expect to see here:
Visitor Center—The best place to start your tour. Stop by the information desk to pick up a map and sign up for a time slot to tour the Martin Luther King, Jr. Birth Home. This is also where you'll find the  "Children of Courage" exhibit: a showcase of how children have contributed to the Civil Rights Movement and continue to change the world today.
Martin Luther King, Jr. Birth Home—Come tour the two-story house Dr. King called home for the first 12 years of his life. The ranger-led tours of this building can only accommodate 15 people at a time, so if you're visiting with a larger group, be sure to split up and account for multiple tour slots when you build your itinerary.
Ebenezer Baptist Church—This is where Dr. King was baptized and served as a minister with his father, and this site is where his funeral was held in 1968.
The King Center—This site serves as the final resting place for Dr. Martin Luther King,  Jr. and Coretta Scott King. Here, visitors can explore exhibits about both of their legacies, take a moment at the reflection pool, and pay respects at The Eternal Flame installation.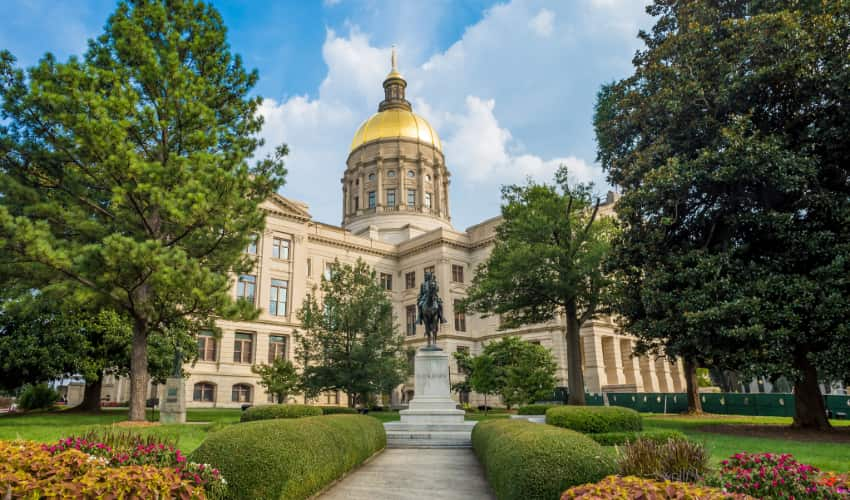 Georgia State Capitol Building
Address: 206 Washington St SW, Atlanta, GA 30334
Whether you're field-tripping with a government class, Model UN club, or another group of aspiring leaders—or you're just curious to see the "the room where it happens" in terms of Georgia law—this free-to-tour destination won't disappoint.
That's right, the state capitol is open to the public! Your tour of the building will last anywhere between 25 and 40 minutes. (If you check out the museum, expect to spend an additional 30 minutes there.) Both the self-guided and guided tours are geared to student groups, but anyone can tour to learn a thing or two about the basic democratic government structure in Georgia, the history of the state's former capitals, unique features of the building, and Georgian historical figures.
Groups big and small are invited to tour the golden-domed beauty of the Georgia State Capitol Building, but how you go about scheduling your visit depends on how many people are tagging along:
Groups of 10 or fewer should opt for a self-guided tour of the capitol building. If you pick up a brochure from the entrance, you can still access all the same general information and tour areas you could on a guided tour, but you'll be able to explore at your own pace.
Groups of 10 to 60 people are asked to reserve a guided tour a couple of weeks in advance and to arrive at least 15 minutes early for their tour. Available tour times depend on the season, but most slots are scheduled for weekday mornings between 10 and 11:30 a.m. Call 404-463-4536 to schedule a tour time.
Traveling by motorcoach? If you're visiting on a weekday, buses and vehicles that hold more than 15 passengers should park on the west side of Washington Street in front of the capitol. Otherwise, your driver may need to park at the Georgia World Congress Center (GWCC) Marshalling Yard. This lot is one of the most accommodating parking situations you'll find for your charter bus rental in this part of town, so if your group is seeing any other downtown attractions after you tour the capitol building, it might be worth paying the $25 parking fee so your driver can access it throughout your day of sightseeing.
Start Your Budget-Friendly Atlanta Trip Today
When it comes to hitting every stop on your Atlanta itinerary, your group doesn't have to spend a lot of money to keep everyone safe, on time and all together. When you rent a bus from Falcon Charter Bus, you can get all the on-the-road comforts you can't get anywhere else: free onboard WiFi, TVs and a DVD player, power outlets, reclining seats, you name it!
And the best part? Renting a charter bus or minibus service can save your group money, time, and frustration in the long run, especially if you're coming in from out of town. Split the cost of your rental across every group member, and you'll often spend less per person than you would when paying for a flight and multiple rideshares or taxis. And when you reserve through Falcon Charter Bus, you know exactly how much your ride plan will cost before your trip—no surprise fees or surge rates! Just call 404-400-3545 with your headcount, itinerary, and desired amenities, and we'll connect you to an Atlanta bus rental that will make all your group travels simple and easy.