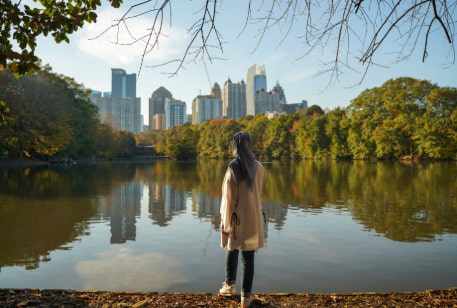 As the cultural hub of the Southeast and one of the most affordable major U.S. cities, Atlanta is a great destination for travelers and sightseers on a budget. Even so, making the most of the ATL without breaking the bank can be a challenge, especially if you're traveling with a large group of friends, family members, kids, or coworkers.
That's why Falcon Charter Bus has put together this list of some of the best places to spend your time in Atlanta on the cheap. And whenever you need to hash out a group transportation plan for your visit, be sure to call 404-400-3545—we'll make every step of your travels stress-free, and we can even offer a free, no-obligation quote for your rental!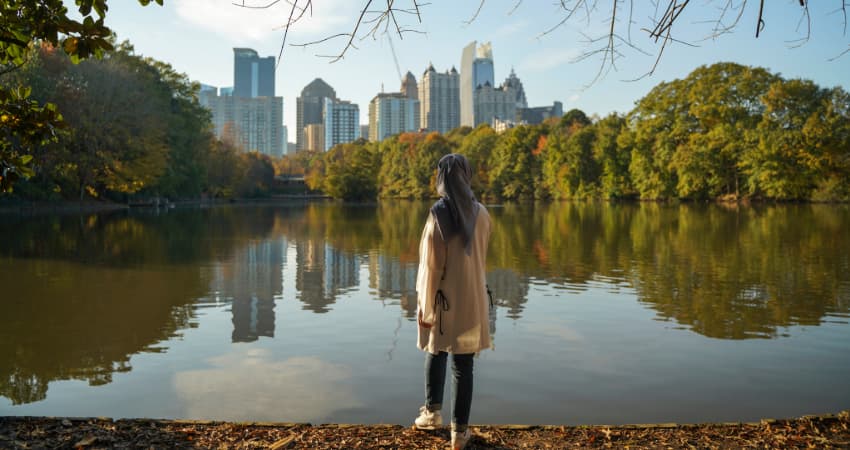 Piedmont Park
Address: 400 Park Dr NE, Atlanta, GA 30306
One activity that's almost always free? Enjoying the great outdoors!
This public park is sometimes considered the "Central Park" of Atlanta—it was designed by the same landscape architect, after all. Here, you can scope out local fresh produce and crafts at the Green Market (Saturday mornings between March and November, just inside the 12th Street and Piedmont Avenue Gate), learn more about growing your own food in the community garden, dog-spot in either of the two off-leash areas, or simply stroll along the miles of walking and running trails.
As for parking, Piedmont Park is in the heart of bustling Midtown, so finding a motorcoach-friendly spot might be tricky. But depending on your itinerary and plans, your group may have some options:
If your lodging is nearby—it will probably be easiest if your driver drops you off at the park and returns to the hotel parking lot to wait for your next pick-up time. When you rent a bus for multi-day journeys, you'll need to reserve lodging for your driver with easy access to bus parking anyway, so if you're staying in Midtown, you'll want to take advantage of the hotel's parking arrangements when you can. Also, many hotels offer special rates for bus drivers and bus parking, so be sure to inquire about a discount when you book your hotel block!
If your group wants to grab a quick meal—swing by The Varsity before heading to the park. This fast-food stop not only offers cheap eats (burgers, hot dogs, fries, and shakes), it's an iconic Atlanta landmark every out-of-towner should experience before you leave. Just be sure you know your order before the person behind the counter asks "What'll you have?"—this place is fast-paced and you won't want to hold up the line. After you've grabbed your chili dogs and Frosted Oranges, your driver can park the bus in the huge parking lot behind the restaurant, and your group can walk the few blocks to the park for a picnic lunch.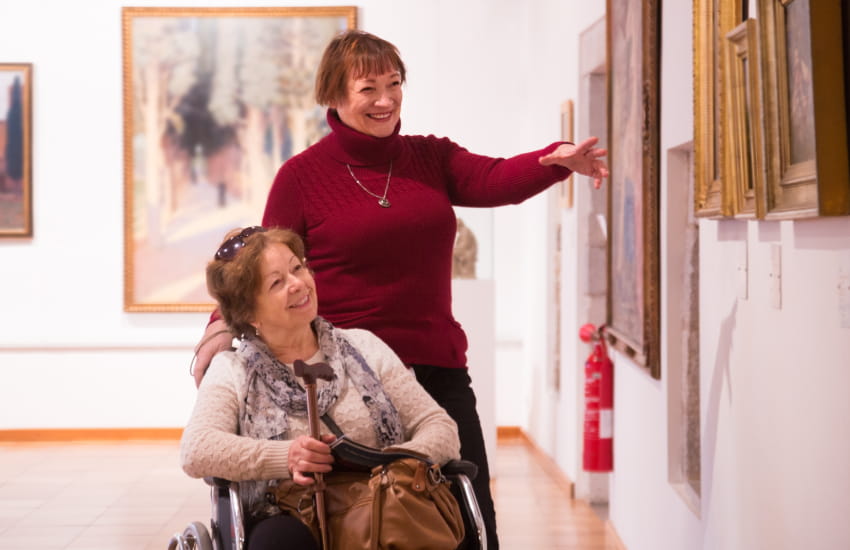 High Museum of Art
Address: 1280 Peachtree St NE, Atlanta, GA 30309
This modern art museum is one of the oldest and most highly acclaimed museums in the city, with roots in the Atlanta art scene tracing back over 100 years and more than 15,000 pieces in its permanent collection. Whether you want to see sketches by renowned African American artists or Southern Gothic photography, the High delivers.
Normally, group admission to this local-favorite modern art museum runs anywhere from $8 to $15 per patron (not exactly ideal if you're a large group that's strapped for cash). But if you visit between 12 and 4 p.m. on the second Sunday of the month, your group can visit free of charge!
Besides receiving access to the High's permanent collection and rotating exhibitions, Second Sunday visitors can make and interpret art hands-on with interactive family workshops, story-times, and even a sensory room with noise-canceling headphones, crash pads, and objects of varying textures.
The High Museum is an especially group-friendly destination, with free designated bus parking and loading/unloading zones available to motorcoaches.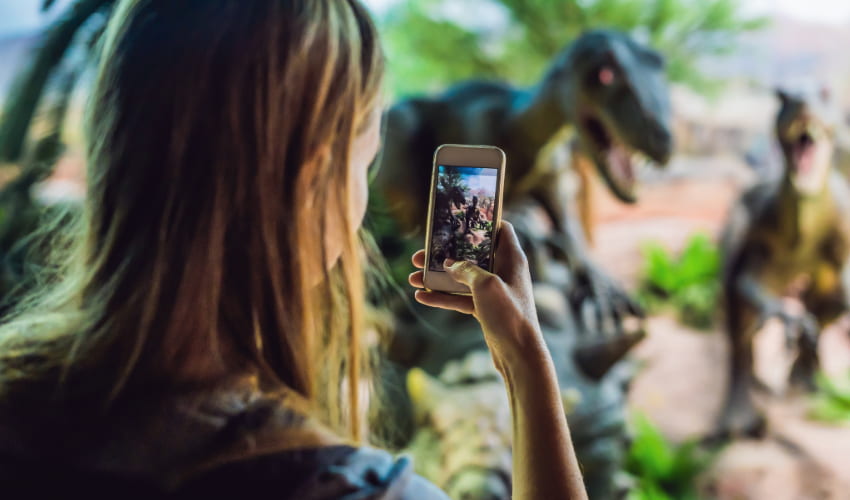 Fernbank Science Center
Address: 156 Heaton Park Dr, Atlanta, GA 30307
Science enthusiasts on a budget will not want to pass up this stop. Here, your group can cover a lot of different scientific subjects in one afternoon—from small animals of the slimy and scaly variety to large-scale space capsules like the ones used in the Apollo 6 missions.
This is also where you'll find the Dr. Ralph L. Buice, Jr. Observatory. This 30-foot dome houses a 36-inch Cassegrain reflector—the largest telescope in the Southeast and one of the country's largest instruments dedicated to education and public viewing. Your group can join a free, astronomer-led observation session any Thursday or Friday evening from sundown until 10:30 p.m. (weather permitting). Call 678-874-7102 ahead of time to confirm your preferred session's hours before you plan your visit.
Not to be confused with the Fernbank Museum (which does charge admission), the Fernbank Science Center is free to the public and offers free parking. If you want to pop into the planetarium for a show, you'll need to pay $7 per adult and $5 per senior or student. Depending on how busy it is during your visit, your charter bus may park along the pull-through lot out front or on the street near the center entrance.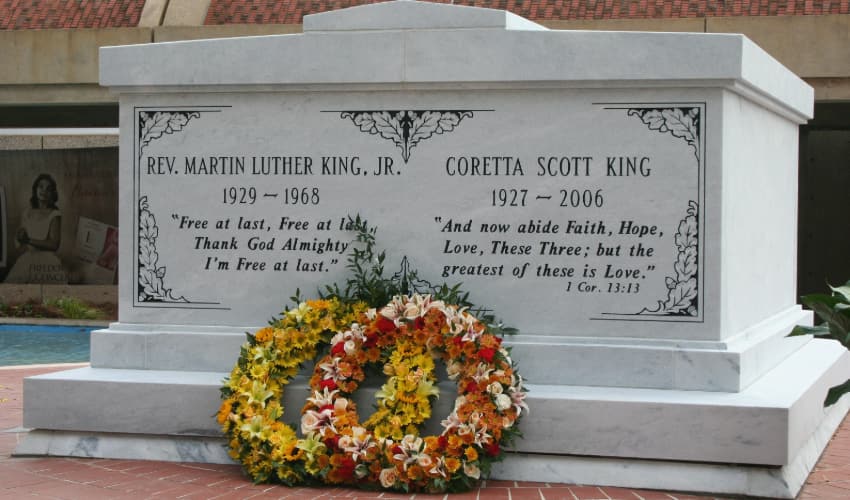 Martin Luther King, Jr. National Historical Park
Address: 450 Auburn Ave NE, Atlanta, GA 30312
If you're in Atlanta to brush up on your Civil Rights history, this national park is probably on your itinerary already. But did you know that touring Martin Luther King, Jr. National Historical Park—the site of MLK's childhood home and final resting place—is free to the public?
This site is less of a singular park and more of a collection of smaller sites all in one location. So the best course of action when touring it is to have your charter bus driver drop you off on Irwin Street. Your bus driver can wait for your group in the coach-friendly lot on John Wesley Dobbs Avenue so everyone can take their time exploring these historic sites on foot.
Here are just a few of the highlights your group can expect to see here:
Visitor Center—The best place to start your tour. Stop by the information desk to pick up a map and sign up for a time slot to tour the Martin Luther King, Jr. Birth Home. This is also where you'll find the "Children of Courage" exhibit: a showcase of how children have contributed to the Civil Rights Movement and continue to change the world today.
Martin Luther King, Jr. Birth Home—Come tour the two-story house Dr. King called home for the first 12 years of his life. The ranger-led tours of this building can only accommodate 15 people at a time, so if you're visiting with a larger group, be sure to split up and account for multiple tour slots when you build your itinerary.
Ebenezer Baptist Church—This is where Dr. King was baptized and served as a minister with his father, and this site is where his funeral was held in 1968.
The King Center—This site serves as the final resting place for Dr. Martin Luther King, Jr. and Coretta Scott King. Here, visitors can explore exhibits about both of their legacies, take a moment at the reflection pool, and pay respects at The Eternal Flame installation.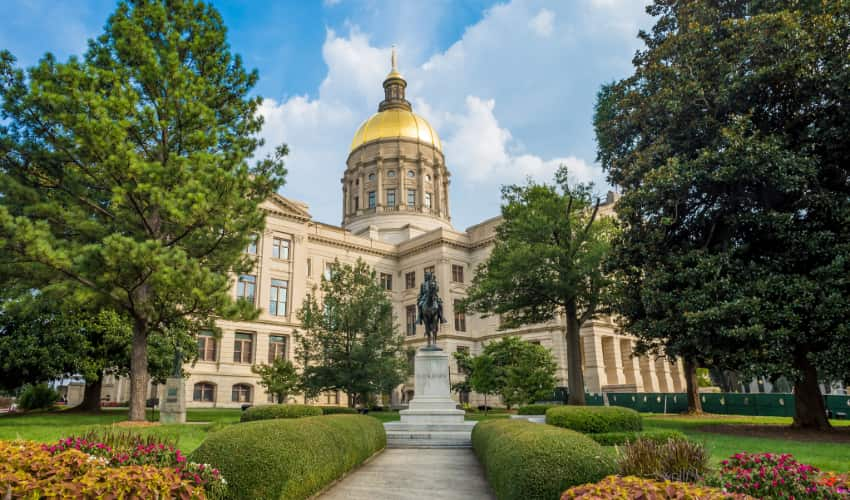 Georgia State Capitol Building
Address: 206 Washington St SW, Atlanta, GA 30334
Whether you're field-tripping with a government class, Model UN club, or another group of aspiring leaders—or you're just curious to see the "the room where it happens" in terms of Georgia law—this free-to-tour destination won't disappoint.
That's right, the state capitol is open to the public! Your tour of the building will last anywhere between 25 and 40 minutes. (If you check out the museum, expect to spend an additional 30 minutes there.) Both the self-guided and guided tours are geared to student groups, but anyone can tour to learn a thing or two about the basic democratic government structure in Georgia, the history of the state's former capitals, unique features of the building, and Georgian historical figures.
Groups big and small are invited to tour the golden-domed beauty of the Georgia State Capitol Building, but how you go about scheduling your visit depends on how many people are tagging along:
Groups of 10 or fewer should opt for a self-guided tour of the capitol building. If you pick up a brochure from the entrance, you can still access all the same general information and tour areas you could on a guided tour, but you'll be able to explore at your own pace.
Groups of 10 to 60 people are asked to reserve a guided tour a couple of weeks in advance and to arrive at least 15 minutes early for their tour. Available tour times depend on the season, but most slots are scheduled for weekday mornings between 10 and 11:30 a.m. Call 404-463-4536 to schedule a tour time.
Traveling by motorcoach? If you're visiting on a weekday, buses and vehicles that hold more than 15 passengers should park on the west side of Washington Street in front of the capitol. Otherwise, your driver may need to park at the Georgia World Congress Center (GWCC) Marshalling Yard. This lot is one of the most accommodating parking situations you'll find for your charter bus rental in this part of town, so if your group is seeing any other downtown attractions after you tour the capitol building, it might be worth paying the $25 parking fee so your driver can access it throughout your day of sightseeing.
Start Your Budget-Friendly Atlanta Trip Today
When it comes to hitting every stop on your Atlanta itinerary, your group doesn't have to spend a lot of money to keep everyone safe, on time and all together. When you rent a bus from Falcon Charter Bus, you can get all the on-the-road comforts you can't get anywhere else: free onboard WiFi, TVs and a DVD player, power outlets, reclining seats, you name it!
And the best part? Renting a charter bus or minibus service can save your group money, time, and frustration in the long run, especially if you're coming in from out of town. Split the cost of your rental across every group member, and you'll often spend less per person than you would when paying for a flight and multiple rideshares or taxis. And when you reserve through Falcon Charter Bus, you know exactly how much your ride plan will cost before your trip—no surprise fees or surge rates! Just call 404-400-3545 with your headcount, itinerary, and desired amenities, and we'll connect you to an Atlanta bus rental that will make all your group travels simple and easy.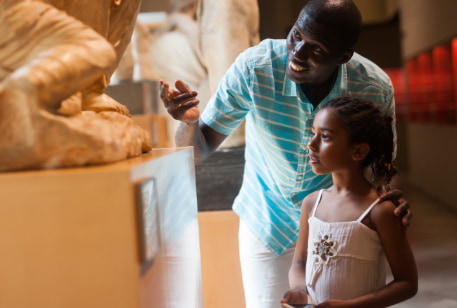 If you're a Tampa educator, youth group coordinator, or any other authority figure for a group of kids, you already know that coordinating an outing with your students can be stressful. But you also know there's so much to experience and learn from in this city.
That's why Falcon Charter Bus is here to ease two parts of the planning process: where to go and how you'll get there. We've put together a list of the best field trip destinations for little learners in all subjects—from art to zoology.
And whenever you're ready to chart your course, call Falcon Charter Bus at (813) 944-3146 for safe and comfortable school trip transportation you can trust. We only work with certified professional drivers and well-maintained vehicles, so you know your students will arrive safe and sound to every destination on your itinerary.
For future scientists…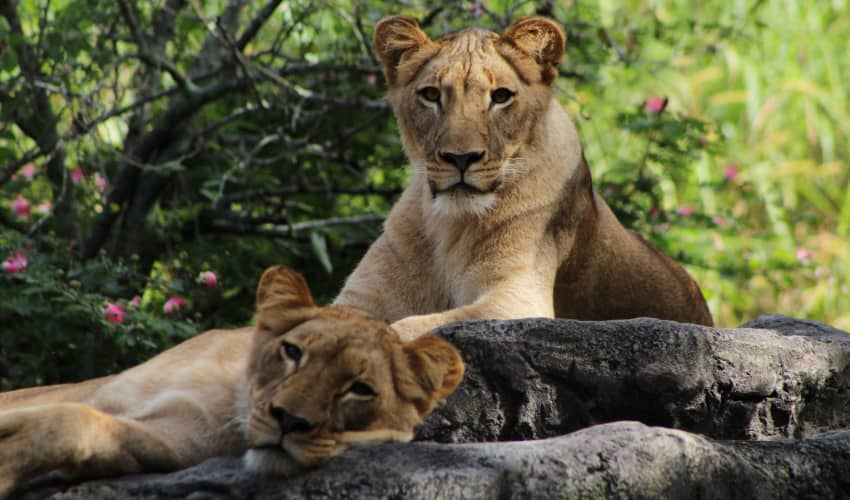 Busch Gardens
Address: 10165 McKinley Dr, Tampa, FL 33612
Phone: (813) 884-4386
Okay, sure, this popular Tampa destination may not be your first thought when it comes to educational trips, but there's more to Busch Gardens than roller coasters and thrill rides!
The on-site zoo park offers various field trip programs for different age groups and specific subjects—from the impact of physical science on ecosystems to exploring careers in the animal science fields. Depending on the program you choose, Busch Gardens can even provide pre- or post-field trip assignments that fit Next Generation Sunshine State Standards. Just call (813) 884-4386 to start setting up your students' walk on the wild side.
And if your group of youngsters is tempted by Tigris (Florida's tallest launch coaster) or Sheikra's 90° 200-foot drop—well—you know what they say about all work and no play. Besides, time your daredevils' visit right and they can learn a thing or two while they ride the coasters! In early December, Busch Gardens treats physics students to a day of thrills and practical education appropriately named 'Physics Day'. The gates open an hour early for participating students, accelerometers are mounted on select rides throughout the park, and interactive stations and live shows are displayed for even more hands-on learning experiences.
Bus parking comes complimentary when you purchase a group admission package, and your bus driver gets in free! Just ensure your driver knows to drop off everyone near the Nairobi Gate along East Busch Boulevard and enter the parking lot from the designated bus entrance on Route 60.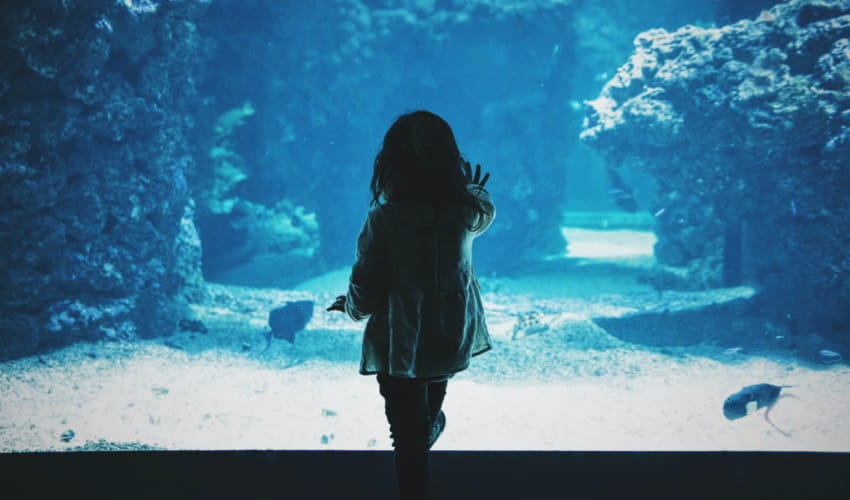 The Florida Aquarium
Address: 701 Channelside Dr, Tampa, FL 33602
Phone: (813) 273-4000
Out and about with aspiring marine biologists? There's no better place to visit in Tampa than The Florida Aquarium—voted one of the top three aquariums in North America in 2018 by USA Today and one of the state's most frequented attractions.
So what makes this aquarium a great destination for your next field trip? To start, the exhibits here cover a lot of topics and environments—from local wildlife of the Florida wetlands to coral reefs of Australia, and so much in-between. Beyond what you can see on the regular tour, the Florida Aquarium also offers educational programs tailored specifically to school groups! Sign up for onsite activities and labs—like tracking rehabilitated sea turtles and meeting plankton eye-to-eye—or treat your honors students for their good grades with an overnight tank-side sleepover amongst their favorite aquatic friends.
School groups wishing to tour the Florida Aquarium can receive a reduced admission of $10 per student ($6 per student if you qualify as a Title 1 school in either Hillsborough, Manatee, Pasco, or Pinellas county). The aquarium asks groups to bring one chaperone per every 10 students, and chaperones get in free.
Despite the aquarium's close location to bustling downtown and various cruise ship ports, finding adequate parking for your charter bus or minibus should not be a problem for your driver. Have them drop you off in the traffic circle at the front entrance, where you can then pose for a selfie in front of the big stingray sculpture. Your driver can park the bus in the adjacent lot. Just be sure to be back at the front entrance with plenty of time to board the bus when you're ready to leave.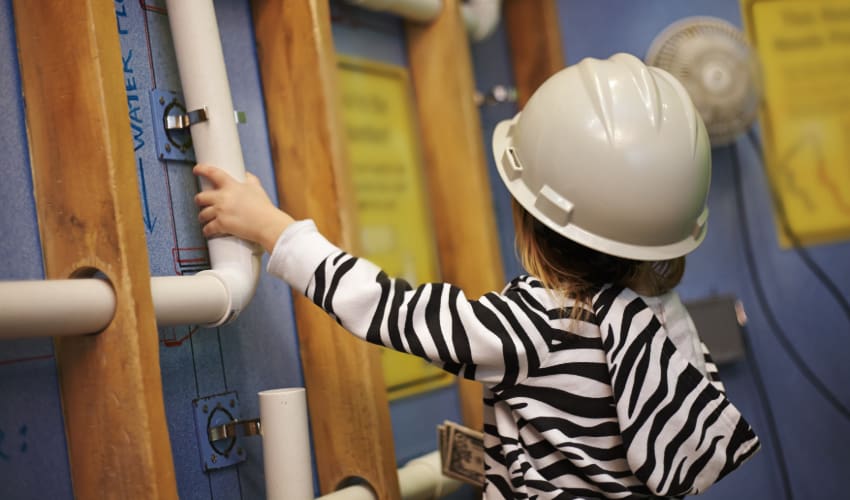 Museum of Science and Industry
Address: 4801 E Fowler Ave, Tampa, FL 33617
Phone: (813) 987-6000
If you're looking for a destination to entertain and educate your STEM students, this is your stop. Tampa's Museum of Science and Industry (MoSI for short) features over 100 hands-on activities spanning a spectrum of scientific fields. One minute your little learners can study nutrition science first hand with a life-size game of Operation, and the next minute invent their own ingenious contraptions in the engineering-focused Idea Zone®. From paleontology to astrophysics, MoSI has a little something to pique all your aspiring scientists' interests.
Most veteran visitors would agree the museum's exhibits mostly cater to younger visitors (let's say kids under 11 years old), but MoSI offers field trip programs for grade levels K-12—robot designing, DNA splicing, and crime scene investigating workshops, just to name a few!
If your school group of 15 or more field trippers reserves at least 14 days in advance, you qualify for the discounted admission rate of $4 per student, with one free adult ticket for every 10 students. Additional programs—including access to the planetarium and the ropes course—cost an additional $4-$5 per person. For more information about group reservations, contact MoSI at (813) 987-6000 or reservations@mosi.org.
The parking situation at MoSI is less-than-ideal—the closest lot to the museum is small and holds very few vehicles at a time, and the larger overflow lot is quite the trek away from the front entrance. Luckily, your bus driver can easily drop you off at the designated unloading zones near the ticket gate and handle the parking plan while your group heads inside, so you'll spend more time exploring the exhibits and less time finding the perfect spot!
For history buffs…
American Victory Ship and Mariner's Memorial Museum
Address: 705 Channelside Drive, Tampa, Florida, 33602
Phone: (813) 228-8766
Ready for an up-close-and-personal with one of only four fully-operational ships that served in World War II? Because that's what you can expect from this warship-turned-museum recognized by the National Register of Historic Places.
This ship, dubbed the SS American Victory, once patrolled the waters of the Pacific Theater and continued to carry ammunition and military cargo between the U.S. and South Asia throughout the Korean and Vietnam Wars. Nowadays, the ship is permanently docked in Tampa, serves as a window into the United States' recent decades of naval history, and invites visitors to take in the hull and machinery as it would have looked during the war.
The American Victory Ship offers discounts for groups of 10 or more, and special field trip rates for school groups—$4 per child under 12 years old and $6 per teen between ages 13 and 18. Field trip programs include an hour-long guided tour of the SS American Victory's decks and living quarters, and can include an age-appropriate hands-on activity if you request one with your reservation.
Henry B. Plant Museum
Address: 401 W Kennedy Blvd, Tampa, FL 33606
Phone: (813) 254-1891
If you ever find yourself on or near the University of Tampa's campus (whether for a tour with prospective students, an academic competition, or another field trip stop in nearby downtown), you'd be remiss to pass up this attraction.
The Henry B. Plant Museum once operated as the Tampa Bay Hotel: a 511-room resort hotel during the United States' Gilded Age (aka: the late Victorian Era) that offered channel-side rest and relaxation to the wealthy guests who stayed here. Now, this 6-acre-long building boasts gorgeous Moorish Revival architecture, one of the oldest still-working elevators in the country, and many exhibits about Victorian tourism. Come visit these well-preserved halls and learn about the leisure activities of the elite guests who frequented the hotel and the building's role in the Spanish-American War!
From January to November, this museum offers docent-led tours for schools, youth programs, and scout programs with 10 or more kids. These groups are encouraged to reserve at least two weeks prior to visiting by calling (813) 258-7301 or filling out a field trip reservation form.
The Henry B. Plant Museum is especially welcoming and accommodating to visitors with disabilities. If you're visiting with folks who have sensory sensitivities, the museum offers an illustrated pre-trip overview with a breakdown of what to expect and how to interact with exhibits safely. And despite the fact that the building was constructed in 1891, most of the museum is friendly to users of wheelchairs and mobility devices and offers plenty of places to sit during your tour.
Just pull up to one of the ramped entrances—either on the north side of the building or near the back—and someone from the front desk can help you in. (By the way, if you need an ADA-compliant motorcoach, Falcon Charter Bus can find you one at no additional charge! Just let your reservation rep know when you call and book your ride, and we can provide a bus with wheelchair ramps, wider aisleways, and plenty of space to store mobility devices en route.)
For aspiring artists…
Tampa Theatre
Address: 711 N Franklin St, Tampa, FL 33602
Phone: (813) 274-8981
This downtown attraction served as the city's primary movie theatre from 1926 well into the 1960s. Back then, admission was 25 cents per person, and the theatre was the only commercial building in Tampa with air-conditioning—making it extremely popular in the sweltering summer. Since then, the near-century-old theatre has been restored and can now screen digital films, though volunteers still play the theatre's original pipe organ before screenings (as would have been done before shows in the 1920s).
But this destination isn't just for movie buffs. The Tampa Theatre also serves as a stage for community play productions, local and touring musical acts, and dance troupes from far and wide. Inspire your young actors, drama club, tech crew, or dance class by taking them to a show at Tampa's historic theatre!
If you're an educator in a Hillsborough County public school, you'll need to call the theatre's Field Trip Program office at (813) 272-4763 in order to reserve a theatre tour or tickets to a show.
If you're an educator in a private school or another county, or another youth coordinator for an afterschool group, you'll need to contact the specific company presenting the show you wish to see. Contact information for upcoming performance companies is usually available on the Theatre's website.
The Tampa Theatre is in the heart of downtown—which is to say parking can be tricky. Rather than searching for a spot on the street and feeding the meter throughout your visit, or finding a garage and walking multiple blocks to the theatre, your group may want to opt for a charter bus rental. That way, your driver can drop everyone off within walking distance of the box office and find parking elsewhere while you enjoy your tour.
Pro tip: free bus parking in Historic Ybor is available along 12th Avenue between 15th Street and 17th Street.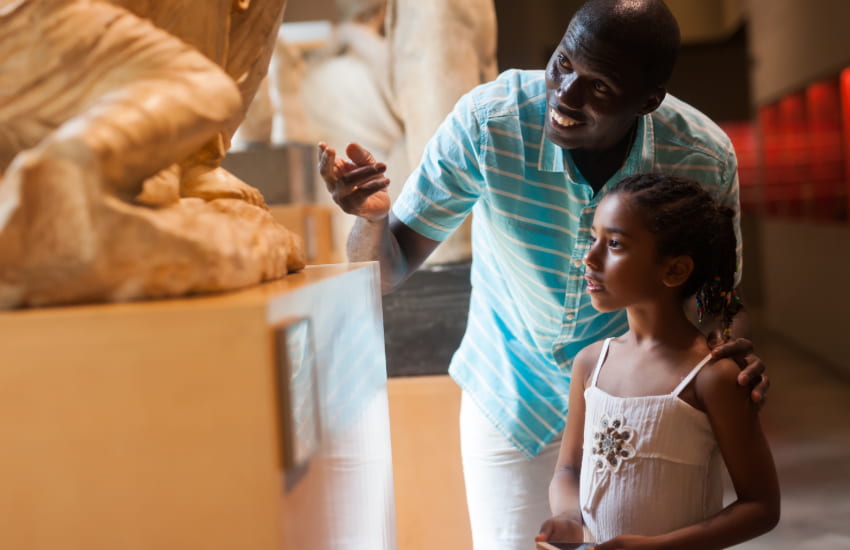 Tampa Museum of Art
Address: 120 W Gasparilla Plaza, Tampa, FL 33602
Phone: (813) 274-8130
If fine art is more of your school group's focus, venture out to the Tampa Museum of Art for a mix of contemporary art and pieces from Ancient Rome and Egypt. Whether your class would rather see exhibitions showcasing glass work throughout the ages (from ancient pottery to modern abstract art) or get inspired by the museum's photography gallery filled only with pieces by women artists, this riverside cultural hub has a little something for everyone.
Depending on the museum's current exhibits and events, opting for a self-guided tour of the museum may mean paying the $5 admission fee per student. However, docent-led group tours are available for classes and clubs of 10 or more and are free to all students. Your docent can either focus on a specific exhibition or topic of your choice, or provide a tour of all the galleries. All tours are available during the academic school year, Monday-Friday starting at 10 a.m.
If the weather allows, why not plan a picnic lunch to accompany your students' gallery tour? The Museum of Art features a park along the scenic waterfront, as well as a playground where your younger patrons can burn off some energy before returning to the galleries. And when you reserve a charter bus for your museum travels, you'll have plenty of storage space under the bus for your coolers and bagged lunches and compartments in the cabin where you students can stash their backpacks.
Start Planning Your Next Tampa School Trip
Tour reservations: check.
Chaperones: check.
Bagged lunches: check.
Transportation plan: …
Don't leave the ride plan up to chance. Let Falcon Charter Bus provide your students with a reliable and efficient bus rental.
Sure, traditional yellow school buses are a staple of most kids' field trip experiences, but that doesn't mean they're the most comfortable mode of transportation. When you book with us, your students and chaperones have access to our wide network of coaches and certified professional drivers, as well as amenities to make their ride more enjoyable. They can catch up on assignments over onboard WiFi, watch a nature documentary or Bill Nye over TV screens, or lean back in a plush reclining seat and snooze the ride away—all these amenities (and more!) are available upon request, so don't hesitate to ask your rep to include the features you think they'll need.
Call (813) 944-3146 today for assistance with your rental and a free, no-obligation quote personalized to your Tampa field trip itinerary!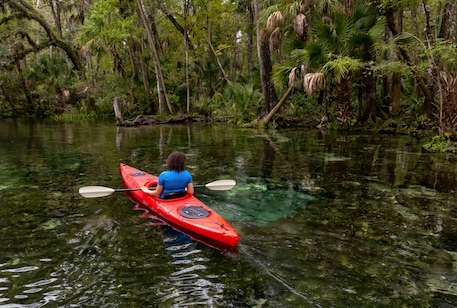 What's the first thing that comes to mind when you think of visiting Orlando? Probably Disney World, right?
But not everyone has the funds or desire to pay a visit to the Most Magical Place on Earth. Not to worry, though—there's so much more to Orlando than mouse ears and singing princesses, even if you're visiting on a tight budget.
Keep reading to see what budget-friendly group activities we recommend in and around Orlando. And be sure to call Falcon Charter Bus at 407-274-9808 whenever you're ready to hash out how you'll get there.
For Outdoor Adventurers…
Need to get out and stretch your legs? We've all been there. And enjoying the great outdoors is always a budget-friendly way to liven up your Orlando trip! Here are some destinations where you can get your dose of the outdoors for cheap.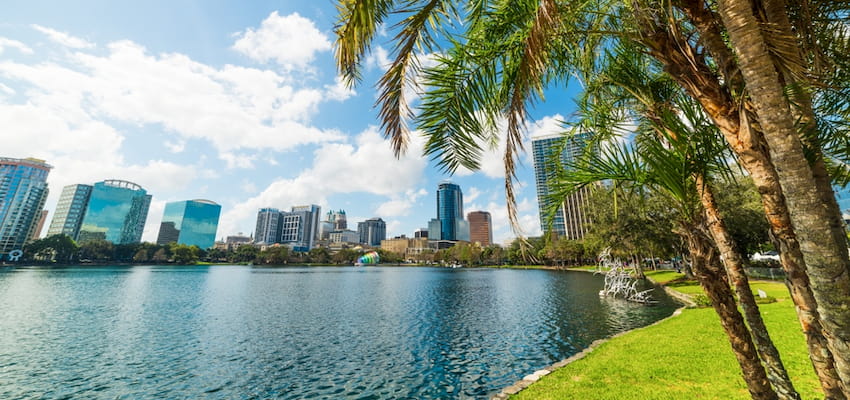 Lake Eola Park
Address: 512 E Washington St, Orlando, FL 32801
Looking for a getaway without straying too far from city limits? This park can offer your group some peace, quiet, and fresh air—right in the heart of downtown Orlando! Enjoying the calm waters, birdwatching, and walking the mile-long paved trail is completely free to the public. And if your budget allows, your group of peddle-pushers can rent swan-shaped pedalos—$15 for a 30-minute venture on Lake Eola. Time your visit right and you can catch a free concert at the Walt Disney Amphitheater, check out the local wares at the weekly farmers market, or sit back and enjoy the fireworks on nearly any major holiday.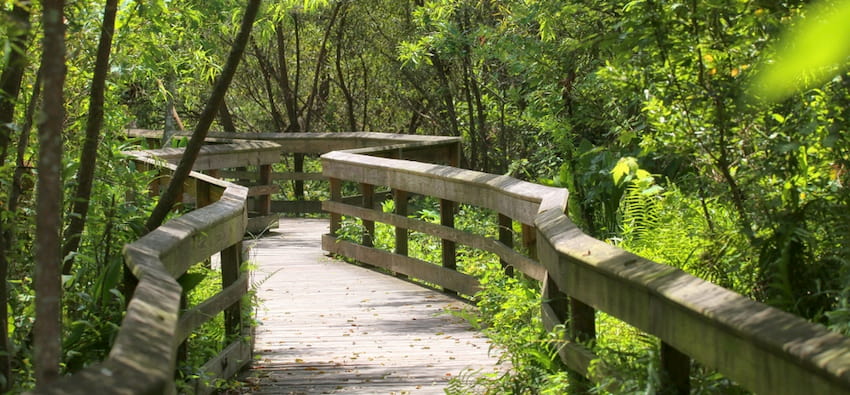 Mead Botanical Garden
Address: 1300 S Denning Dr, Winter Park, FL 32789
Here you can explore a swath of Florida ecosystems without straying too far from city limits—it's only a 20-minute drive from Orlando—and without spending a lot of money. Entry is free to everyone! Say hi to the resident gopher tortoises, take in the salty air over the marshland boardwalk, or admire the camellias, orchids, caladiums, and begonias throughout the grounds. There's also a butterfly garden, a grove of citrus trees, and plenty of shady trees that are perfect for picnics. Pack up your charter bus with coolers, blankets, and your favorite snacks, and you won't have to worry about cramming everything into the trunk of a carpool.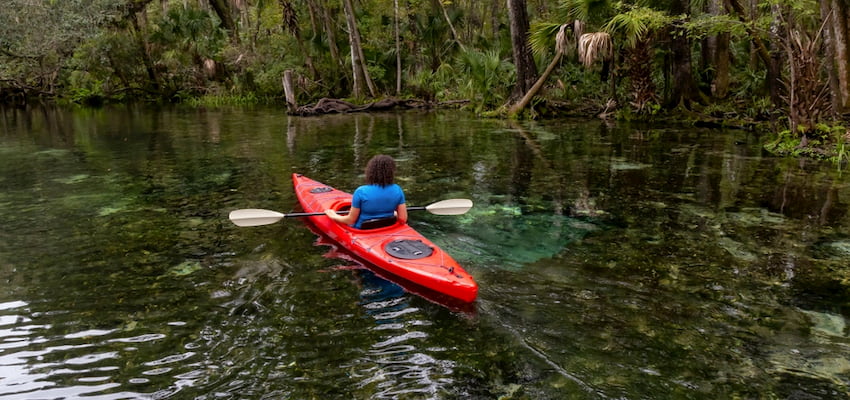 Wekiwa Springs State Park
Address: 1800 Wekiwa Cir, Apopka, FL 32712
Leave the lights and bustle of the city behind and snorkel, kayak, or take a dip in the beautiful Wekiwa Springs. The crystal clear waters of this natural spring are 72 degrees Fahrenheit year-round, making it a great spot to cool off on a hot day. And once your adventurers have had their fill of the great outdoors, you can load up your tents, coolers, and equipment and enjoy the comfort of a climate-controlled charter bus.
This state park offers both developed group campsites for up to 160 people and primitive group campsites that can accommodate up to 60—so whether you're looking to get cozy in a cabin or rough it out on the trail, your camping crew has options.
For Art Aficionados…
If you're traveling with the artistically-inclined, you're in luck! Plenty of Orlando art museums offer free or cheap admission. Here are just a few we recommend for cost-conscious travelers who want to explore Orlando's art scene.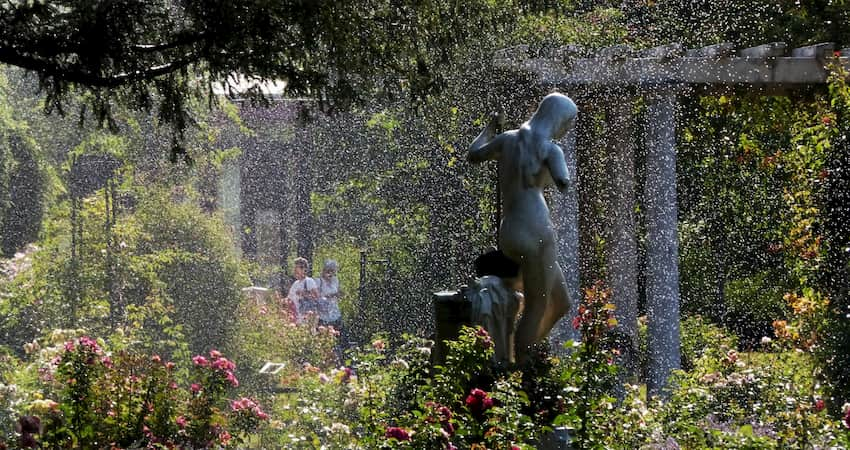 Albin Polasek Museum & Sculpture Gardens
Address: 633 Osceola Avenue, Winter Park, FL 32789
With over 200 sculptures and a collection of preserved antiquities from when the sculptor lived there, this museum used to be the home and studio of local Czech-American artist Albin Polasek. Expect to pay no more than $8 per person if you plan to tour this quaint attraction, and be sure to register your group tour at least a week in advance. The facility is fairly small—it can only accommodate groups of 50 or less at a time—so the more heads-up you can give the docents, the smoother your tour will be.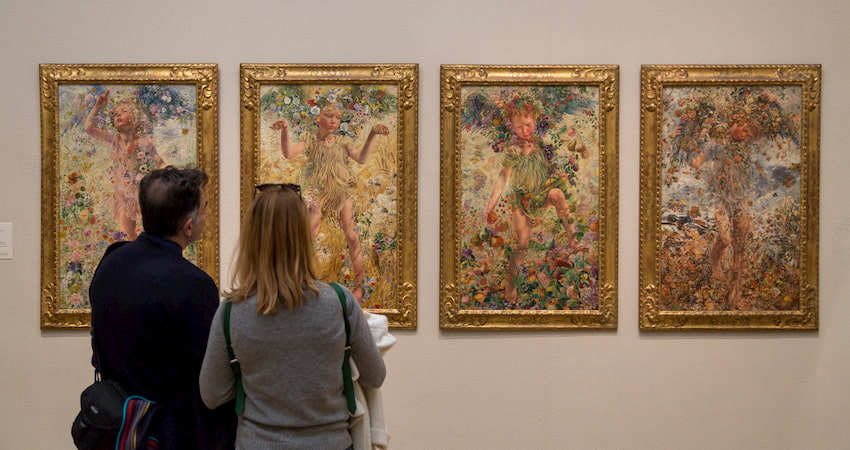 The Mennello Museum of American Art
Address: 900 E Princeton St, Orlando, FL 32803
Lovers of American Impressionism, contemporary folk art, or Earl Cunningham, won't want to miss this diverse collection of sculptures and paintings. The priciest admission cost is a mere $5 per person, and students and kids younger than 17 can get in for $1. This museum is a fan-favorite for scout troops and field trips, so call 2 weeks ahead to secure your tour availability.
If your group is hoping to squeeze in some sketching practice while you're here, make sure they have a ride with plenty of room to store their pencils and sketch pads. For this, we recommend a 20-passenger minibus—it has plenty of overhead storage, yet is compact enough to fit in the Science Center parking lot across the street.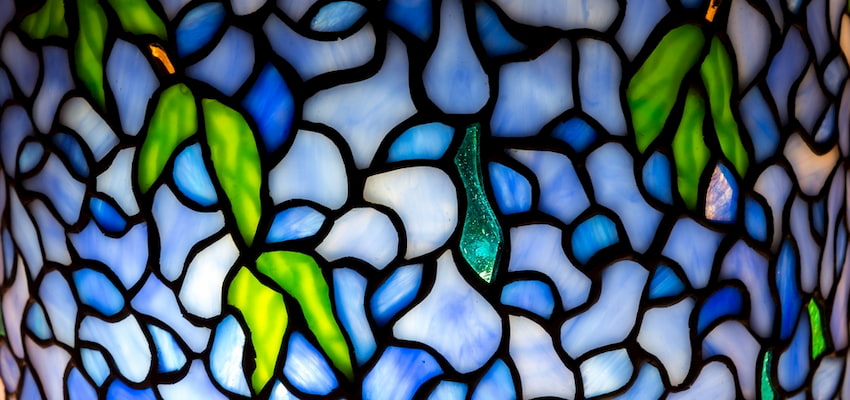 The Charles Hosmer Morse Museum of American Art
Address: 445 N Park Ave, Winter Park, FL 32789
Most visitors are drawn to this Winter Park museum because it houses the most comprehensive collection of works by Louis Comfort Tiffany—including pottery, jewelry, paintings, and his iconic leaded-glass lamps. You can even catch a glimpse of the sparkling chapel interior Tiffany crafted for the 1893 World's Columbian Exposition in Chicago.
Docent-lead group tours are available in both English and Spanish—though the museum asks that you reserve your tour at least 2 weeks in advance. Admission prices depend on age, but all tiers are less than $6 per person. Pop in on a Friday after 4 p.m. between November and April for free entry!
For Window Shoppers…
Even if you don't want to spend a lot of money on your Orlando group trip, that doesn't mean you can't enjoy a little window shopping. Especially with so many diverse shopping malls within a quick drive of downtown, a trip to any of these popular destinations will be a crowd-pleaser for any group looking for entertainment on the cheap.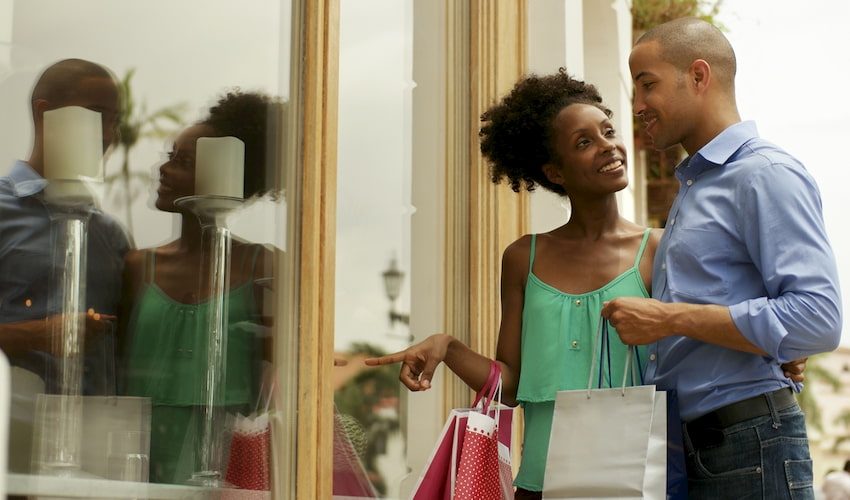 The Florida Mall
Address: 8001 S Orange Blossom Trail, Orlando, FL 32809
As you'd expect from a mall that simply names itself after the state it calls home, this shopping complex is one of Orlando's most popular destinations for out-of-towners. If you choose to be one of the 20 million visitors that pass through this mall every year, you'll find over 250 stores and restaurants to keep your window shoppers busy.
Traveling with kids? Great! They can burn off some energy at the free playground, marvel at the colorful and interactive Crayola Experience attractions, or squish their own slimy concoctions at The Slime Factory!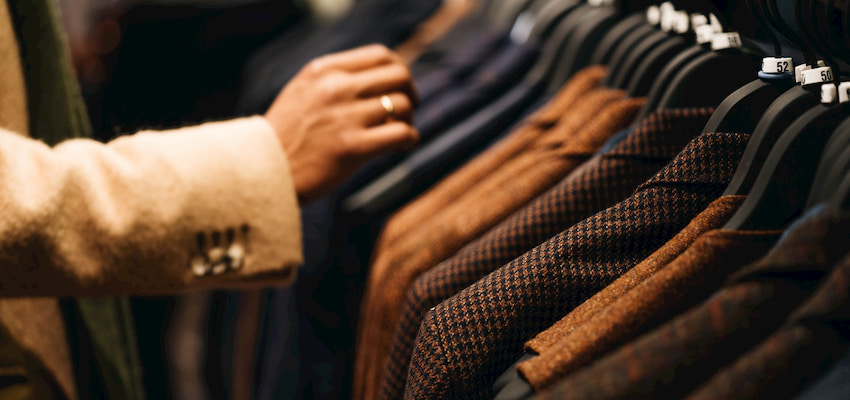 The Mall at Millenia
Address: 4200 Conroy Rd, Orlando, FL 32839
For those seeking designer stores (or just somewhere to grab a soft pretzel in an airy atmosphere), this mall is for you. This shopping center boasts glass ceilings, futuristic architecture, and all your favorite upscale brands—from Gucci to Prada, Louis Vuitton to Chanel, and much more. And if big-name brands aren't your thing, don't worry. There's plenty of other shopping mall staples (Macy's, LUSH, American Eagle, etc.) to peruse as well.
Hit the Road for Nickels and Dimes
Making the most of Orlando's attractions doesn't have to cost an arm and a leg. When you reserve your ride through Falcon Charter Bus, you can rest easy knowing we won't surprise you with hidden fees. You'll know exactly how much your motorcoach rental will cost from the beginning, so you can spend less time budgeting and more time enjoying Orlando!
From connecting you with a single minibus shuttle to assembling a fleet of full-sized charter buses, our team is always here to make the reservation process stress-free. We can even find you with a bus that offers WiFi, TV screens, reclining seats, and more, so friends and family can stay connected, entertained, and comfortable—no matter where you go. Just give us a call at 407-274-9808 and let us know how we can make your Orlando group travels easy, and we'll provide you a free, no-obligation quote for your personalized bus rental plan!