Group-Friendly Outdoor Dining Venues in Atlanta
At the heart of the Deep South, Atlanta's called Hot-lanta for a reason: the summer swelter brings most outdoor diners to the safety of indoor air conditioning. But when the weather is nice, it's well worth dining outside in the City in the Woods. From high-brow eateries on the riverfront to cozy garden-esque brunch spots, there are plenty of outdoor dining options for your Atlanta eaters to enjoy the scenery, some good food, and good company.
We may be biased, but we at Falcon Charter Bus believe that leaving the transportation to the pros is the best way to take in Atlanta's outdoor dining scene. Instead of arranging a carpool, hailing multiple rideshares, or having to navigate MARTA after a few glasses of wine, a reliable charter bus or minibus shuttle will be waiting for you—no matter where you dine.
Call 404-400-3545 to learn more about our Atlanta bus rental services, and keep reading to learn more about the best group-friendly outdoor dining spots in the city: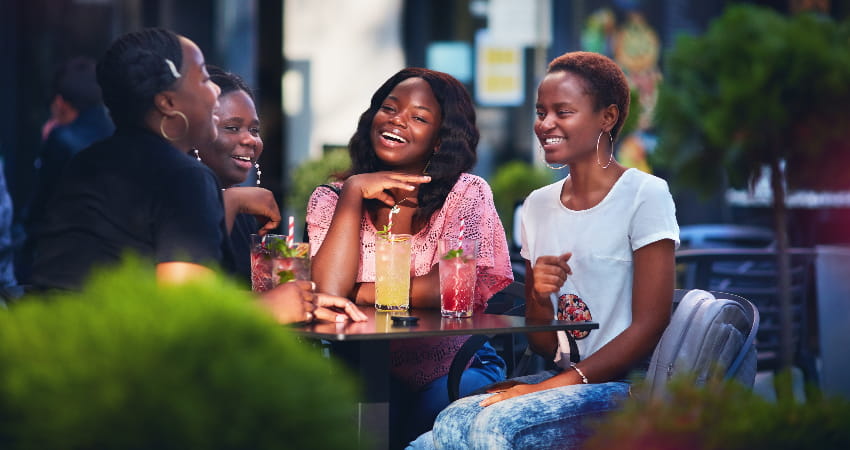 Bread & Butterfly
Address: 290 Elizabeth St NE F, Atlanta, GA 30307
Atlanta loves to brunch, but very few places in town provide a brunch experience quite like this trendy cafe. While this French-inspired bistro offers a variety of innovative, locally sourced plates into the late evening, the breakfast menu here truly shines. Drop by any day except Monday to dig into omelettes du jour, soft scrambled eggs and cold-smoked trout, quiche, pancakes, or a drool-worthy steak and eggs plate with mixed greens.
When it comes to seating, your brunch enthusiasts will have their choice of the bright and airy sunroom or the spacious patio. The only downside? As of this writing (June 2021), B&B is not taking reservations, so you'll likely need to get there early and pull up a table or two if your group would like to dine together.
Charter bus rental tip: Street parking in Inman Quarter can fill up quickly—so rather than driving and parking a bunch of cars, renting a motorcoach may be a better alternative. Your driver can drop everyone off within walking distance of this popular bistro and be ready to pick everyone up once they've had their fill of brunch-time favorites.
Canoe
Address: 4199 Paces Ferry Rd SE, Atlanta, GA 30339
Canoe is a local favorite for rehearsal dinners and private family dinners out—and for good reason. This New American restaurant offers elegant farm-to-table dishes, such as seasonal charcuterie selections, house-smoked salmon, and slow-roasted lamb ribs. To top it all off, this high-end restaurant offers one of the best patio views in the city, overlooking the Chattahoochee River.
What really makes this place stand out, though? The River Garden, which doubles as an event venue for weddings, fundraisers, and large-scale soirees year-round! The outdoor space can accommodate between 30 to 140 guests inside the luxury garden tent—positioned on brick pavers with a tent liner, chandeliers on dimmer switches, and pole curtains. When you contact Canoe to reserve the space, be sure to inquire about the live entertainment package and in-tent climate control to keep your guests comfortable.
Charter bus rental tip: Rather than having your guests have to worry about parking in Canoe's small lot, reserve a shuttle service on your wedding day. That way, you won't be bombarded with a dozen "Where's the venue?" texts on your big day and no one will arrive late to your ceremony or reception.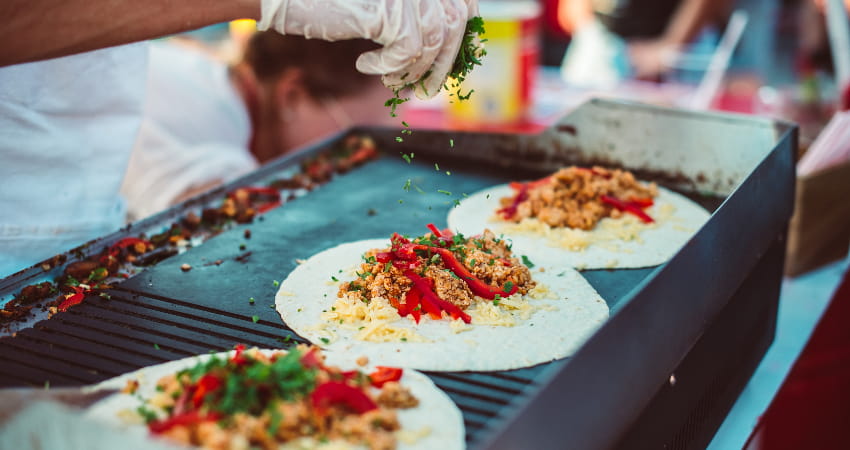 Bar Mercado
Address: 99-V, Krog St NE, Atlanta, GA 30307
Krog Street Market's fall hall is definitely worth visiting if you're hungry and traveling with a crowd that has diverse palates—but this vendor in particular is an excellent choice if you want to dine al fresco.
Bar Mercado has started pivoting from Spanish cuisine to a more Latin-inspired menu in recent years, so your dinner party can chow down on a variety of small plates like paella, street corn, sweet plantains with crema, and provoleta. In any case, you can expect an eclectic and airy atmosphere and a rotation of weekly drink specials if you choose to stop here for drinks after work or a casual weekend get-together.
Ladybird Grove & Mess Hall
Address: 684 John Wesley Dobbs Ave NE, Atlanta, GA 30312
If your group has worked up an appetite after a stroll along the Beltline—one of ATL's most popular greenspaces—consider stopping at this quaint patio space on mile marker 9.25 of the Eastside Trail. This casual New American joint caters to those nostalgic for the days of summer camp, serving up dishes it dubs "elevated campfire cuisine" in dining spaces like screened porches and picnic-style tables with umbrellas.
The adults in your crowd won't want to pass up ordering a local craft beer, wine, and cocktails from the outdoor bar made out of a vintage camper. Aside from drinks, Ladybird specializes in sharable plates. Oh, and did we mention it's dog-friendly? Bring your pups and cozy up next to a fire pit for pimento cheese fritters, homemade jerky, or their famous backyard BBQ board.
Want the space all to yourself? Ladybird can accommodate parties and events of all sizes, so swing by for a relaxed office luncheon or a few brews with your extended family.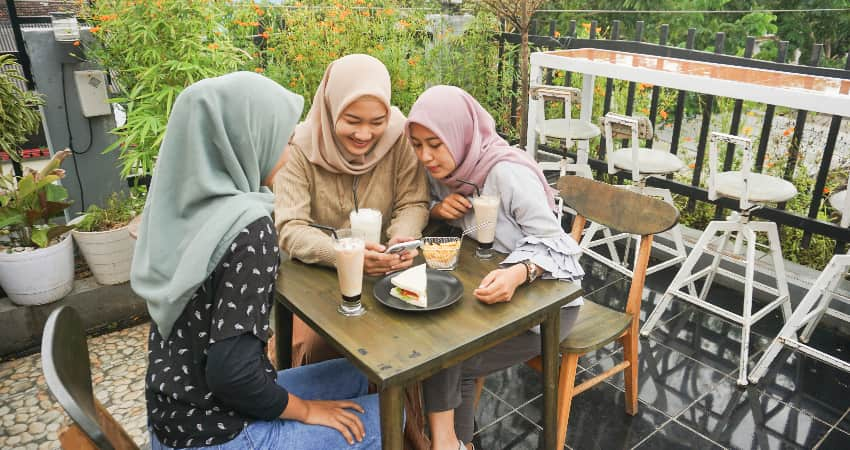 Anis Cafe and Bistro
Address: 2974 Grandview Ave NE, Atlanta, GA 30305
On a quiet side street in Buckhead, you'll find this charming bistro in a converted house that's been renovated to look like a French Provincial home. Dine on rustic French cuisine like croque monsieur with Black Forest ham or truite meunière with roasted artichokes amid Parisian decor and weekly live Brazilian jazz.
As for the patio space, Anis goes out of its way to make the outdoor dining section as romantic as possible. Groups can reserve the garden-like balcony space or the full ground-floor patio along with a three-course meal and bar access.
Charter bus rental tip: Worried about your dinner guests getting home after too many glasses of French wine? We recommend reserving a minibus shuttle to act as your DD for the evening. A professional bus driver will ensure everyone has a reliable ride home, and your guests can relax in a comfortable cabin rather than wait on the curb for multiple rideshares to show up.
Bangkok Station
Address: 550 Pharr Rd NE, Atlanta, GA 30305
Wanting Thai food? Atlanta has plenty of eateries to satisfy your cravings. Wanting Thai food in an outdoor setting? Few places offer a patio as picturesque as Bangkok Station!
This Buckhead haunt serves up authentic Thai dishes with a modern twist. Your diners are sure to be charmed by the railroad-inspired decor and warm ambiance, but the patio is really where this restaurant's atmosphere shines. The outdoor dining space here is open and airy, with furniture that looks like it was pulled from the pages of a Restoration Hardware catalog. Dining groups who frequent Bangkok Station love spreading out across the tables, ordering a round of tropical cocktails for the table, and enjoying plates of boat noodles, massaman curry, lemongrass soup, or matcha green tea cheesecake.
Stress-Free Group Dining Shuttles through Falcon Charter Bus
Now that you have an idea of where you can host your next outdoor dining event, all that's left to do is figure out how everyone will get there Luckily, Falcon Charter Bus is here to help! We pride ourselves on pairing groups of all sizes with the ideal transportation plan to make their travels easy. And with a network of over 3,000 vehicles and a 24/7 reservation team, renting a charter bus or minibus in Atlanta has never been easier.
Give us a call at 404-400-3545 to start planning your Atlanta dining experience. All you need is a headcount and an itinerary to receive a free, no-obligation quote for your personalized bus rental.