One size does not fit all for group transportation in Little Rock. Our network offers varying-size buses with amenities that appeal to different groups.
What size is best? The 18-passenger minibus is excellent for taking your extended family to Magic Springs Theme and Water Park, while the 25-passenger minibus rental makes a great shuttle for employees or other VIPs.
If your headcount is higher, we have 56-passenger charter buses available. These are ideal for taking a sports team to a tournament in Memphis, with room for the team and all their gear, too. These Little Rock charter buses offer reclining seats, air conditioning, WiFi, power outlets, and bathrooms, among other features.
At Falcon Charter Bus, we work with the best Little Rock rental bus companies and offer ADA-compliant features on some of our network of coach bus rentals. When you call for your quote, let our friendly reservation agents know if you need these amenities.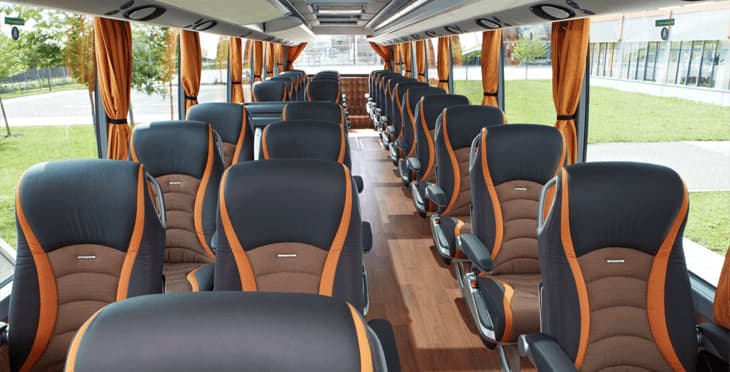 Little Rock Charter Bus Rental Pricing
Budget constraints are always a concern when planning a group event. That's why we offer transparent Little Rock charter bus rental pricing. This approach lets you arrange outings knowing exactly how much transportation will cost.
To get started, we'll need some information about your event. Call our reservation pros at 1-866-217-2168 and tell them your travel dates, destination, number of people, and which amenities you'll need. They'll craft you a no-obligation quote for budgeting your trip.
Hit the Local Food Scene in a Little Rock Bus Rental
More people today recognize Little Rock as a secret foodie city, especially for craft beer and barbecue. One popular craft brewery is Lost Forty Brewing. With over 20 beers on tap and a thriving pub-style menu, it's a crowd-pleaser you'll want to go to again and again. If your family members are BBQ fans, they'll appreciate a stop at Sims Bar-B-Que. This restaurant has menu items featuring Memphis, Kansas City, and Texas-style sauces.
Why not rent a bus when visiting one of the many fantastic Little Rock breweries and restaurants? That way, you can ensure everyone in your party arrives at the same time and doesn't need to arrange a designated driver.
Learn About Little Rock's Political Culture
Not only is Little Rock the hometown of former President Bill Clinton, but it's also home to the William J. Clinton Presidential Library and Museum. This museum is an excellent destination for anyone interested in the president and the political process. Other destinations with historical and political significance include the Arkansas State Capitol and the Old State House Museum.
No matter where your itinerary takes you, your group can rest assured a climate-controlled and comfortable bus rental cabin will be waiting for you between stops. Rest your feet in a reclining seat, and watch the Little Rock cityscape roll by your panoramic windows while a pro bus driver handles the driving logistics.
Plan Exciting School Trips With Little Rock Charter Buses
Remember the fun and excitement of school field trips as a kid? Chances are, they were so much fun because we didn't have to plan them or do the driving!
If you're coordinating a school trip, you can get some of that fun back by leaving the driving to trained professionals. Full-size charter buses are a great choice if you want to take the school choir to a competition in Atlanta, and minibuses are perfect for taking preschoolers to the Little Rock Zoo.
At Falcon Charter Bus, our network of vehicles comes with bus drivers who have passed background checks and have on-road experience. We only work with the most reliable Little Rock charter bus companies, ensuring each full-size charter coach and minibus rental is clean and in good working order. These vehicles also have optional features, such as on-board bathrooms, refreshing air conditioning, DVDs, reclining seats, and WiFi services to make the journey with students easy and stress-free.
Rent Group Bus Transportation From Falcon Charter Bus
Group transportation can look like a lot of things. You might need a minibus for a weekly church shuttle service or a chartered weekly shopping and errand trip. Or, a full-size corporate bus rental might be more appropriate if you're taking the entire office staff to a corporate event in Huntsville, Alabama. No matter which end of the spectrum your needs fall, all vehicles come with a professional driver who treats your guests like family.
Make Your Next Outing a Success With a Little Rock Bus Rental
At Falcon Charter Bus, our agents are experts in arranging the perfect transportation to Little Rock and surrounding areas. We're here for you whether you need a no-obligation quote or advice on the best type of bus. Call our reservation specialists at 1-866-217-2168 to get started on your next big adventure!