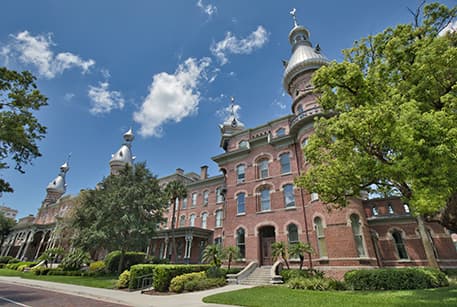 From the mysterious happenings of Miami to Atlanta's top-notch haunts, the Southeast is full of spooky destinations worth visiting all year round—but especially as October approaches.
And Tampa is no different!
While the city has plenty of curated ghost tours to choose from, we at Falcon Charter Bus make it easy to craft your itinerary and explore Tampa's most haunted destinations all at your own pace. Give us a call at 813-944-3146 once you have a headcount and a rough itinerary, and we'll be happy to connect you with a Tampa charter bus rental that fits your number of passengers comfortably and operates on a schedule you set! We've helped all sorts of travel groups find comfortable group transportation services throughout the Southeast, and we'll be happy to provide a fast and free bus rental quote to help make the planning process that much easier.
Here are just a few potentially haunted destinations you'll want to add to your spooky Tampa bus rental itinerary: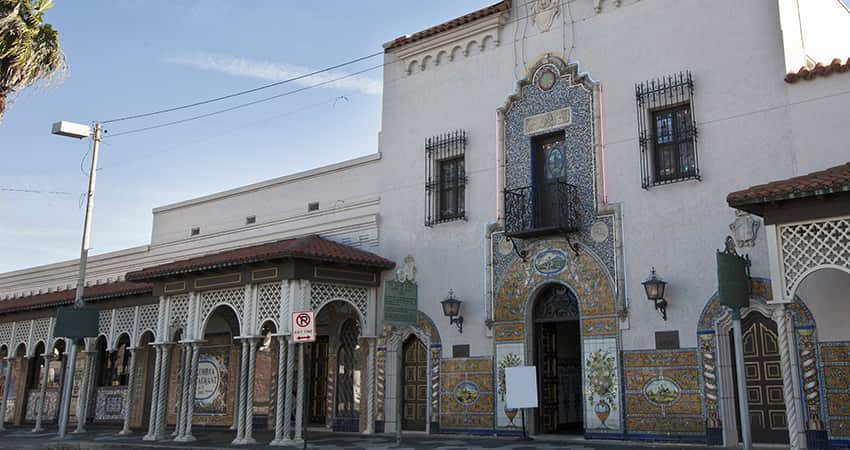 Ybor City
Ybor City is a must-see historical stop for any first-time visitor to the Tampa Bay area—even if some of your group members are not into spooky haunts. This area was founded in 1885 by Spanish cigar manufacturer Vicente Martinez-Ybor, and quickly became one of the first Southern industrial towns mostly occupied and owned by immigrants. The once-lucrative cigar businesses stationed here earned Tampa the title of the "Cigar City," and over the decades the immigrant populations that call this neighborhood home have permanently shaped the culture and economy of the city.
But let's be honest, haunted locales make any history tour more interesting! Swing by the site of the old Florida Brewing Company building (it's now a law office and the tallest building in the neighborhood—you can't miss it) for the chance to meet the ghost of a drunken bar patron, who often tried to chat in Spanish to folks walking by.
As far as parking a charter bus goes, Ybor City is one of the easiest spaces to do so in all of Tampa. Free bus parking is available a couple of blocks away from the Ybor City State Museum.  If a member of your group has mobility concerns, keep in mind that the cobblestone walkways may be difficult to navigate on foot. In that case, coordinate with your ADA-compliant bus rental to drop you off right in front of your destination before your bus driver parks in the designated motorcoach zone.
Tampa Theatre
Address: 711 N Franklin St, Tampa, FL 33602
As if the statues, gargoyles, and delicate architecture isn't hauntingly beautiful enough, the 1926 Tampa Theatre has seen its fair share of paranormal activity over the decades.
For example, Foster "Fink" Finley worked here for 20 years as a projectionist—and some say he never left. Staff members have heard doors slamming and have witnessed the power cutting out while no one else is around. Perhaps most spookily, though, folks claim to have seen Fink's cigarette smoke still billowing out of the projection booth like it did when he was alive, and plenty of audience members have noted the back two rows of the balcony (nearest the projection booth) smell like cigarette smoke.
Groups can tour all of the Tampa Theatre (not just the spooky parts) by reserving a 90-minute Balcony to Backstage Tour offered most mornings at 11:30. A veteran guide will walk you through the facility's storied history, the iconic architecture, and offer to play a tune on the Wurlitzer pipe organ. Or, if you'd rather catch a show here, group tickets are available for most live performances and film screenings if you call ahead of your visit. Just be wary if you happen to be assigned to seat 308—a ghostly apparition of a man in a fedora has been spotted there multiple nights, and it would be rude to take an occupied seat.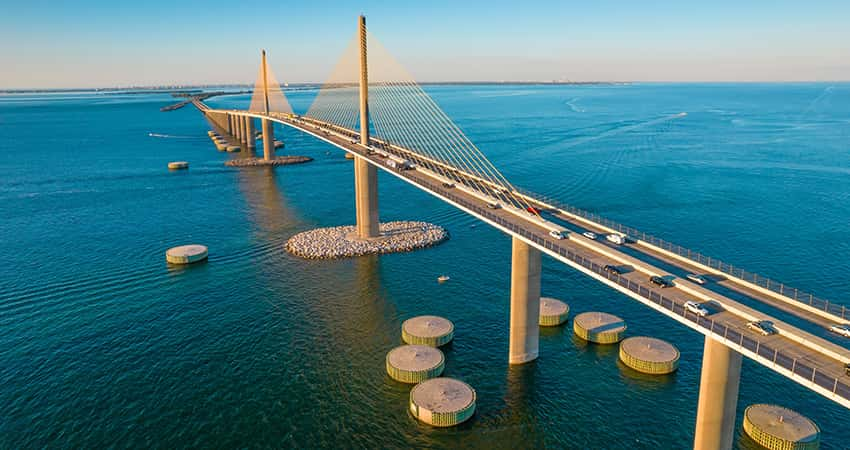 Sunshine Skyway Bridge
Address: 7508-7534 Sunshine Skyway Ln S, St. Petersburg, FL 33711
Fun fact: the structure you see today spanning Tampa Bay is not the original Sunshine Skyway Bridge. The first iteration was struck by a freighter in 1980, collapsing part of the bridge in the process. 35 people died in the incident, including a full greyhound bus. Today, fishermen near the bridge sometimes feel the strong breeze of a big bus passing by and smell gasoline, even when traffic is minimal.
And while Tampa residents say to be wary of hitchhikers in any given locale, the Sunshine Skyway Bridge gives even more reasons to stay alert. Both toll workers and motorists have reported seeing a woman walking alone on the bridge late at night. Those who have slowed down and stopped to offer her a ride see her climb into the passenger seat but disappear before leaving the bridge.
If your group wants to plan a visit along this scenic and haunted bridge, you'll need to pay a small toll (not included in the price of your reservation) and ride across in your charter bus rental, as there is no pedestrian access. Whether you have a charter bus in St. Petersburg on the north end or in Bradenton on the south end, the bridge's modern design and towering height offer amazing views of the bay—and perhaps a specter or two if you're lucky.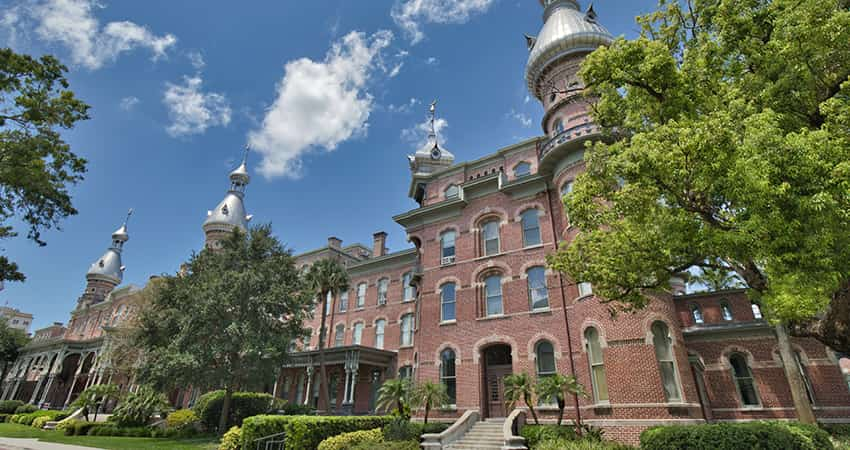 Plant Hall at the University of Tampa
Address: 401 W Kennedy Blvd, Tampa, FL 33606
Before this grandiose college hall became part of the University of Tampa campus, Henry B. Plant Hall was once known as the Tampa Bay Hotel. This Victorian destination resort offered 511 rooms and waterfront R&R for the wealthy guests who stayed here. Perhaps it's for the splendid views and relaxing memories that many guests have seemed to return from the afterlife!
For decades, UT students have reported seeing a tall, shadowy man wandering through the halls of the Plant building with white hair, a brown suit, and a wide-brimmed hat that covers most of his face. While some say this is the spirit of the charismatic Henry B. Plant himself, others say he's just shy—as long as you don't make eye contact or stare at him for too long, the spirit will leave you alone.
In addition to holding active college offices for the university, today Henry B. Plant Hall houses one of the oldest still-working elevators in the U.S. and a museum centered around Victorian tourism and the building's role in the Spanish-American War. The spirit activity spotted in this hall is not documented to be threatening, so feel free to plan a spooky field trip here with peace of mind. From January to November, schools, youth programs, and scout programs with 10 or more kids are welcome to book docent-led tours of the exhibits at least 2 weeks prior to their visit.
Plan a Spooky Tour of Tampa by Bus Rental
Whether you're exploring the town with dedicated ghost hunters or spicing up a return trip to Tampa with some off-the-wall spookiness, Falcon Charter Bus will make it easy to explore all the haunted sites and history the Bay Area has to offer.
Call our 24-hour reservation team at 813-944-3146 whenever you're ready to get started, and we'll be happy to walk you through minibus shuttle and charter bus rental options that are tailored to your group's itinerary needs.