We get it: group travel requires flexibility and tailored solutions, and that's exactly what we offer through our extensive network of charter buses in Chattanooga. No matter your group size or occasion, you can count on us for comfort and reliability.
For those epic journeys, the full-size charter buses are your ticket to a safe and stylish ride, complete with onboard restrooms, spacious luggage bays, and cool, comfortable air conditioning to cater to your group's specific preferences. If you're rolling with a smaller crew, the minibuses are the perfect fit, ensuring everyone sticks together during transfers. With options ranging from 18 to 25 passengers, these compact minibuses are ideal for everything from business conferences to leisurely outings.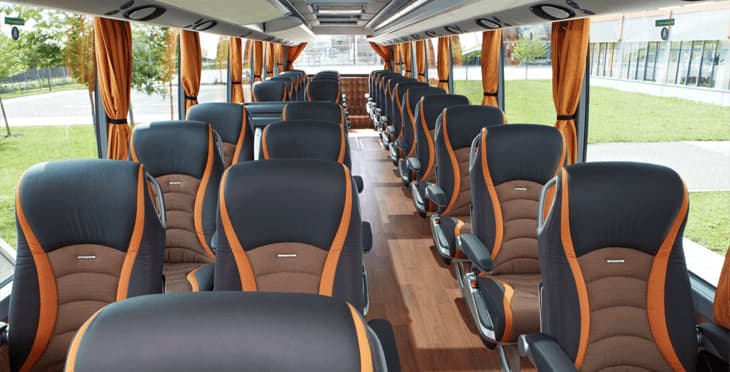 Chattanooga, Tennessee Charter Bus Rental Prices
Charter bus rental prices in Chattanooga can vary depending on your choice of vehicle and itinerary. But here's the good news — just give Falcon Charter Bus a call, and our team will whip up a quick and free custom quote for you. Our custom price quotes are crystal clear, and our team members are always happy to explain what's included and what's not.
Short-term rentals are typically priced by the hour (with a 5-hour minimum), while multi-day and long-distance trips might be charged by the day or mileage. Keep in mind that the time of year and how far in advance you book can also influence the price of your Chattanooga charter bus.
We're experts at finding the best Chattanooga charter bus options to fit your budget, and we might even have some money-saving tips up our sleeves. So, what are you waiting for? Get in touch at 1-866-217-2168.
​​Experience Stress-Free Chattanooga Employee Transportation
Say goodbye to the hassle of daily commutes! Instead of dealing with public transportation, carpool arrangements, or the chaos of rush-hour traffic, your teammates can enjoy a serene and smooth ride to the office — all thanks to our fantastic corporate charter bus rental.
Commuting to the office, be it local or to nearby cities like Kings Point and Lakeview, has never been this easy. Skilled bus drivers will take the wheel, ensuring a worry-free journey, plus passengers can enjoy several onboard amenities like WiFi, power outlets, and tray tables. Not only will a corporate shuttle bus rental keep everyone punctual and together on their way to work, but it'll also make your company shine as a standout employer, attracting top talent!
Chattanooga Private Events Made Simple with a Charter Bus
Whether it's church group outings to the beautiful Rock City Gardens, visits to the Tennessee Aquarium, or family reunions along Chattanooga's Riverwalk, Falcon Charter Bus is here to simplify all your group transportation needs. With a personalized route plan tailored to your preferred schedule, your next private event will run like a well-oiled machine. Contact our team today and secure a family church bus that offers the utmost comfort with plush reclining seats, TV screens, and WiFi to keep everyone feeling refreshed throughout your event.
Enjoy Comfortable School Outings with Chattanooga Bus Rentals
Planning a fun-filled day for your students at Coolidge Park or taking them on a thrilling ride on the Incline Railway? Our school event bus rental service is the perfect fit. Rest assured our buses undergo regular inspections and maintenance to ensure a safe and secure journey for your young passengers. Meanwhile, onboard amenities like WiFi and TVs will keep them entertained, and onboard restrooms mean fewer pitstops.
Make Your Chattanooga Wedding Magical with Modern Bus Shuttles
Chattanooga is the perfect backdrop for your dream wedding, and Falcon Charter Bus can make it even more enchanting. Our reservation specialists work with you to create a custom transportation plan that perfectly matches your wedding's itinerary.
With our wedding shuttle service, your loved ones won't have to worry about parking, navigating, or booking Uber rides at the end of the celebration. Instead, your guests will revel in the comfort of plush, reclining seats and groove to a personalized wedding playlist on the top-notch entertainment system.
Book a Chattanooga Charter Bus Rental with Falcon Charter Bus
Our dedicated Falcon Charter Bus team is here for you 24/7 to make group transportation in and around Chattanooga a breeze. Just give us a call at 1-866-217-2168 whenever you're ready, and we'll guide you through the bus rental process, answer all your transportation-related questions, and provide you with a free, no-obligation estimate tailored to your charter bus needs. It really couldn't be any easier — let's make your journey unforgettable!