No matter the size of your team, there's a charter bus rental that will meet your needs in the Falcon Charter Bus fleet. An 18-passenger minibus might be the perfect solution for your travel in Orlando if you need to swiftly transport a small team or group of professionals around town, from a trade show at the Orange County Convention Center to a local restaurant for a group lunch. Need to arrange travel for a company-wide meet-up or team-building event? Book a 56-passenger charter bus instead!
Coordinated Business Trip Travel
No matter if you're local to Orlando or visiting from out of town, traveling with a group can be stressful and logistically challenging. Rent a charter bus for your next business trip in order to completely customize and coordinate travel and transportation for the whole group. You can easily arrange to be picked up at Orlando International Airport and chauffeured to and from any destination without the hassle of worrying about the unpredictable prices of rideshares and taxis, or the inconvenience of carpools and public transit.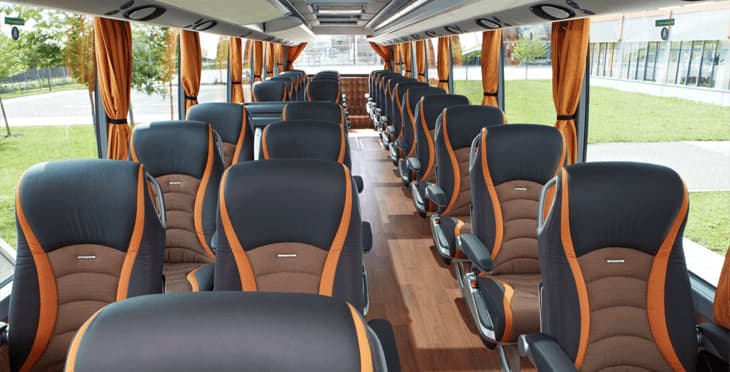 Private Transportation to Business Events
Don't rely on a hotel shuttle for group transportation to important corporate events. Ensure your group arrives on time and on your schedule with a private shuttle bus rental. Not only can a private shuttle adapt to your busy business schedule, but it also keeps your team all together instead of traveling in separate cars or resorting to booking separate rideshares. Whether you're traveling for a meeting with an important client or transporting the whole team for a company outing, a private rental will accommodate the individual needs of your group, reduce overall travel expenses, and ensure your employees are comfortable and stress-free while on the road.
Essential Amenities for a Productive Ride
When you choose to book a private transportation service for your corporate team traveling in Orlando, you'll benefit from a variety of charter bus amenities and features. Rent a bus with cushioned and reclining seats, onboard restrooms, a PA system, ample luggage space, a Wi-Fi hotspot, and more. Passengers can easily stay online and connected to answer emails or make last-minute changes to important presentations. They can also choose to relax and rest while on the road so they arrive refreshed and ready to take on the day!
Book Your Orlando Corporate Charter Bus
Orlando event planners, coordinators, and business leaders can contact one of our travel representatives at 404-274-9808 to book a charter bus today. Representatives are available 24 hours daily, during weekends and holidays, so you can book your business trip whenever is most convenient or essential for you. We make it easy to choose Falcon Charter Bus as your transportation company for corporate travel in Orlando and around the United States.