Business travel shouldn't be the most stressful part of the company outing. Smoothly transport and coordinate event attendees with an affordable transportation service. Get chauffeured to and from your hotel as you're swiftly and reliably transported to the corporate destination.
Private Shuttles to Business Events
Consider replacing your hotel shuttle with a reliable private rental, to ensure your group arrives on-time to business meetings, providing you with a comfortable and accommodating travel experience. Not only does a private shuttle adapt to your rigorous business schedule, but it also keeps attendees together instead of taking their own separate cars or walking to a faraway venue. We're experts in getting clients to and from their destinations on time and in style.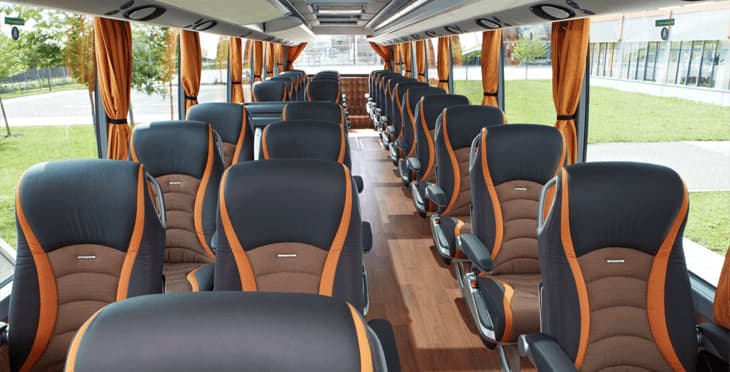 Private Shuttles to Business Events
Whether traveling to fortune 500 companies or other professional organizations, a private rental will accommodate the ride preferences of each individual attendee, reduce overall group cost, and ensure your employees' comfort and leisure while booking professional travel in Orlando.
Stylish Amenities for a Comfortable Ride
Select a transportation service for a small or large group that suits your individual business need. Choose your choice of adjustable features for a smooth and comfortable ride from beginning to end. Your available selection of bus amenities includes cushioned reclining seats, private restrooms, a PA system, expandable luggage racks, TV monitors, Wi-Fi, and more.
Simple Business Shuttle Booking
Orlando event planners, coordinators, and business leaders trust our personal bus rentals for every occasion in Florida. Book with one of our travel representatives available 24 hours daily, during weekends, and during the holidays at (404)-274-9808. Learn why Falcon Charter Bus is the leading transportation company for corporate travel in and around the United States.