The final cost of your charter bus rental in Alabama will depend on a variety of factors specific to your transportation needs. Aspects such as the type of bus you rent, when you book, how far you travel, and onboard amenity requests will affect the price of your bus rental. Not to worry, though—we make the process of receiving a personalized estimate as simple as possible! Just call us at 1-866-217-2168 once you know your trip's details (a passenger count, an itinerary, a list of amenities, etc.) and we can offer you a no-obligation quote for your Alabama bus rental within minutes.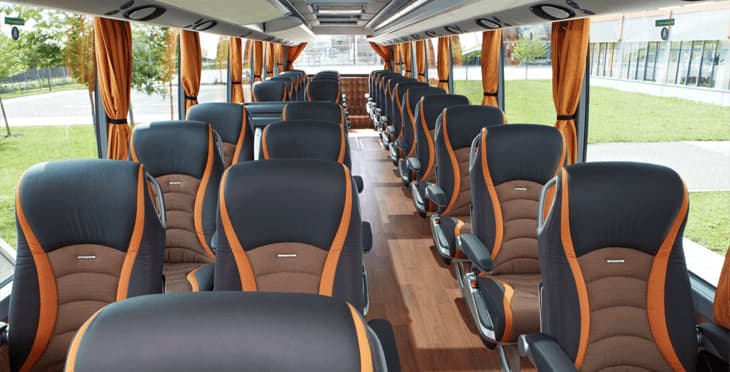 Popular Charter Bus Rental Services in Alabama
Our flexible bus rental network makes it simple to find the ideal ride for your next group event or road trip—no matter what fills your itinerary. Here are just a few group transportation services we can provide for Alabama passengers:
Visit Civil Rights Historic Landmarks throughout Alabama
Alabama is known for a lot of things—but one major draw for out-of-state visitors is the sheer number of landmarks and destinations tied to the Civil Rights Movement. Here, you can drive across the iconic Edmund Pettus Bridge in Selma, pay your respects at the National Memorial for Peace and Justice, and book a tour of the Birmingham Civil Rights Institute.
Whether you're planning a quick tour of Montgomery's Rosa Parks Museum or you're coordinating a long-distance road trip through Civil Rights landmarks throughout Atlanta, Memphis, and beyond, consider Falcon Charter Bus your go-to provider for seamless transportation. We'll work with you to craft the ideal custom itinerary for your history buffs and freedom fighters—all according to a schedule you set and at a pace that fits your passengers' needs. Just say the word, and we can even provide an ADA-compliant coach bus rental with a wheelchair lift at no additional cost!
Huntsville Charter Bus Rentals for School Field Trips
Some folks call Huntsville "Rocket City," thanks to the town's close ties to U.S. Space programs and the Marshall Space Flight Center. And with so much of our aerospace history centered here, Huntsville, AL is a perfect place for a school field trip!
When you rent a charter bus in Huntsville for your science class, engineering club, or afterschool program, you'll receive more than just a ride to beloved school trip spots like the U.S. Space & Rocket Center. Your students and chaperones can enjoy features you won't find on your average school bus, so the ride to your destination can be just as fun as the field trip itself! Pop a Bill Nye DVD into the player and watch over flatscreen TVs, look up videos of rocket launches over fast WiFi connections, and minimize pit stops along the way with a clean onboard restroom.
Gear up for Game Day with Tuscaloosa Charter Bus Rentals
Few things are as serious in Alabama as Crimson Tide football. So when it's time for your fan group to gear up for a sporting event at Bryant-Denny Stadium, consider booking a Tuscaloosa bus rental to keep your game day running smoothly.
We'll happily pair your football fans with a comfort-minded charter bus rental to act as a tailgating headquarters throughout the day. With ample room to stash coolers and tents, fast WiFi for checking competitor stats, and a clean and easy-to-access onboard restroom, your sports fans can stop stressing over the parking lot shuffle and focus on cheering for your favorite sports teams!
Book Your Alabama Charter Bus Rental
Ready to get started? Even if you have a few questions about bus rentals before you're ready to book, we're always here to help. Call our 24-hour reservation agents at 1-866-217-2168 and we can walk you through available charter bus and minibus options, answer your questions, and provide a no-obligation estimate within minutes. Get in touch and see for yourself how simple it is to rent a bus in Alabama!