Whatever your group transportation needs in Shreveport may be, Falcon Charter Bus has got you covered.
The 56-passenger charter bus is your trusty steed, complete with luggage storage to keep everyone comfy, and is great for those epic, large-scale outings. Need something more compact for a smaller group? The minibus shuttles can seat anywhere from 15 to 35 passengers and are perfect for zipping around town, even in the hustle and bustle of daily traffic.
But that's not all — these charter bus rentals and minibus shuttles can be decked out with all the fancy amenities your passengers could ever wish for on the road. Picture lightning-fast WiFi, onboard restrooms, a DVD player with TV screens, reclining seats, and SO much more.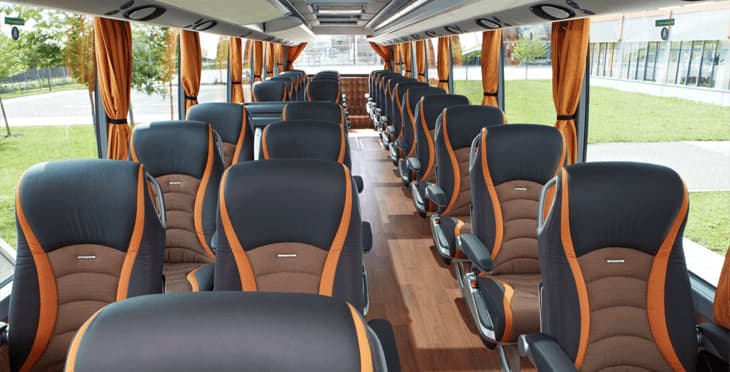 Tailor-Made Shreveport Charter Bus Pricing Plans
At Falcon Charter Bus, we offer personalized charter bus estimates for every group transportation. Just give us the lowdown on your trip details — where you're headed, when you're rolling out, how many pals are coming along, and what amenities you're dreaming of. If you like what you see and hear, you can lock in your pricing plan within minutes. No hidden fees, no tricks up our sleeves, and absolutely no obligation to book until you're ready to say "let's roll!"
See Shreveport's Top Attractions in a Charter Bus
Are you ready for an unforgettable family adventure in Shreveport? With a Shreveport private charter bus, the possibilities are endless! Whether you're here for business or leisure, a sporting event, or a family getaway, this vibrant city has countless attractions waiting for you.
Dive into an underwater world at the Shreveport Aquarium and hand-feed stingrays. Find tranquility amidst lush greenery at the ASEANA Asian Gardens. Have kids? No worries; Bring them to explore the wonders of Walter B. Jacobs Memorial Nature Park or Sci-Port Discovery Center. Like we said, there's something for everyone in Shreveport.
Reliable Corporate Bus Rentals in Shreveport
Elevate your corporate outings with a corporate bus rental in Shreveport. Picture this: your next company meeting at the Shreveport Convention Center, a team lunch at the delicious Crawdaddy's Kitchen, or a bonding experience at Wallace Lake. With our expert drivers at the helm, you can count on punctuality and professionalism.
We've got onboard WiFi and power outlets to keep your team connected, as well as secure storage for laptops and gadgets. Falcon Charter Bus even offers daily employee shuttles, whether short-term or long-term. Just let us know what you need, and we'll make it happen!
Picture-Perfect Wedding Shuttle Buses
When it comes to your big day, Falcon Charter Bus has your back. We specialize in custom wedding shuttles that whisk your guests from the hotel to the ceremony and then to the reception – all with elegance and ease. Whether your dream venue is the Silver Lake Ballroom or 601 Spring Street, rest easy knowing we can help you charter a shuttle bus that fits your wedding's style and requirements perfectly.
School Trips Made Effortless and Double the Fun
Education is an adventure when you choose Falcon Charter Bus for your school field trips.
Take your students on an exploration of the fascinating Barksdale Global Power Museum or plan a campus outing to Southern University. The school event charter buses on our Louisiana network are equipped with a host of modern amenities like WiFi and air conditioning to ensure a comfortable journey for students and chaperones alike. Rest assured, the bus drivers are carefully vetted, leaving educators free to focus on creating enriching learning experiences.
Book Your Shreveport Charter Bus Today
No matter the occasion — a wedding, team outing, or game day — Falcon Charter Bus is your go-to partner for seamless group journeys in and around Shreveport. Get in touch with us today at 1-866-217-2168 to discuss your travel plans. Your memorable Shreveport adventure awaits!