Choosing the best type of charter bus for your group will depend on the size of your group and where you're headed. For large groups of up to 56 people, a full-size bus rental is a great choice, thanks to its high seating capacity, extra undercarriage storage for luggage, climate controls, and onboard restrooms.
Traveling with a smaller group? Choose a minibus rental with seating for 18 to 25 passengers. Choosing a minibus for your Hollywood, Florida adventure is ideal for mid-size parties, bachelor or bachelorette parties, or school group trips. Minibuses come with many of the same amenities as full-size buses, including air conditioning, WiFi, comfortable seating, and overhead storage racks.
If you need any additional amenities such as ADA-accessible features, just let our team know when you call to book!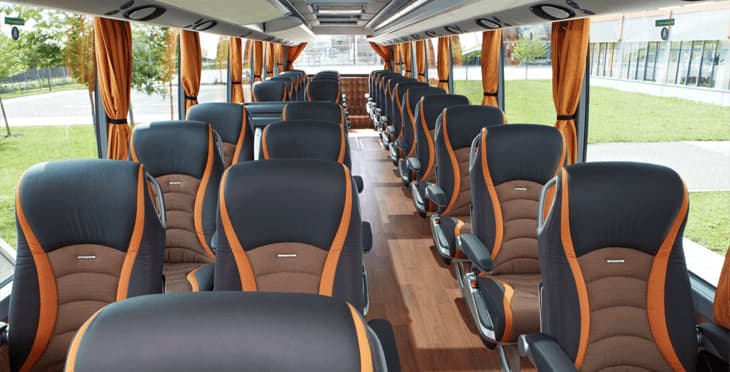 Hollywood, Florida Charter Bus Rental Prices
If you're tasked with scheduling your charter bus rental, understanding pricing is key to your planning. Falcon Charter Bus offers transparent charter bus pricing to help you accurately budget for your trip. The price of a charter bus depends on factors such as the number of passengers, travel destination, length of trip, and date of booking.
While these factors influence the price of your charter bus rental, there are some other considerations. The season or month of your travel may raise the price of your Falcon Charter Bus quote, as travel is more expensive in peak summer tourist seasons or on major holidays. In addition, the type of bus you choose and its amenities may also affect your price.
For the best price on a Hollywood, Florida bus rental, we recommend booking as far in advance as possible. Try to schedule your trip at least three to six months in advance to help save money. The best way to get a clear picture of how much your charter bus will cost is to request a free quote from our 24-hour team! Call us today at 1-866-217-2168 to learn more.
Wedding Shuttle Bus Rentals in Hollywood, Florida
If you're planning a wedding in Hollywood, FL, Falcon Charter Bus can provide efficient and reliable wedding shuttle bus transportation for you and your guests. Wedding shuttle bus services offer the most comfortable accommodations for your guests, such as extra legroom and WiFi on board. Whether you need services before the big day at a local hotel or resort or need day-of wedding services, we've got you covered.
Planning a wedding requires lots of work, but we make transportation easy. Instead of drawing straws to pick a designated driver or searching for parking at your wedding venue, guests will have a safe, guaranteed ride to and from their hotel in between all of your Hollywood wedding festivities. Plus, we offer a choice between a shiny, sleek black bus or a pristine white charter bus based on your personal wedding style.
Family Reunion Charter Bus Rentals to Hollywood Beach Boardwalk
Planning a reunion for your extended family? With a charter bus rental by your side, you can relax and explore together without having to worry about transportation. A Hollywood, Florida charter bus rental for your family reunion means your family can sit back and relax while a professional bus driver takes the wheel!
You won't want to miss a visit to one of Hollywood, FL's most memorable attractions, the Hollywood Beach Boardwalk, hosting over 50 restaurants and bars. The boardwalk spans almost 2.5 miles and is also a popular spot for biking, jogging, and inline skating. In addition to being a fabulous destination for family reunions, this spot is a popular bachelor and bachelorette party choice. Your group also won't want to miss a visit to the beautiful stretch of beaches accessible from the boardwalk, as well as over 30 stores within walking distance of the oceanfront.
Travel Beyond Hollywood, Florida with a Charter Bus
Getting out of Hollywood for a little while? With Falcon Charter Bus, you can create an itinerary filled with the things you want to see and travel on your own schedule. Hollywood, Florida is located at the heart of major metropolitan spaces, which means booking a bus rental in Fort Lauderdale and Miami is simple, you'll have easy access to charter bus rentals from Pompano Beach, bus rentals in Boca Raton, West Palm Beach bus services, rides to the Everglades, and more. You can also book an Orlando charter bus rental to visit Disney World and Universal, without worrying about who's going to drive. No matter where your travels take you, we'll be here to organize reliable bus transportation into, out of, and around Hollywood.
Make a Memorable Trip with a Hollywood, Florida Charter Bus
Ready to plan the most memorable trip for your group? Let Falcon Charter Bus help! Call us today at 1-866-217-2168 to request a quote or ask any questions you may have about booking a Hollywood charter bus for your group. We look forward to helping you plan a seamless, hassle-free trip!