At Falcon Charter Bus, our mission is to make bus transportation convenient and efficient for every passenger. The buses we charter come equipped with all the basic amenities you may need, including WiFi connectivity and reliable air-conditioning. Also, expect thoughtful details that ensure superior comfort, including plush reclining seats and ample storage space for belongings.
However, the best type of charter bus for your group depends on the number of passengers and where you're headed.
For smaller groups, minibus rentals let you travel in style while enjoying the camaraderie of a close-knit group. With seating capacities of 18, 20, and 25 passengers, these compact yet comfortable buses are perfect for mid-size parties, adventurous field trips, or corporate events. For larger groups, you can book full-size charter bus rentals. These buses are designed for breezy city exploration, thanks to their high seating capacity, climate controls, and onboard restrooms.
Explore a wide range of premium amenity combinations, available on request or at an additional cost, to make your journey extra comfortable. Think: TVs with DVD players to enjoy on-the-road movie marathons and power outlets to keep devices charged up and ready to capture those precious memories.
We also understand some passengers may require ADA-accessible features and are more than happy to accommodate them. Just let us know when you call, and our team will ensure your bus charter meets all necessary accessibility requirements.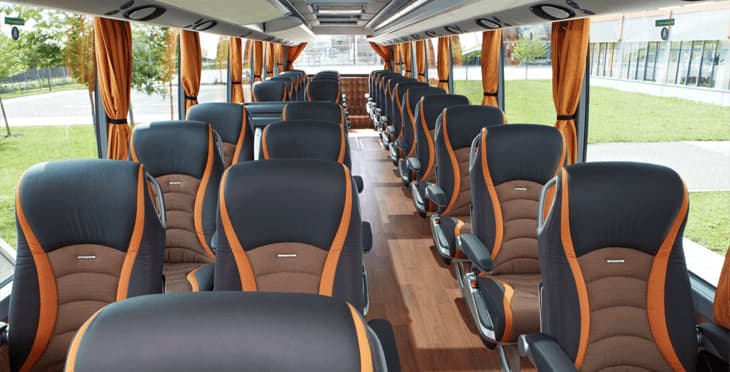 Columbus, Georgia Charter Bus Rental Prices
Curious about how much a Columbus charter bus costs? Falcon Charter Bus offers straightforward charter bus pricing, where you pay for what you actually need. Based on factors like passenger count, travel destination, length of trip, booking date, and desired amenities, our dedicated team will give you a custom quote to help you budget accurately. No rude surprises!
Note that the timing of your travel can also influence your Falcon Charter Bus quote. Peak summer tourist seasons and major holidays typically bring higher prices, so it's wise to plan ahead. To secure the absolute best deal, we recommend booking with us at least three months in advance. Call 1-866-21 7-2168 and we'll help you snag the perfect charter bus to explore Columbus.
Explore the Rich Local History of Columbus, Georgia with a Charter Bus
Columbus is a delightful city with rich culture and fascinating history, so there's plenty to explore.
For those seeking to pay tribute to our national heroes, a visit to the National Civil War Naval Museum is a must. You'll be thrilled to know the museum houses a life-size model of the USS Water Witch, accessible to everyone. It's an opportunity to immerse yourself in history and pay tribute to those who shaped our nation.
To ensure your group has the best possible experience exploring Columbus, Falcon Charter Bus exclusively partners with experienced and skilled bus drivers. These drivers will follow your custom itinerary so you only see what you want. And thanks to the air conditioning (a must considering it's so hot in the south!) and comfy reclining seats, your group will arrive feeling refreshed to enjoy the city's attractions.
Book School Trips to Museums with a Charter Bus
If you're planning an equal parts fun and educational school trip, make your way to the Columbus Museum. It's a true gem and the second-largest museum in the entire southeast region. Inside, you'll discover captivating interactive exhibits that shed light on the city's remarkable growth and development.
The Coca-Cola Space Center is another great place to enjoy and learn, with its film screenings, observation events, and simulations. Kids can play astronauts and take control of a space shuttle in a playful and immersive experience.
The buses we charter are regularly inspected and maintained to the highest standards to guarantee a safe and secure journey for young passengers. Onboard amenities like WiFi and TVs will keep them entertained, whether it's streaming shows, playing games, or staying connected with loved ones.
To make long trips more convenient, the full-size school trip bus rentals also feature onboard restrooms. This reduces interruptions and allows children to freshen up or use the facilities without frequent stops.
Enjoy Private Events and Family Get-Togethers in Columbus with Group Bus Transportation
Columbus is also a fun destination for enjoyable family outings and events. The Joann Holt Walking Trail awaits those who crave an invigorating hike amidst beautiful surroundings, while the Pine Mountain Wild Animal Safari offers an exhilarating safari experience.
If your loved ones prefer a more serene atmosphere, the Columbus Botanical Garden has stunning display gardens to captivate the senses. And for those with a love for music, the Springer Opera House is the place to be, showcasing both classical and modern opera performances.
If you're planning to host private gatherings or events for your extended family, Falcon Charter Bus offers a fleet of motorcoaches and minibuses to ensure safe transportation for everyone, whether they're coming from West Point, Atlanta, Tallahassee, or elsewhere in the Southeast. Once your family members are in town, the private charters will keep everyone together so no one ends up lost or late.
At Falcon Charter Bus, we strive to make your private events more memorable and comfortable. You can count on us for reliable transportation that aligns with your schedule and itinerary, with skilled bus drivers behind the wheel to give you peace of mind throughout your journey.
Make Memorable Trips with a Columbus Charter Bus
Get in touch at 1-866-217-2168 to experience the convenience of reserving a Columbus Charter Bus. Our friendly team is available 24/7 to assist you with finding the best bus rental option and answering your questions. Discover comfortable charter buses, and let us guide you to the perfect bus rental solution tailored to your needs. Get your prompt, comprehensive bus rental quote with no obligation to book, today.