Falcon Charter Bus charters a comprehensive fleet of state-of-the-art buses in Pompano Beach. Options range from full-size, 56-passenger charter buses to minibuses for 18 to 25 passengers. Amenity options include air conditioning for the Florida heat, WiFi, onboard restrooms, and more, depending on your group's needs:
A sports team traveling with lots of bulky equipment, for example, will need a charter bus ample storage space in undercarriage luggage bays. A group booking a shuttle for a private family event like a wedding or birthday party probably doesn't need lots of luggage room, but might want to book a more spacious 25-passenger minibus for comfort and extra legroom.
A large tour group planning day trips as far as Miami or even the Everglades should prioritize comfort during long-distance travel by requesting amenities like reclining leather seats, onboard restrooms, and panoramic windows.
Business travelers often require WiFi, power outlets, and USB charging ports so they can work on the road. Groups booking an 18-passenger minibus as an airport shuttle could skip some of those upgraded features – Pompano Beach is just 14 miles from Fort Lauderdale-Hollywood International Airport.
To discuss vehicle and amenity options with an expert, call 1-866-217-2168 today!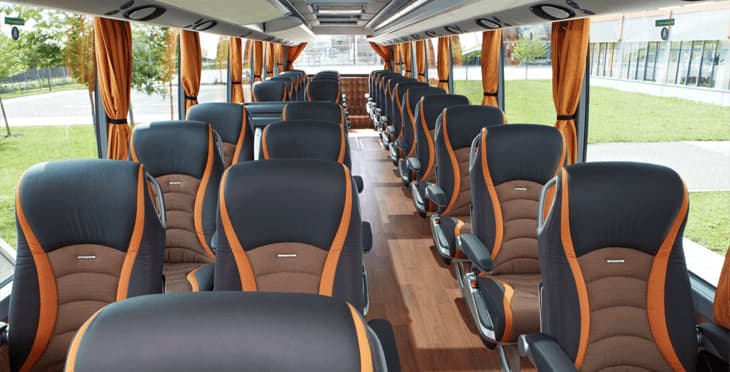 Pompano Beach Charter Bus Prices
Charter bus rental costs vary by vehicle type, passenger count, the distances your group will travel, and the rental duration, among other factors. Booking as far in advance as possible typically allows for a more favorable charter bus rental rate in Pompano Beach. (However, Falcon Charter Bus does take last-minute reservations for groups of all sizes.)
The time of year influences rental costs as well. Pompano Beach is a popular tourist destination, so expect to pay a premium during spring break and other busy times.
If you have a tight budget and are looking for ways to cut costs on your Pompano Beach bus rental, call our team at 1-866-217-2168. Team members are always available, 24/7, to explain what is and is not included in the rental price. They will provide you with a transparent, upfront price quote with no obligations. And when you're ready to book your charter bus, you'll receive confirmation within minutes!
Places to Go in Pompano Beach with a Charter Bus
Visitors to Pompano Beach, Florida quickly discover that all the action there focuses on the water. It's no surprise, given the Atlantic coast locale's beautiful beaches, abundant opportunities for fishing and watersports, and world-class diving and snorkeling just offshore. Further, all the attractions of neighboring Fort Lauderdale, Boca Raton, Hollywood, and West Palm Beach are within easy reach of Pompano Beach, and the world-famous sights of Miami are just 36 miles to the south.
With a private charter bus or minibus rental in Pompano Beach, your group can easily travel anywhere in the city and throughout the greater Miami metropolitan area. Your professional bus driver has experience in transporting groups of all sizes to local attractions, and you'll never need to worry about directions, traffic, or parking!
If you're still working on your itinerary, consider some of the following top destinations and activities in and around Pompano Beach.
Take a Bus to Waterfront Destinations in Pompano Beach
Pompano Beach boasts 3 miles of beaches and some of the warmest and clearest waters in Florida. This makes it a superb destination for swimming, snorkeling, and scuba diving. In fact, Pompano Beach is considered the "Wreck Capital" of Florida thanks to its Shipwreck Park. This offshore installation features 18 wrecks and sunken art, creating an artificial reef you can swim to from the shore.
Another popular place to go in Pompano Beach is the Fishing Village, home to 6 acres of shopping and dining with beach views. In the evenings, ask your bus driver to drop your group off to enjoy live music and cocktails. The focal point of the village is the Fisher Family Pier, which extends almost 900 feet over the ocean.
Instead of searching for parking or splitting into multiple cars, your group can enjoy point-to-point group bus transportation between your hotel and local waterfront spots. Plus, with onboard air conditioning and plenty of space for souvenirs or fishing gear, you'll always travel in complete comfort during your Pompano Beach trip.
Explore Cultural Attractions in Pompano Beach with a Private Shuttle Bus
It's hard to drag yourself away from the water, but it's worth checking out some of Pompano Beach's arts and cultural attractions. These are great for day trips for church groups, senior groups, and school groups. Load your group onto your shuttle bus and let your bus driver take you to exactly what you want to see according to your unique schedule.
The Pompano Beach Cultural Center features an art gallery and 300-seat theater, and you might be able catch a live show at the Pompano Beach Amphitheatre, a 3,000-seat outdoor venue. More visual and performing arts are showcased at the Ali Cultural Arts Building. At the Bailey Contemporary Arts gallery, visitors can watch local artists work in their studio spaces.
Group tours are available of the century-old Hillsboro Inlet Lighthouse, a prominent local landmark. You can also learn about local history at the Pompano Beach Historical Museum, located inside the Kester Cottages at Founders Park.
Need a Charter Bus in Pompano Beach?
No matter your group's size, travel plans, or unique needs, Falcon Charter Bus can provide the best bus rental in Pompano Beach for you. Call our team today at 1-866-217-2168 to get started!