Discover the ease of group transportation in Virginia's historical capital with Falcon Charter Bus. Understanding that one size doesn't fit all, we offer a wide range of Richmond bus rentals tailored to your group's needs. Our network's 56-seat charter buses excel in accommodating large groups for extended trips, providing generous space for both passengers and their belongings. For those navigating the city's charming streets or hopping between conference venues, compact 18-passenger minibuses are agile and efficient. Need something a bit roomier? Minibuses for 20 or 25 passengers provide additional space and amenities, and they're ideal for transporting wedding guests or sports enthusiasts to their destinations. Whatever the occasion, Falcon Charter Bus has you covered for a convenient, reliable Richmond charter bus rental.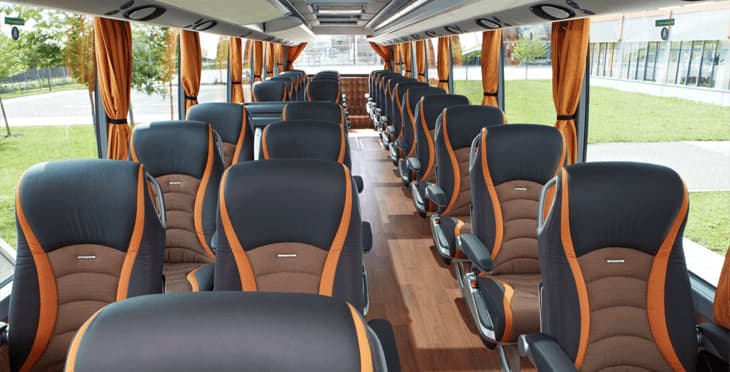 Travel to Washington D.C. With Ease
Opt for Falcon Charter Bus when planning your Richmond-to-Washington D.C. excursion, and elevate your travel experience from ordinary to exceptional. Ideal for any event, from academic adventures at the Smithsonian to corporate rendezvous on K Street, our versatile network marries comfort with convenience, featuring amenities like onboard WiFi and reclining seats. Say goodbye to the hassles of coordinating caravans or deciphering D.C.'s complex parking regulations. With expert bus drivers at the wheel, you can focus on curating your Capital experience, whether that means stepping back in history at the Lincoln Memorial or reveling in cherry blossom splendor along the Tidal Basin. Trust Falcon Charter Bus Richmond to deliver a smooth, punctual, and entirely stress-free journey to the heart of American governance and culture.
Customized Richmond Wedding Shuttles
Your dream wedding at a stunning Richmond venue like the Virginia Museum of Fine Arts or the Lewis Ginter Botanical Garden deserves nothing less than perfect logistics. That's where Falcon Charter Bus steps in. Luxurious wedding shuttles transport your guests from hotels to the wedding venue and then on to the reception, ensuring everyone can enjoy the celebrations without worrying about parking or navigation. With amenities like leather seats and climate control, your guests will travel in style.
Charter Buses for Richmond School Field Trips
Plan an educational, exciting field trip to the Virginia State Capitol or the American Civil War Museum without worrying about how you'll get your students there safely. Our network of buses is equipped with cutting-edge safety features, and a highly-trained, vetted bus driver operates each bus. With onboard WiFi and air conditioning, the journey becomes an extension of the learning experience.
Transport your Richmond Sports Team or Group of Fans
From high school teams heading to games at the River City Sportsplex to fans flocking to the Richmond Raceway, Falcon Charter Bus is your ultimate sports transport solution. Tailgate in style or ensure your team arrives well-rested and ready to compete. With ample storage space for gear and equipment, as well as onboard restrooms and entertainment systems, we've got every angle of your sporting event transportation covered.
Richmond Corporate Events with Private Shuttle Bus Rentals
Impress clients and treat employees with the sleek professionalism of Falcon Charter Bus's service as you host your next corporate event at iconic Richmond venues like Main Street Station or the Greater Richmond Convention Center. Our network of modern, full-sized charter buses and minibuses comes equipped with power outlets, WiFi, and other amenities that make them an extension of the workplace, enabling productivity even while on the move.
Richmond Charter Bus and Minibus Rentals
Elevate your group travel experience in Richmond by choosing Falcon Charter Bus. Your ideal vehicle is just a phone call away. Connect with us 24/7 at 1-866-217-2168 to unlock comfort, reliability, and seamless coordination. Whether you're celebrating love, fostering education, cheering for your favorite team, or sealing a business deal, we've got the perfect bus for you. Make your reservation for a bus rental in Richmond today, and let us redefine what excellent group travel feels like.