With Falcon Charter Bus, you can choose from a variety of different-sized vehicles from our network of Norfolk bus companies. Our reservation specialists will ensure you get the right bus for your needs.
An 18-passenger minibus is a great choice for smaller groups or for a shuttle service at your church or company. Individual classes can use a 25-passenger minibus for field trips.
A 56-passenger charter bus allows larger groups to travel in style and comfort. They are also great if you need to travel longer distances. Take a group of friends to a concert in Miami, rent a charter bus in Fayetteville for a school band competition, or book a Greensboro bus for quick access to the Research Triangle. These coaches have luxury amenities designed to make the trip more enjoyable. Things like reclining leather seats, tray tables, TVs, and onboard bathrooms are all options to consider.
We can also connect you to bus rentals that are ADA-compliant, with wheelchair lifts for any passengers with specific needs. No matter what will keep your group comfortable on the road, we make it easy to rent a charter bus that accommodates their every need.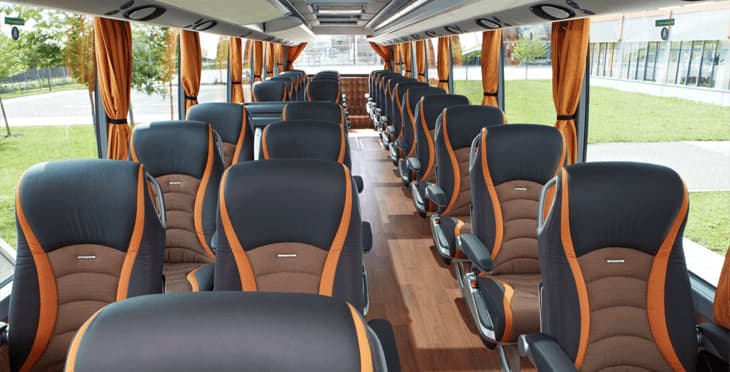 Norfolk Charter Bus Rental Pricing
While there are many factors to consider when planning a group outing, at Falcon Charter Bus, we understand that one of the biggest is cost. That's why we pride ourselves on providing accurate bus rental cost estimates with transparent charter bus pricing.
For us to get you the most accurate pricing, we will need some information about your event when you call. Our reservation experts need to know how many people you estimate will be traveling with you, when and where you plan to go, what type of bus rental service you need, and which amenities are important to your group. Call our agents at 1-866-217-2168, and give them as much info as you have, and let them do their thing. You'll soon have a no-obligation quote you can rely on.
Check Out the Best Restaurants in a Norfolk Bus Rental
Surrounded on three sides by various waterways and with easy access to Virginia Beach, Norfolk is no stranger to seafood, with plenty of maritime-themed restaurants to choose from. For example, Saltine, a sophisticated, street-level restaurant offers a charming atmosphere and seasonal fresh shellfish. If you prefer your seafood restaurant to have a more casual vibe, Captain Groovy's Grill & Raw Bar is the place to go. Famous for its surf and turf options as well as "groovy hour" specials, if you love fresh shellfish, you need to get groovy.
When making those dinner reservations for a large group, consider how convenient traveling by bus or shuttle would be. Everyone arrives at the same time and you don't have to worry about traffic, parking, or designated drivers.
Plan a School Trip With Norfolk Charter Buses
Get teachers and chaperones on board with the next class outing by giving them what they need to make the trip as comfortable and stress-free as possible. As safety is undoubtedly your number one concern, you can be sure that at Falcon Charter Bus it's ours, too.
With the school field trip rental buses available from our network of the best Norfolk charter bus companies, you get professional and experienced bus drivers. They have cleared background checks and the minibuses and charter bus rentals have all passed rigorous inspections.
These vehicles have premier optional amenities to keep kids safe and entertained while teachers are comfortable as they keep their eyes on the students instead of the road. For longer trips, full-size buses are a great idea. They feature onboard restroom facilities so you don't have to stop as frequently and power outlets to charge those vital devices.
Shorter trips and smaller classes can take advantage of minibuses of various sizes with air conditioning and high visibility inside.
At Falcon Charter Bus, we can arrange whatever you need to take your soon-to-be graduates to Orlando or a class of first graders to the Norfolk Botanical Garden and the Virginia Zoo.
Group Bus Transportation Made Simple
When your group, whether it's family, friends, or coworkers, needs to move from point A to point B, Falcon Charter Bus can get you there in style. We can set up corporate bus rentals to shuttle employees into Downtown Norfolk or to transport VIP guests to and from the Norfolk International Airport. A regular weekly church shuttle is another example of how we can make life easier in the long term, as well as retreat trips with a Durham charter bus rental.
Our network of reliable vehicles and their professional bus drivers are ready to provide whatever your company needs to make sure your passengers have what they need. Popular optional amenities like A/C and WiFi service can make the voyage as fun as the destination.
Get a Transportation Solution With Norfolk, Virginia Bus Rentals
When you book ground transportation through Falcon Charter Bus, you can be sure our number one priority is your complete satisfaction—whetehr you're booking a local shuttle bus or a charter bus rental to Raleigh. See our dedication to customer service for yourself, and call our reservations specialists at 1-866-217-2168 today. They are standing by 24/7 and can answer your Norfolk charter bus questions. They can also give you an accurate and transparent quote for just the right vehicles and amenities you need to make your next event a complete success.