The charter buses in our Savannah network are not just your ordinary rides; they're your mobile sanctuaries of comfort. Equipped with all the modern essentials like WiFi connectivity and trusty air-conditioning, your journey is set to be a smooth sail. But that's not all — we take it up a notch by adding thoughtful touches (think: plush reclining seats, ample storage space) that elevate your comfort levels.
At Falcon Charter Bus, we have a bus for every kind of adventure and group size. If you're rolling with a smaller crew, the minibuses are the way to go. They're available in 18, 20, and 25-passenger options, perfect for mid-size parties, thrilling field trips, or lively corporate gatherings.
For those grander outings with larger groups, we've got you covered too! Full-size Savannah charter bus rentals are designed for exploring cities with ease. With spacious seating, climate controls, and onboard restrooms, these buses make your journey as comfortable as can be.
You can also customize your journey with premium amenities that suit your style, available upon request or for a little extra. Fancy catching a movie marathon on the go? TVs with DVD players keep you entertained. Need to keep your devices juiced up to capture those unforgettable moments? There are power outlets by every seat.
Simply give us a heads-up when you call, and our team will make sure your bus charter meets all necessary requirements.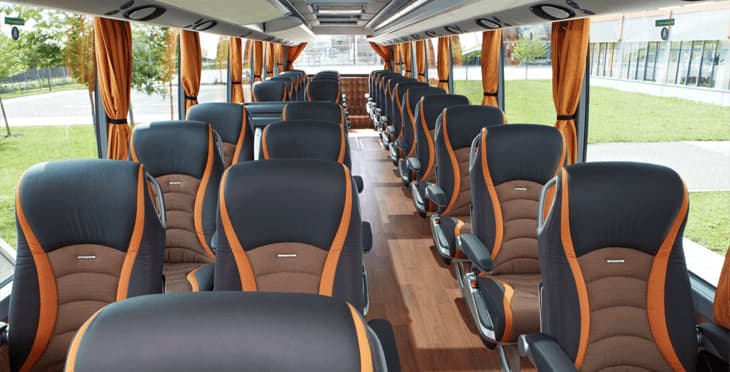 Savannah, Georgia Charter Bus Rental Prices
With our transparent charter bus pricing, you only pay for what you truly need. Our friendly team works closely with you to provide a personalized quote, taking into account factors like your group size, travel destination, trip duration, the booking date, and your desired amenities.
Additionally, the timing of your group trip can also affect your Falcon Charter Bus quote. Peak summer tourist seasons and major holidays may come with slightly higher prices, so it's a smart move to plan ahead.
To secure the absolute best deal, consider booking your charter bus at least three months in advance. Give us a call at 1-866-217-2168, and we'll guide you in selecting the perfect charter bus in Savannah.
Elegant Corporate Travel Solutions in Savannah, Georgia
Our extensive corporate shuttle network offers top-notch charter bus rentals. Leather-style seating, power outlets, and onboard restrooms ensure that every employee, attendee, and VIP enjoys a comfortable, convenient journey at your corporate events. Dedicated bus drivers will follow your custom schedule, choosing the most efficient routes to ensure everyone arrives on time.
Hassle-Free Wedding Bus Transportation in Savannah, Georgia
Choose Falcon Charter Bus for booking wedding bus rentals in charming Savannah.
These wedding shuttles ensure your bridal party arrives promptly for rehearsal dinners at Garibaldi's Savannah, bachelor/bachelorette parties at Moon River Brewing Company, bar crawls on River Street, and all your day-of events. Planning a destination wedding? We've got you there, too. Let us handle the logistics while you focus on creating lasting memories!
Rent a Charter Bus for Breezy School Trips in Savannah, Georgia
Falcon Charter Bus makes learning comfortable like never before.
The school event charter buses on our network are equipped with modern luxuries like WiFi, flatscreen TVs with DVDs, and onboard washrooms, ensuring everyone arrives refreshed and ready for an unforgettable journey. Whether you're planning to take them to the awe-inspiring Cathedral of St. John the Baptist or the inspiring SCAD Museum of Art, your young passengers and their supervisors will travel in comfort and style.
Reliable Military and Government Bus Rentals in Savannah, Georgia
We're all about ensuring your journeys are safe, discreet, and completely reliable. From base transfers to military graduations and even employee parties, we've got you covered with GSA-approved and DoD-certified military and government buses, available in a range of sizes to suit all your travel needs. Rest easy knowing our drivers undergo rigorous background checks and comprehensive safety training before joining your group for an unforgettable trip.
Effortless Sports Team Travel Solutions in Savannah, Georgia
If you're tired of game-day mayhem and looking for a stress-free way to transport your team, charter buses are a fantastic choice, offering just the right amount of space. Need even more room? The full-sized charter buses have you covered, with plenty of storage for equipment, a booming PA system for strategy discussions, and TVs to dissect game plays. And when you're gearing up for an exciting match in a neighboring city, our sports team bus rental service prioritizes your comfort, even during those longer drives.
Ready to Begin Your Savannah Group Journey?
Call us at 1-866-217-2168 to reserve a Savannah charter bus. Our friendly and knowledgeable team is available around the clock to help you find the perfect bus rental option and address all your questions. And the best part? You can get a custom bus rental quote in just minutes, with absolutely zero obligation to book.