Are you looking for a large charter bus for a big group? Or a smaller minibus to accommodate an intimate party? Either way, Falcon Charter Bus can accommodate you. We have access to fleets of bus rentals in varying sizes. Ask for a 56-passenger charter bus for a large group event, or if you need a smaller bus, our network includes minibuses that can fit between 18 and 25 passengers comfortably. Also, when you call to book, please let our team know what kinds of amenities you need for your group. There is a wide range available upon request, such as WiFi, a PA system, panoramic windows, onboard restrooms, overhead storage, and adjustable reclining seats. We can ensure you rent the right size bus with the amenities you need for an enjoyable ride.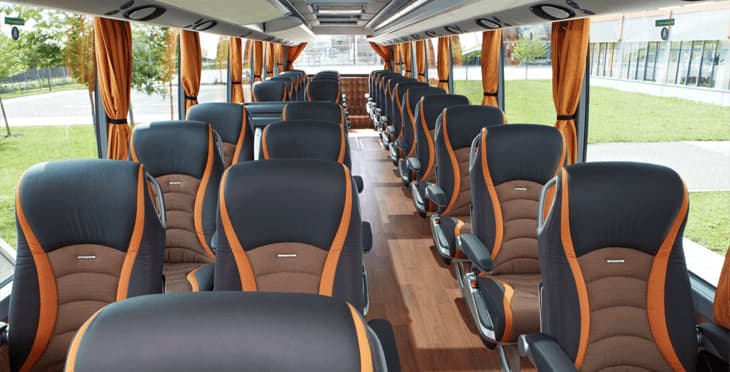 Dependable Greensboro Charter Buses for Sports Teams
Greensboro has been the site of multiple sporting events, including the PGA Wyndham Championship and ACC basketball tournaments. With so many tournaments and other sporting events taking place in Greensboro, it's important to have reliable transportation. Falcon Charter Bus offers bus rentals for sports teams in Greensboro, so you can easily get to and from championship games, tournaments, or other significant events.
You can book a charter bus if you're heading to Greensboro Coliseum Complex, Truist Stadium, First National Bank Field, or UNC Greensboro Soccer Stadium. Ask for any amenities your team needs, such as enough storage to hold sports equipment or reclining seats to give your athletes a comfortable ride before and after games. We can also help you book charter buses to nearby cities for sporting events, such as Chapel Hill or Durham. Just let our reservation specialists know what you need; we'll gladly help.
Charter Bus in Greensboro for College and University Tours and Events
Greensboro is home to a handful of colleges and universities where more than 47,000 students earn an education. College tours, conferences, and other events keep faculty and students busy. When you're looking for affordable group transportation for these events, Falcon Charter Bus is here to help. We offer a fleet of charter buses for school events in and around Greensboro. These buses provide a safe and dependable way to bring groups to and from colleges and universities in the area.
Need group transportation for conferences at Greensboro College or UNC Greensboro? Looking for rides to bring groups of high school students to NC Agricultural and Technical State University or Guilford College for tours? You can count on Falcon Charter Bus. Call us at 1-866-217-2168 to let our team members know when you're going, how large your group is, and what types of amenities you want, such as a PA system, air conditioning, and onboard restrooms.
Greensboro Bus Rental for Family and Church Events
Greensboro offers many family reunions and celebration options, including Bur-Mil Park for outdoor fun or the historic Magnolia House for indoor elegance. The town also has many churches and other religious institutions holding day trips, retreats, and other events. When you're having a family reunion or a weekend retreat for a church group, having the right transportation can help the planning process go smoothly. Falcon Charter Bus offers bus rentals for family and church events in Greensboro. Our team is ready to help make your event successful with quality group transportation.
Charter buses have a wide range of sizes to fit any group. No matter how many relatives or congregation members you need transportation for, we can help. Request any amenities for these rides, such as TVs with DVD players for entertainment or panoramic windows so everyone can enjoy the view. You can depend on our bus rental services for prompt and safe group transportation for your family or church group.
Reliable Charter Buses in Greensboro for Corporate Events
Greensboro's location makes it easy to visit nearby cities for business meetings or other events. Charlotte and Raleigh are just 90 minutes away. The trip on a charter bus rental to Durham and Chapel Hill will only last about an hour, and Winston-Salem is just 30 minutes away. Greensboro also has multiple corporate event venues, such as Sedgefield Manor, Wyndham Garden Center, and Meridian Convention Center. So whether you book a charter bus in Charlotte, a bus rental from Raleigh, a Norfolk bus rental, or a local minibus from Falcon Charter Bus, your upcoming business event will be easy and stress-free.
We offer Greensboro charter bus rentals for corporate events. Whether you're staying in town for your event or heading to another city nearby, we can help. Our customer service team can help you find a charter bus from our network that suits your exact needs. Ask for the amenities your business group needs for a successful trip or event, such as power outlets to ensure all devices are fully charged or WiFi access.
Book a Charter Bus Rental in Greensboro Today
Ready to book a Greensboro charter bus or minibus? Just contact Falcon Charter Bus at 1-866-217-2168 to get started with your booking. You can also ask for more details on our network of buses and available amenities—whether you need an Asheville bus rental or a long-distance Fayetteville bus service. Remember that our team is here 24/7, so feel free to call us anytime. No matter what kind of event you have or what size your group is, we can help you reserve a charter bus or minibus that perfectly fits your needs.