Falcon Charter Bus specializes in providing personalized bus transportation tailored to your unique itinerary. Based on your group size, the occasion, and the event, you can take your pick from our network of motorcoaches and minibuses.
If you're traveling with a smaller group, minibus rentals are the perfect choice. You'll get to travel in style while staying close to your companions. Choose from a range of seating capacities, from 18-passenger to 25-passenger minibuses, ideal for field trips, corporate events, and mid-size parties.
If you're traveling with a larger group, full-size charter buses have you sorted. These spacious buses can accommodate up to 56 passengers and are perfect for exploring the beautiful city of Mobile, or for transporting your guests during weddings and grand get-togethers.
And guess what? They all come with basic and premium amenities, as per your request. Think onboard restrooms, flatscreen TVs with DVD players, power outlets, luggage bays, and more. We also provide ADA-accessible features like widened aisles and wheelchair ramps at no additional cost.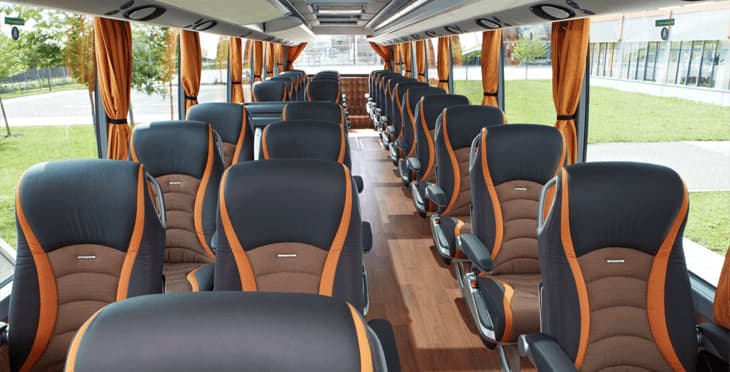 Mobile Charter Bus Rental Prices
At this point, you might be wondering, "How much does a charter bus in Mobile cost?" At Falcon Charter Bus, we believe in transparency when it comes to rental costs.
Our dedicated team will provide you with a custom charter bus quote based on factors like passenger count, travel destination, booking date, trip duration, and your desired amenities. Keep in mind that the timing of your travel can also affect the cost, especially around major holidays. To snag the best deal, avoid last-minute bookings and reserve your Mobile charter bus at least three months in advance.
Experience the Best of Mobile with Charter Bus Rentals
Mobile, with its bustling port and vibrant culture, is brimming with incredible experiences waiting to be explored. Let's dive into the exciting adventures that await you with the convenience of a private charter bus!
Being your trusty travel companion, know that Falcon Charter Bus only partners with skilled and professional bus drivers committed to following your personalized itinerary and ensuring you reach your destination on time.
Professional Charter Bus Rentals for Mobile Corporate Events
Allow Falcon Charter Bus to take care of the logistics for your corporate events!
The corporate bus rentals we charter are equipped with onboard WiFi and power outlets, ensuring your employees stay connected and productive whenever they need to. Plus, ample storage compartments keep valuable laptops and electronics safe throughout the event, and professional bus drivers behind the wheel ensure your corporate excursions stay right on schedule.
Let your team members relax and prepare for an incredible day ahead, without the stress of driving. Call our reservation team today at 1-866-217-2168 and make your corporate event a hassle-free experience!
Modern Charter Buses for School Events in Mobile
Falcon Charter Bus is no stranger to providing transportation for school events of all ages. Every bus in our Mobile network undergoes regular inspections and maintenance to ensure its safety. They're exclusively driven by highly vetted and trained charter bus drivers.
Additionally, no matter if you have a small group of 18 passengers or an entire class of 56, we'll happily accommodate your needs. Overhead storage bins leave plenty of space for your students' backpacks or suitcases, and each bus rental can be made ADA-accessible, ensuring every passenger is truly comfortable.
Book Your Mobile Bus Rental with Falcon Charter Bus
Why worry about logistics when you can rent a charter bus with us? Give one of our reservation specialists a call today at 1-866-217-2168 with your itinerary in hand, and we'll provide you with a free quote in a few minutes for your Mobile group transportation service. Readers, it's your time to get on an incredible journey through Mobile, Alabama, and Falcon Charter Bus is here to make it happen with style and ease!