At Falcon Charter Bus, we specialize in providing personalized bus transportation to suit your custom itinerary. Based on the passenger number, occasion, and event, you can choose from a fleet of motorcoaches and minibuses—all of which come with basic and premium amenities, as requested.
Minibus rentals are perfect for smaller groups, allowing you to travel in style while staying close to your group. Choose between 18-passenger, 20-passenger, and 25-passenger seating capacities to enjoy field trips, corporate events, and mid-size parties.
For larger group travel, consider renting full-size charter buses for up to 56 passengers. These incredibly spacious buses are perfect for exploring the city of Boca Raton, Florida comfortably—or transporting guests during weddings and large get-togethers.
While all buses come with the standard bus amenities, from comfortable reclining seats to air conditioning to WiFi, you can always take things up a notch by exploring premium facilities. Think: onboard restrooms, flatscreen TVs with DVD players, power outlets, luggage bays, and the like.
You can also request ADA-accessible features when booking with Falcon Charter Bus. Our team is more than happy to accommodate you at no additional cost.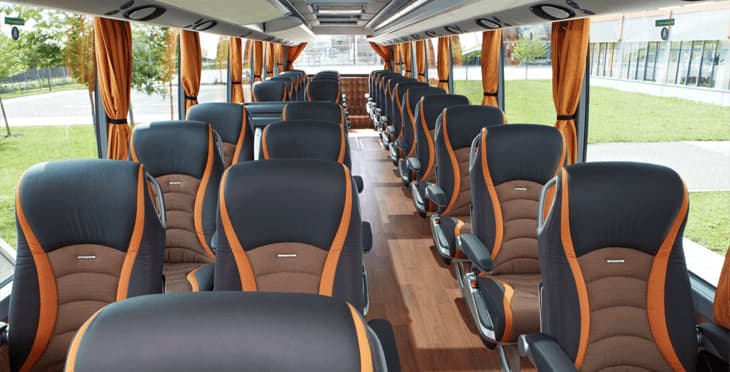 Boca Raton Charter Bus Rental Prices
At this point, you're probably wondering how much a Boca Raton charter bus costs. Falcon Charter Bus never keeps you guessing, thanks to our transparent charter bus rental costs.
Contact us at 1-866-217-2168, and our team will give you a custom quote based on your passenger count, travel destination, booking date, length of trip, and desired amenities. Besides these factors, the timing of your travel can also influence your Falcon Charter Bus quote. For instance, planning a trip around major holidays is generally more expensive.
To secure the best deal, avoid last-minute bookings and rent your Boca Raton charter bus at least three months in advance.
Experience the Best of Boca Raton with Charter Bus Rentals
No family outing to Boca Raton is complete without frolicking in the Spanish River Park. Sugar-white sand and sparkling turquoise water make it the perfect seaside retreat to enjoy with friends and family. You can hop into a kayak or body surf for some breezy beach fun—or wear a snorkel to experience the lively marine life up close.
Then there's The Wick Theatre & Costume Museum, a stunning exhibit of original costumes worth over $20 million from more than 50 Broadway productions. Visitors get a full tour of the costume museum, followed by lunch or dinner.
For those looking for some retail therapy, Mizner Park is just the answer. This scenic outdoor shopping center houses high-end designer boutiques, department stores, an outdoor amphitheater, and a delightful array of restaurants. And as you stroll along the lush promenade, the mesmerizing triple-layer fountain bursts enhance the lively atmosphere. It's really every shopaholic's dream!
To ensure you make the most of your Boca Raton trip, we only partner with skilled and professional bus drivers and charter spacious. You can trust these drivers to follow your personal itinerary and get you to your venue on time. Plus, thanks to the plush reclining seats, extra legroom, and air-conditioning, all passengers will arrive comfortably and feeling refreshed.
Fun-Filled Children's Day Out in Boca Raton with Bus Charters
Why should adults have all the fun? Boca Raton has tons of fun and exciting attractions for children.
Sugar Sand Park, for one, makes an excellent venue for school trips and events. It has a playground, a water park, and a carousel for them to burn some energy, as well as a Children's Science Explorium for interactive play. Meanwhile, the Gumbo Limbo Nature Center offers 20 acres of coastal sanctuary, making it an ideal destination for short field trips. There, they can marvel at the peaceful aquarium, explore the butterfly garden, or participate in the turtle walk and hatchling release programs.
To make school trips as pleasant as possible, we charter a wide selection of charter buses. Every bus undergoes frequent inspections and maintenance to uphold the highest standards. Equipped with WiFi and TVs, these buses keep kids entertained throughout the journey. The full-sized school trip bus rentals additionally include onboard restrooms, allowing children to freshen up and use the facilities without making frequent stops.
Book Sleek, Professional Charter Bus Rentals for Corporate Events
Planning a corporate retreat in Boca Raton, Florida? We've got you covered with a convenient and stress-free solution: a corporate bus rental!
Imagine your team enjoying group-friendly restaurants or engaging in team-building activities at the city's pristine beaches while avoiding the hassle of driving and parking. With a highly trained and professional bus driver behind the wheel, your corporate outings will run smoothly and stay on schedule.
These corporate bus rentals have onboard WiFi and power outlets, ensuring your employees stay connected and productive whenever they need. Ample storage compartments keep their valuable laptops and electronics safe throughout the event.
Let your team members relax and prepare for an incredible day ahead, sans the stress of driving. Call our reservation team today at 1-866-217-2168 and make your Boca Raton retreat a memorable, hassle-free experience!
Say "I Do" to Group Bus Transportation
The picturesque beauty of Boca Raton makes the perfect background for equally picturesque weddings. From unique wedding venues to delectable cuisine, your wedding celebration in Boca Raton is sure to be one for the books.
To make your special day even more extraordinary, consider providing your guests with reliable and efficient wedding shuttle bus transportation. Picture this: a charter bus rental at your disposal, ready to whisk your guests away to rehearsal dinners, showers, bachelor/bachelorette parties, and all the day-of events—all in style and comfort.
By entrusting your transportation needs to Falcon Charter Bus, you can fully immerse yourself in the joy of your big day. No need to worry about logistics.
Trip Transportation Made Easy with a Boca Raton Charter Bus
Reach out to us at 1-866-217-2168 to reserve a charter bus in beautiful Boca Raton and surrounding cities like Pembroke Pines. Our dedicated team is at your service 24/7, ready to assist you in finding the ideal bus rental option and addressing all your inquiries. Discover a fleet of comfortable charter buses that will exceed your expectations, and allow Falcon Charter Bus to guide you toward the perfect rental solution tailored specifically to suit your group travel plans.