If you're traveling with a large group, the full-sized 56-passenger charter buses are perfect for you. Whether it's a team of athletes or a classroom of students, we've got you covered. These spacious buses come with amenities like an undercarriage luggage bay, onboard restroom, and TVs with a DVD player, ensuring an enjoyable ride for your group as you explore Clearwater's pristine beaches or verdant parks.
For smaller groups, such as corporate teams or a bunch of friends and family, the compact minibuses are the way to go. Take your pick from 18-passenger, 20-passenger, and 25-passenger minibuses that offer the perfect balance of comfort and camaraderie, thanks to the plush reclining seats, WiFi connectivity, and reliable air-conditioning.
At Falcon Charter Bus, we're committed to providing safe and reliable group transportation in Clearwater. If some passengers require ADA-accessible features, simply let us know, and our team will ensure your bus charter meets your requirements.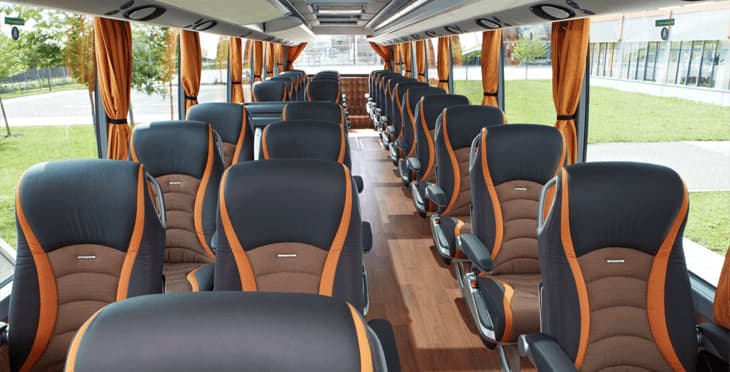 Clearwater Charter Bus Rental Prices
Discovering the perfect Clearwater charter bus for your needs shouldn't be a mystery. That's why we ensure complete transparency in charter bus rental costs.
Reach out to us at 1-866-217-2168 to get a custom quote tailored to your specific requirements. We take into account factors like the number of passengers, your travel destination, booking date, trip duration, and desired amenities to ensure you get an accurate estimate.
It's worth noting that the timing of your travel can also influence the quote, as holidays and peak seasons often translate to higher prices.
Comfortably Explore Local Food Options in a Clearwater Bus Rental
If you're a food lover, prepare to be delighted by the tropical-themed buffet at the Calypso Queen, where you can savor delicious dishes while taking in the breathtaking sunset. And for a night filled with fun and Caribbean vibes, head over to the lively party where you can dance the night away with bottomless alcoholic beverages and great company.
If you're seeking thrills and adventure, look no further than Busch Gardens in Tampa, a short 40-minute drive from Clearwater. Get ready for an adrenaline rush as you conquer larger-than-life rollercoasters, zip through the air on a thrilling zip line, and be captivated by incredible African-themed shows.
Clearwater Charter Buses for Captivating Art Experiences
For an artistic escapade, take a quick 30-minute drive to St. Petersburg and immerse yourself in a world of creativity. Explore the inspiring works of the legendary Salvador Dali at the Salvador Dali Museum and discover the city's vibrant streets adorned with captivating murals. Get ready for a truly mesmerizing and kaleidoscopic art experience.
Worried about transportation? Don't be—simply add these destinations to your custom itinerary, and the bus drivers we partner with will ensure you're transported to each location on time and without extra hassle.
Transport Children Safely in Clearwater Charter Buses for Exciting School Trips
Every bus we charter comes equipped with fantastic amenities that will keep kids entertained throughout their school trip. With WiFi and TVs on board, they can enjoy their favorite shows and movies. And for those longer journeys, the full-sized school trip bus rentals have onboard restrooms, allowing them to freshen up without making frequent stops.
Students can marvel at the breathtaking marine life while visiting Clearwater Beach. This serene cove boasts crystal-clear waters and pristine white sand that are perfect for sandcastle-building and beach volleyball. At Pier 60, they can explore six shady pavilions and a bait house filled with tempting snacks and souvenirs. The budding anglers among your group will be delighted to discover the various fish species they can catch, including Spanish mackerel, spotted trout, and redfish.
But the adventure doesn't stop there!
Let your students unleash their inner pirates aboard Captain Memo's Pirate Cruise, a thrilling two-hour escapade, complete with face painting, treasure hunting, a water gun battle, and lots of pirate tales. And for some more excitement, consider making a pit stop at Congo River Golf, where the children can feed live alligators, play arcade games, and enjoy a friendly round of mini-golf.
Make Stress-Free Private Plans by Opting for Group Bus Transportation
Falcon Charter Bus takes pride in simplifying group travel coordination, especially for those big occasions that involve moving a large number of guests to and from the venue. We have everything you need to make your event a seamless success, from weekly shuttles to and from church to corporate event bus rentals.
With our wealth of experience and top-notch resources, you can trust us to ensure everything goes according to plan, leaving you free to focus on enjoying the occasion.
Need a Charter Bus in Clearwater, Florida?
No matter the size of your group, the type of travel plans you have, or your unique needs, Falcon Charter Bus is here to offer you the ultimate bus rental experience in Clearwater. Give our friendly and dedicated 24/7 team a call today at 1-866-217-2168, and let's start crafting the perfect private plans just for you!