Whether your group is made up of 10 people or 100+, you can trust Falcon Charter Bus to offer a personalized group transportation solution to fit your headcount and amenity needs. Our vast network of bus rental options includes nearly every make and model of motorcoach on the market, so you'll always have the ideal ride for your group.
Rent a charter bus for a large-scale event with many passengers, or a long-haul road trip to cities like Orlando, Jacksonville, or Atlanta. With comfort-minded perks like TV screens, reclining seats, luggage storage, and clean restrooms, everyone will stay fresh and entertained, no matter the distance.
Looking for a smaller group transportation solution? We recommend a minibus rental! Our network includes a wide range of sizes—from 18-passenger shuttles to 25-passenger coaches—making them the most flexible option for medium-sized groups. Enjoy fast WiFi and in-cabin storage while a professional bus driver transfers your group around Pembroke Pines and the surrounding area.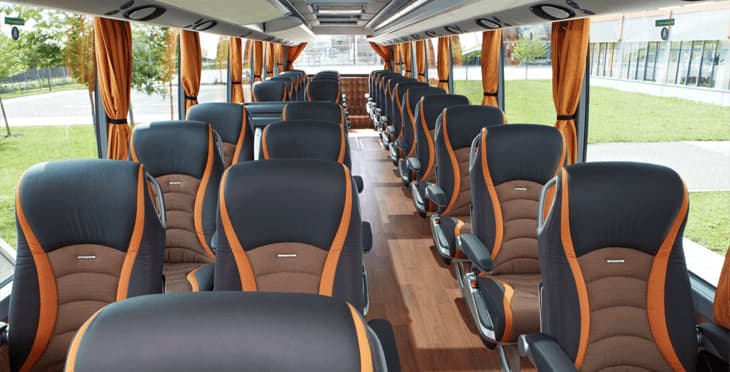 Personalized Bus Pricing Plans in Pembroke Pines
Budgeting can be stressful—but with Falcon Charter Bus, it doesn't have to be. We specialize in personalized estimates, so knowing how much your bus rental will cost in Pembroke Pines is as easy as it gets. Just let us know key details of your trip—where and when you'll be traveling, how many passengers will need a ride, what amenities you'll need, etc.—and we'll provide a custom estimate tailored to your travel needs. If you like what you hear, you can lock in your pricing plan within minutes—all with no hidden fees and no obligation to book until you're ready.
Miami-Area Sporting Event Shuttles Made Simple
Whether you're arranging a tailgate for a Miami alumni group, heading to Fort Lauderdale for a hockey match, or coordinating away game travel for your local youth league—we've got you covered. Rent a bus for your next sporting event, and let the professional handle the game-day traffic for you!
We'll connect you to a Pembroke Pines charter bus that offers plenty of storage for equipment and coolers, so everyone can stretch out and limber up in the climate-controlled cabins without worrying about clutter. Request features like a PA system, WiFi connectivity, and more to keep players, coaches, and fans up-to-date on competitor stats and hyped up to bring home the win!
Stress-Free Weddings with a Pembroke Pine Bus Rental
When it comes to hassle-free wedding planning, locking in your guests' transportation is a must. Rent a wedding shuttle service, and you'll never have to worry about loved ones running late or getting lost on your big day! Instead, they can enjoy bus rental perks like crisp AC, reclining seats, and fast WiFi for sharing their favorite photos and videos while on the road. Whether you're planning a small-scale ceremony at a local venue or a grand gala in Boca Raton—a family-oriented rehearsal dinner or a beachy bachelor/bachelorette bash—we'll work with you to provide seamless transfers for every wedding event on your agenda.
Private Transportation Solutions in Pembroke Pines
No matter what brings your private group out and about—a day trip with your assisted living community, a beach trip with your afterschool group, or picnics with your church congregation—let us provide a seamless ride between here and there. That way, no one has to stress over putting miles on their personal vehicles, arranging carpools, or getting lost along the way. Instead, everyone can ride in one motorcoach, watch movies with a DVD player and TV screens, and enjoy the onboard comforts a charter bus in Pembroke Pines can offer.
Book a Pembroke Pines Charter Bus Rental
The Falcon Charter Bus team is available 24/7 to ease your group transportation in and around Pembroke Pines, Florida. Call 1-866-217-2168 whenever you're ready, and we'll be happy to walk you through the bus rental process, answer your transportation-related questions, and offer you a free, no-obligation estimate tailored to your charter bus needs in Pembroke Pines!