Smaller groups have several shuttle bus options to choose from depending on the number of people needing transport. For example, our network includes 18-passenger minibuses ideal for shuttle services to airports or for employees. If you need more space, check out the 20-passenger and 25-passenger minibuses available for rent.
Large groups can travel in style with 56-passenger charter buses. The motorcoaches are perfect for transporting a class of high schoolers on a college tour to Atlanta. Some of the optional amenities available on these Huntsville charter buses include A/C, reclining seats, WiFi, restrooms, and outlets for charging devices.
At Falcon Charter Bus, we aim to provide reliable group transportation in Huntsville. ADA-compliant features are also available on some of our network vehicles, so if you or a guest needs this type of accommodation, please let your reservation specialist know.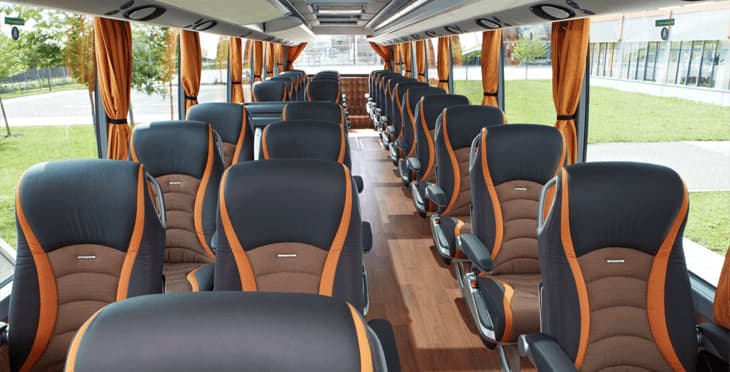 Huntsville Charter Bus Rental Pricing
We offer transparent charter bus rental pricing so you can make informed decisions about your travel plans. With one call to our reservation pros, we can get you a quote specific to your needs. Call us at 1-866-217-2168 today with your trip details to get the wheels rolling. Some of the information we need includes the number of people traveling, where and when you are going, how long the trip is, and what amenities you want.
Explore the Local Food Scene and More in a Huntsville Bus Rental
Experience the best BBQ in Huntsville! You don't want to miss Big Bob Gibson Bar-B-Q in nearby Decatur. Established in 1925, its rich history is evident in the quality of the food and the down-home atmosphere. A tour of historical sites in Huntsville is a great option for history buffs. A stop at the Harrison Brothers Hardware Store is sure to please—it's been at the same location since 1897! Let a Huntsville charter bus rental take you and your group to and from the restaurants, so you can enjoy the meal without worrying about the drive.
Rent Huntsville Charter Buses for Out of This World Experiences
You can't visit or live in Huntsville without visiting the U.S. Space & Rocket Center. Group tours are available, and you can take a Huntsville charter rental bus to learn all about the NASA space program. Exhibits include Space Craze, where visitors can learn how the space program has impacted modern culture. Interactive activities include the G-Force accelerator, where you'll experience three times Earth's gravitational force.
Of course, Space Camp is one of the biggest attractions. Take a group of students or Scouts on a Falcon Charter Bus shuttle to this amazing experience. Anyone ages nine and up can enjoy aviation and robotics camps, astronaut training, and much more.
Plan Exciting School Trips With Huntsville Charter Buses
Field trips are a fun way for kids to learn outside the confines of traditional classrooms. However, it's not always as fun for the chaperones, who might need to drive to the site and monitor kids at the same time. That's where Huntsville charter bus rentals come to the rescue. We have a network of professionals to handle the driving so teachers and parents can focus on the kids.
Our network of shuttles and charter buses is available for school trips. They come with an array of amenities to keep the kids busy. Some come with WiFi and TVs with DVRs. Many full-sized buses have onboard restrooms, which are important because they help reduce the number of stops you need to make on those longer trips.
Book a Huntsville charter bus rental to take a school band or choir to Nashville to experience the Grand Ole Opry. It's just about 120 miles away and a great opportunity for any student interested in the music industry.
Your Private Plans Will Be Stress-Free With Group Bus Transportation
Falcon Charter Bus makes it easy for you to plan your group transportation needs. Our network can handle anything from weekly church shuttles to bus rentals for large corporate outings at Redstone Gateway Conference Center. A professional driver will happily move your guests from one place to another, shuttle VIPs back and forth to the airport, and make sure wedding guests get to the church on time.
Need a Charter Bus in Huntsville, Alabama?
Are you ready to make your next group event a success? Call the reservations experts at Falcon Charter Bus at 1-866-217-2168 today. Representatives are standing by 24/7 to answer all your Huntsville charter bus questions. They will make sure you get just the right transportation solution for your needs.