No two Georgia charter bus rentals are the same, and so the cost of your motor coach or shuttle bus rental will depend on a variety of factors. There's always the headcount of passengers that will determine some of the cost of a charter bus rental, but there's also the on-board amenities, distance of the drive, number of stops, and the period of time your group uses the charter bus rental. You can get a complete price breakdown along with a free quote in a matter of minutes when you call our 24/7 reservation team.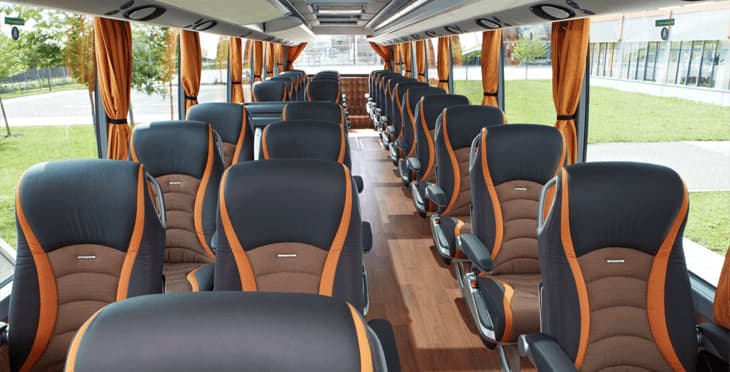 Types Of Charter Buses In Georgia
Each of the Georgia buses in our network feature modern amenities like panoramic windows, PA systems, air conditioning, reclining seats, and even onboard WiFi, but each bus option has its own unique benefits that are sure to keep the whole group comfortable.
If you have a quick day trip in a metro city of Georgia, need shuttle service for a larger event like a conference, or group transportation from the airport, an 18-passenger minibus can be perfect for either of those. Overhead luggage racks can keep luggage out of the way while extra legroom and entertainment options will keep the group comfortable on the road. It's also a great option for smaller events, such as wedding transportation for bachelor or bachelorette parties. If you need a little more space than what the 18-passenger minibus offers, the 20-passenger minibus has many of those same amenities and more elbow room. Take it out for a day trip in the city or for some exciting events in the next town over. And, with a reliable and professional driver, you're sure to enjoy a smooth ride the whole way through.
For long-distance travel, the 56-passenger charter bus is the perfect option for larger group travel in Georgia. Each bus comes furnished with plush seats that recline, TVs and DVD players, and even onboard WiFi. Cut the bathroom breaks out of the itinerary with the on-board restrooms, and know your luggage is safe with secure compartments. These larger charter buses are also great for military and government transportation, emergency transportation, and other situations where you need to move a lot of people and fast.
Georgia Sports Charter Bus Rental
There's almost always some sort of sports event going on, whether it's a homecoming at the Mercedes-Benz Stadium or a playoff game at Truist Park. If you're looking to attend a major game so you can cheer your team, or you're looking to coordinate sports team transportation for away games, Falcon Charter Bus can make the ground transportation work for you. From our network of charter bus rentals, we can find the sports team transportation you need to get fans and team members alike to the destination, with a professional charter bus rental driver so everyone can focus on gearing up for the game. Keep luggage and team equipment in the secure luggage compartments while everyone leans back in the plush, reclining seats. Everyone will enjoy the TVs and DVD players onboard, while the PA system can be used to make announcements along the journey or even for a team strategy session on the freeway. Plus, stress less about parking—your charter bus driver can pull right up to the entrance and let everyone out so everyone can focus on the game's beginning!
Charter Bus Rental for Airport Transportation
Travel to and from the airport is enough of a hassle, so whether you're flying into Hartsfield Jackson International Airport and need charter bus service for a business conference or coordinating a school trip abroad from Savannah-Hilton Head International Airport, a charter bus rental can make it easier. Everyone's luggage will be kept securely in one of many compartments while passengers can enjoy the extra legroom on the bus. Catch up on work or reconnect with loved ones with the onboard WiFi while power outlets can charge up their device while on the road. Plus, the commute can turn into a movie marathon with TVs and DVD players, while the PA system can be used to give everyone updates along the journey.
Metro Atlanta Charter Bus Rentals
There's more to the city of Atlanta than just Peachtree Street! Maybe you and a whole group of fans intend to attend a game at Truist Park for an away game for the Braves, or you need to arrange charter bus service for a sports team to play at the Mercedes-Benz Stadium. Or, maybe you're looking forward to having the whole group explore the Georgia Aquarium, the largest aquarium in the United States. We can pair you with a Atlanta charter bus that's perfect for your group, with options in our network including minibosses, shuttles, and full-size motorcoaches. Each bus comes with comfortable amenity options like air conditioning, reclining seats, extra leg room, onboard restrooms but passengers will be really impressed with the onboard WiFi, power outlets, TVs and DVD players, panoramic windows, and the PA system. And, when you book your charter bus with Falcon Charter Bus, you'll be able to rely on the professional driver tasked with getting your group from point A to point B.
Macon Charter Bus Rentals
No matter if you'll be traveling with 18 passengers or 56 passengers, there's a Macon charter bus in our network that's perfect for your group. Travel to spots like the Ocmulgee Mounds National Historical Park, the Tubman Museum, and the Georgia Sports Hall of Fame. And everyone will enjoy the amenities, too! Air conditioning will keep everyone cool in the hot Georgia summer, and plush seat recline for a truly relaxing ride. If you're driving from Macon to another town off the Georgia highway, the onboard restrooms can cut the rest stop breaks out of the itinerary. Passengers of all ages are sure to enjoy a movie with the TV and DVD player, and announcements about the journey can be made from the PA system. Plus, everyone can rest easy knowing their luggage is kept safe in secure compartments while the reliable, professional driver assigned to the ride is there to ensure a smooth ride.
Golden Isles & Georgia Coast Charter Bus Rentals
Whether you're planning a beach day, exploring the marshes, or soaking up the history of the coastal gems in cities like Savannah, Falcon Charter Bus can take you there with a Georgia charter bus. We can coordinate an overnight field trip charter bus for classes looking to explore the biodiversity of the island beaches. We can even book you a charter bus in Savannah for ghost tours, weddings, or family vacations. Family reunions can also be made possible with charter bus service keeping everyone together, ensuring that everyone is safe on the road. Each bus is manned by a professional charter bus driver with experience of reliable service, while each bus is outfitted with modern amenities, from comfortable seats and extra legroom to TVs and DVD players and onboard restrooms! All luggage will be kept safe in secure compartments while the passengers can enjoy all the views that the Georgia coast has to offer from the panoramic windows.
Book a Charter Bus in Georgia Today
Need charter bus services in Georgia? We offer charter bus rentals in West Point, Athens bus rentals, Columbus, and dozens of other cities across the state. From our network of Georgia charter bus rentals, you can find a bus that's sure to get you and your group around the Peach State safely, securely, and comfortably. If you're still curious about all that comes with a charter bus rental, a member of our friendly reservation team can help! We can offer a free quote for charter bus service for your quote, with absolutely no obligation to you. Just call us at 404-400-3545 to learn more!