Discover the ideal transport for your group with a diverse selection of buses designed to meet your specific travel needs and enhance your journey.
The 56-passenger charter buses are the quintessence of comfort and space, suited perfectly for long-haul trips, large group movements, or anyone requiring ample room for travelers and their luggage.
On the smaller, nimbler side, minibus rental options range from 18 to 25 seats, providing a swift, efficient solution for airport shuttles, conference transport, or small group outings.
The 18-passenger minibus is the most agile, making quick work of busy city streets, while 20 and 25-seater variants offer extra space for guests at weddings, birthday parties, or sports fans rallying for the big game.
Reach out to our team, available around the clock, at 1-866-217-2168 to plan your itinerary.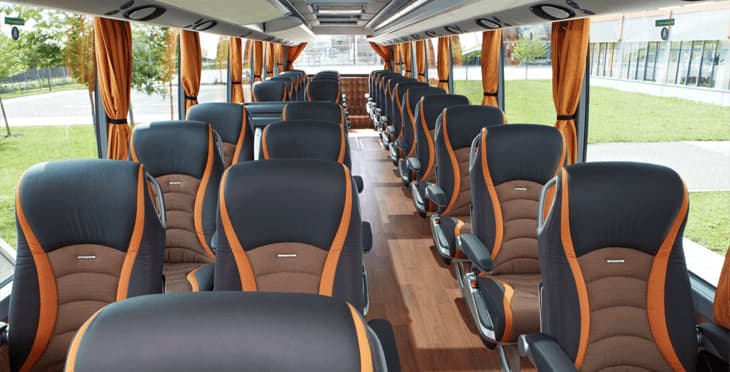 Tennessee Bus Rental Pricing
Pricing is straightforward and adaptable to your needs, influenced by the travel date, trip length, distance, group size, and bus type. Book early to ensure the best rates, particularly during peak seasons. Your quote will include the rental and driver fees, but you may need to plan for extra costs like parking, tolls, the driver's hotel room, and any post-trip cleaning fees.
For precise charter bus rental pricing tailored to your itinerary, reach out to us at any time. Our team is ready to assist you 24/7 at 1-866-217-2168 with a complimentary quote and details about bus amenities and services.
Tennessee Corporate Travel with Reliable Shuttle Buses
Falcon Charter Bus specializes in top-tier corporate bus transportation solutions throughout Tennessee. Whether it's a conference at the Music City Center in Nashville, an executive retreat in the Great Smoky Mountains, or client meetings in downtown Memphis, we tailor our services to your professional needs. Travel in style and comfort with our network, ensuring your team arrives on time and ready to engage. We understand the importance of punctuality and professionalism, making us your reliable partner for all corporate events and shuttle services in the Volunteer State.
Tennessee Wedding Shuttle Bus Transportation
Say "I do" to seamless wedding transportation with Falcon Charter Bus when you travel to places like the picturesque Belle Meade Plantation and 14TENN in Nashville. We ensure your guests travel easily, offering a touch of luxury and relaxation as they move between venues without worrying about navigation or parking. Trust us to provide elegant, timely wedding shuttle services that complement the joy of your wedding.
Shuttle Buses for Family & Church Events in Tennessee
Gather your loved ones for memorable family reunions or spiritual outings with Falcon Charter Bus. From the soul-stirring Sunday services at the historic Ebenezer Baptist Church in Knoxville to a family day out amid the scenic beauty of Fall Creek Falls, we provide a charter bus service that prioritizes safety, comfort, and community.
Enjoy the journey together in a vehicle equipped for all ages, and leave the logistics to the professional drivers committed to delivering a smooth, stress-free travel experience for your family and church events across Tennessee.
Charter Buses for School Trips in Tennessee
Enhance your school trips with a visit to the Adventure Science Center in Nashville or an immersive historical tour of the Civil Rights Museum in Memphis, all while traveling in comfort. Tennessee charter buses offer more than a ride. They're mobile learning environments equipped with amenities to support your educational objectives. Safety is our top priority, providing peace of mind for parents and teachers alike as students enjoy the educational experiences Tennessee has to offer.
Rent a Charter Bus to Visit Graceland
Embark on a musical pilgrimage to the legendary Graceland with the unparalleled comfort of Falcon Charter Bus. Immerse yourself in the world of the King of Rock 'n' Roll, Elvis Presley, as we transport your group to his iconic Memphis estate in style. Our network of modern charter buses offers the perfect harmony of luxury and convenience, ensuring you and your fellow fans or tour group can revel in the nostalgia of Elvis's cherished home without a single travel hassle.
Chattanooga: Gateway to Adventure with Reliable Charter Bus Rentals
In Chattanooga, charter a bus to journey to the heart of Appalachia's beauty. Groups exploring Lookout Mountain's wonders or students diving into hands-on learning at the Tennessee Aquarium will appreciate onboard amenities like WiFi and plush seating. A charter bus rental in Chattanooga means seamless transportation to these natural and technological marvels, ensuring the journey is as enjoyable as the destination.
Knoxville: Historical Hub Meets Modern Excursions
Knoxville is a perfect blend of the outdoors and urban environments. Renting a bus in Knoxville means your group can comfortably visit the Sunsphere or explore Market Square without the hassle of parking and navigation. Enjoy Knoxville's blend of history and nature with the convenience of a charter bus, where the ride becomes a part of the experience through scenic views and onboard entertainment systems.
Memphis: Melodies and Memories
Memphis's rich tapestry of music history and soulful vibes are best experienced together. Book a Memphis charter bus rental for your group and bask in the legacy of legends at Graceland or the historic Beale Street without a second thought about traffic or parking. With a charter bus, every seat feels like a front-row ticket to the musical journey in Memphis.
Murfreesboro: Rent a Bus to Discover Tennessee's Heritage
A bus rental in Murfreesboro allows groups to immerse themselves in Civil War history at Stones River National Battlefield or engage in academic pursuits at MTSU without worrying about logistics. Onboard amenities like AC and spacious seating mean the ride will be almost as enjoyable as the destination.
Nashville: The Rhythm of the Road
Nashville charter buses give groups a stress-free way to tour the Music City. From the iconic Grand Ole Opry to the steps of Vanderbilt University, your charter bus comes equipped with entertainment options and comfort, allowing the music and spirit of Nashville to resonate with you even on the move.
Book Your Tennessee Bus Rental Today
Ready to explore the vibrant cities of Tennessee with ease and comfort? Whether you're soaking in the musical history of Memphis, delving into the outdoor wonders of Chattanooga, or hitting the bustling streets of Nashville, we've got the wheels to match your wanderlust.
Don't let logistics dampen your adventure spirit. Dial 1-866-217-2168 to secure your charter bus and transform your group journey into an unforgettable experience.