A Miami shuttle bus is a great way to transport your employees to and from the office and other offsite locations. The buses in our network can come in sizes ranging from 18-passenger minibuses for smaller companies to 56-passenger charter buses for larger groups. Each bus rental comes with amenities to help employee productivity, like A/C and cushioned seats for comfort, WiFi and power outlets to stay connected and get ahead on work, and even an onboard restroom in some models. You can also opt for a Miami bus rental with ADA compliant features for any employees with mobility concerns.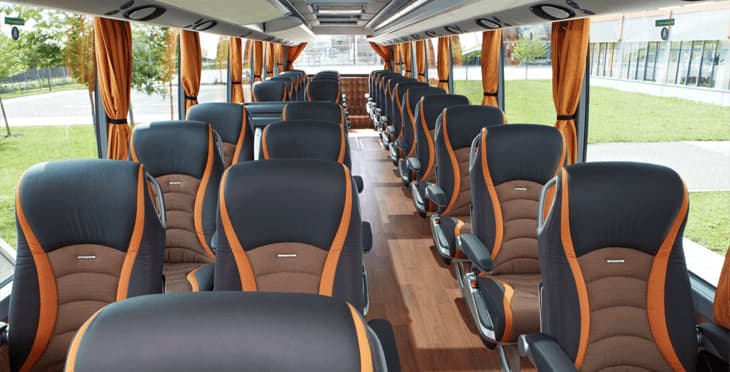 Safe and Convenient Shuttle Transportation for Your Employees
Let's say you are looking to set up a Miami shuttle service for your employees that live in some of the suburbs around the city. When you call Falcon, you can set up a short-term or long-term contract for a shuttle bus to pick up your employees at a designated meeting location. From there, a professional driver can pick up your employees at this spot, take them to work, and drop them back off after work. A Miami shuttle bus rental for employees can help reduce burnout from traffic, increase productivity due to onboard amenities like WiFi, help your company stand out in a competitive job market, and give your employees a chance to bond with their coworkers and brainstorm ideas.
Book Employee Shuttles for Your Miami Employees
At Falcon Charter Bus, we have experience booking employee shuttle buses in Miami for daily commutes and many other Miami corporate events. No matter what your employee shuttle needs are, we can make it happen. When you are ready, give our reservation team a call at 305-359-3962. They are available 24/7 and will work with you to find the right solution for your unique needs and company.