At Falcon Charter Bus, we work with a network of bus providers across the country to give you access to plenty of charter bus rental options. If you have a small family vacation you are looking to book transportation for, an 18-passenger minibus would be perfect for you. Or if you are coordinating transportation for an entire class of students for a senior cruise, you can book a full-size coach (or several!) that accommodates up to 56 people. You can also book an ADA-compliant bus with features like wheelchair ramps and wider aisle space at no extra cost. Our pricing is fair and transparent, with no hidden fees, to make booking your Miami bus rental easy.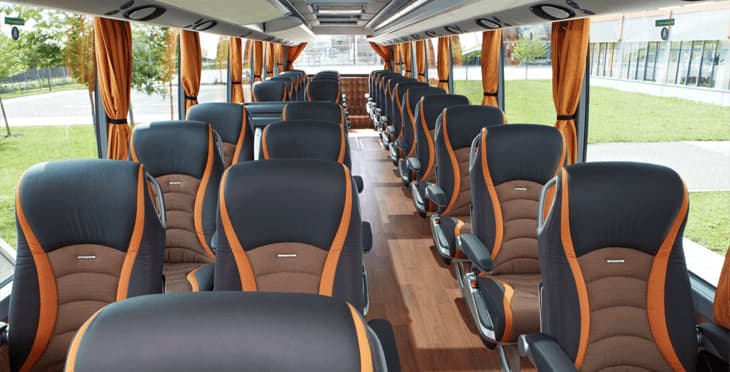 Make Memories Before Your Cruise
What better way to start your cruise off on the right foot than to check out some of Miami's offerings and make some memories? A charter bus rental allows you reliable transportation for any stop on your itinerary. You can stroll through Bayfront Park, swim in the Venetian Pool, chow down on some of Miami's iconic Cuban food at Puerto Sagua, and more to get you into the cruise spirit. A Miami charter bus rental allows you easy and efficient group transportation to help you get more out of your time in Miami before you depart on your cruise..
Avoid Costly Parking Fees and Other Hassles
While a cruise is fun and exciting, the logistics of getting to the cruise aren't always the same. Let's say you are planning a cruise for 10 people as the finale for your bachelorette party in Miami. You would have to coordinate several rideshares to enjoy a safe night out on the town, which can be unreliable in terms of availability and price, and will stagger arrival times. And even if you took your own cars and had designated drivers, you would have to find long-term parking for each car. But with a Miami charter bus rental, you don't have to worry about long-term parking, can go anywhere in the city that you choose safely with a professional driver, and can all stay together as a group to celebrate the bride!
Book Your Miami Cruise Transfer Shuttle
We know you're excited for your upcoming cruise, and maybe a little less excited about planning the logistics for it. But that's why we are here! Let Falcon Charter Bus take the wheel while you focus on having fun and soaking up the sun. You can give us a call any time at 305-359-3962 if you have questions or are ready to book your Miami charter bus. We look forward to hearing from you!