As one of the most congested cities in the Southeast, it's easy to see why Orlando commuters are stressed arriving to work. Companies looking to alleviate stressful I-4 commutes for their team should consider a shuttle service with Falcon Charter Bus. We can organize shuttle services to pick up your employees at designated locations like off-site parking lots and safely transport them to the workplace. Rather than dealing with long, hectic commutes, your employees can relax on a shuttle operated by a professional driver.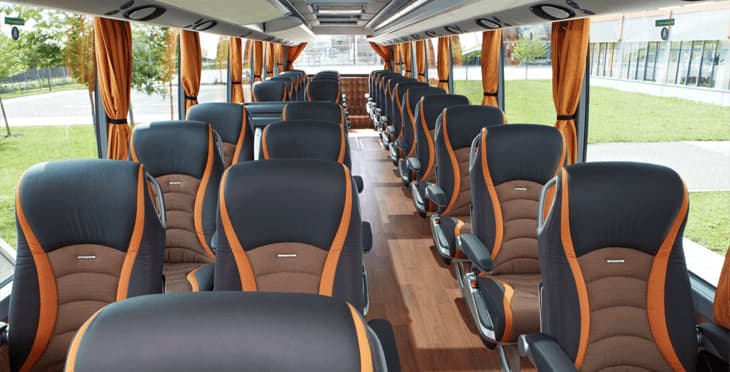 Comfortable Amenities for Orlando Business Travel
An employee shuttle service is already a more comfortable way for your team to make Orlando commutes, but it gets even better. Falcon Charter Bus can offer bus rentals that have additional amenities like WiFi, power outlets, personal climate controls, and reclining seats. Your team can leave the roads up to a professional while they relax in a fully-loaded shuttle. Get a jump start on emails with WiFi, charge up devices with outlets during long-distance rides, and catch up on rest in plush seats during early mornings.
Customized Shuttle Routes for All Orlando Companies
No matter the size of your business or the number of shuttles you need, Falcon Charter Bus can make employee transportation a breeze. Book a shuttle service with multiple minibus rentals to service your large team spread across Orlando or reserve a single spacious charter shuttle to transport your entire company to a team-building event.
Simple Interoffice Travel with a Shuttle Service
If your Orlando company has multiple offices around the city or even throughout the state, an interoffice shuttle service will save your team some trouble. Rather than having to reimburse employees for gas and vehicle mileage—provide an interoffice shuttle service to locations across Orlando, Tampa, Miami, or beyond.
Book an Employee Shuttle Bus Rental in Orlando
When you're ready to organize your employee shuttle service, give our team a call! The Falcon Charter Bus team is here around the clock at 407-274-9808 to answer any of your questions. We'll get you started with a free, personalized Orlando shuttle quote in no time.